►
◄
latest
habitat tv
blog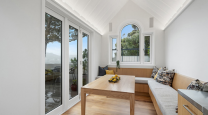 Master Builders' Chief Executive David Kelly shares his tips for building in the challenging climate.

Planning... more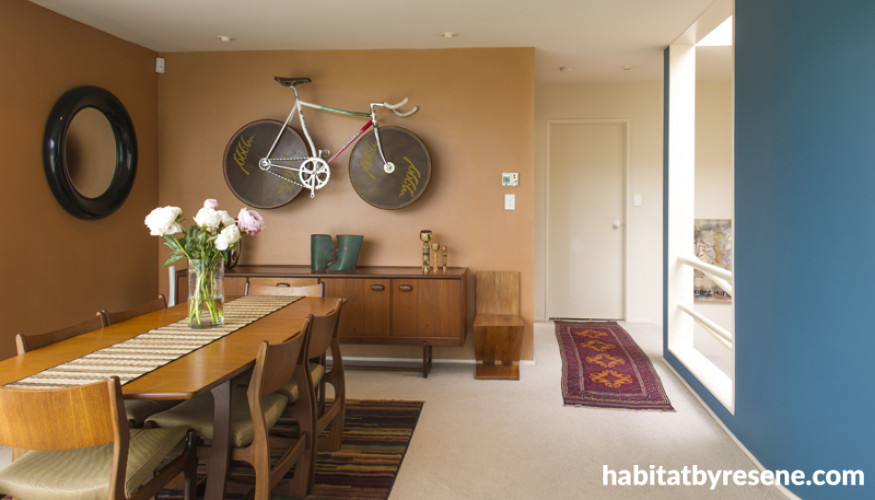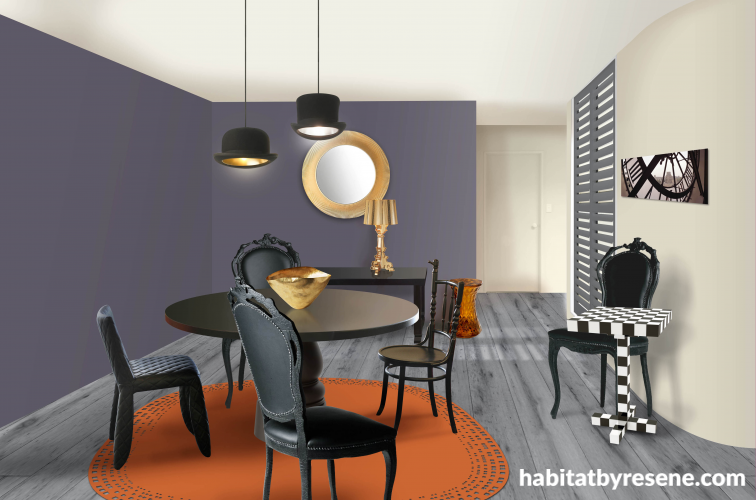 Retro, metro or pops of colour
This cosy dining room with a Scandi-bent featured in the Winter 2014 issue of habitat magazine. We had two experts suggest an alternative scheme.
Published: 09 Jul 2014
Do you have a home full of wonderful Resene paint and colour? Send us some snaps by emailing [email protected].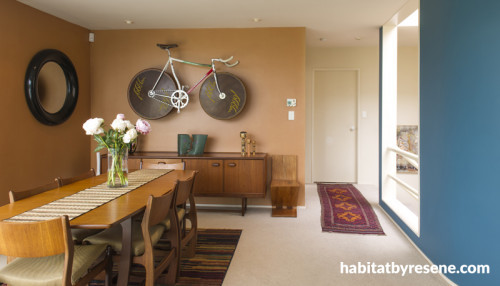 It took a few attempts before interior designer Debra Yearsley was happy with the colour of her dining room. Her and husband Adam settled on Resene Roasted Orange from the Karen Walker Paints range and Resene Marathon – both complement the Scandinavian furniture, with the subtle metallic of Resene Roasted Orange matching the gold upholstery of the chairs.
pictures
Photograph by Mark Heaslip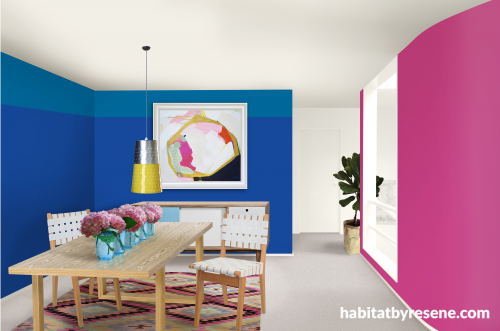 Victoria Bibby and Dael Brady of Bibby + Brady created a fresh, bright and relaxed space.

?Resene Elvis blue makes a stunning backdrop for the furniture and art pieces, while a panel of Resene Captain Cook creates a subtle design feature. Hot pink Resene Smitten highlights the curved wall, which draws your eye around the room to create a cohesive space. The table is anchored by the light shade and the rug, which also help to create a zone for the dining area.
pictures
Jens Roson replica chairs from Zuca, Pinhole Dipped Yellow light shade from Homebase Collections, Arden Buffet and Large Viva Dining Table by SM Interiors (available from Bibby + Brady), Brittany Bass Navy Geo artwork from Etsy, gold Uashama plant holder from MintSix and Ball Heritage Mason Jars from Jamie Kay used as vases.
Styling by Bibby + Brady, phone 021 207 9903 (Dael) or 022 090 1770 (Vic), and illustration by Malcolm White.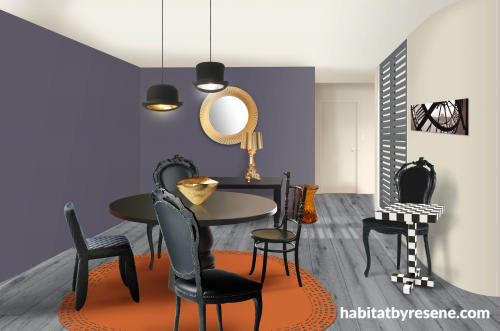 Janet Weir of Beautiful Rooms made a perfect space for the metro man.

Achieving the wow factor in the rather stark architecture of the retro period can be a daunting task to most homeowners. That problem has been overcome in this scheme by choosing well-designed products with good colour that have simple, stylish lines – but with a cheeky twist. ?

Resene Mobster walls and amber accents give this room soft elegance and glamour with neutrals like Resene Thorndon Cream and Resene Alabaster. Wide floorboards in Resene Colorwood Weathered Grey stain anchor the scheme.
pictures
Fine dining is sorted with Monster dining chairs from ECC Furniture +Lighting and Marcel Stone Stool by Kartell in Amber, available at Backhouse Interiors. Also featured are Ruckstuhl Salim rug from Sallee, New Antiques Container table, Mooi Chess side table and Tom Dixon vessel from ECC Furniture + Lighting, Bourgie lamp from Backhouse Interiors, and Allan Chawner colour photograph Musee du Louvre I from Galerie Langman?.

Pendant lights from Innermost Jeeves + Wooster and All Saints Mirror by Ludovica + Roberta Palomba give the room the feeling of a sophisticated gentleman's retreat.
Styling by Janet Weir of Beautiful Rooms, phone 0274 892 688, email [email protected], and illustration by Malcolm White.

the look
If you're stuck on what
colour to use or need colour
advice, try out the Resene
Ask a Colour Expert service.