►
◄
latest
habitat tv
blog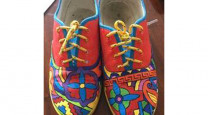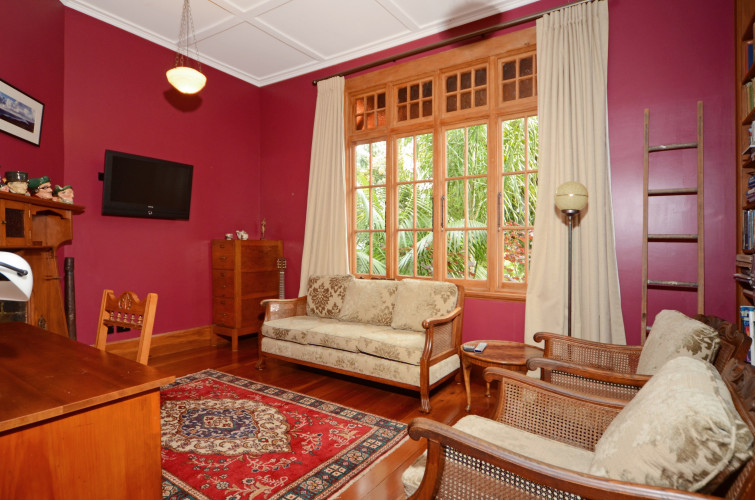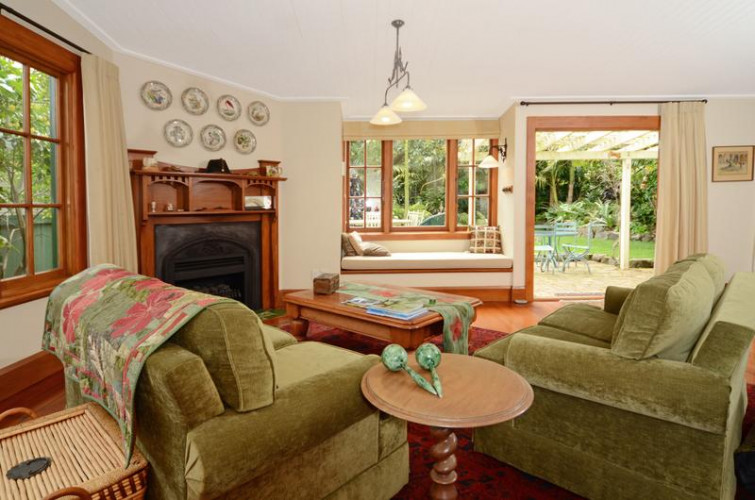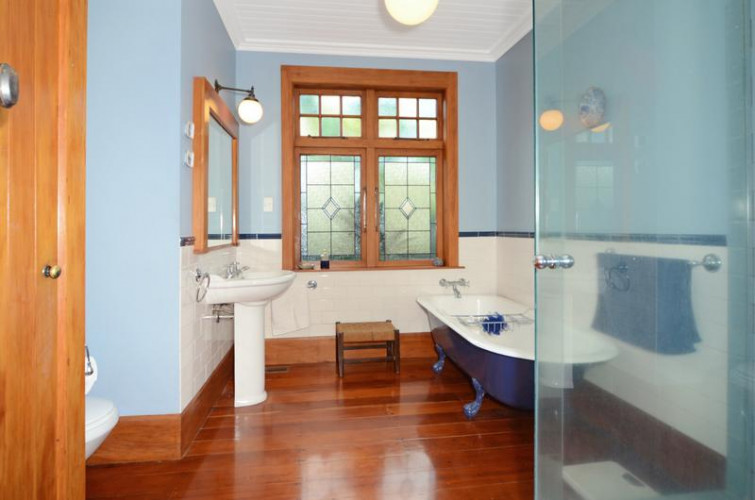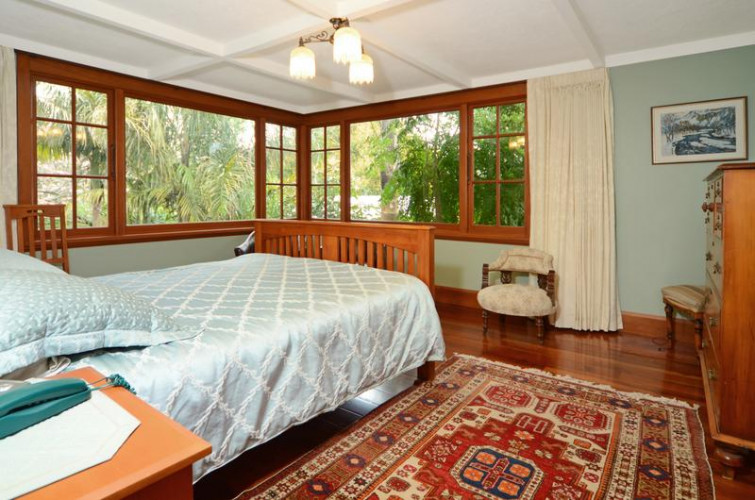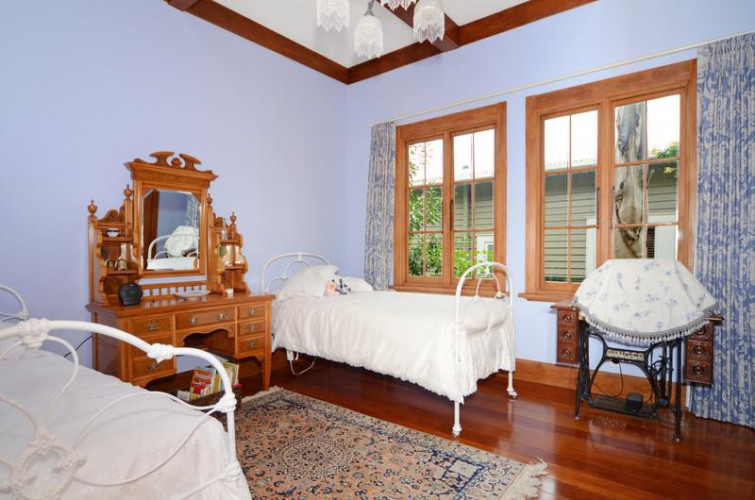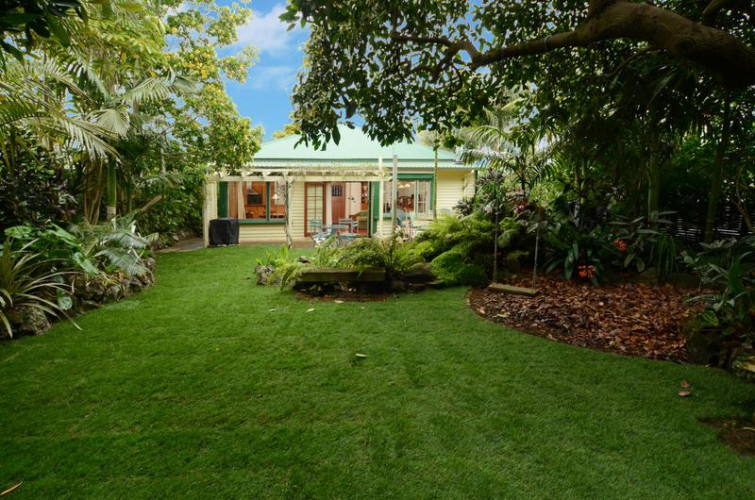 Don and Liz Return Their 1908 Bungalow to its Original Style
02 Feb 2012
Do you have a home full of wonderful Resene paint and colour? Send us some snaps by emailing [email protected].
Embracing tradition - while adding a bit of colour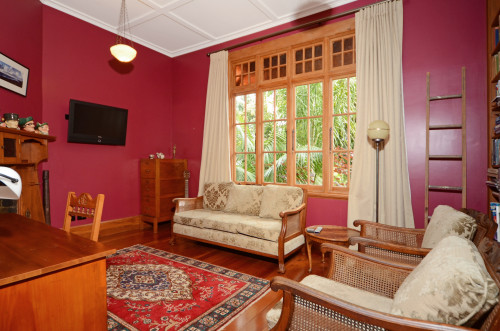 Don and Liz's 1908 bungalow needed a full restoration when they bought it 15 years ago. They were determined to get the house looking as it would have done originally, which meant painstakingly replacing fittings and spending many hours stripping, sanding and painting. The finished look is one they are immensely proud of.
How long have you lived in your home, and what first attracted you to it? We have lived in the house for 15 years. We were attracted to the property because the living area faced north, it was on a full site (Liz is a passionate gardener), it was on a quiet street and it needed a full restoration.
What was the biggest challenge with creating your home interior look? So many challenges! Stripping and sanding three and four coats of paint off doors, window frames and skirtings to reveal beautiful rimu took months of physical hard work. Finding traditional light fittings that we liked was a mission. We decided to go for brassware in Florentine Bronze rather than bright brass, as Florentine Bronze is the traditional colour for the era. This meant having much of the window and door hardware, light fittings and even screws especially coloured and polished.
What was the greatest success? Our greatest success is that "it looks as if it's always been there". This is especially so for the full-height bookshelves in the study. They cover a complete wall and are of recycled floorboards from the house itself. The fireplace hearth consists of original tiles that Liz squirreled away, supplemented with some specially made by a company in Upper Hutt.
Which space in the house do you get the greatest satisfaction from? We love sitting in the big, open lounge area looking at the subtropical garden that adds so much to the attraction of the house. Don enjoys the snug atmosphere of the study at night, with its warm colour scheme and all his books around him.
What is your advice for someone trying to achieve a similar look? Our advice to anyone else looking for the same effect is to make sure that your builder is knowledgeable about traditional styles. Be prepared to be firm with your sub-contractors who won't understand what you're on about.
What colours did you use? In the lounge, dining and kitchen we used Resene Pearl Lusta. Being a neutral colour, it enabled the Persian rugs and antiques to be the focus. In the hallway we used Resene Scotch Mist, a slightly warmer colour but neutral enough to allow family photographs to display prominently. The main bedroom and en suite are Resene Mantle, which we chose because it is a cool, restful colour. In the study we went for Resene Paprika. It's a really warm colour for a south-facing room that's used mostly at night. The other bedrooms are Resene Rock Blue and Resene Flax. The exterior weatherboards, pergolas and gates are painted in cream Resene Buttermilk, while the front door, porch, window frames, fences and summerhouse are Resene Rivergum and Resene Bush. (A combination of cream and two shades of green is traditional for the era.) The green fences provide privacy but disappear behind the plants.
Get the look:
Painting a home sympathetic to its era can really bring out its wonderful detailing and atmosphere. The Resene Heritage colour range is a superb place to start if you're planning to paint your heritage home in an authentic colour palette. It includes a range of colours developed by conservation architect Ian Bowman, and is based on colours from various historical eras, with examples of authentic heritage colour palettes.
pictures
Open home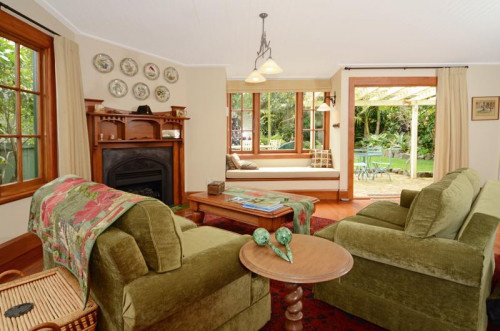 "We love sitting in the big, open lounge area looking at the subtropical garden," say Don and Liz. They painted the room in Resene Pearl Lusta "to enable the Persian rugs and antiques to be the focus".
Bathing blues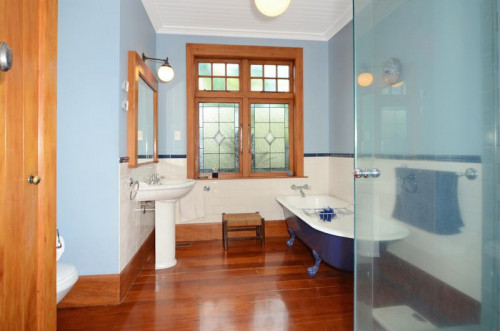 The gorgeous bathroom, with large leadlight windows and a claw-footed bath, is painted in Resene Mantle.
Sleeping beauty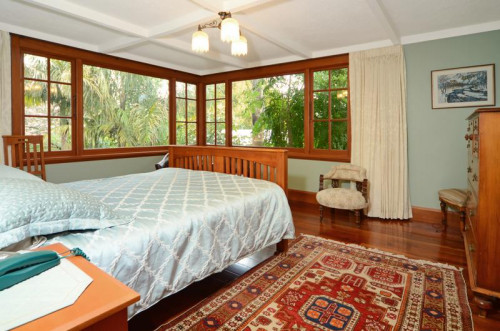 The master bedroom is painted in "cool, restful" Resene Mantle.
Twin room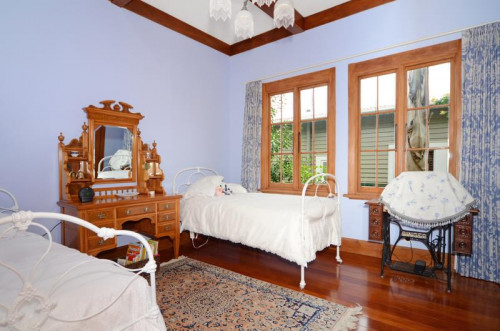 This Victorian-styled bedroom, painted Resene Rock Blue, features white cast-iron bed frames and white lace covers.
The green, green grass of home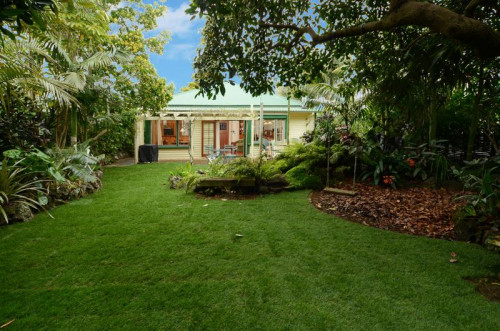 With a cream (Resene Buttermilk) and green (Resene Rivergum and Resene Bush) palette, the exterior of the house is true to its 1908 heritage.