►
◄
latest
habitat tv
blog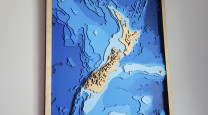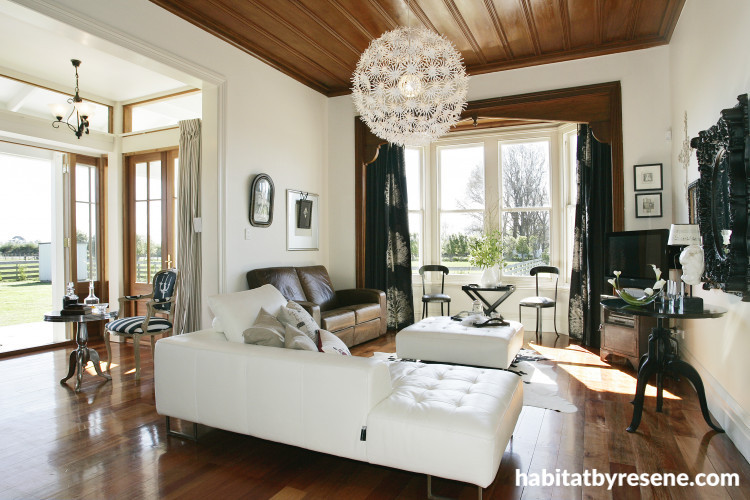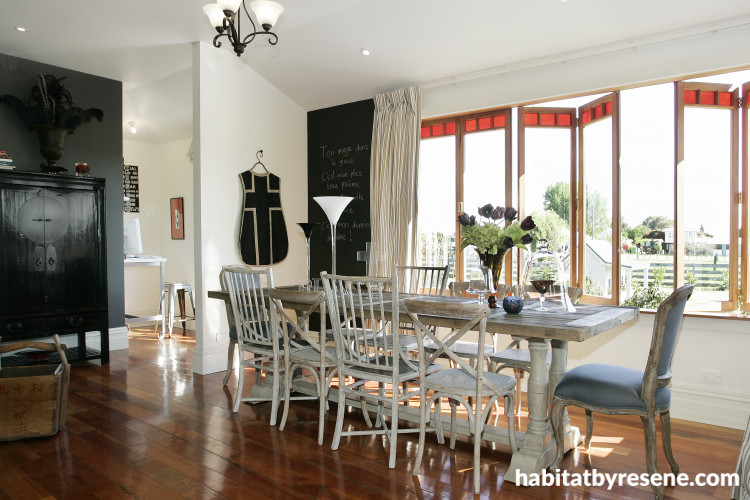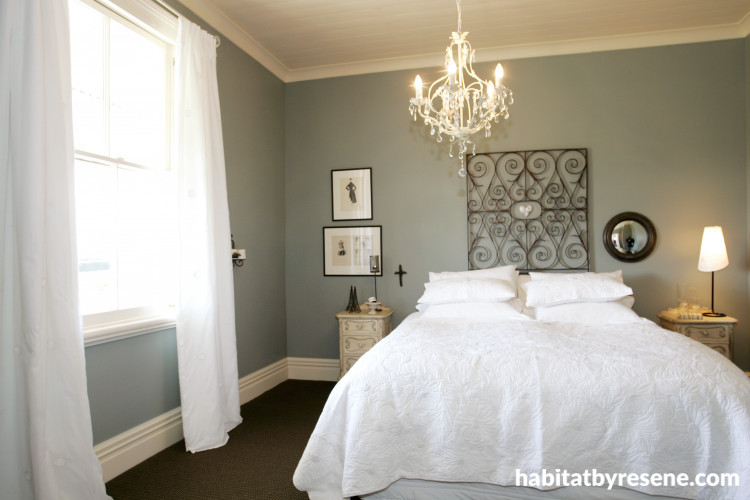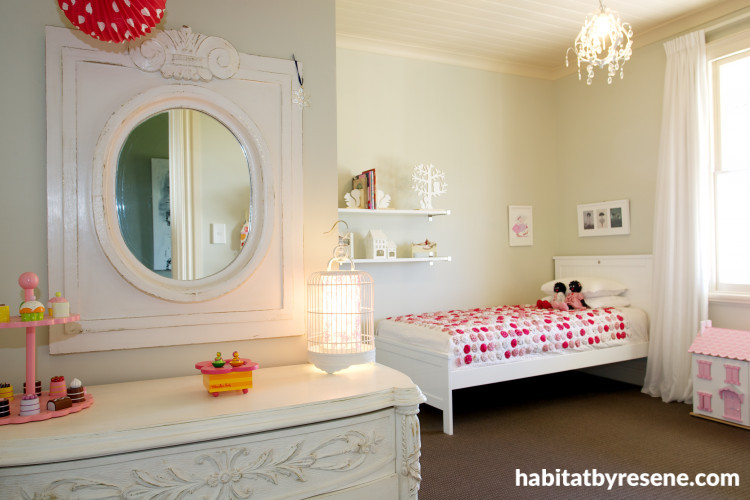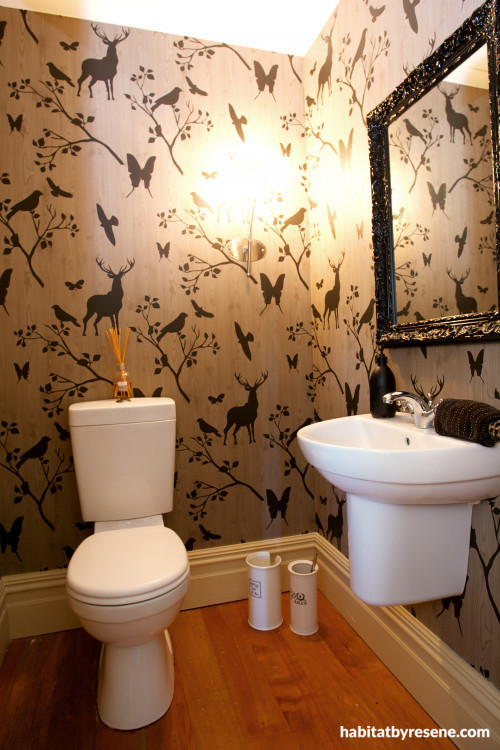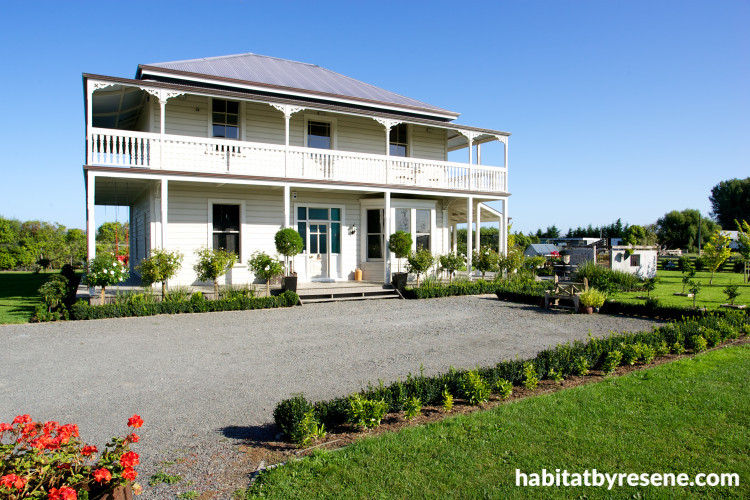 Jason and Jodie's Romantic Country House
Published: 27 May 2015
Do you have a home full of wonderful Resene paint and colour? Send us some snaps by emailing [email protected].
Old world elegance meets modern style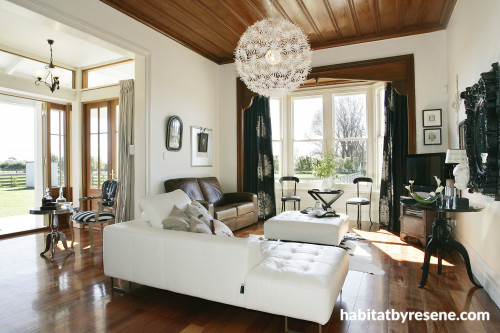 "It looked like a house dumped in the middle of a paddock," says Jodie of the first time that she and husband Jason saw their two-storeyed, century-old Hawkes Bay homestead. With nothing but dirt surrounding it, the house desperately needed some TLC.
"What we've done is mostly cosmetic," explains Jodie. "No rebuilding or extending or anything major like that, but we have done a lot of painting - the interior used to be green and yellow - and replacing curtains and carpet. We got a landscape gardener to help us with the exterior, as we wanted a traditional English garden to suit the style of the house. I call this my Gone With The Wind house!"
How long have you lived in your home? Two and a half years. We liked that it was semi-rural - great for the kids - and we liked the style of the house and its size. It is 290sqm and has five large bedrooms.
How would you describe your style? Eclectic - everything is from everywhere! Most of the furniture has a story. Our metal kitchen table is from the Tomoana freezing works - they used to cut meat on it! Our headboard in the master bedroom is an old gate. I like to mix old and new. And I'm quite dramatic - hence all the black and cream.
Where did your inspiration come from? It's just what I like. Lots of people comment that I put things together in a way that works. I own a business called Smoke N Mirrors, which does home-staging and interior design consultations - I love doing that kind of thing. I made all the curtains in our house myself, and painted it too.
Which space in the house do you get your greatest satisfaction from? I love the huge all-in-one dining and living area. I especially love the corner with the church pew. I bought the pew just for display, but so many people sit on it - including myself - that I had to take off the $600-per-metre fabric that I had covered it in!
What is your advice for someone trying to achieve a similar look? Pick what you like. Go with your heart.
What colours did you use? We used Resene Half Spanish White in the living areas. That was the hardest decision of all! I thought I would use Resene Merino, but it was too white for me. Full Resene Spanish White was too yellow, but Resene Half Spanish White is a nice cream. We used some Resene Blackboard Paint in the living area, too. The wallpaper in the toilet is Neo N943871 from Vision Wall Coverings (available from Resene). I saw it on the wall of a Dannevirke restaurant and had to have it. I took a photo of it on my phone and then hunted it down! The child's bedroom that is pictured here is painted in Resene Joanna (I wanted something subtle and pretty), and the master bedroom is my favourite: pretty Resene Powder Blue. Because of all the dramatic black and cream, we wanted beautiful, softer bedrooms.
What are you planning to do next? We are just finishing off a gorgeous patio which includes an outside dining area. We are also planning to have an en suite put in upstairs.
Get the look:
Using your phone to capture images of things you like is a handy way to start building a scrapbook of favourites that will help you when you come to making decorating decisions. To make choosing colours easy, you can load your photos into the free Resene Colour Palette Generator and it will turn your image into a suggested colour palette. It's a quick and easy way to get a starting colour scheme that you can then tweak to suit your project.
pictures
Photography by Jodie Robertson www.jodierphotographer.co.nz This house is available for rent as a holiday home. For details see www.amazingaccom.com/property/741
Table talk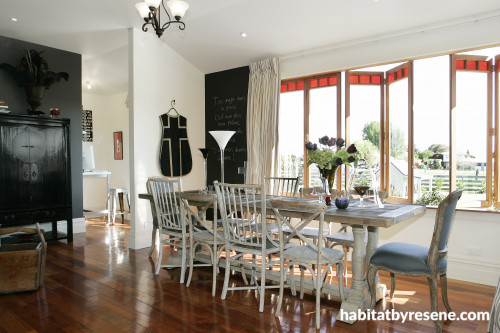 The huge living area incorporates this 10-seater elm dining table with mismatched oak chairs. Walls are painted in Resene Half Spanish White and Resene Blackboard Paint.
French connection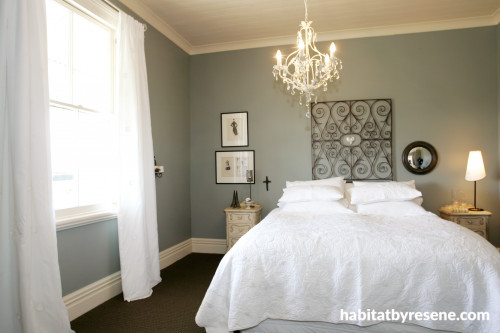 The master bedroom is painted in soft Resene Powder Blue. The headboard was originally an old French gate. Jodie gilded the chandelier herself.
Pretty in white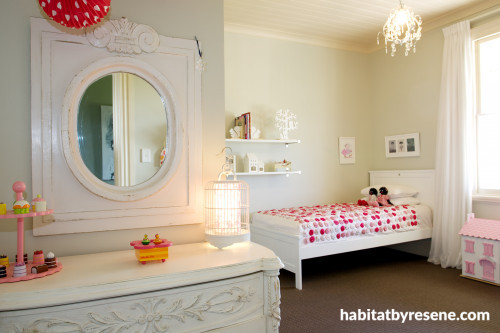 This girl's bedroom is painted in Resene Joanna. "I wanted something subtle and pretty," explains Jodie.
Hunting party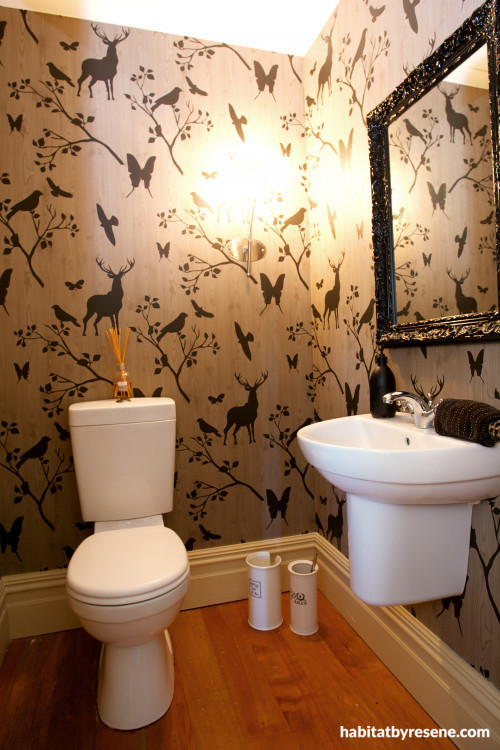 When Jodie saw this deer, bird and branch motif wallpaper in a Dannevirke restaurant, she took a photo of it and hunted it down! Made by Vision Wall Coverings, wallpaper Neo N943871 is available from Resene.
Gone With The Wind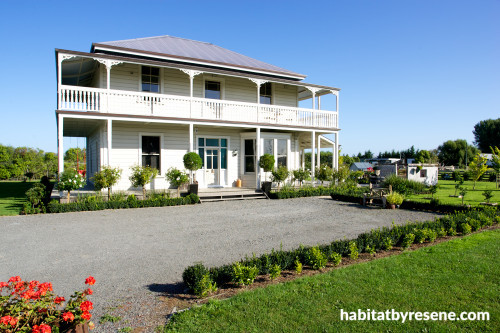 The huge homestead, with its wraparound verandah, no longer looks like it has been "dumped in the middle of a paddock," thanks to some landscaping work and "lots of plantings". It's easy to see why Jodie calls it her Gone With The Wind house.


Resene Half Spanish White




the look
If you're stuck on what
colour to use or need colour
advice, try out the Resene
Ask a Colour Expert service.