►
◄
latest
habitat tv
blog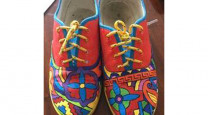 Sally and Michael's transitional Devonport villa
03 Feb 2020
Having a spacious home in stylish Devonport is an Auckland property pipe dream, but one that Michael and Sally managed to turn into a reality. But like many older homes, this one required a lot of love, attention and an interior designer's eye to transform it into the modern and minimalist beach haven it is today. To help weave a consistent look throughout their home, Michael and Sally enlisted the help of their friend, Seattle-based interior designer Lisa Staton, who relied on a select palette of Resene colours to inject it with contemporary Scandinavian charm.
Do you have a home full of wonderful Resene paint and colour? Send us some snaps by emailing [email protected].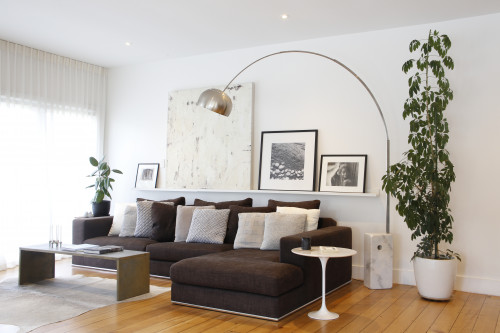 The living room walls, ceiling and trims are painted in Resene Double Alabaster. The floating art ledge behind the sofa is also in Resene Double Alabaster and enables both changeability of art and a variety of sizes and shapes. "The choice of a large piece in the centre draws the eye along, up and down again, in the shape of a pyramid – a line that is very pleasing to the human eye," says Lisa.
The decision to renovate was an absolute necessity for the family of five. Despite having great bones and an abundance of light, the home had gone through various renovations over the years, including attempts at 'modernisation' in the 1960s and 1990s – the latter of which resulted in a purple kitchen. "We wanted to give it a consistent style throughout, one that would honour the heritage features of the house but also have a fresh, modern feel that made sense for a house by the beach," explains Sally.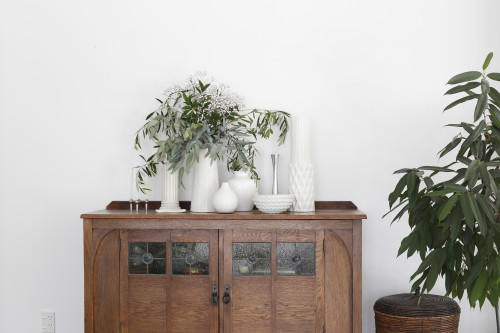 Resene Double Alabaster in the open plan living space allows the natural wood furnishings and touches of greenery to pop.
Thanks to Lisa's expertise, Sally and Michael were carefully guided towards a cohesive look from paint colours to tiles to home furnishings. "Lisa provided great input based on the beach location, her knowledge of our design preferences and her expertise in pairing traditional with modern."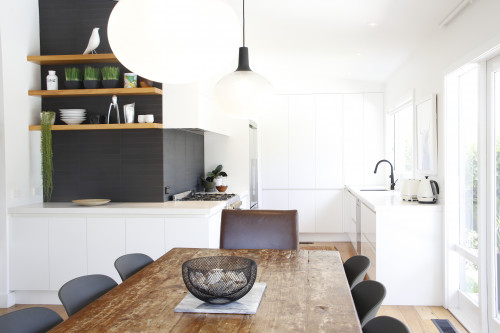 The entire kitchen has been painted in Resene Double Alabaster including ceilings and trims, allowing the black tile feature to stand out along with the wood shelving. You can get a similar look with a soft black paint colour like Resene Foundry or Resene Nocturnal.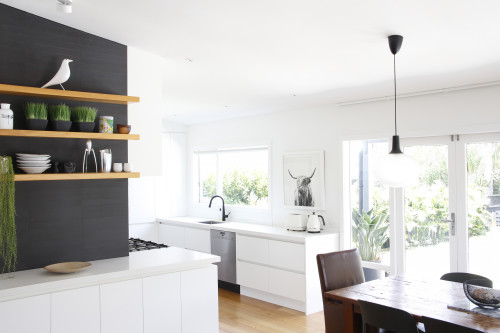 Resene Double Alabaster provides the perfect neutral for this Devonport home. The garden is in full view from the open plan living space and is welcomed without resistance thanks to the calming tones inside.
Lisa couldn't resist the refreshing and attractive allure of Resene Double Alabaster – a mainstay throughout the home. "It's a fresh, crisp white. Combined with the pale-toned floor it provides a calming backdrop for texture and shape to be introduced," she says. The neutral walls and trims allow the outside views to shine through, while bold black details like the tiled kitchen wall and light fittings are welcome and eye-catching surprises.
Resene Double Alabaster on the walls, ceiling, doors and trims flood this room with light and helps the striking artwork and plants to draw focus.
The calm and fresh look of Resene Double Alabaster allowed for a successful open plan kitchen, living and dining transformation – easily Sally's favourite part of the renovation. "It was quite disjointed and dated. We wanted to achieve a feeling of light and flow and are really happy with how that turned out."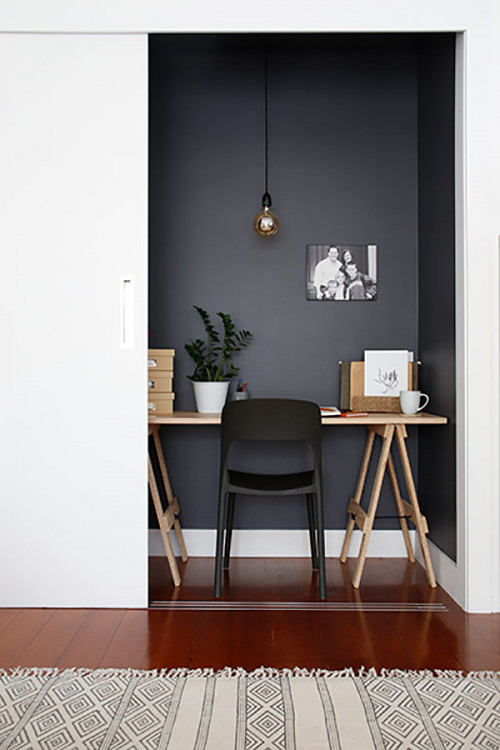 This hidden office nook is one of the home's great surprises and is painted in Resene Half Nocturnal. Sliding cupboard door and surrounding walls and trims in Resene Double Alabaster.
Touches of Lisa's genius eye for design exist throughout the home, most notably the decision to paint the inside of the cupboard office in Resene Half Nocturnal. "It creates the illusion of it being its own room. The shelving is disguised by being the same colour as the walls, and the contrasting white desk brings the focus back to where the work is done," says Lisa. Similarly, choosing to paint a headboard on the lower half of the wall in one of the bedrooms also adds a fun pop of contrast. "By extending it edge-to-edge the room feels even wider than it already is and stops the bed from feeling like it's floating in white space."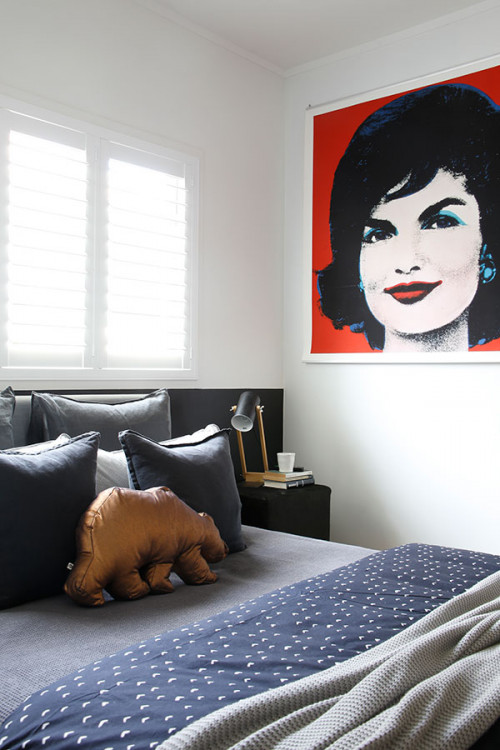 Walls, ceilings and trims painted in Resene Double Alabaster, while the black painted headboard offers the illusion of the room being wider than is it. Get a similar look using a strong tone like Resene Cod Grey then add bedding in a deep coastal navy like Resene Avalanche and accents and accessories in a toffee brown like Resene Cape Palliser and a vibrant red like Resene Havoc.
Lisa was exacting in her choice of window furnishing in order to provide a sense of calmness through the home. She wisely used louvres in the two front road-facing rooms where the benefits could be two-fold. "They provide light control on the inside and a contrasting white window frame on the outside," says Lisa. Additionally, floor-to-ceiling white drapes have been used in the spaces that run down the sunny north side of the house. "They give each space a lovely mellow light, bring a softness to balance the solid-wood floors and help draw the focus to the west-facing open-plan living at the rear of the home."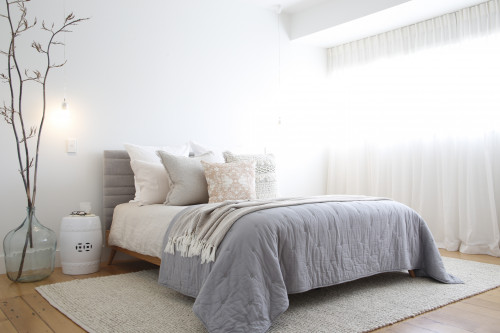 Bedroom walls, ceiling and trims are painted light and bright Resene Double Alabaster, while the wooden floors offer warmth. The grey and pink soft furnishings masterfully bring this simple but comforting look together – look to Resene Raven and Resene Pot Pourri for similar hues.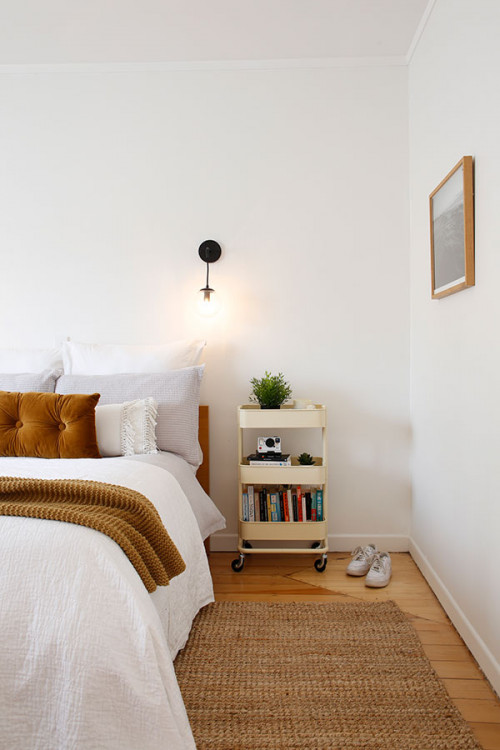 Resene Double Alabaster on the walls, ceiling and trims form the backdrop for this room featuring warm, caramel brown tones. The wooden floor offers a rustic look and works well with the caramel cushion in a hue similar to Resene Mai Tai and curry coloured throw in a hue like Resene Korma.
Lisa's expertise, exceptional taste and rapport with Sally has resulted in a charming and contemporary look that has well and truly brought this home into the modern age. But, Sally notes, the process wasn't without its challenges, especially since they did everything in stages rather than all at once. "We lived in the house through it all – so that was challenging at times," she says.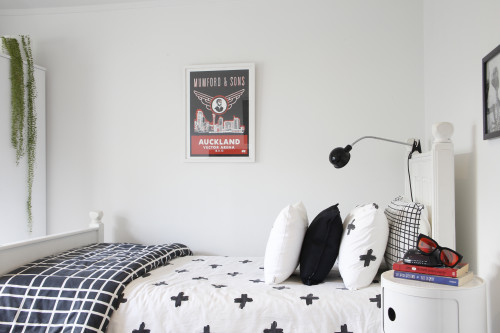 Resene Double Alabaster gives this child's bedroom permission to invite more colour through accessories and other furnishings. The red and black notes have been used sparingly to great effect. Try Resene All Black and Resene Roadster for similar shades.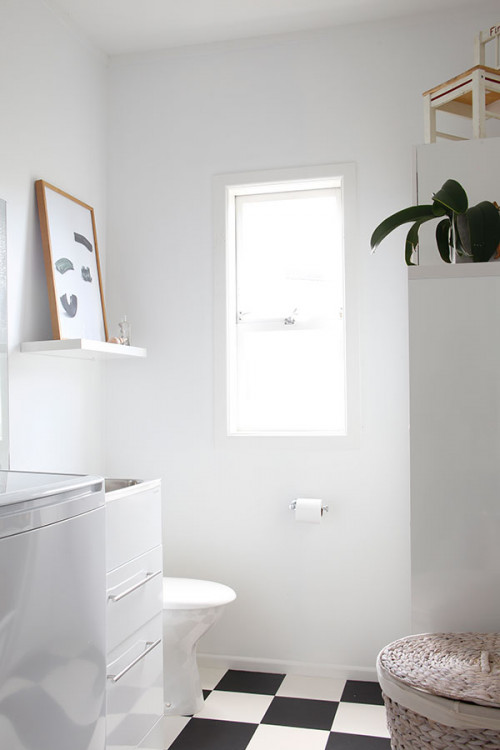 Resene Double Alabaster on the bathroom walls, ceilings and trims allowed for a little experimentation with the fun chequerboard tiles. Get the look with some simple masking and alternate squares of Resene Nero and Resene Quarter Bianca.
Sally's advice for anyone trying for a similar look is to keep the palette really simple and abandon any fear of white being boring. "Use black accents carefully – just a few and high quality. Natural wood tones also give nice warmth."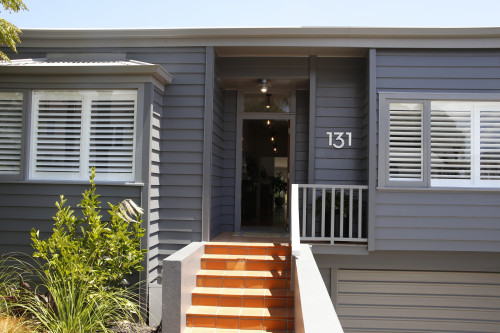 The entire exterior is painted in Resene Half Baltic Sea with trims in Resene Gauntlet – which are great choices for its beach location while honouring the brief to modernise its look.
Like what you see? This house just went on the market and could be yours. See the listing here.
styling and photography Kate Alexander, Places & Graces