►
◄
latest
habitat tv
blog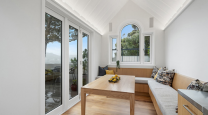 Master Builders' Chief Executive David Kelly shares his tips for building in the challenging climate.

Planning... more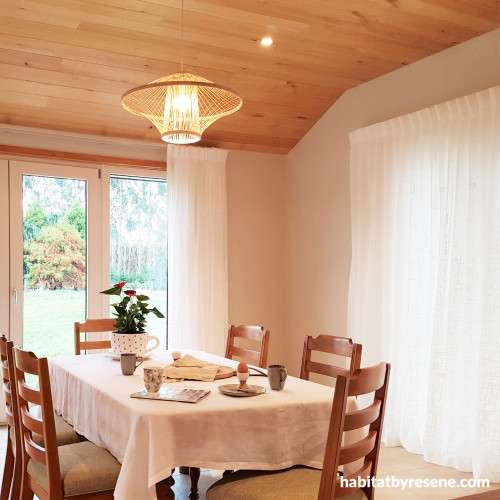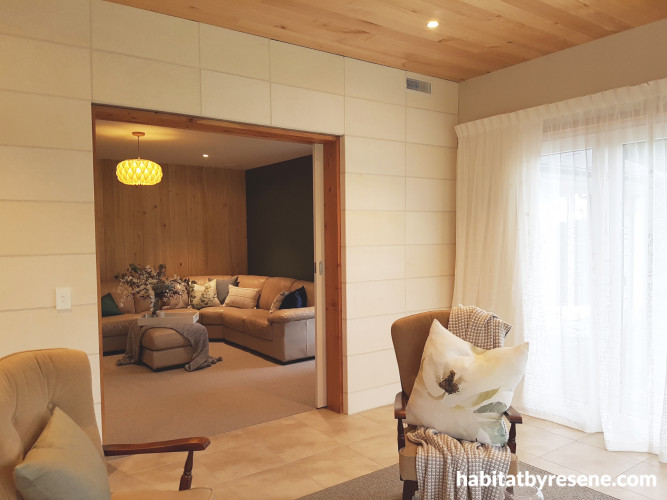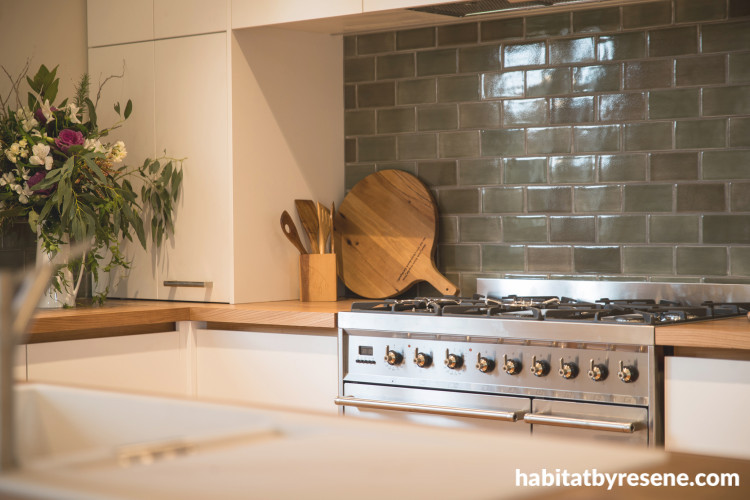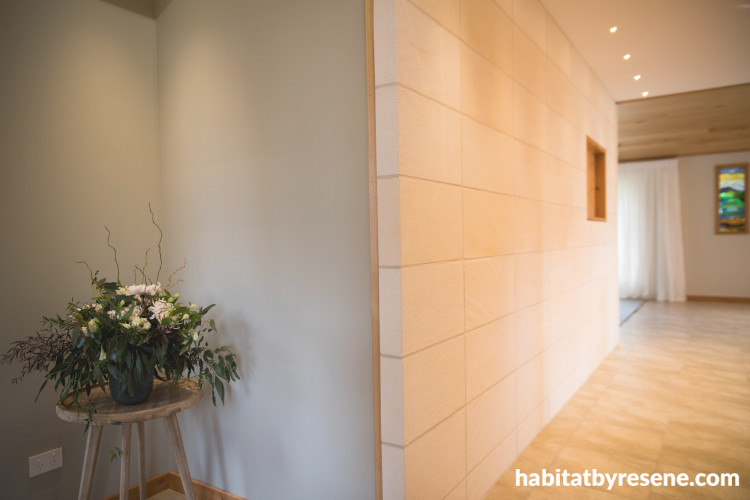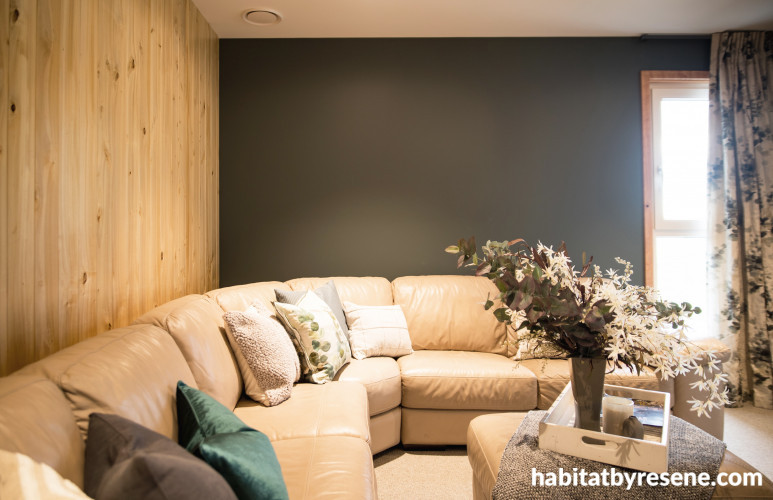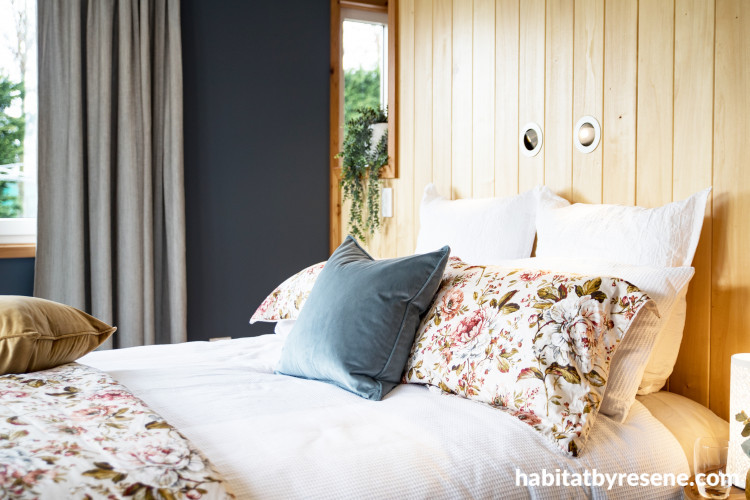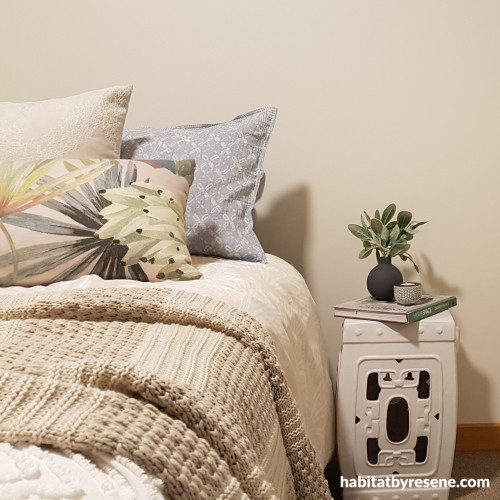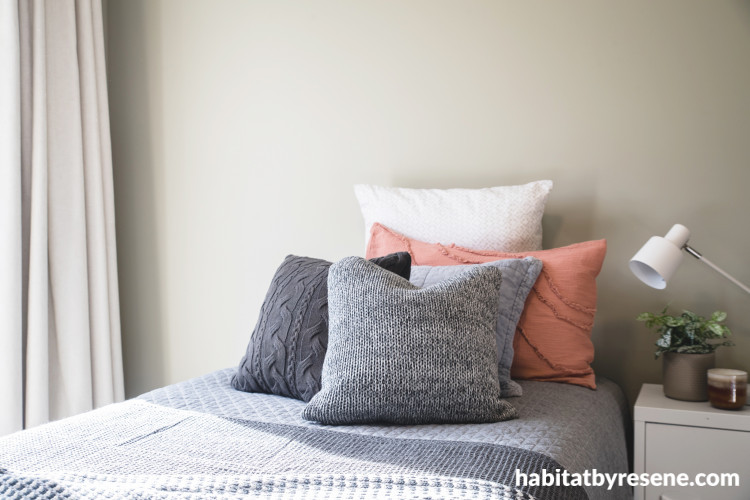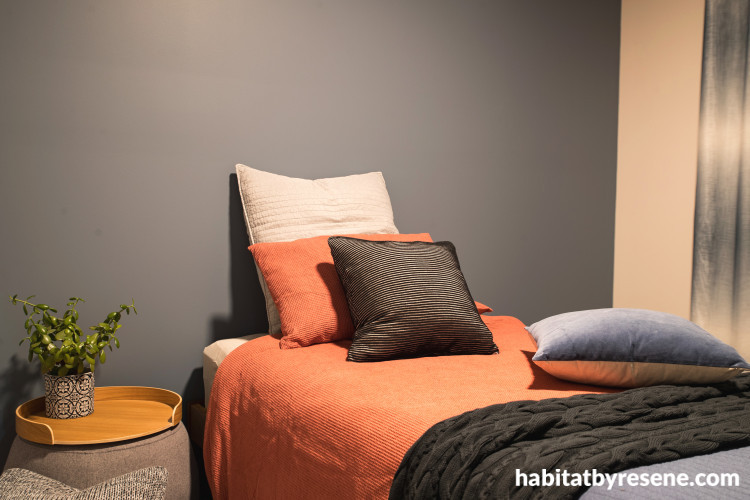 Sarah creates an expertly coloured country chic sanctuary
When Sarah Eaton of Tailormade Space was hired to provide a full interiors concept on a new build in Canterbury, the leafy rural setting became the perfect opportunity to create a quintessential country home. The goal was to give the interior a natural, crafted and timeless feel, made possible with a neutral palette of Resene paints.
The new build sits on the site of an existing property in Ohoka, not far north of Christchurch, which shares land with the homeowners' thriving tree nursery. A simple and minimalistic design with striking modernist featured throughout, the interior relies on natural details like timber feature walls and ceilings to add to its country chic appeal. As a beautiful surprise, weaving into the home and wrapping around one side of the open plan living area, is a stunning limestone block wall.
During the design phase, Sarah took a careful and considered approach to colour. Her biggest challenge, she says, was selecting the right neutral paint colour to act as a base.
"It needed to be chosen on site as there is a beautiful light within the home which interacts with the colours," she explains.
Sarah eventually landed on the ideal hue: Resene Quarter Akaroa, which has been used throughout the open plan kitchen, living and dining area.
Published: 11 Nov 2019
Do you have a home full of wonderful Resene paint and colour? Send us some snaps by emailing [email protected].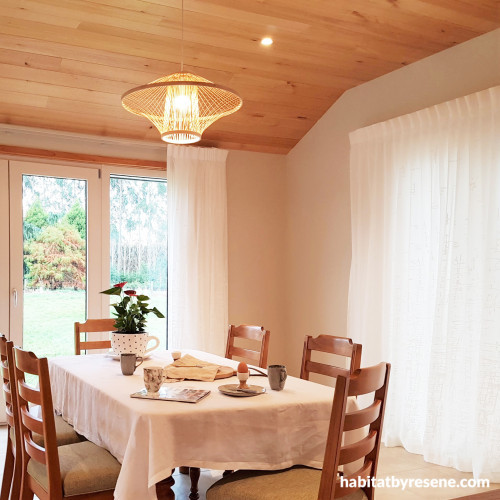 Walls painted in Resene Quarter Akaroa in the open plan kitchen/living/dining space visually leave room for the property's natural surroundings to shine and for the natural materials to evoke a homey, country feel.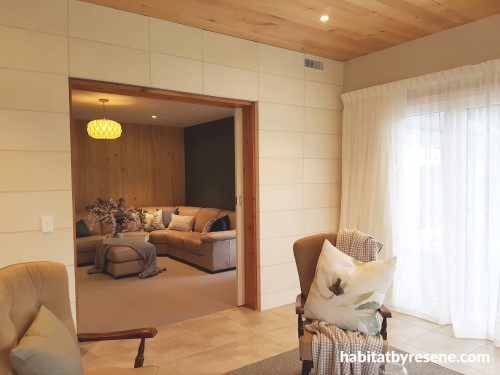 Noting Resene Quarter Akaroa's many positives, Sarah explains that it provides a light, warm backdrop for the main living spaces and found that it sits well next to the limestone feature wall and timber ceiling.
The kitchen owes its crisp and clean aesthetic to slightly lighter Resene Eighth Akaroa, with Resene Lustacryl used on the doors and cabinets to provide a durable, semi-gloss finish. On the walls, she opted for Resene SpaceCote Low Sheen Kitchen & Bathroom for its washability as well as its mould inhibiting and antibacterial properties.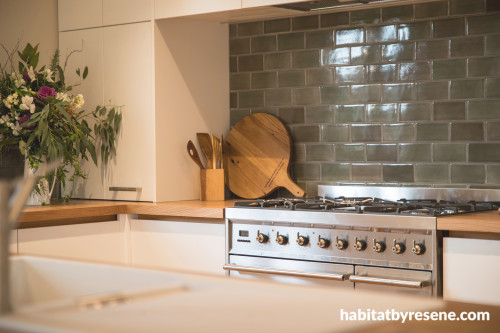 Extending the neutral theme into the kitchen, Sarah opted for Resene Quarter Akaroa walls paired with Resene Eighth Akaroa cabinetry. Their muted tones work well to accentuate the room's natural wood features and complement the tiled splashback.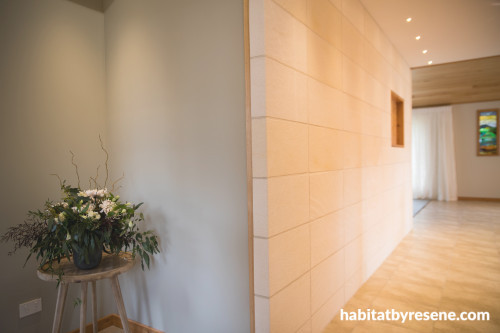 Walking through the open space feels like a retreat from the outside world. Resene Linen, used in the entryway, mudroom and hallway, works in tandem with the limestone feature, delicately separated by natural wood trims and skirting boards. Resene Quarter Akaroa, used throughout the main living spaces, can be seen at the right.
While go-to neutrals like Resene Quarter Akaroa were a mainstay, Sarah didn't shy away from incorporating accent walls in deeper tones to set the mood in spaces meant for rest and relaxation. The separate lounge benefitted from gorgeous natural light and timber, making Resene Dark Slate a welcome companion.
"I was careful to utilise natural and muted colours versus bold or stark colours. This was in order for them to sit easily alongside the other natural finishes and not compete," Sarah says.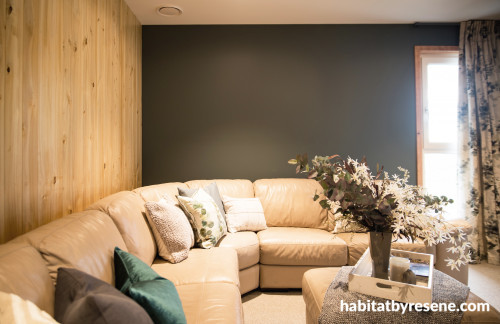 A statement wall in Resene Dark Slate offers a deeper tone that complements the separate lounge's natural features. Sarah carefully curated contrasting tones that resulted in a scheme that is "well connected and flows from one space to the next." Resene SpaceCote Low Sheen gives the walls added durability and toughness.
For the master bedroom, bringing in a modest blue-grey tone provided a soothing look that worked harmoniously with the lush soft furnishings. Sarah opted for Resene Half New Denim Blue - a cool colour that provides an understated backdrop to the outside landscape. White bedding accented with floral patterned linens and luxe velvet cushions are classic touches that feel right at home with the wooden feature wall behind the bed and natural timber architraves.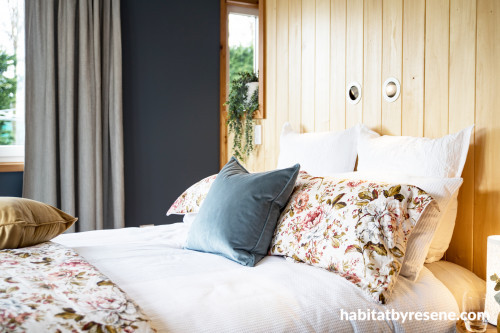 The washed-away slate of Resene Half New Denim Blue makes the master bedroom an idyllic hide away. "The homeowner noted that once the master bedroom had been painted, the green view from the window became more prominent," Sarah says.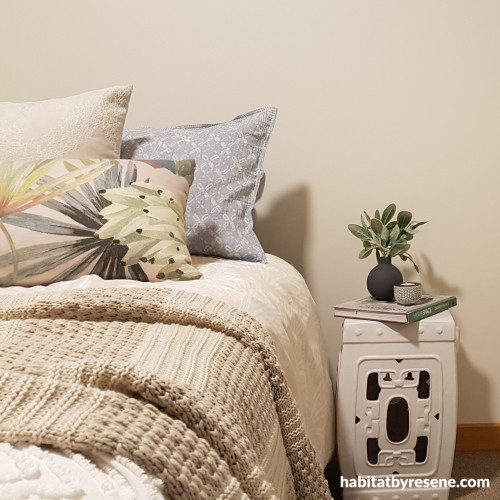 Resene Eighth Akaroa offers a mild, refined tone that allows this room's subtle touches of green to shine. The heavily textured almond-hued throw and a couple of chic patterned cushions help create a feeling of cosiness.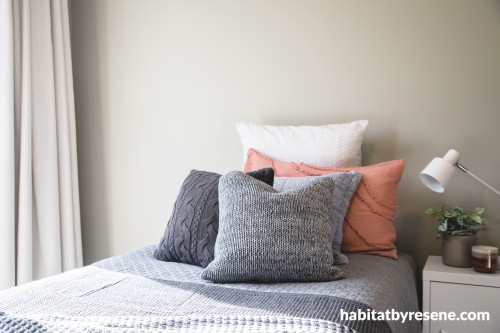 The green-grey undertones of Resene Double Linen, a simple and appealing misty ash, makes for an unassuming yet effective backdrop to grey and sunset pink soft furnishings.
Working with the natural environment was top priority and, undoubtedly, Sarah excelled with every colour selection. The homeowners especially love the quietness of the colours used and the way they interact with the natural textures used throughout.
"The overall effect is similar to a cosy blanket. It creates a sense of relaxation and hominess.
"Sarah's dedication to maintaining a harmony with the property's surroundings and her thoughtful selection of neutrals and darker tones has resulted in a truly comforting country haven."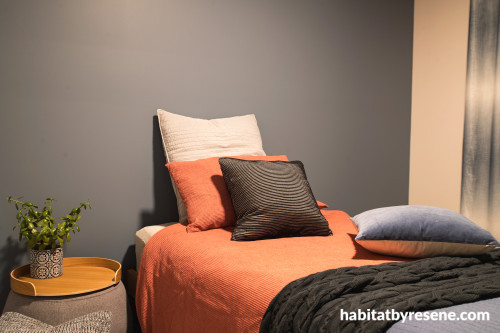 Resene Quarter New Denim Blue, used for the feature wall in the fourth bedroom, contrasts beautifully with Resene Eighth Akaroa, which was used on the rest of the walls.
images and design Sarah Eaton, Tailormade Interiors
Resene Half New Denim Blue
the look
If you're stuck on what
colour to use or need colour
advice, try out the Resene
Ask a Colour Expert service.