►
◄
latest
habitat tv
blog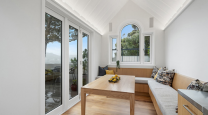 Master Builders' Chief Executive David Kelly shares his tips for building in the challenging climate.

Planning... more
See the colour that adds dollars to your home
Are you selling your home and wondering what colour interiors will appeal the most? The common philosophy is to play it safe and have a broad appeal by painting everything in inoffensive off-whites and neutrals.
That may be not be the answer. Well, at least in America, where property company Zillow Porchlight analysed 32,000 images from houses that had sold around the country to see how certain paint colours impacted their sale price on average, when compared to similar homes with white walls.
And the winner is… blue, in every room except the living room.
It's a result that rings true here at Habitat by Resene. When we post houses that feature blue, in particular duck egg blue, you love them.
There's only one finding we might challenge when you cross the Pacific Ocean. In America, home buyers loved navy blue front doors whereas here, red front doors are a perennial favourite. Resene has probably sold more tins of Resene Pohutukawa than any other for front doors.
Some colours may actually deter buyers. Homes with darker, more style-specific walls like terracotta dining rooms sold for $2,031 less than expected. However, a lack of color may have the biggest negative impact as homes with white bathrooms sold for an average of $4,035 below similar homes.
The Zillow research found that rooms painted in shades of light blue or pale blue/grey can sell for as much as $5,440 more than expected.
So head on down to your Resene ColorShop and check out these examples, and see our photo gallery for colours that sell better for particular rooms: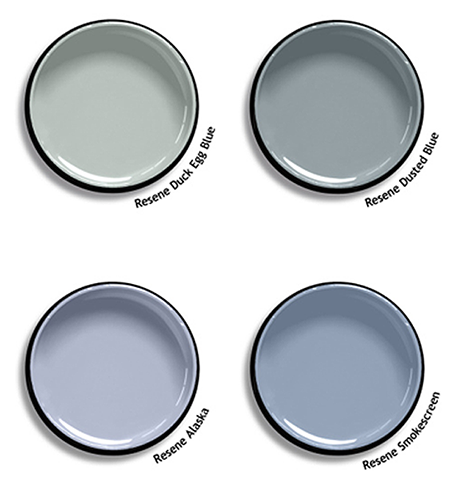 Published: 06 Jul 2017
Do you have a home full of wonderful Resene paint and colour? Send us some snaps by emailing [email protected].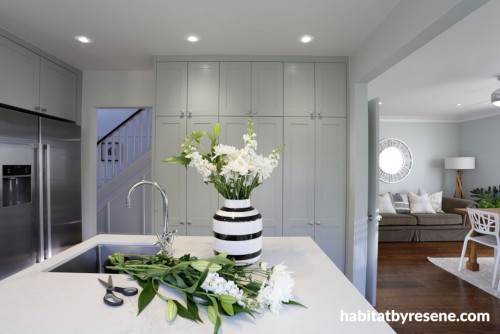 Studies show that homes with blue kitchens, often in soft grey-blue, sold for a premium. In this kitchen, designed by Kelly Gammie of Eucalyptus Design, the walls are painted in Resene Half Duck Egg Blue, a popular grey-blue for the home. The cabinetry is painted in Resene Half Delta to complement walls and balance the Resene Delta doors throughout the rest of the house.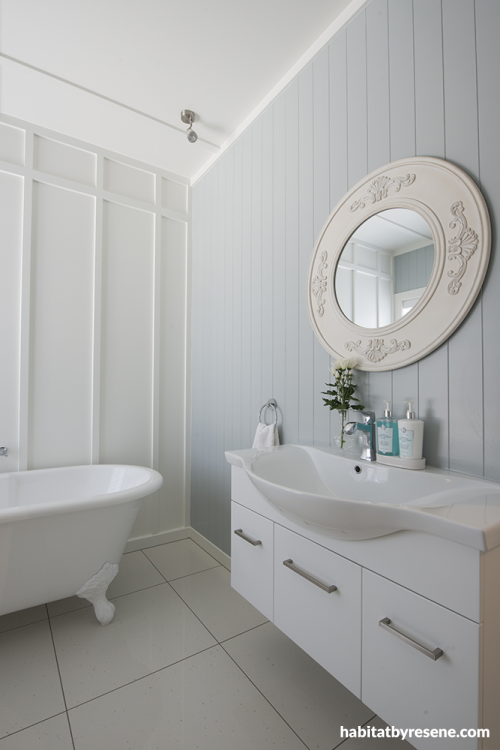 Homes with light pale blue to soft periwinkle blue bathrooms sold for way more than expected. This bathroom is a stunner, painted in the dreamy blue-grey of Resene Hermitage, with a Resene Quarter Carrara board and batten feature wall behind the freestanding bathtub. It features in this beautiful replica villa home, built by David Wraight Villas.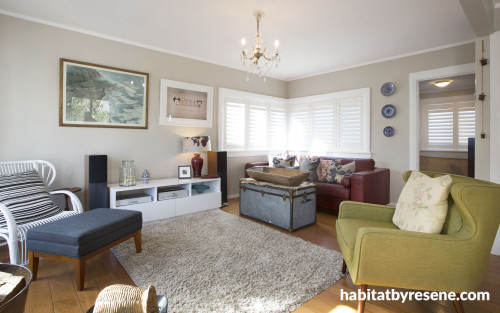 Homes with light beige or pale taupe living room walls sell for more than expected. Take your cue from Claire and Mark Bramwell's home, where the main living area is painted in Resene Quarter Napa.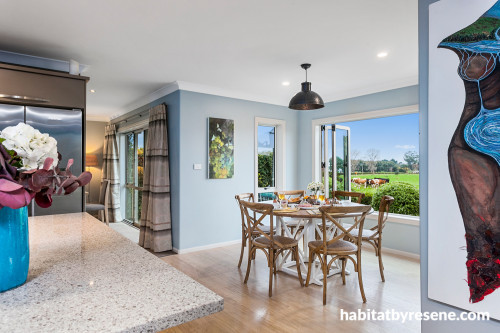 It also found that homes with slate blue to pale grey blue dining rooms also sold for more money. The lounge, breakfast nook and living room of this bed and breakfast are painted in soothing Resene Periglacial Blue. The trims are Resene Blanc and the ceiling is Resene Half Merino. For more about Arthouse Bed & Breakfast, see www.arthousebnb.co.nz.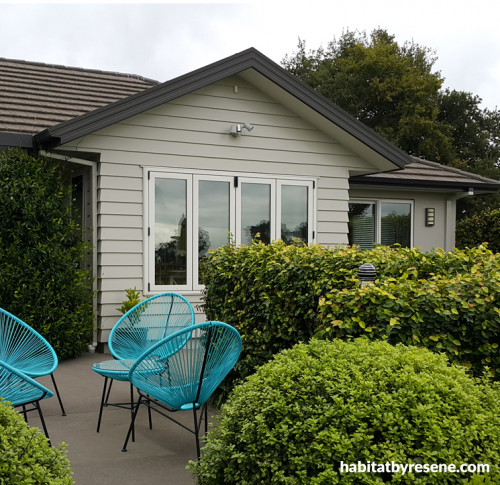 A home's exterior colour may also have an impact on its sale price. Homes painted in greige, a mix of light grey and beige, sold more than similar homes painted in a medium brown or with tan stucco.
Not a week goes by when someone doesn't knock on the door and asks for the exterior colour of this house, built by Marcus Grayling of Grayling Builders, and designed by LAD Architecture. The weatherboard is painted in Resene Half Napa, and the roof is painted in Resene Grey Friars.
Resene Half Duck Egg Blue
the look
If you're stuck on what
colour to use or need colour
advice, try out the Resene
Ask a Colour Expert service.