►
◄
latest
habitat tv
blog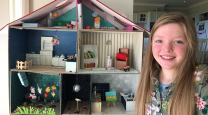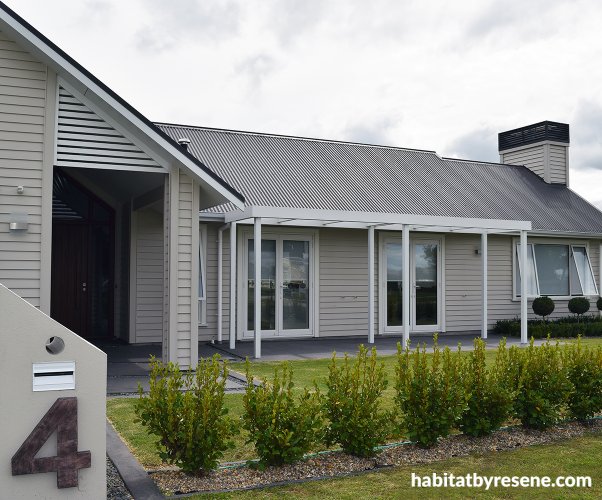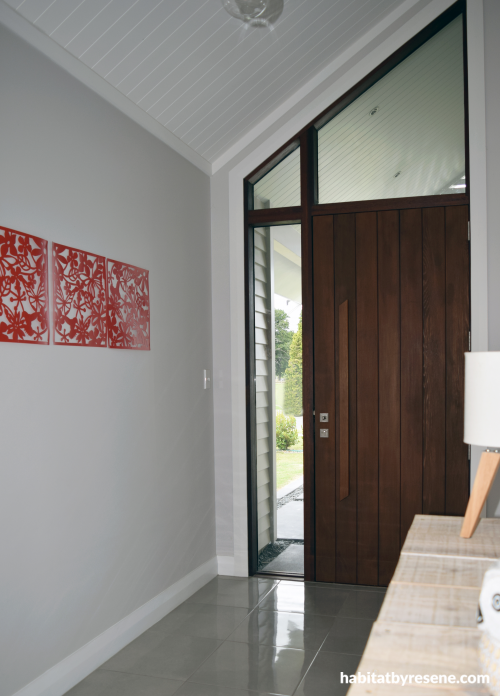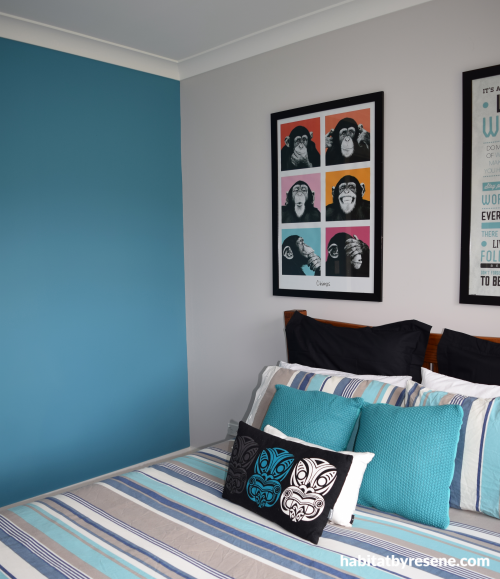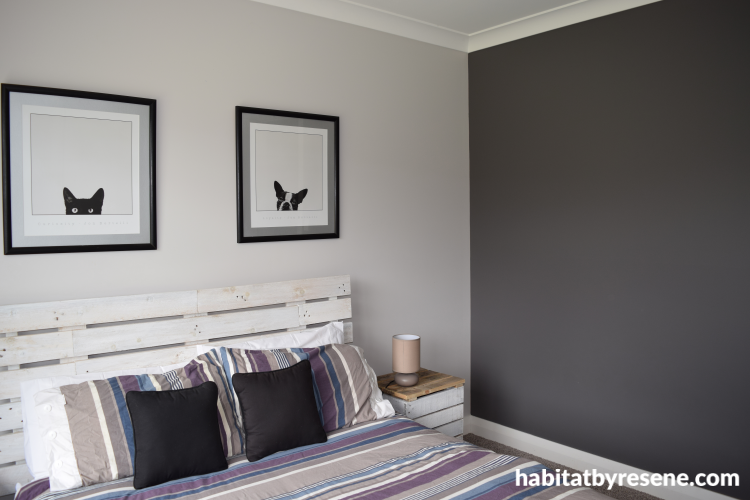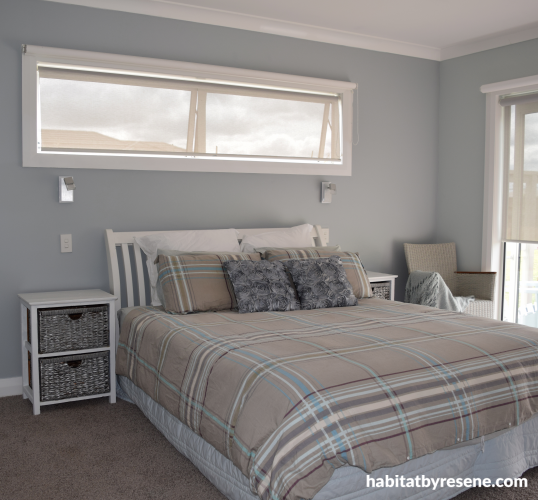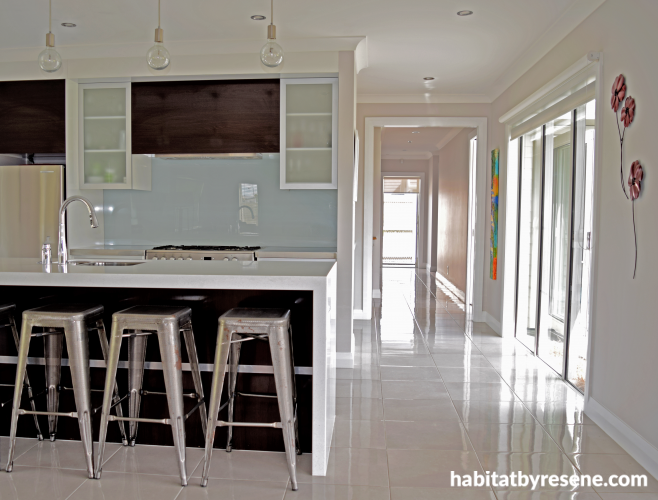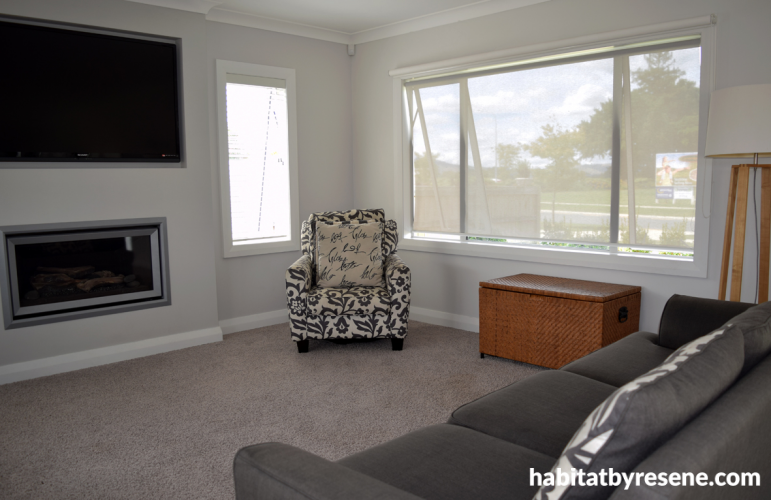 Sharon and Grant's modern villa success
Hardly a week goes by when someone doesn't knock on the door of the McDonald home and ask what colour it's painted. It's Resene Half Napa, a colour that beautifully suits the 'modern villa' feel of this three-year-old home.
With the cream-coloured joinery, it's a deceptively simple scheme but the elegant shape of the house, the rhythm of windows and attention to detail by builder Marcus Grayling, make it sparkle.
The McDonalds bought the house from Marcus at framing stage and agreed to allow him to use it as a showhome for a few months while they lived in it, to showcase his work and that of local Cambridge tradespeople and suppliers, including designers LAD Architecture.
It meant that, while the layout was already in place, Sharon, Grant and their teenage boys were able to choose their own colours and finishes.
Sharon, tell us about your colour choices.
I chose Resene White Pointer as the main interior colour because it looks warm, it changes in certain lights and it looks great with bold colours. The trims are Resene Quarter Black White which is quite a stark white.
Together, the colours give a brightness to the house and complement the strong reds in the artwork. The colour, as well as the high stud and big windows, give the home a bright, airy feel.
I chose Resene Periglacial Blue for the master bedroom, laundry and scullery because it creates a sense of calmness and reminds me of the sea.
Both the boy's rooms have a feature wall. Kieran's room was originally in Resene Scooter but is now repainted in the slightly darker Resene Jelly Bean, which is bold and fun. James wanted a black wall but I chose Resene Shark which is a little warmer.
I have kept the bathrooms neutral in Resene White Pointer.
The splashback in the kitchen is also Resene Periglacial Blue.
What was your overall philosophy for the interiors?
I wanted the interior to be neutral, fresh and light to complement any artwork. When we moved in I sold all my artwork and began again putting in a few pieces that were colourful.
What is your advice for someone trying to achieve a similar look?
Keep it neutral and don't overdo the furnishings. Build up your artwork slowly. Live in the house for a bit and get a feel for it first. Go and look at showhomes to get a feel for colours. Look at the paint colours you choose at different times of the day to see what effect light has on them.
What part of the house are you most happy with?
Definitely the main living area. It is a little sophisticated, but also relaxing. The whole layout works great, and the kitchen and outside portico are often the place where the neighbours congregate at the weekend. It is the ultimate entertaining area. The scullery with a second dishwasher and fridge is a godsend and when you shut the cavity slider to the hallway you can't hear anything from the other end of the house – brilliant when you have noisy teenagers.
What was the biggest decorating, renovating or building challenge for this project?
Builiding was easy – we liked working with Marcus as he was there every step of the way, building and project managing. Nothing was ever a problem. His attention to detail and desire for perfection have meant we haven't had any issues in the time we have lived here.
Living in a showhome for the first few weeks had its challenges. Even when it wasn't open people would knock on the door. We would be eating breakfast, and people would just walk on in!
People were most interested in what the colours were, who built it and who designed it.
Do you have a favourite colour, and if so why is it your favourite?
Definitely Resene White Pointer. It's so versatile and warm and it takes on a different look at different times of the day. It's the perfect backdrop for bold colour.
This is the third house I have used Resene paint in. It is a brand that I trust, the colour range is great and the website allows you to find complementary colours and ideas easily. I like how easy it is to clean (Resene Zylone Sheen). I have re-painted a couple of walls due to the boys being rough and it is easy to paint with.
Top tip: The Resene Whites & Neutrals collection is the perfect tool to help create a restful scheme like this. Pick up a free paint chart from your local Resene ColorShop.
Published: 12 May 2016
Do you have a home full of wonderful Resene paint and colour? Send us some snaps by emailing [email protected].
A simple yet elegant scheme based around Resene Half Napa attracts plenty of attention from passers-by. The roof is Resene Grey Friars. Not a week goes by when someone doesn't knock on the door and ask what colour the house is.
pictures
Photograpy by Jessica Judge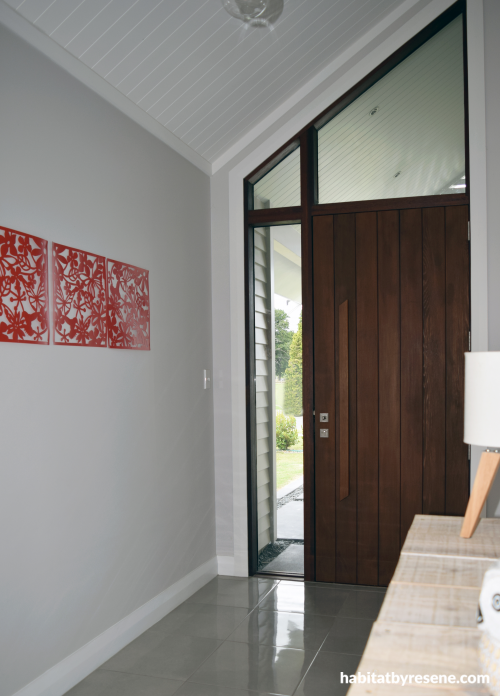 Resene White Pointer walls beautifully offset the couple's bold red artworks. The trims and ceilings are in Resene Quarter Black White. The custom-made door and handle were made by Wackrows Joinery, Cambridge.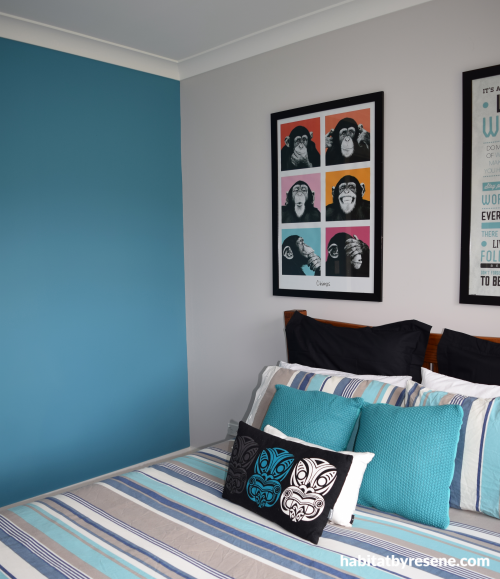 Fourteen-year-old Kieran has a striking feature wall in Resene Jelly Bean, in his bedroom.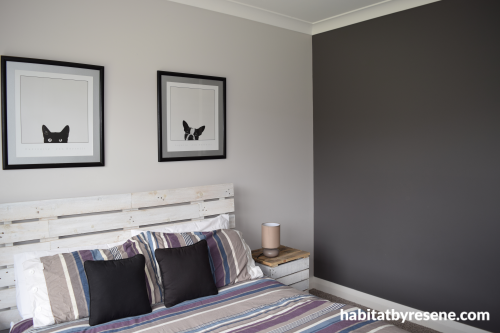 Nineteen-year-old James was keen on a black wall in his bedroom but mum compromised with a warmer charcoal, using Resene Shark.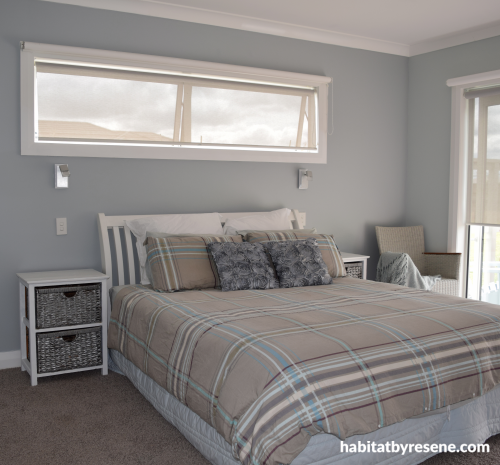 The main bedroom is painted in Resene Periglacial Blue – a colour that reminds Sharon of the sea.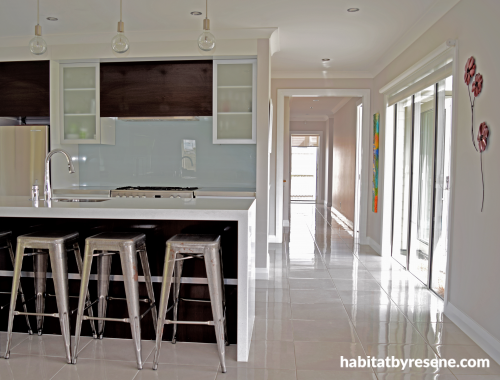 The combination of Resene White Pointer walls, Resene Quarter Black White trims and glossy floor tiles (laid by Nelson Tiling) gives the interior a bright, airy feel. The kitchen glass splashback is back-painted in Resene Periglacial Blue.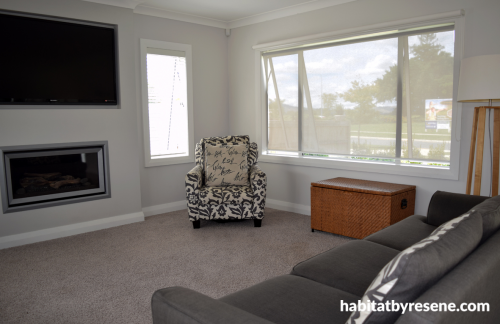 Simple elegant furnishings, including Venluree blinds, give the living room a contemporary edge. The walls are Resene White Pointer and the trims and ceilings are Resene Quarter Black White.
Resene Quarter Black White
the look
If you're stuck on what
colour to use or need colour
advice, try out the Resene
Ask a Colour Expert service.