►
◄
latest
habitat tv
blog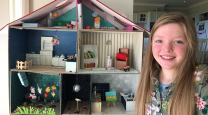 Six dining rooms that will make each meal a family celebration
The saying may be 'home is where the heart is' but really, it's the dining room specifically that is often the beating heart of a family home. It's where we find connection and conversation, where we feed our souls just as much as we feed our bodies. Creating a warm and welcoming dining room with Resene paints will make the job of entertaining that much easier – and in these working-from-home days as well, it can also do double duty as an office for any or all members of the family. So, it's worth putting a lot of thought into the kind of dining room you want for you and your family. If you've got young children, your goal might be creating a fun and colourful space that makes dinner feel like a festivity (and makes that broccoli seem a bit more child-friendly!). Maybe you want your home to feel like a permanent piece of escapism and you want your mealtimes to be reminiscent of family holidays down by the beach.
Pale and interesting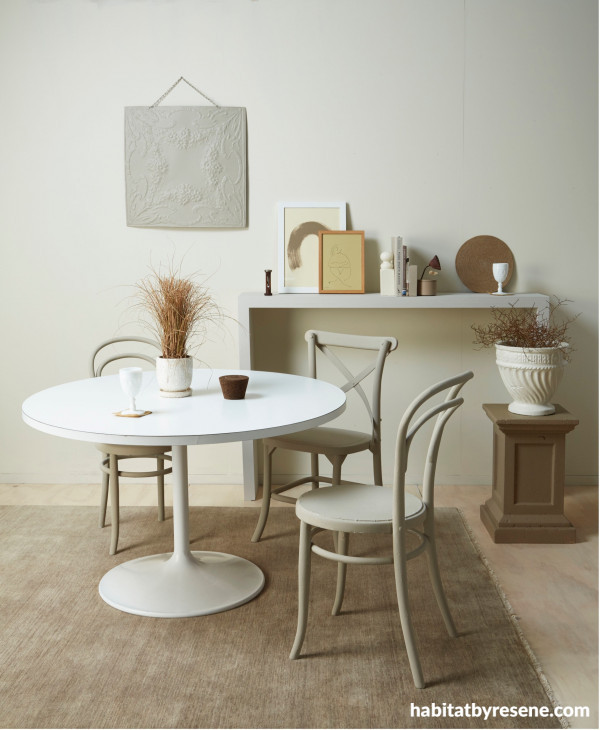 Layering of neutrals with walls in Resene Half Spanish White, floor in Resene Colorwood Whitewash. Sideboard painted in Resene Eighth Stonewashed, chairs painted in Resene Napa, plant pot painted in Resene Half Spanish White and plant stand painted in Resene Artisan. Rug from Armadillo & Co at the Ivy House, artwork by George Stand Studio from Endemic World. All other items are stylist's own. Styling by Kate Alexander, photo by Bryce Carleton.
After a busy day in a loud and overzealous world, a peaceful palette of neutrals can indeed be a sight for sore eyes. Creamy white walls in Resene Half Spanish White are calm and a perfect backdrop for a range of warm earth tones. Finish off the look with Resene Colorwood Whitewash on the floor.
Keeping the walls and floors pale and interesting then means you have plenty of decorating options to work with. By sticking within the neutral palette, you ensure a timeless look that will suit any season. A side table, painted in Resene Eighth Stonewashed is excellent for displaying family photos or favourite pieces of art. Keep the natural theme going by bringing in houseplants that suit the colour scheme – and don't forget that you can paint the plant pots as well. A coating of Resene Artisan to a plinth adds some earthy depth, whereas transforming a plant pot with Resene Half Spanish White will link it back to the dreamy white walls.

Green goodness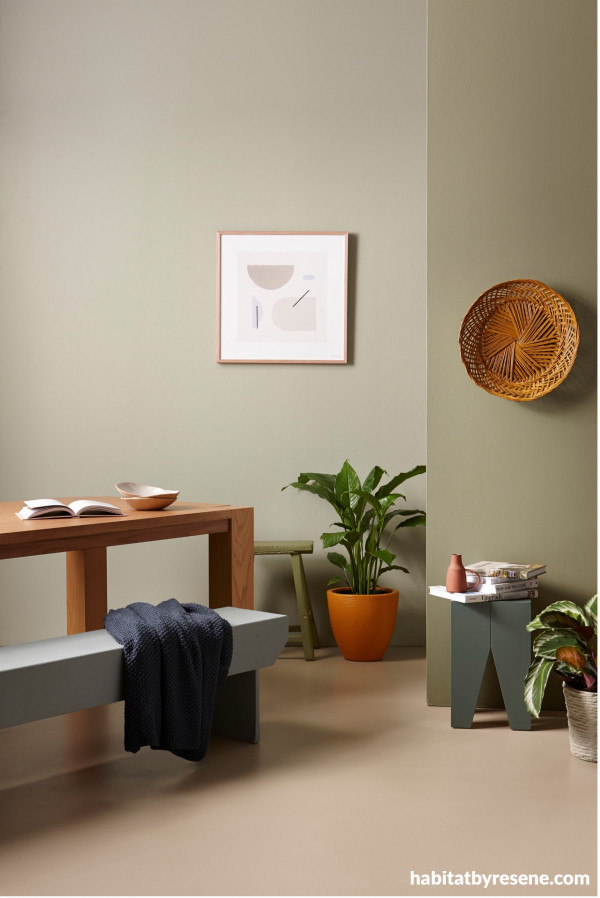 Are greens the new neutrals? This simple, yet dynamic dining room is created with a handful of green hues including Resene Bud on the backwall, Resene Siam on the side wall and floor in Resene Cargo. Bench seat in Resene Innocence, peg stool in Resene Jurassic, stool in Resene Woodland, straw wall hanging in Resene Rusty Nail, plant pot in Resene Mai Tai and basket planter in Resene Double Lemon Grass. Dining table and bench seat from Freedom Furniture, vase from Everyday Needs, books, bowl and throw from Paper Plane, plants from Palmers, jug from Blackbird Goods, artwork from Endemic World. Styling by Gem Adams, image by Wendy Fenwick.
If you'd like a simple, soothing space but the neutral-on-neutral look is a step too far, take on the tonal trend with a palette of earthy greens. This pared-back look takes a cue from nature - Resene Bud features on the back wall and Resene Siam on the side wall to create lush depth with the subtropical forest hues Resene Woodland and Resene Jurassic, coming through on the stools. Terracotta and mud accents with Resene Mai Tai on the plant pot and Resene Rusty Nail on the wall hanging and Resene Cargo ground the look. The result is simple, sophisticated and definitively dinner-worthy.
Blue skies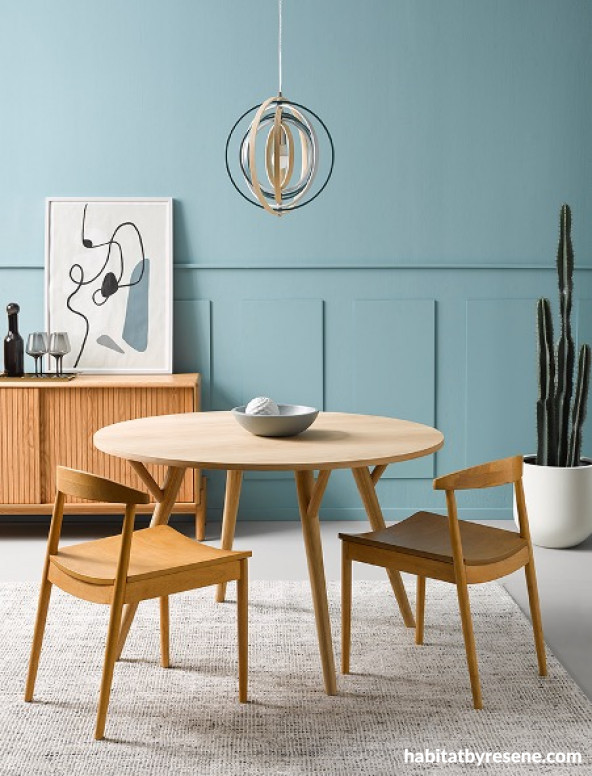 Soothing blue walls in Resene Ziggurat and floor painted in Resene Mountain Mist. Plant pot in Resene Celeste, bowl on table painted in Resene Nebula and bowl ornament (in bowl) in Resene Half Duck Egg Blue. Bentwood light fixture painted in Resene Half Duck Egg Blue, Resene Blue Bayoux and Resene Rolling Stone. DIY artwork in Resene Celeste, Resene Nocturnal, Resene Rolling Stone, Resene Blue Bayoux and Resene Alabaster with frame in Resene Half Duck Egg Blue. Dining table, chairs and sideboard from Freedom Furniture, rug from Nood, glassware from H&M Home. All other items are stylist's own. Styling by Laura Lynn Johnston, photo by Wendy Fenwick.
There's a reason why blue is proven to be a psychologically calming colour and you only have to look at it to know why. This stunning panelled wall, painted in the sublime Resene Ziggurat, is a warm, coastal teal that adds the perfect level of beachy blue to this dining room, ensuring good vibes whenever you walk in the door. You can't help but relax during your family dinner when the room feels this peaceful – and the gentle tones of blue sprinkled around the room only add to this holiday feeling.
The blues and whites of this room perfectly offset the golden wood tones, mirroring the sand/blue sea combination of your favourite beach. These colours will help your family feel cool and collected during hot summer months, and during the winter season, they act as a reminder that sunny days are never too far away.
Top tip
Paneling can add shape and interest to a room. 'Reversed' paneling is a simplified take on ornate wainscotting. Once fitted and painted, it's difficult to distinguish MDF paneling from its timber counterpart– but it comes at only a fraction of the cost and can be installed in a weekend. Simply measure and mark out your design using a pencil and a level at even intervals, and then your MDF can be attached to the wall with screws or glue. If your MDF or timber is new, it will likely be uncoated; prime it in Resene Quick Dry Waterborne Primer Undercoat before painting.

Just deserts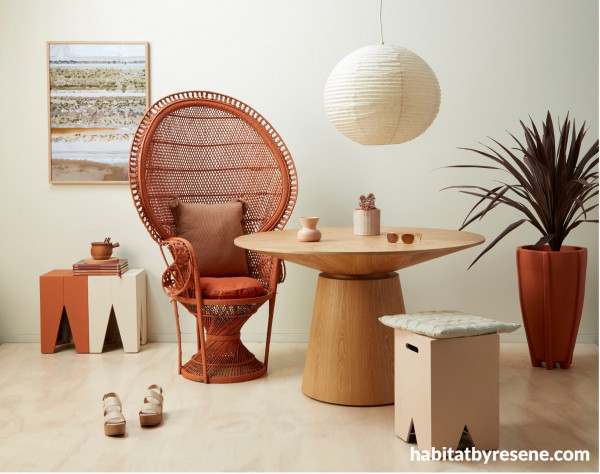 This dining room offers a warm welcome with walls in Resene Half Spanish White and floor finished in Resene Colorwood Whitewash. Peg stools painted in Resene Sunbaked, Resene Despacito and Resene Shabby Chic and plant pot and cane chair painted in Resene Sunbaked, artwork by Petra Leary from Endemic World, shoes, cushion, ceramic vase, sunglasses from Good Thing, lampshade by Trade Aid. All other items are stylist's own. Styling by Kate Alexander, photo by Bryce Carleton.
Combine throwback style with timeless cool in this charming casual dining room. The neutral walls of Resene Half Spanish White and floor colour of Resene Colorwood Whitewash set the perfect stage for bold, clever colours that add a touch of whimsy within a mature palette of rust and beige. The statement cane chair is brought to life with Resene Sunbaked, a versatile colour inspired by the rich shades of the Mojave desert. This on-trend burnt terracotta colour is a perfect in-between for rooms that need a punchy colour with an unexpected twist on a classic shade.
The cute peg stools join in on the fun by bridging the gap between the creamy walls and the statement chair – each one painted in a different but complementary colour. Resene Shabby Chic, a faded pinky peach, is feminine without being girly, while Resene Despacito adds a delicate shade of blush beige to the room. A desert palm, contrasted beautifully against the Resene Sunbaked-painted pot, is a perfect wink to the California vibes of this cool retro room.

She's a mod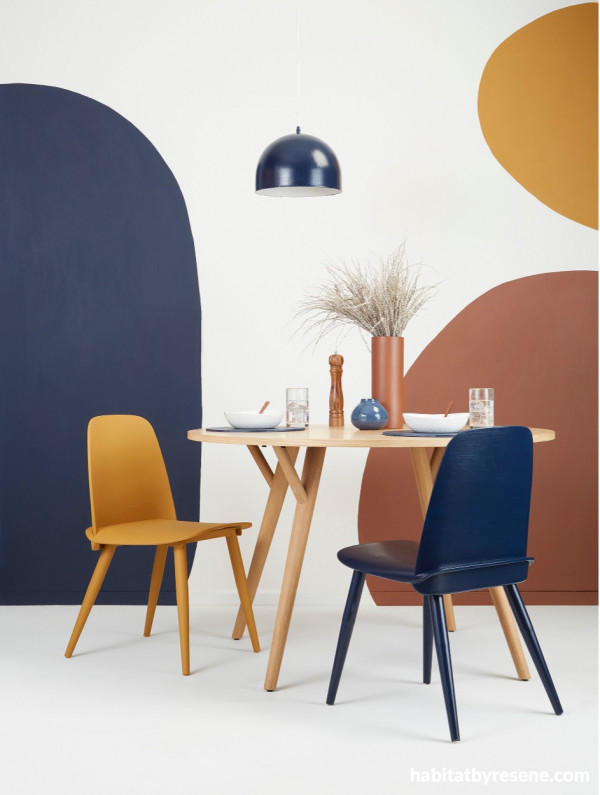 Why choose one colour, when you can have more? Main wall colour and floor colour in Resene Merino, top right circle in Resene Swiss Caramel, bottom right circle in Resene Route 66 and left circle in Resene Indian Ink. Pendant lamp, wooden placemats and concrete bowl all in Resene Indian Ink. Large tall vase in Resene Route 66. Dining table and blue vessel from Freedom Furniture, salt & pepper grinder and placemats (painted in Resene Indian Ink) from Kmart. All other items are stylist's own. Styling by Vanessa Nouwens, photo by Bryce Carleton.
Bold, fun and funky, these colours inspired by Mid Century Modernism have serious staying power. Perfect for a family with young kids or for a couple who can't bear the idea of living within plain white walls, these bright bursts of Resene Swiss Caramel, Resene Route 66 and Resene Indian Ink are bound to jazz up every single gathering around the dinner table. These hand-painted shapes inspire a sense of playfulness without overwhelming the room (or the people within it).
By repeating the main colours throughout the room, the overall style is colourful without looking cluttered – allowing you to keep the actual furniture and decorations simple, without sacrificing any personality. If these walls could talk, you can bet they would be great fun at a dinner party!


Ladies, a plate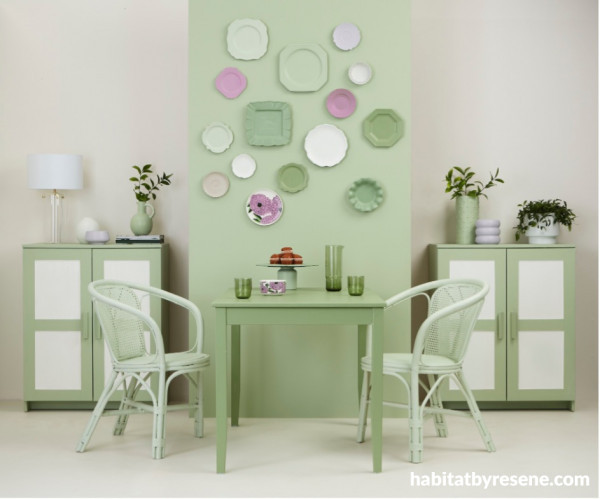 A curated collection sets the scene in this dining room combined with left and right walls painted in Resene Eighth Fossil, main wall painted in Resene Norway and flooring painted in Resene Quarter Fossil. Cabinets in Resene Norway with inner door panels in Resene Rice Cake. Dining table painted in Resene Highland, rattan chairs painted in Resene Pale Leaf, and plates painted in Resene Amulet, Resene Pale Leaf, Resene Norway, Resene Rice Cake, Resene Lola, Resene Butterfly, Resene Antidote and Resene Highland. Jug vase (sitting on book pile) and tall vase in Resene Highland. Large jug vase with leaves in Resene Pale Leaf. Ribbed planter and small dish in Resene Lola. Glasses from Citta, glass table lamp from Kmart, floral bowl and plate from Bolt of Cloth. All other items are stylist's own. Styling by Vanessa Nouwens, photo by Bryce Carleton.
Create an elegant room with these vintage-inspired hues of green. The combination of the minty fresh pale greens and the soft lilacs hark back to Art Nouveau design, with the glorious mish-mash of mismatched plates also providing a charming nod to the past. The unexpected but lush colour palette of Resene Eighth Fossil and Resene Norway means that the whole room looks whimsical rather than old-fashioned, and then the colour pops of Resene Lola and Resene Butterfly add a child-like delight to the room. Throw in some leafy plants for a modern look to balance the nostalgic colours and you've got a dining room that will appeal to every generation, young and old!
Top tip
If you've got a cupboard full of interesting shaped old plates collecting dust, this is the perfect way to display them for everyone to see. Recreate this playful wall in your space using vintage plates. Apply one coat of Resene Waterborne Smooth Surface Sealer to the front and back of each plate, then allow to dry before using Resene testpots to paint each plate with two coats of your desired colour. Leave matte or finish with a coat of Resene Aquaclear varnish if desired. Attach plate hangers to the back of the plates, then arrange at staggered intervals on your wall.

Published: 18 Feb 2021
Do you have a home full of wonderful Resene paint and colour? Send us some snaps by emailing [email protected].