►
◄
latest
habitat tv
blog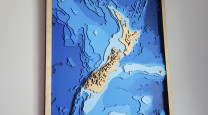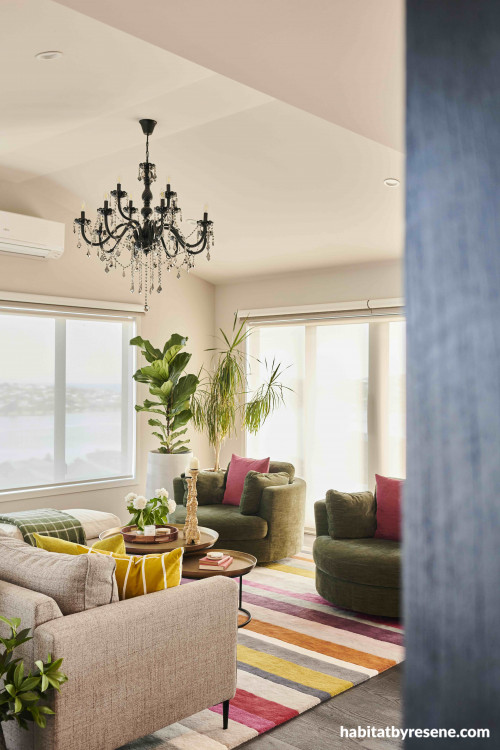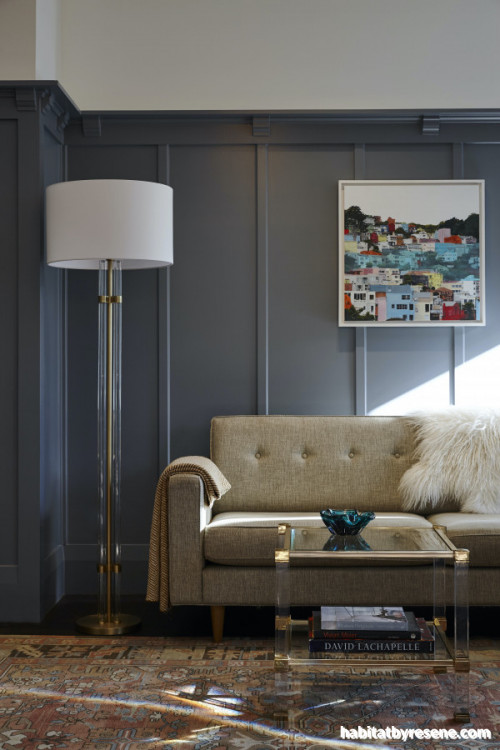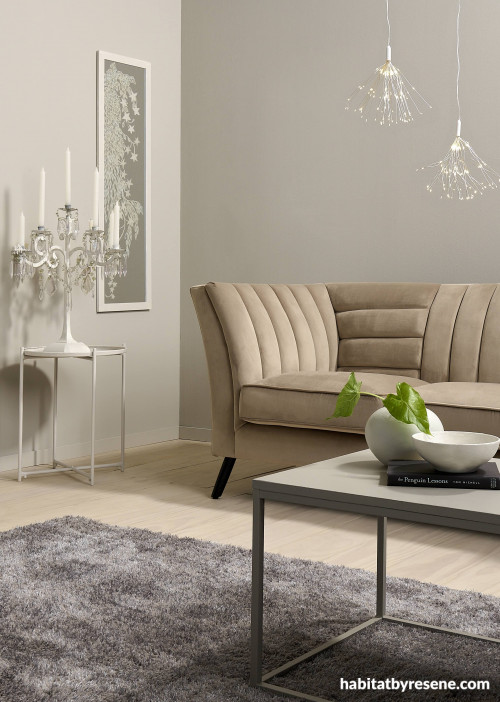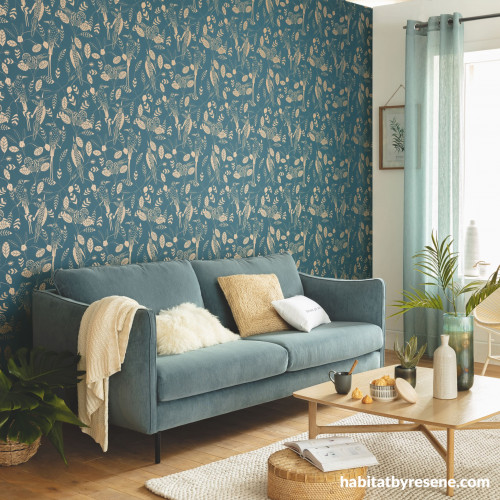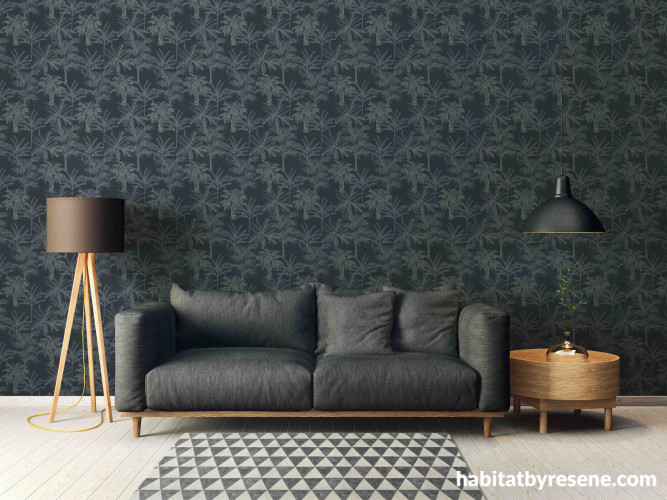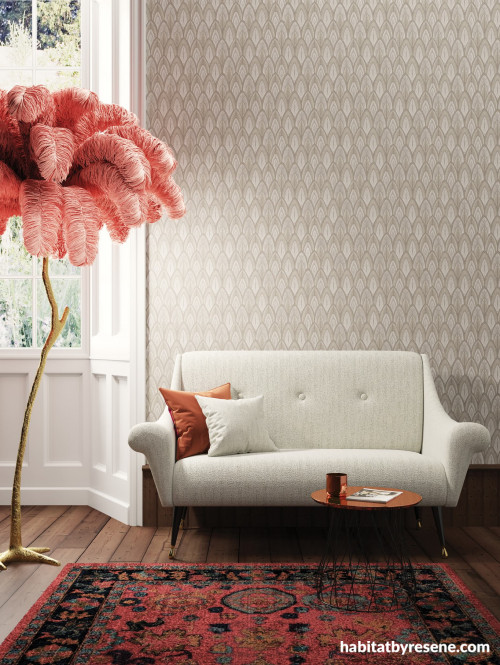 Six living room looks that are sure to give you inspiration for your home
Transform your living space into a haven of style and comfort with six exquisite living room inspiration looks that are bound to ignite your creativity. From timeless elegance to vibrant modernity, let's explore how the transformative power of Resene paint and wallpaper can breathe new life into your living room, allowing you to curate a space that truly reflects your unique personality and taste.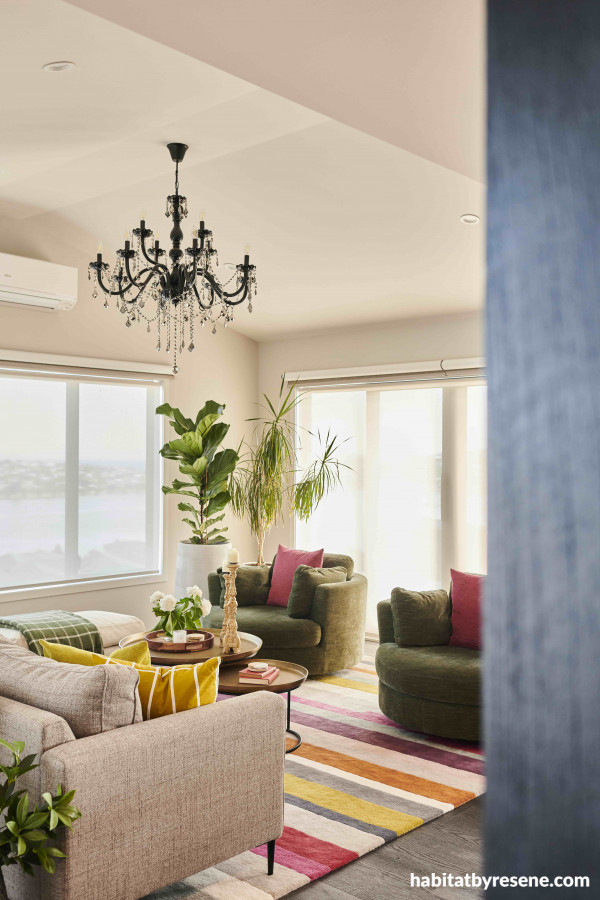 The warm and dusky shade of Resene Double White Pointer coats the walls in this stylish and colourfully accented living space. Pops of colours radiate from the designer rug, pillows and greenery. Resene White Pointer works in well for the ceiling and trims throughout. Design by Abbie Chapman, image by Amber-Jayne Bain.
Choosing a white or neutral for your living space is a great way to allow your personal possessions and pops of vibrant décor to shine. It's also a great choice if your style changes or you want to replace a furniture piece, you know it will always complement the wall colour. Resene Double White Pointer was the perfect choice for this room and is a stunning contrast to the black chandelier and bold coloured décor. If you're looking for your perfect shade of white, try some of Resene's most popular shades like Resene Black White, Resene Alabaster, Resene Sea Fog or Resene Merino. For a seamless and cohesive space, use a lighter strength in the same shade on ceiling and trims, such as Resene Black White on walls, Resene Quarter Black White on the ceiling and Resene Half Black White on trims.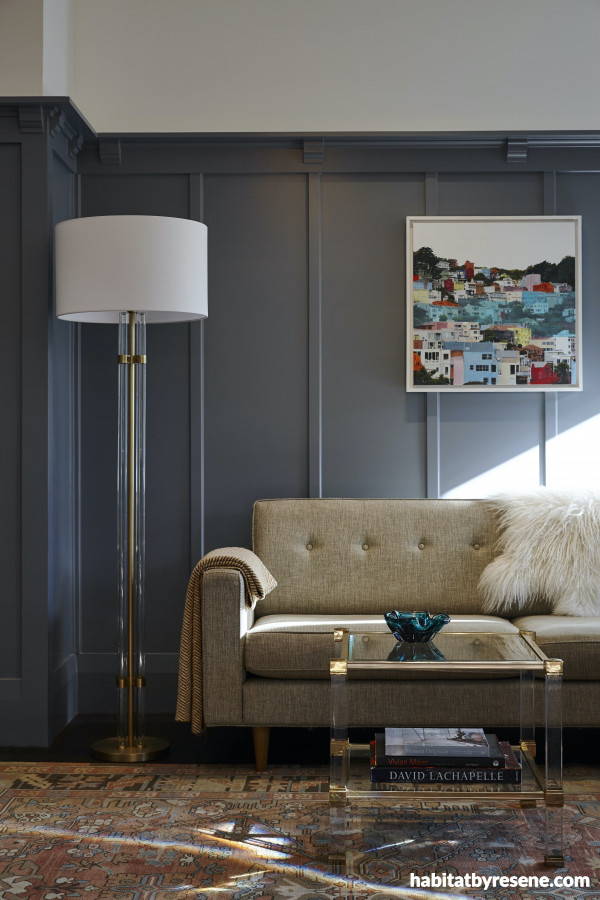 Mid-century meets Hollywood glam in this living space. This designer created a calm yet modern interior that sets the scene where the clients' art, textiles and accessories can shine. The lower panelled walls are painted in Resene Raven, with upper walls and trims painted in Resene Quarter Rice Cake. Design by Clare Kitching, image by Jackie Meiring.
Wall panelling is not only a stylish design choice but also a practical one, as it adds texture, depth and architectural interest to a space while protecting and enhancing the walls. The choice of Resene Raven for the lower panelled wall in this space exudes a sense of drama and sophistication, while the upper walls and trims, adorned in the soft and inviting Resene Quarter Rice Cake, create a harmonious contrast that balances the space.
Wall panelling gives you the opportunity to add more colour to your space, and if you're inspired by this captivating design, consider trying other colour options. Resene Black White offers a timeless elegance, while Resene Duck Egg Blue can infuse a soothing and fresh appeal. To add a touch of warmth, Resene Parchment could be an excellent choice, while Resene Gold Coast can introduce a relaxing and summery glow.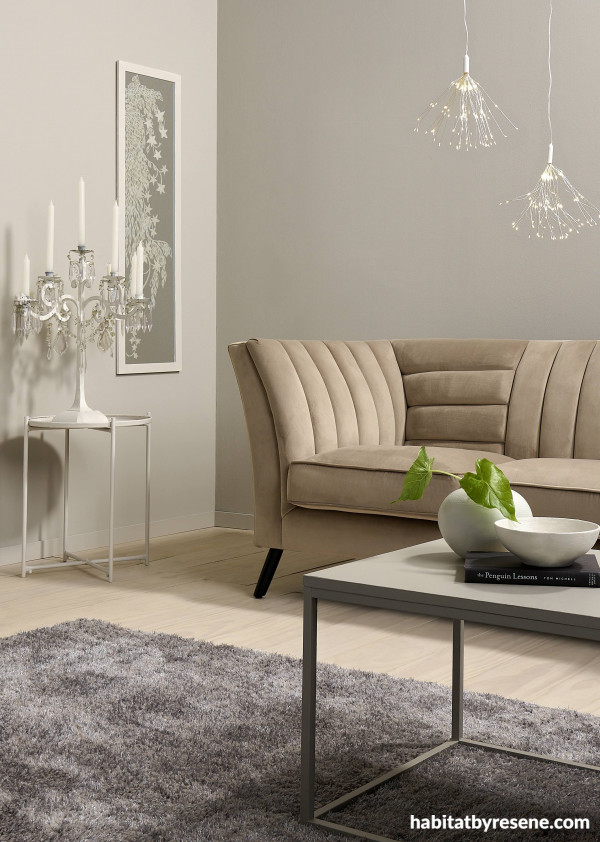 In this elegant living space, the walls and trims are painted in Resene Truffle, floor in Resene Colorwood Breathe Easy, mirror frame painted in Resene Half Truffle, mirror art in Resene Double Truffle, coffee and side table in Resene Triple Truffle, candelabra and bowl in Resene Quarter Truffle and vase in Resene Half Truffle. Sofa from Interior Warehouse, rug from Briscoes. Project by Megan Harrison-Turner, image by Bryce Carleton.
Refined. Understated. Timeless. In trends that come and go, the Resene Truffle colour palette has stood its ground, bringing a balance of sophistication and comfort within its refined, earthy tones. While Resene Truffle is the hero in this living room, it's the selection of carefully chosen neutrals that add to a space that is both inviting and stylish. The various strengths of Resene Truffle all serve as the perfect backdrop, setting the scene for the furniture and soft furnishings to follow suit with complementary hues.
Add your own flair by using accent paint colours to decorate accessories, such as vases, photo frames and plant pots. Try warm nut-brown colours such as Resene Half Hairy Heath, Resene Leather and Resene Korma, caramel tones of Resene Toffee, Resene Chelsea Gem and Resene Kalgoorlie Sands or charcoals in Resene Gunmetal, Resene High Tide and Resene Kilimanjaro.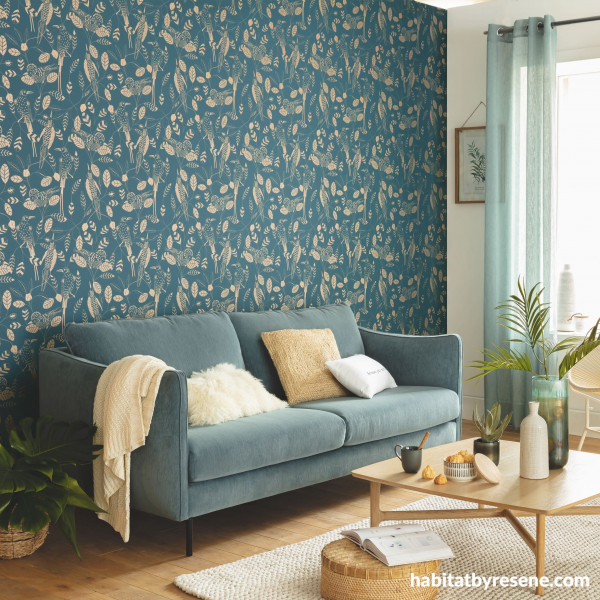 This blue-green toned oasis is sure to help you switch off from work the end of a busy day. Resene Wallpaper Collection 102676100 is used as a feature wall, creating a lush and cosy spot to relax with a cup of tea.
This stunning living room adorned with a luscious blue-green wallpaper effortlessly brings the serenity of the outdoors indoors. The verdant backdrop harmonises beautifully with a plush green couch and matching curtains, creating an oasis of tranquillity and charm. To add an earthy touch, natural-toned wood elements, from the coffee table to the floor, infuse warmth and authenticity, a testament to the enduring appeal of bringing the great outdoors into your home. This perfect marriage of nature and design invites you to embrace the calming influence of greenery and the timelessness of natural wood accents in your own living space.
To pair with this wallpaper, use a soft neutral or gentle, barely-there green on surrounding walls for a harmonious look, such as Resene Quarter Linen and Resene Eighth Lemon Grass. If you love the natural grain and beauty of your wooden furniture or flooring but it needs a refresh, try a lighter beachy tone like Resene Colorwood Breathe Easy or for a darker more sophisticated stain try Resene Colorwood English Walnut.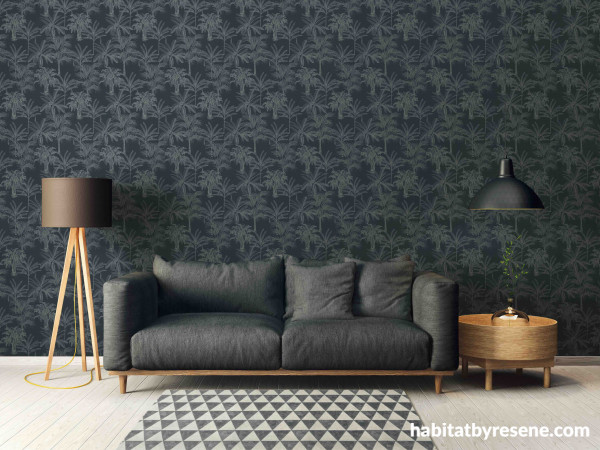 Bold and beautiful, Resene Wallpaper Collection 379832_5 creates a cosy yet modern space to unwind in this living room. The choice of black furniture and décor with a touch of wooden warmth creates an exquisite and cohesive combo.
The use of black as a primary design element may seem bold, but when done right, it can be incredibly chic and inviting. This black wallpaper, Resene Wallpaper Collection 379832_5, sets a dramatic backdrop for the room, enhancing its modern and sophisticated ambiance. Paired with a sleek black couch and a few warm toned elements, the room achieves the perfect balance of opulence and warmth. The wooden side table and lamp add a touch of natural elegance, breaking the monochromatic theme with their earthy textures. To complement this striking design, pair it with crisp whites like Resene Alabaster and Resene Quarter White Pointer. Alternatively, add some pops of colour to break through the black for a more artsy vibe with hues like Resene Cosmic, Resene Bismark or Resene Hendrix.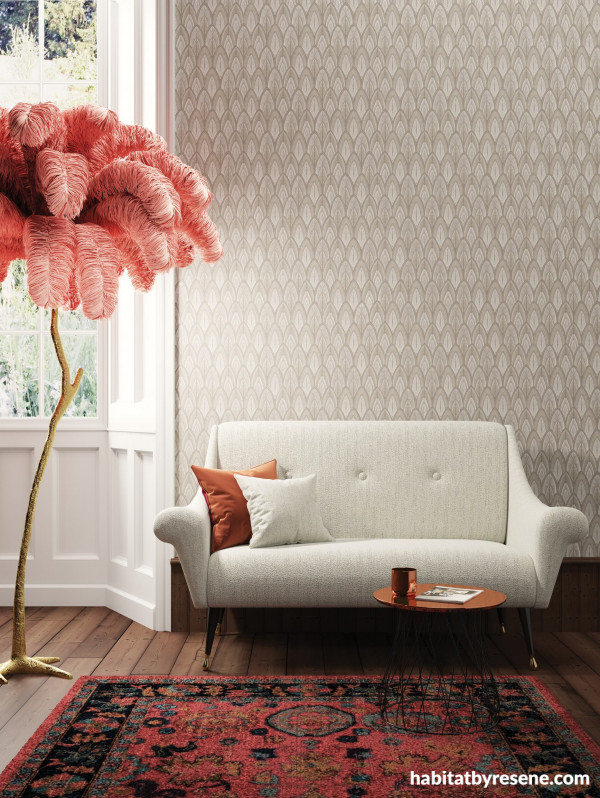 This is the perfect wallpaper if you want to add texture over colour. Resene Wallpaper Collection SUM404 is an elegant choice for living rooms and can be used as a feature or on all four walls.
The focal point of this living room is the stunning Resene Wallpaper Collection SUM404 with a textured pattern that adds depth and character to an otherwise neutral room. The surrounding walls are also adorned in a crisp white, creating a clean and airy backdrop. However, what also sets this living room apart are the strategic pops of red that infuse life and vibrancy into the décor. A feathered pendant light steals the show, casting a warm and inviting glow over the room, while the rug and pillows complete the look, seamlessly blending comfort and elegance.
This, and other neutral toned wallpapers, also work well with off-whites and gentle beiges on surrounding walls, such as Resene Triple Merino and Resene Quarter Perfect Taupe, as well as dark and red toned wood stains like Resene Colorwood Meranti and Resene Colorwood Mahogany.
These living room designs showcase the versatility and creativity that Resene products can bring to your space. By selecting the right colour palette and design elements, you can curate a living room that perfectly reflects your unique personality and style, creating a haven of both style and comfort.
Check out Resene's Lounge decorating inspiration gallery for more ideas.
If you need advice on paints and wallpapers head to your local Resene ColorShop today, and don't forget to follow us on habitat by Resene on Instagram for fresh inspiration.
Published: 25 Oct 2023
Do you have a home full of wonderful Resene paint and colour? Send us some snaps by emailing [email protected].