►
◄
latest
habitat tv
blog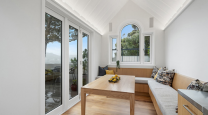 Master Builders' Chief Executive David Kelly shares his tips for building in the challenging climate.

Planning... more
Spring to it: Six ways to decorate your deck and make the most of outdoor living
Decks are a transformative part of the home. Not only do they instantly extend your living area, but there's nothing better than enjoying a crisp spring day or long summer evening in the outdoors soaking up the sunshine. During autumn and winter, covered decks provide respite from rain or wind, cosy little nooks to curl up and watch the world go by, without the risk of raindrops. Constant exposure to the elements may leave your timber needing a little TLC. Luckily Resene has a range of products that will transform a deck from drab to dashing.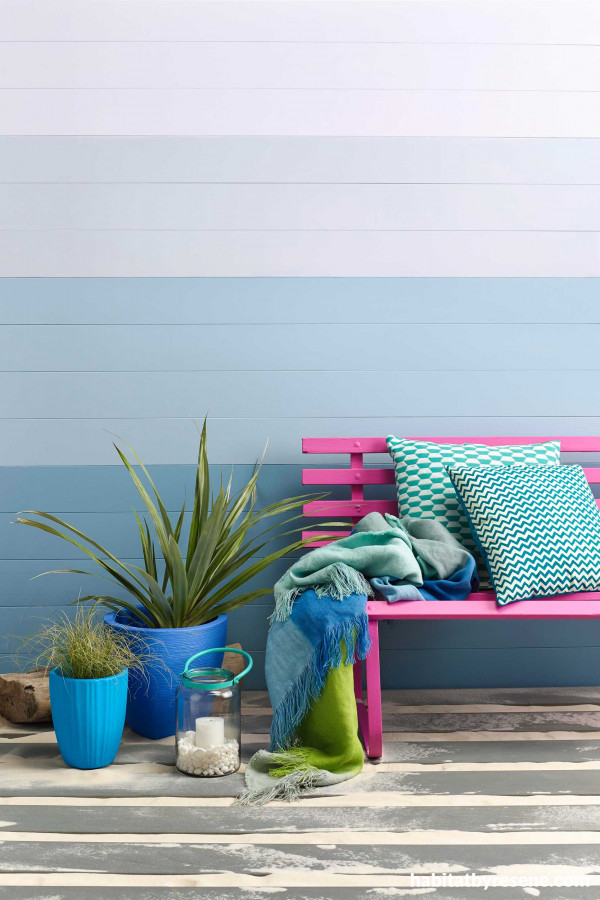 Aim for colourful coastal chic by contrasting bright styling with natural deck shades, such as Resene Woodsman Iroko. Styling Claudia Kozub. Image by Melanie Jenkins.
Refreshing your deck with Resene oil, stain or paint is a simple and budget friendly way to brighten your exterior and make your space more usable. A little DIY effort adds visual impact and reduces the risk of the timber splitting and drying out.
Resene Furniture and Decking Oil is quick and easy to apply and helps to repel water and reduce the effect of UV light. Otherwise, consider Resene Woodsman Wood Oil Stain for furniture, Resene Waterborne Woodsman for weatherboards and fences or Resene Woodsman Decking Oil Stain, a hybrid waterborne alkyd resin system formulated to bring the best out of your deck.
Be prepared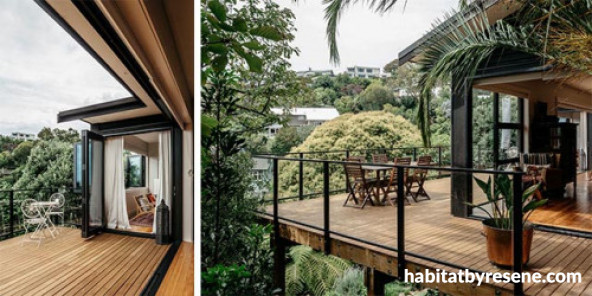 The deck is stained with Resene Woodsman Natural, and the exterior walls are cedar and stained with Resene Woodsman Waterborne Pitch Black.The home's architectural design was by Arthouse Architects, interior design by Marine Conrad (Chez Marine). Images by Kate MacPherson.
Correct deck preparation will ensure a vibrant finish and help protect the timber from weathering and discolouring. First, sand the surface to remove damaged, flaking wood. If your deck is in good condition, you may be able to skip the sanding step altogether. If your deck has mould, algae, lichen or moss, apply Resene Moss and Mould Killer and scrub vigorously. Leave for 48 hours, then use Resene Timber and Deck Wash. This easy-to-use product will ensure your new deck stain lasts through rain, hail or shine - apply, scrub and rinse.
Preparing your surface can involve more than just a clean. Resene has a range of products that will help make your outdoor space a useable, family-friendly space. Consider Resene Non-Skid Deck & Path, a durable acrylic coating that uses graded silica to stop your surface from becoming slippery (always useful during winter). If your deck doubles as outdoor living, using Resene Cool Colour for your finish will ensure there's no need to tip-toe over scalding wood. Resene Cool Colour pigment technology reflects heat, rather than absorbing it, leaving your deck cooler and reducing heat-related substrate movement, which protects both the stain and the wood's durability.
Here are six styles to inspire your refreshing deck makeover.
Blend in with natural wood stain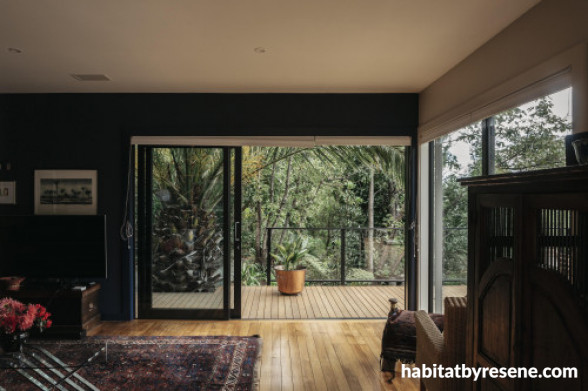 This peaceful Nelson deck is stained Resene Woodsman Natural. Co-ordinating an exterior deck colour with indoor flooring is a great way to increase indoor/outdoor flow. Architectural designer by Arthouse Architects, interior design by Marine Conrad (Chez Marine). Image by Kate MacPherson.
Let your timber shine with a wood stain. Wood stains bring out the best in your timber while intensifying the colour. It is a style that works particularly well when your home has wooden flooring; it creates clean lines and draws the eye outside, amplifying the illusion of indoor/outdoor flow. Resene Woodsman Decking Oil Stain is available in a range of colours and protects the wood while showcasing the timber grain. Resene Woodsman Natural lets the timber colour shine through. Style with outdoor plants to complete the soft, tranquil palette.
Join the dark side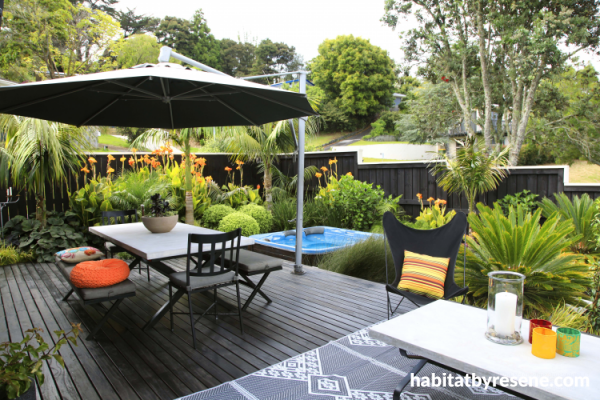 This contemporary entertainers' paradise (complete with resort-worthy spa pool) is finished with Resene Waterborne Woodsman Crowshead. Garden design Sandra Batley of Flourish Garden Concept. Image by Sally Tagg.
Give your outdoor area a shot of dramatic flair by dabbling in a dark stain. Not only will a dark stain, such as Resene Waterborne Woodsman Crowshead help to refresh faded or tired timber, but it allows sunny gardens to shine. The addition of fungicide to Resene Waterborne Woodsman stains helps to slow the growth of moulds and moss - always important in potentially damp outdoor spaces.
The combination of dark wood and colourful styling is an easy way to modernise and update your deck, just in time for outdoor entertaining. Combine your choice of dark stain with Resene Cool Colours. The innovative pigment technology reflects, rather than absorbs heat, which is perfect for poolside areas.
A dash of colour


This Balinese-inspired patio boasts painted pavers, an eye-catching alternative to traditional decking. The pavers are painted in Resene Polo Blue, with bright planters in Resene Princess (pink), Resene Half Turbo (yellow) and Resene Mariner (blue). Image and project by Erina Emery.
A splash of paint can give your concrete pavers or path a bright point of difference. Instead of reaching for oil or stain, look towards Resene's kaleidoscope of paint colours for endless inspiration. Prime and clean the pavers with resene Moss & Mould Killer, then Resene Paint Prep and Housewash, and consider choosing a Resene Cool Colour to help the finished product stay cool and last longer.
Customising planters and furniture to match is another way to add colour to your outdoor space - we love designer Erina Emery's Balinese-inspired patio with pots in Resene Princess, Resene Half Turbo and Resene Mariner.
Soft and sweet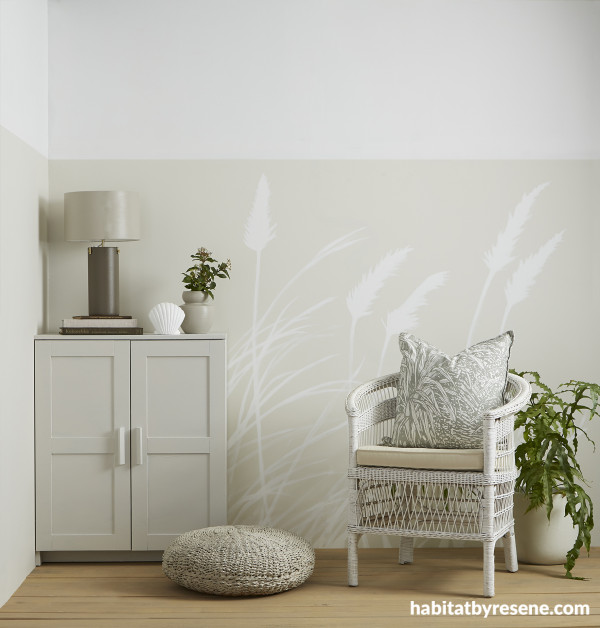 This serene conservatory wall is decorated with Resene Quarter Alabaster (top) with Resene Half Joanna (bottom). The toi toi design is Resene Quarter Alabaster and the flooring Resene Woodsman Uluru. Project by Kate Alexander. Image by Bryce Carleton.
While outdoor areas are perfect for extending your living spaces, sometimes you need a quiet, serene retreat. Whether looking for a relaxing adult-only zone (sorry kids!) or a spot to curl up with a book and coffee during winter, consider transforming part of your deck to a conservatory. For an internal space (where there's no risk of muddy footprints) try a soft-coloured stain such as Resene Uluru to create a calm, soothing space.
Go Smoky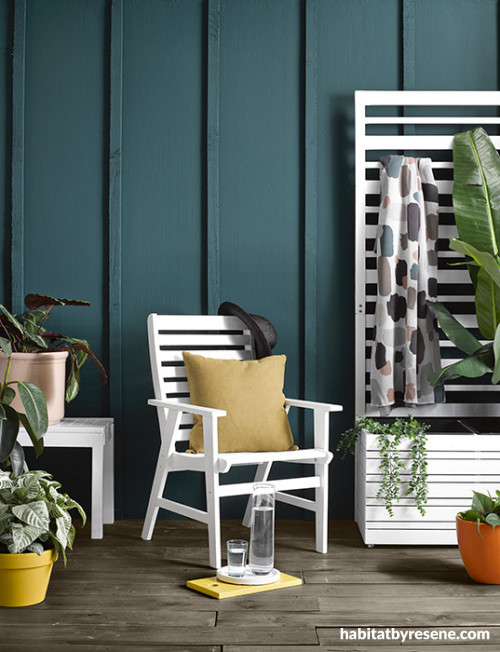 Dark, natural decking pops against striking bold colours. This stylish outdoor corner combines forest green Resene Atlas walls with Resene Woodsman Iroko decking. The pots have been madeover using Resene Rascal, Resene Celebrate and Resene Ayers Rock. Project by Amber Armitage. Image by Melanie Jenkins.
Traditional doesn't need to mean boring. "Resene Iroko is a fantastic smoky brown that looks great on a deck," says broadcaster and interior designer Hamish Dodd. Go dark and moody with rich, bold complementary exterior wall colours, such as Resene Atlas or look to light, gentle shades for an airy, chic look.
Resene Iroko is available in Resene Waterborne Woodsman, Resene Woodsman Wood Oil Stain and Resene Woodsman Decking Oil Stain. It's also popular as a Resene Cool Colour.
Top tip: View the full Resene Woodsman colour range online or order a Resene Waterborne Woodsman testpot to try out at home.
Keen on kwila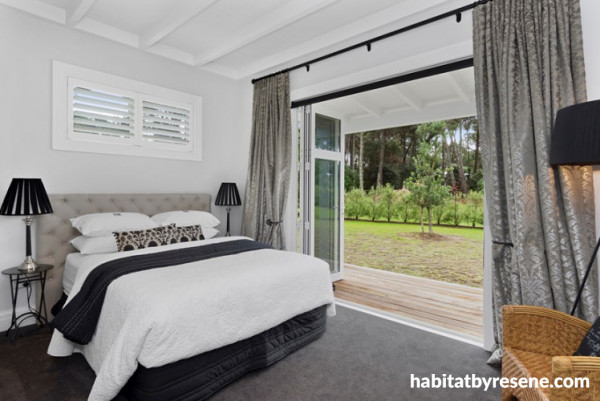 The bedroom in this Matarangi bach shines with Resene Quarter Truffle walls, Resene Alabaster ceilings and trim and flows onto a private kwila deck, protected with Resene Kwila Timber Stain. Project and image by Cove Construction.
The South Asian hardwood, kwila, is durable and hardwearing – ideal for decks that see plenty of use. The wood changes in colour as it ages, changing from reddish-brown to grey, but it's easily rejuvenated with a good clean and stain.
Resene Kwila Timber Stain is specially formulated for kwila decking. It not only replenishes colour but protects the timber against UV rays, weathering and fungi. It also repairs degraded surfaces by repairing wood fibres.
Remember to refresh and rejuvenate your outdoor furniture too! Try Resene wood stain or Resene Lumbersider low sheen or Resene Lustacryl semi-gloss for a painted finish, then sit back, relax and enjoy your handiwork.
Published: 04 Oct 2021
Do you have a home full of wonderful Resene paint and colour? Send us some snaps by emailing [email protected].