►
◄
latest
habitat tv
blog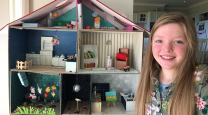 Six wonderful ways with wallpaper - PLUS a wallpaper evening in Nelson and Blenheim
Wallpaper has made a glittering comeback in our homes over the years, from fabulous feature walls to magical murals. Whether you're after a contemporary look or a casual atmosphere, Resene has a wallpaper to help your home dazzle.
For extra wallpaper inspiration and handy tips, pop into your nearest Resene ColorShop and pick up the latest copy of the habitat plus - wallpaper book. In this habitat plus, we share advice on how to choose wallpaper, the types available and how to hang it. You'll also be able to keep up to date with the current trends, from botanic prints and florals to metallic finishes and graphic prints. You can read this habitat plus - wallpaper book online here or pick up a copy at your local Resene ColorShop.
If you're in Nelson or Blenheim, look out for a wallpaper evening at your local Resene ColorShop. The evening will showcase upcoming wallpaper trends as well as a hands-on DIY option to learn how to hang wallpaper.
For more information and to book your spot in the Nelson and Blenheim wallpaper information nights, contact your local Resene ColorShop:
Nelson Resene ColorShop
Tuesday 22ndJune - Book your free space by emailing [email protected]
Blenheim Resene ColorShop
Thursday 24thJune - Book your free space by emailing [email protected]
Old but gold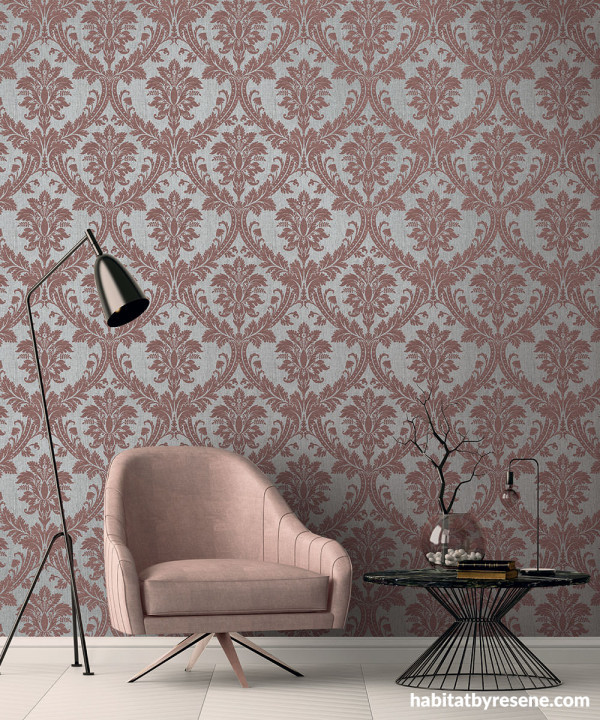 Give your living room a traditional but stylish makeover with a wall in Resene Wallpaper Collection 24115 and trim in Resene Merino. Keep it classic by throwing a velvet chaise into the mix or spice things up with minimalist industrial furnishings.
Going traditional doesn't necessarily mean playing it safe. Papering your walls in a regal damask wallpaper, such as Resene Wallpaper Collection 24115, is an excellent way to embrace your classical side and still incorporate colour in your home. Damasks have a rich and timeless quality and come in reds, blues, greys or fashion colours to suit your style and furniture. If you're after a more modern take on the traditional style, use classic damask wallpaper as a feature wall with surrounding walls in crisp Resene Merino. Team it with contemporary furniture, such as a minimalist dining table painted in Resene Noir or a chic leather sofa. Heavily patterned wallpapers such as Resene Wallpaper Collection 24115 are also perfect for disguising less than perfect walls.
Puttin' on the ritz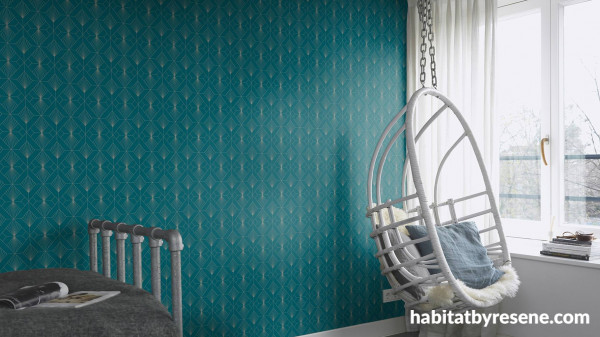 Resene Wallpaper Collection 620924 adds vibrancy to this bedroom with its Art Deco geometric pattern and luxurious dark aqua colour. Try pairing Resene Wallpaper Collection 620924 with a ceiling and trim in Resene Quarter Foggy Grey. For an elegant look that makes the colour pop, try a trim in Resene Double Cod Grey.
Channel your inner Gatsby with an Art Deco look straight from the roaring 20s. Retro and Art Deco wallpapers are instantly recognisable by their repeated geometric, fan or diamond patterns that use bright, intense colours. Choosing an Art Deco wallpaper that mimics the architectural style of your home can ensure a continuous flow between each space. Art Deco wallpaper that contains sharp and angular shapes, such as Resene Wallpaper Collection 620924, is great for highlighting the clean lines of window trims, skirtings or modern furniture. Add a sense of luxury by pairing Resene Wallpaper Collection 620924 with accents of gold or brass. You can do this by painting a vase or finishing your wardrobe doorknobs in Resene FX Metallic Gold. Alternatively, freshen up the deep aqua hue with surrounding walls and trim in Resene Double Sea Fog; a classic pavement grey.
Keep it casual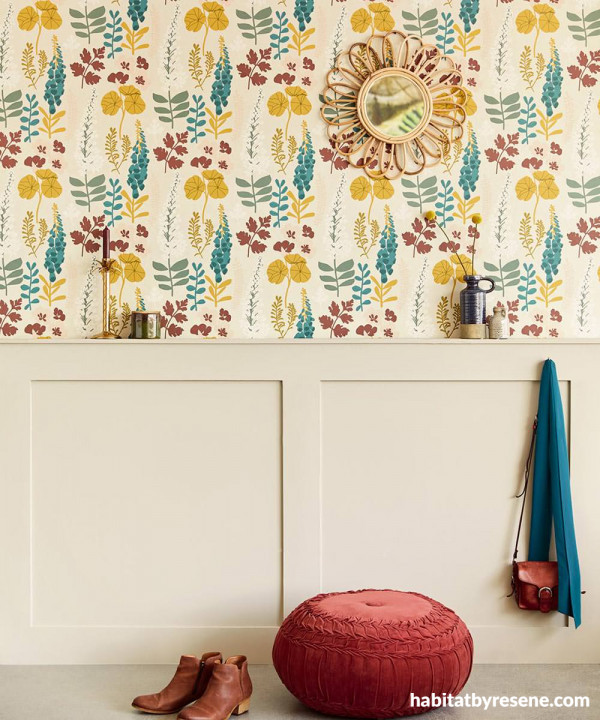 Resene Wallpaper Collection E384533 looks great in this entranceway paired with a colourful ottoman. For a lower wall colour that complements this casual look, try Resene Spanish White.
Keep it light, fun and casual in your home with Resene Wallpaper Collection E384533. A wallpaper can create an energised atmosphere or a sense of calm, depending on the amount you use it in a space. With its bright, artistic take on classic wildflowers, Resene Wallpaper Collection E384533 is perfect for an entrance, craft room or feature wall in your child's bedroom. When choosing colours for your surrounding walls, select colours from within the wallpaper itself to ensure the room has a cohesive colour palette. Resene Wallpaper Collection E384533 pops with walls in Resene Tulip Tree or Resene Teal Blue. For a more pared back look, team your colourful wallpaper with warm neutrals such as Resene Eighth Canterbury Clay or Resene Spanish White. For the finishing touch on your casual look, incorporate wicker décor and an array of colourful furniture.
The line up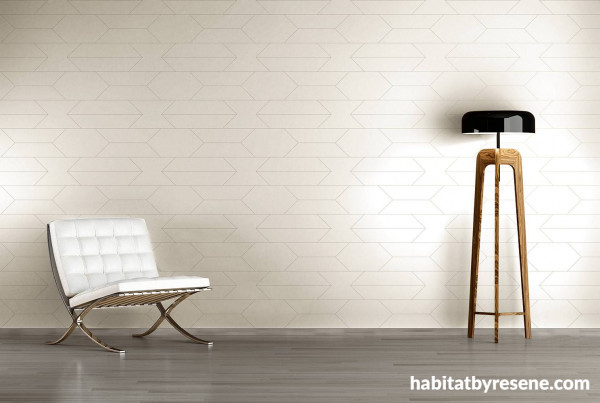 The horizontal lines in Resene Wallpaper Collection 34868-1 extend the eye outward, creating a sense of space in this modern room. Resene Wallpaper Collection 34868-1 looks great with a floor finished in Resene Colorwood Mid Greywash.
Resene has a stellar line up of contemporary wallpapers that are sure to give your home a modern and elegant feeling. Shapes and stripes can give a room a sense of timeless elegance while still recessing into the background to let your contemporary décor shine. Using a contemporary striped wall can draw the eye to specific elements of a room, such as a piece of artwork or a sleek sofa. Horizontal lined wallpaper, such as Resene Wallpaper Collection 34868-1, can make the room look wider and larger, giving the room an extended sense of space. Wallpaper with vertical lines can give a room an added sense of height, as the lines draw the eye upwards. To achieve a contemporary look with striped wallpaper, try keeping things neutral with a ceiling and trim in Resene Black White and a floor finished in Resene Colorwood Mid Greywash.
A novel idea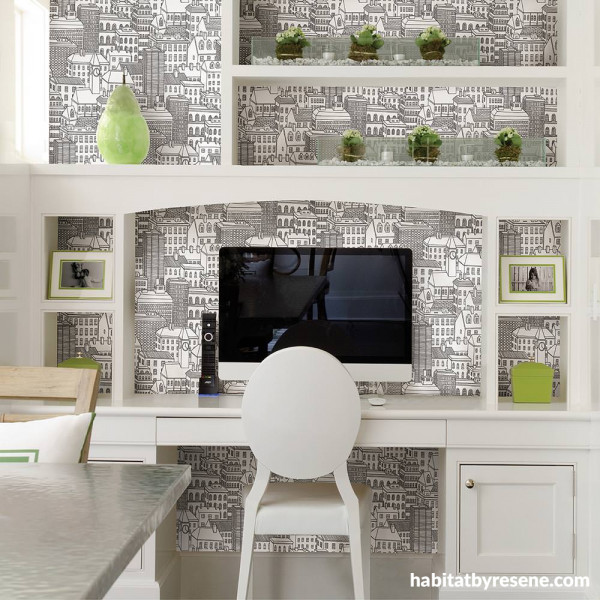 Resene Wallpaper Collection FD23806 adds a novel touch to this wall with an artistic layered building effect. Team with a ceiling in Resene Alabaster or furniture in bold Resene Nero.
Get the conversation started with a striking novelty wallpaper. With advances in printing technology, novelty and faux wallpapers have become even more hyper real. Your wallpaper can now replicate stone, tiles, timber or bricks with precision, as well as more detailed effects such as flaking paint, crumpled paper and delicate pencil lines. Resene Wallpaper Collection FD23806 is a conversational design that uses intricate linework to create the effect of a highly detailed pencil sketch. Novelty wallpapers such as this work well in a space with lots of light to highlight the pattern and make the detail more visible. Strip a room down to its bare bones and let your novelty wallpaper be the feature. Pair it with a subtle colour palette such as Resene Alabaster for the ceiling and Resene Nero for the window trim. Add some upcycled mid-century furniture for a rustic look or create a minimalist's oasis with pops of simple green decor.
Room with a view

Resene Wallpaper Collection PSH033-VD3 adds splendour to this living space. Use green-tinted whites such as Resene Merino or Resene Green White for the surrounding walls and trim.
No view? No problem. With Resene's range of photo murals and illustrative wallpapers, you can reinvent your home's surroundings in no time. With a choice of calming mountain ranges or sunset vistas, pristine beaches or elegant cityscapes, you can transform your office or bedroom into an idyllic escape. These bold, lush landscapes are perfect for feature walls, where they can shine without overwhelming the space. Surround your feature wall mural in a white tinted to the main tone of your mural. For example, Resene Wallpaper Collection PSH033-VD3 has a rich range of green hues. Complement it with adjacent walls painted in Resene Merino, a light and versatile off-white with a green oxide undertone. This will help the mural to sit calmly within the space and ensure a seamless flow between wallpaper and paint.
If you're looking for personal or one-of-a-kind wallpaper check out the Resene WallPrint service, where you can create your own wallpaper from a photo or favourite print. Simply upload a photo, enter the dimensions of your wall, and you'll receive numbered wallpaper strips cut to size. Click here for more information www.resene.com/wallprint.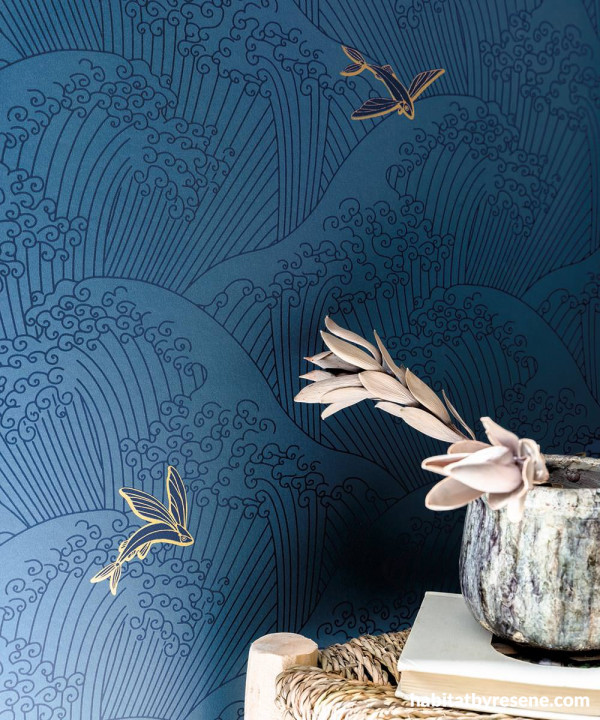 Resene Wallpaper Collection HAN 100396822 is inspired by Japanese artist Hokusai, famous for his stylised ocean drawing, The Great Wave off Kanagawa. Create a serene space by pairing this bold blue design with a soft neutral such as green/white Resene Rice Cake and a soft pink such as Resene Vanilla Ice, reminiscent of blossoms.
Wallpaper quick facts
Wallpapers are typically sold as single rolls that are 50cm wide and approx 10m long. Some may be wider or narrower, longer or shorter.
Types: Many wallpapers are now 'paste-the-wall', which means exactly that. You paste the wall, then apply the paper. This type of paper also dry-strips easily from the wall. Prepasted papers come with a water-activated adhesive backing. You need to soak the paper to relax the adhesive, before hanging.
Print matching: The designs on some wallpapers need to be matched from strip to strip, i.e., lined up so that the wall has an even effect. There are three types: straight, random and drop. Straight-match papers run the width of the paper and across the seam onto the next strip. Random-match papers continue seamlessly no matter what. Drop-match papers require extra planning and must be aligned horizontally and vertically on either side, as the pattern is slightly offset from strip to strip. Drop-match papers will come with a 'pattern repeat' expressed in the number of centimetres a pattern stretches vertically until it repeats itself. The lower the repeat, the lower the waste. Solids and textures, for example, have no repeat and little waste because the amount you'll need is easy to calculate.
How much will you need: Exact roll measurements vary by manufacturer, but most cover five square metres. Remember to take into account the windows and doors in the room. Ask your Resene ColorShop staff to help, or use the calculator here
Upkeep: Wallpapers are durable and maintenance is easy. Scrubbable papers can be cleaned with a sponge and detergent. Washable papers can be gently cleaned or wiped with a damp cloth.
Removal: Unlike years gone by when soaking then chipping away at an old wallpaper with a broad knife was the only way to get it off, today's wallpapers are relatively easy to remove. They come in strippable and peelable types. The former can be removed without water or chemicals and leave no backing. The latter peels off the wall and may leave some adhesive residue behind, which can be removed with detergent and water
Published: 10 Jun 2021
Do you have a home full of wonderful Resene paint and colour? Send us some snaps by emailing [email protected].
Resene Quarter Foggy Grey
Resene Eighth Canterbury Clay
the look
If you're stuck on what
colour to use or need colour
advice, try out the Resene
Ask a Colour Expert service.