►
◄
latest
habitat tv
blog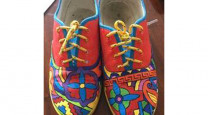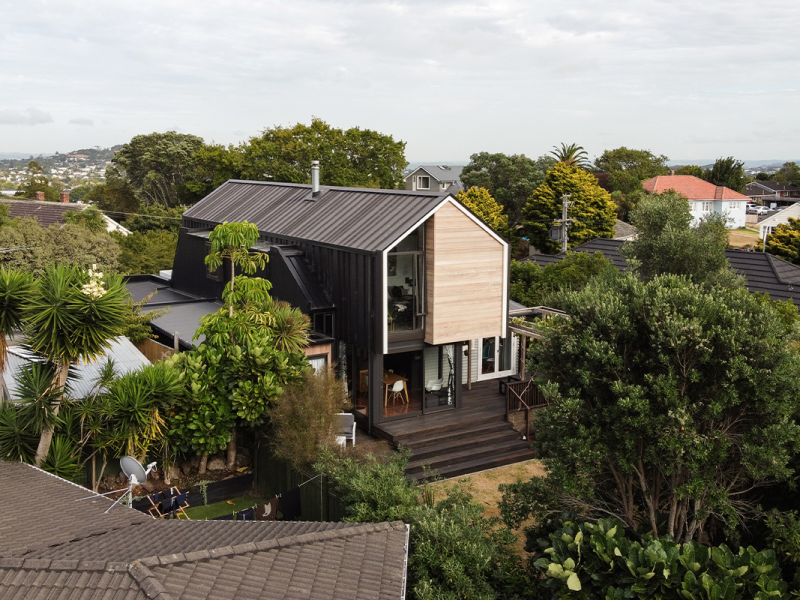 2020 ADNZ Resene Architectural Design Awards national winners announced
08 Dec 2020
It may have come from humble beginnings, but this year saw the 2020 Supreme ADNZ Resene Architectural Design Award go to a 1940s state house that received a grand transformation to become two homes under one roof.
Beating out more than 150 entries from architects and architectural designers from across the country, the project, located in Auckland's Mount Roskill neighbourhood, was described by the judges as an exemplar of contemporary intergenerational living and addresses the severe housing pressures of our time.
Designed by Madushin Amarasekera of Construkt Associates Ltd, the home titled '2 @ 4 in 1', was created by Amarasekera for his family and his wife's parents to live in.
There needed to be a level of separation between the two homes, while allowing moments of interaction between the older and younger generations. To keep a backyard for their children to have space to play, Amarasekera added more space to the original three-bedroom state house by going up, vertically. Now the house is made up of a smaller 72m2 two-bedroom unit and a three-bedroom larger unit. On a relatively modest $500,000 budget, Amarasekera has creatively transformed the house into a home that exceptionally accommodates an extended multi-generational family.
Judges said smart moves such as building upwards over existing foundations to reduce new footings have seen a dramatic change for this modest budget.
"Madushin has avoided doing the obvious thing of plonking an annex on the back of an existing home for the grandparents. In these Covid 'stay at home' times, we can see how this house would have produced not just a 'bubble' but instead a 'foam'. A series of interlocking spaces, the home enables the two families to come together as a whānau, sharing domestic life alongside work-life, while also enabling division to give each family their own space and time.
"The overall effect of these carefully interlocked horizontal and vertical spaces is village like. There is a flow where the extended family encounter each other, but also edge spaces of privacy and retreat, the planning works very hard to achieve this rich variety of spaces. This is a very sophisticated remodelling of the humble state house and we are sure it is the envy of its neighbours," said the judging panel.
Amarasekera's home won two other national awards in addition to the Supreme gong. The project won the 2020 Residential Alterations and Additions Architectural Design Award and the 2020 Residential Interiors Architectural Design Award.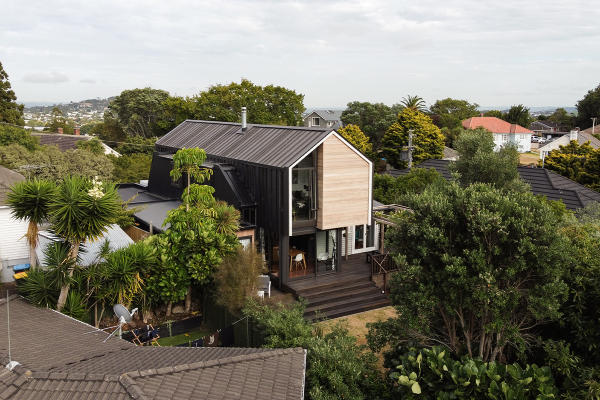 2 @ 4 in 1 by Madushin Amarasekera. Photography by Calvin Hui & Madushin Amarasekera.
Aaron Jones of Urban Function Architecture received the 2020 ADNZ Resene Colour in Design Award for his design 'Taylors' in Sumner.
The site of 'Taylors' had unmistakable topographical challenges, and Jones needed to find the perfect positioning for the home to maximise views to the bay headland and draw sunlight from the North West to ensure warmth was captured naturally. This was achieved with a simple cut into the hillside. All excavated spoil was kept onsite and pushed forward to create usable terraced platforms for children to play and edible gardens to be established.
Judges said excessive in style and concision, this house designed for a growing family, is efficiently and effectively distributed over the 75m2 footprint. The project's interior features extensive use of Resene Blackjack, adding to the home's cosiness.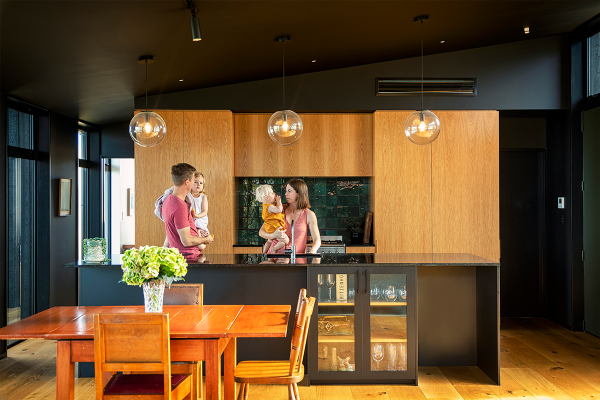 Taylors by Aaron Jones. Photography by Stephen Entwisle.
For the full list of the 2020 winners, visit the ADNZ website.