►
◄
latest
habitat tv
blog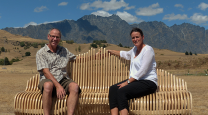 2021 New Zealand Architecture Awards winners announced
07 Dec 2021
Two social housing projects, transportable tiny houses for at-risk youth, a Christchurch Kōhanga Reo and a 'build to rent' development were among the winners at the prestigious 2021 New Zealand Architecture Awards.
Across 13 categories, 26 projects have been presented with Te Kāhui Whaihanga New Zealand Institute of Architects New Zealand Awards, which are peer-reviewed by a judging panel of four highly experienced architects. This year's jurors were Sharon Jansen (Sharon Jansen Architect), Grant Edwards (Edwards White Architects), John Hardwick-Smith (Athfield Architects) and Gary Lawson (Stevens Lawson Architects).
The jury visited 52 projects across the country from Queenstown to Nelson, Wellington to Whanganui and Rotorua to the Coromandel Peninsula and many places in between before deciding on a final list.
"It was a privilege to visit these projects in reality," Sharon Jansen says. "As jurors, we aim to assess the essence of each project - its siting, its expression and function, its place in the built environment, and how it contributes to the life of its occupants and community.
"This year we saw many excellent entries in the Housing - Multi Unit category, which is significant as our property market changes and adapts to new residential living models.
"In this time of urgent need for housing across the spectrum of our society, we found ourselves needing to break our own rules by adding a fourth winner to this category, where two vying for a place were inseparable," Jansen says.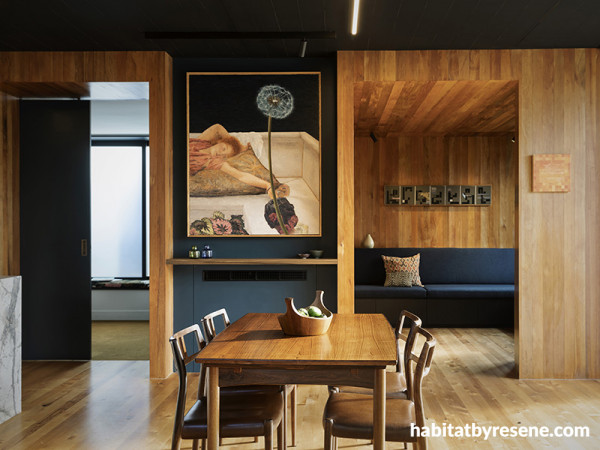 Our House by studio LWA in Auckland featured Resene products. Image by Sam Hartnett.
In the Housing category of the awards, the jury looked to celebrate what makes a good home, regardless of budget or size.
Jansen says, with this year's winners, the jury recognises that excellent design in housing is not only about 'a beautiful photograph', but also space, thermal performance, functionality, and connection to place.
In the Commercial category, this year's winners are Auckland's Hotel Britomart by Cheshire Architects and Commercial Bay by Warren and Mahoney Architects, Woods Bagot and NH Architecture in association, also in Tāmaki Makaurau, and Rotorua's SCION Innovation Hub - Te Whare Nui o Tuteata by RTA Studio and Irving Smith Architects, which houses the Crown research institute.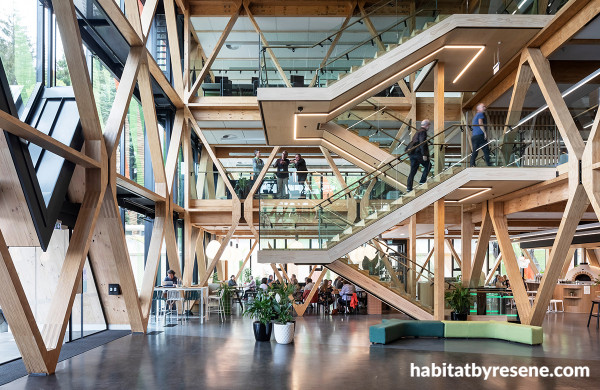 SCION Innovation Hub - Te Whare Nui o Tuteata by RTA Studio and Irving Smith Architects in Rotorua features Resene Black, Resene Bokara Grey, Resene Rice Cake, Resene Rock Salt and Resene Aquaclear. This project also recently won the Resene Total Colour Neutrals Award. Image by Patrick Reynolds.
In Education, the winners were Te Hohepa Kōhanga Reo by Bull O'Sullivan Architecture, in Ōtautahi Christchurch, and Auckland's New Shoots Early Childhood Education Centre by Copeland Associates Architects.
Both the Christchurch Town Hall, recently restored after the Canterbury earthquakes, by Warren and Mahoney Architects, and Auckland War Memorial Museum Tāmaki Paenga Hira, Te Ao Mārama and Cenotaph Galleries by Jasmax, FJMT, designTRIBE and Salmond Reed Architects, took home Heritage architecture awards, with the Town Hall also winning an Enduring Architecture award.
The museum added a gong for Public Architecture to its trophy cabinet today, while Tuitui, the cafe and bistro designed by Jack McKinney Architects that sits in its southern atrium, won the Hospitality award.
In the Housing category, winners are Our House by studio LWA, an immaculate family home squeezed into a suburban infill site in Auckland's Westmere, Threepwood Passive House by Team Green Architects at Lake Hayes, a beach house at Te Arai by Fearon Hay Architects, Crosson Architects' Light Mine at Kūaotunu in the Coromandel Peninsula and Awaawaroa by Cheshire Architects on Waiheke Island.
In the Interior Architecture category, the five Green Star rated Hotel Britomart by Cheshire Architects took home a second award, and the vibrant and joyful Whare Koa - Māngere Community House by Burgess Treep & Knight Architects was also recognised as a winner.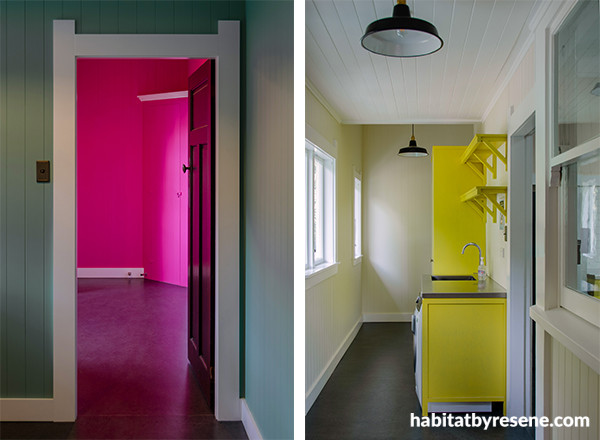 Whare Koa - Māngere Community House by Burgess Treep & Knight Architects features Resene Adrenalin, Resene Alabaster, Resene Blue Chill, Resene Cobalt, Resene Colour Me Pink, Resene Envy, Resene Half Spanish White, Resene Kashmir, Resene Smitten and Resene Wild Thing. This project also recently won the Resene Total Colour Community Award. Image by Emilio Garcia.
And finally, three awards in the Small Project Architecture category went to Elegant Sheds by Common Space - a garden shed and carport on a Bay of Plenty farm; The Cube by First Light Studio - a tiny but generous home built out the back of a Petone villa; and the transportable My Whare homes by SGA - Strachan Group Architects, which are designed to house West Auckland rangatahi transitioning out of community care or homelessness.
Jansen says this year's jury experience was different, as Covid-19 impacted the tour several times, delaying shortlisting, causing two strandings in Australia, and finally halting the tour itself.
"But through many robust discussions and extended deliberations, we worked hard to look at each project on the continuum of excellence achieved by New Zealand Architecture Award-winning projects."
In the end, Jansen said the winning projects were those that brought joy to the jurors.
Due to Covid-19 restrictions, the Te Kāhui Whaihanga New Zealand Institute of Architects Awards were presented online, across the Institute's website and social media channels this year.
On 9 December, an additional three 'supreme' Named Awards winners will be announced online, from among this year's New Zealand Architecture Awards winners.
NZIA hopes to celebrate in person with the winning practices and clients along with Resene and other sponsors in February 2022.
Congratulations to all who were recognised at this year's awards.
For a full list of winners for 2021 and years past, visit the NZIA website.
Published: 07 Dec 2021