►
◄
latest
habitat tv
blog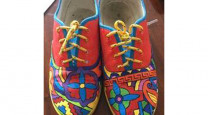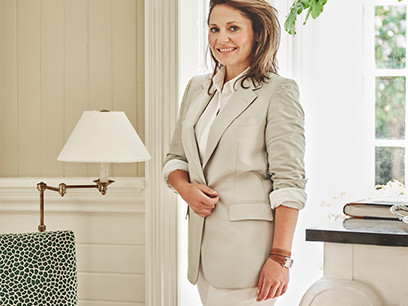 Charlotte Coote's work is the epitome of classic contemporary cool
03 Apr 2020
With over 17 years in the field and a portfolio that stretches across Australia, Europe and America, Charlotte Coote has become quite the coveted designer.
Her design studio in Melbourne's trendy Prahan neighbourhood, Coote & Co, was established in 2007 and specialises in classic contemporary interior design. Quality handmade furniture, textiles and lighting and a keen attention to detail are evident throughout Charlotte's work, but it's her head-turning use of colour and pattern that makes her work a standout.
Her incredible home was featured as habitat House of the Week in January and was wildly popular among our readers, so we asked her for the low-down on where her awe-inspiring aesthetic stems from.
You come from a bit of an interior design dynasty. Tell us about the journey that led you to where you are now in your career.
"I was lucky to be born into an interior design family. My father was the late John Coote, an incredibly talented interior designer who travelled the world for his clients and projects. He practiced classic contemporary interior design and I was lucky to work for him during my twenties in Europe and learnt an enormous amount. We worked on everything from English and Irish houses and castles, private residential homes and even high-end boutique hotels. We also designed and created much of what we used in his projects and ended up with suppliers in over 17 countries around the world. It was an exciting place to learn interior design."
You have a distinct and fearless design style, where classic traditional details, bold patterns and vibrant colours meet with crisp whites. Where does your design aesthetic stems from?
"Although I was fortunate to have such an incredible training through my father, I feel my aesthetic has shifted from a lot of what he did. Yet, I also see a lot of familiarities too. I have a very strong instinct about whatever it is that I am creating, and I have become better at tuning in to that. As much as possible however I aim for authenticity and practicality – if these two things go hand in hand then the outcome will be interesting."
Do you think you are sought out by clients for that aesthetic?
"Yes, I hope so! I like to think of working with clients however as a collaboration. I am getting better at listening to and creating for people and their lifestyles. I love to understand the reason behind why they are wanting to create what they are. I think understanding that drive from my client to achieve a certain emotion or lifestyle, can help me bring the best out in their brief to me. If the brief is focused and clear, then the outcome will often be a fabulous one."
What do you find your inspiration?
"Travel and reading reference books, without a doubt."
What are your favourite types of projects to work on?
"Once a plan is made, it would definitely be the projects where the clients have utmost trust in me and in my team to make our magic."
It happens to all of us, no matter how experienced and creative we are, but what do you do if you feel stuck on a design project?
"Sometimes you just need fresh eyes. Often my team and I will be unable to be creative on the spot and resolve a certain element in project we work on. We have become very good however, at agreeing to disagree, and can park that problem and come back to it in a day or so. It is just about having that discipline to get back to it and work to a deadline."
What do you love about Resene?
"I love the pigment in Resene colours, and I think it looks amazing in the Australian light. I also think that the customer service is extraordinary. My Resene contact is Raychel Pierson, whose number I have on speed dial and have been dealing with for years now. I was introduced to Raychel through my friend Robert Doble, a British-born artist who also loves using Resene colours. As a designer, I sometimes know how I want a paint finish to look or feel, but I may not have the technical words. I can ask Raychel the silliest question and she will explain all the details and make product suggestions accordingly. With Raychel, we get a personalised experience and the outcome is bespoke, which is great for our clients. I feel like I can't get that level of personal service elsewhere."
What Resene colours are you currently crushing on?
"My dining room colour, of course – Resene Glamour Puss! I love the colour and the high gloss finish. It is vibrant and perfect en masse for a small intimate dining room like mine. As a general rule, we say: decorate a small room by filling it with more furniture and loads of colour. Big room, less furniture and depending on the natural light, go for a lighter paint finish."
What is 2020 looking like for you? Any exciting upcoming news to share?
"Plenty, but none we are allowed to share yet! I think 2020 will be a very exciting year."
See more of Charlotte's work on her website.
images Lisa Cohen