►
◄
latest
habitat tv
blog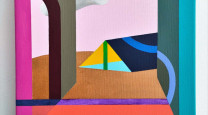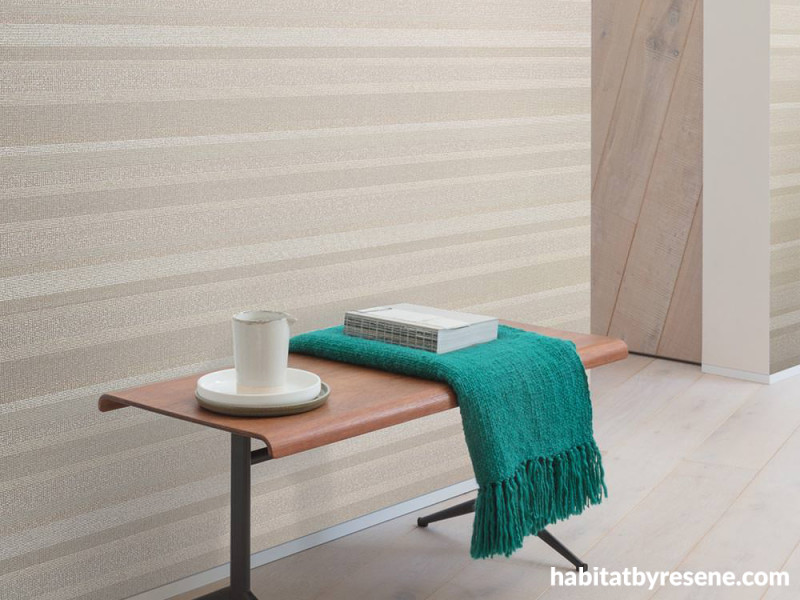 Our top striped wallpaper picks to line up for your next project
13 Sep 2021
Wallpaper in and of itself has been surging in popularity but there are also certain types of designs that are more prominent than others. While we're still seeing plenty of earth-inspired options and conversational designs trending, striped designs have emerged as ones to watch.
From classic to quirky, here are the top striped designs from the Resene Wallpaper Collection that we wouldn't mind lining our walls with.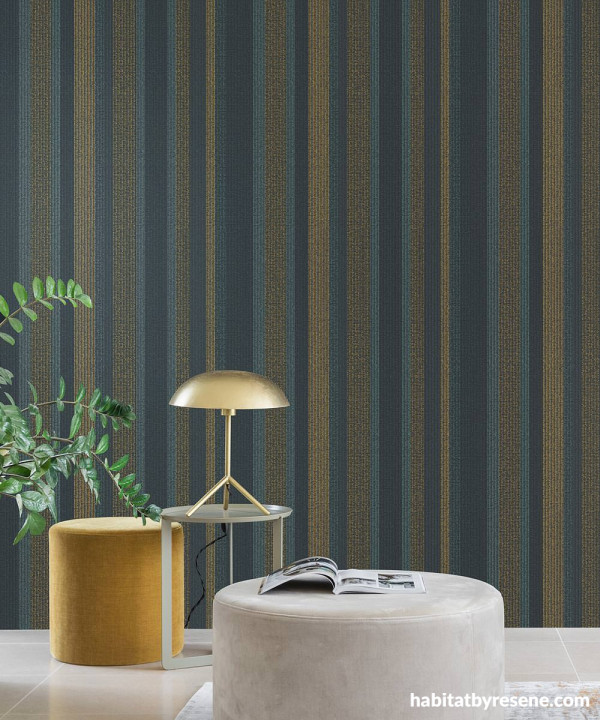 Thanks to its hint of gold, Resene Wallpaper Collection KOS403 would make a gorgeous addition to a glam restaurant or hotel setting. Try it with flooring in Resene Quarter Ash, furniture in Resene Ash, Resene Noosa and Resene Coast and play up the luxe factor with glittering details in Resene Gold Dust metallic.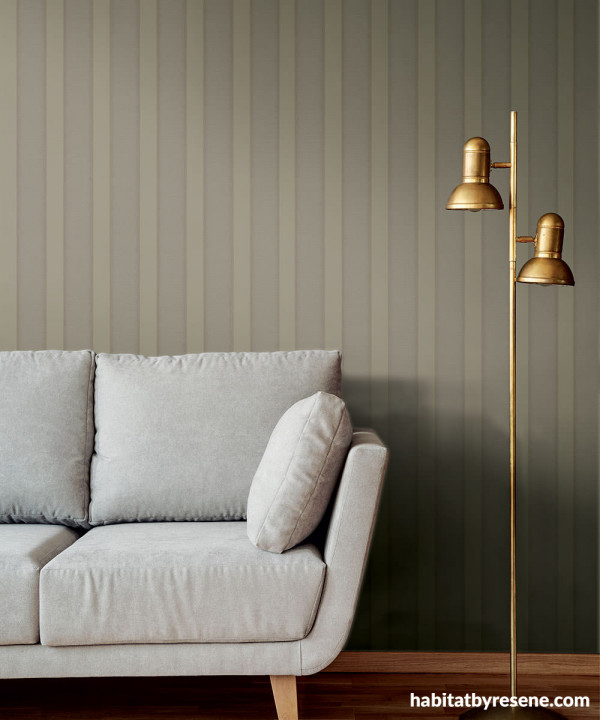 For a space that's all buttoned up, Resene Wallpaper Collection 24137 is about as formal as striped designs come. The restrained greige colour palette lends a refined look evocative of men's wool suiting. To keep your space from feeling stiff, eschew carpeting for timber flooring in a warm wood stain like Resene Colorwood Natural and choose furniture that has casual or vintage details in hues like Resene Concrete, Resene Quarter Perfect Taupe and Resene Half Sandstone and bring in a hefty dose of an approachable creamy white like Resene Half Villa White.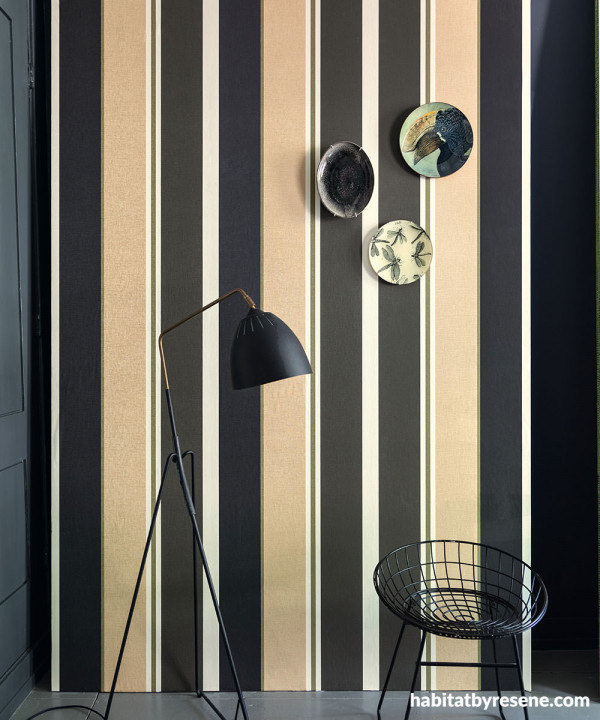 For a bolder option that still holds classic neutral appeal, don't look past Resene Wallpaper Collection 539042. The strong black, charcoal grey and biscuit beige details certainly stand out, so this design is one that works better for a statement wall or either above or below a dado line to keep it from overwhelming the space. On adjacent walls, ideal colour pairings include Resene Zeus, Resene Half Baltic Sea and Resene Half Dutch White with Resene Eighth Spanish White on the ceiling and timber flooring stained in Resene Colorwood Sheer Black to ground the look.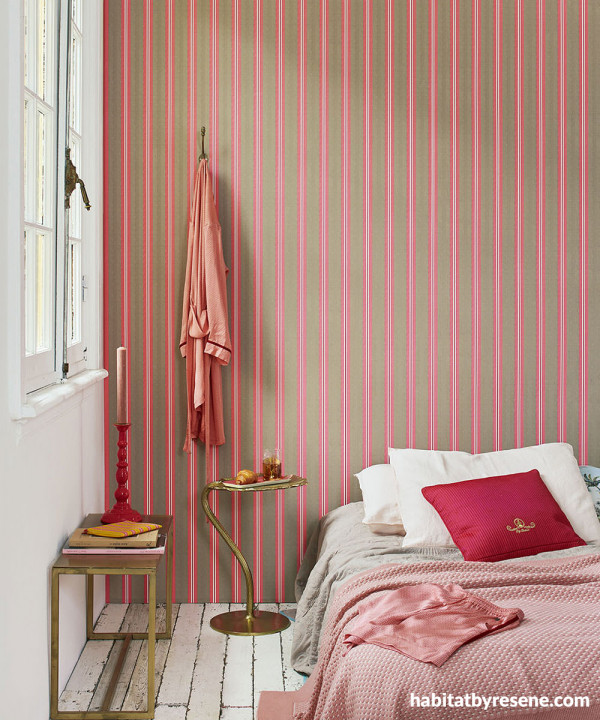 Have a client with a penchant for pink? Resene Wallpaper Collection E300131 might be their perfect pick. This eye-catching option brings eclectic flair thanks to the design's traditional-lines-meet-modern-pink style. Crisp whites like Resene Half Sea Fog and Resene Sea Fog on adjacent walls and flooring will make it feel even more contemporary, as will the addition of accessories in blush pinks, lipstick magentas and cloudy greys suck as Resene Paper Doll, Resene Scrumptious and Resene Cloudy.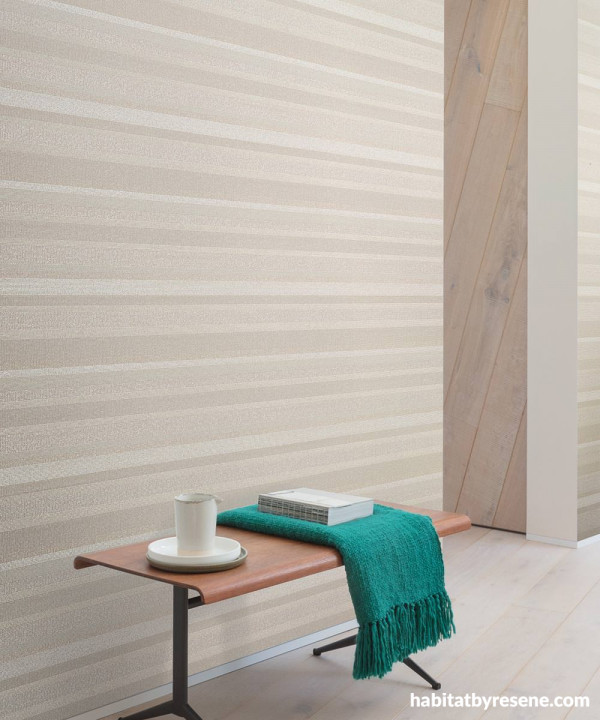 While many choose to install striped wallpaper vertically so that the lines run from floor to ceiling, there's nothing stopping you from taking the design horizontally instead. This trick can help to optically widen a narrow space. Resene Wallpaper Collection KOS404 works a treat for this strategy and makes a beautiful base for layering in sandstone hues like Resene Half Fossil, Resene Blanc and Resene Quarter Blanc on the ceiling, flooring and adjacent walls. Accent it with a touch of cognac leather brown like Resene Twizel and a vibrant teal like Resene Aquamarine to liven up the space without detracting from its earthy appeal.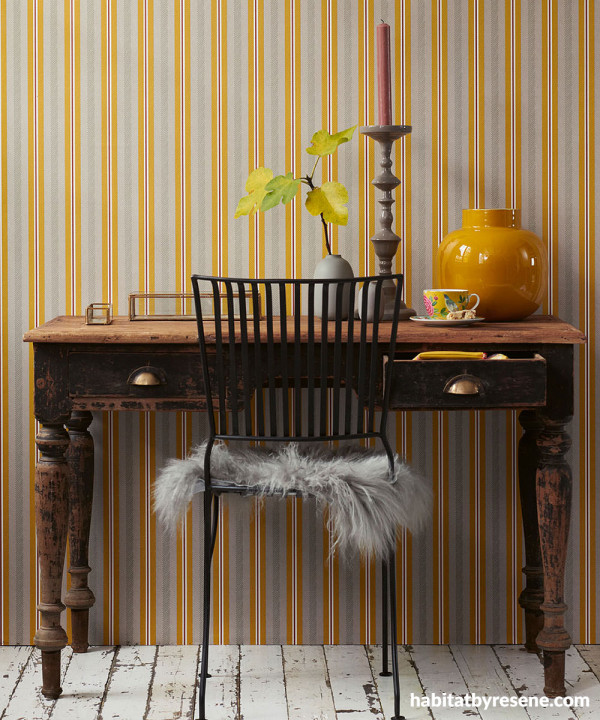 If you're planning on incorporating antiques into a space, Resene Wallpaper Collection E300133's yellow and grey design has a subtle herringbone pattern to it, which lends it a woven, vintage vibe. Try it with flooring in Resene Double Rice Cake, timber furniture stained in Resene Colorwood Bark, and accessories in Resene Half Atmosphere, Resene Tapa and Resene Pirate Gold.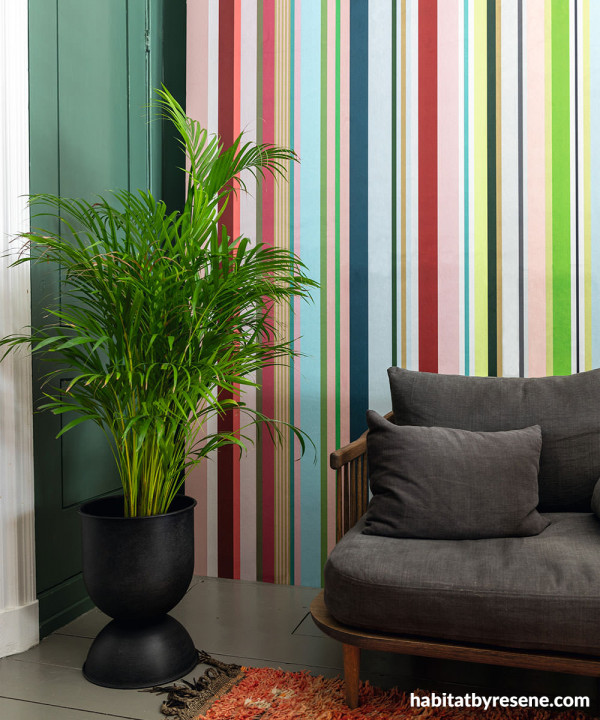 Resene Wallpaper Collection 539134 is a mural design that's ideal for turning a large statement wall into a technicolour dream. It would steal the show in an otherwise white space, but if you want it a quirkier look, try it with walls in Resene Half Rivergum, flooring in Resene Double Tapa and add pops of Resene Half Pohutukawa, Resene Gelato and Resene Sublime through accents and accessories to pull its eye-catching hues off the wall and into the space.

Top tip: Remember, most wallpaper designs are only available for two to three years and popular options can sell out quickly – so not only do you need to act fast if you want to get your hands on these picks, be sure to snag an extra roll in case your client needs to repair or replace a portion in the future.
For more wallpaper inspiration, check out the habitat plus – wallpaper book. For the latest wallpaper releases, see a taste of the new collections online www.resene.com/wallpaper or view the full Resene wallpaper library at your local Resene ColorShop.
Published: 13 Sep 2021