►
◄
latest
habitat tv
blog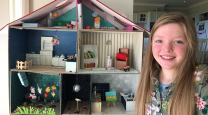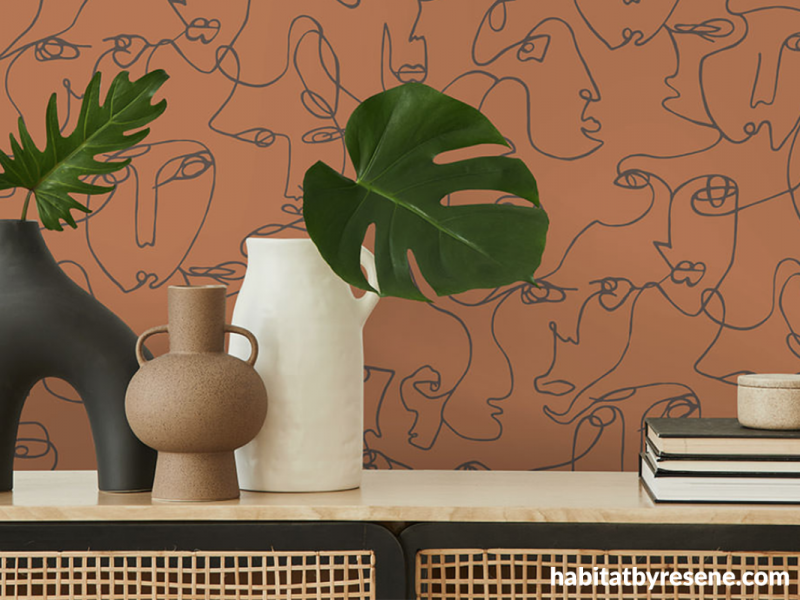 Seven new wallpaper designs that will get your clients talking
22 Feb 2022
While there are some clients that you might have a tougher time convincing that wallpaper would be a stellar addition to their project, there are plenty of others that come ready to go full throttle with a big, bold design. With those clients, you'll want to look to what are known as 'conversational' designs – which are among the most popular options in the Resene Wallpaper Collection, and often the first to sell out.
Conversational wallpaper designs get their nickname from their innately graphic, striking and daring motifs that tend to get people talking. In residential settings, we often recommend these designs for powder rooms because they can be instant icebreakers at dinner parties. The vivid design remains a surprise until the first guest visits the loo and returns to the table with a revelation – and then, of course, everyone else has to see it for themselves.
But conversational wallpaper designs are stunning options for all sorts of spaces and project typologies. Consider a spa that makes visitors feel like they've just become enveloped in a lush rainforest, or a restaurant where the walls appear to be wrapped in a giant piece of origami paper. If you're at all like us, when you see a great conversational wallpaper design, you'll be instantly planning the perfect place to put it.
Check out these seven new designs from the Resene Wallpaper Collection that are sure to get the wheels turning.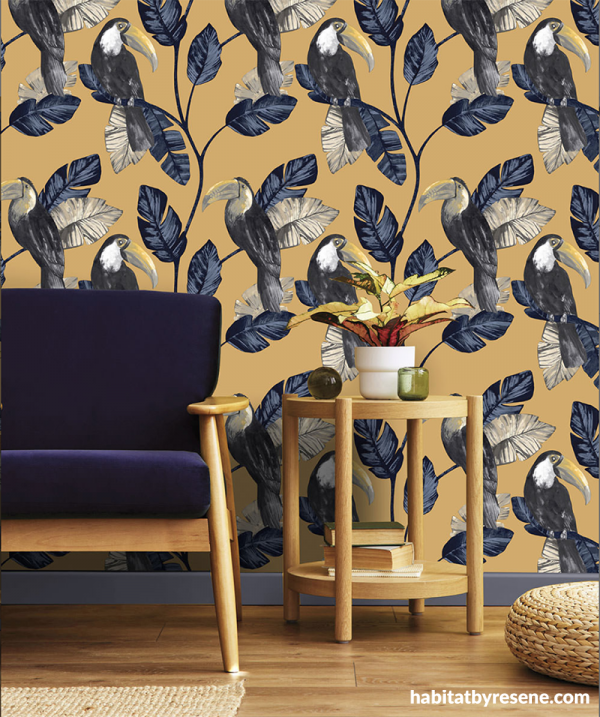 Conversational designs with tropical flora and fauna are always big winners, but Resene Wallpaper Collection 91342 gets the job done with an unconventional colour palette of steel blues and tussock golds – which makes it a good option for spaces where rainforest hues won't fly. Try it with adjacent walls and ceiling in Resene Tussock, timber flooring stained in Resene Colorwood Driftwood, skirting boards in Resene Quarter New Denim Blue and furniture and accents in Resene Indian Ink and Resene Half Athens Grey.

Top tip: Did you know that many of the wallpapers we showcase in BlackWhite magazine and on the blog often come in different colourways? That means that if you like a design but aren't sure the colours are the right fit for your project, it's definitely worth a trip to your local Resene ColorShop to check out the other colourways available. Plus, wallpapers are always more impressive in person, where you can experience textured and metallic elements that might not be visible on your computer monitor – and you'll be able to confirm the best Resene paint colours to coordinate with the wallpaper at the same time using the large A4 colour swatches in store.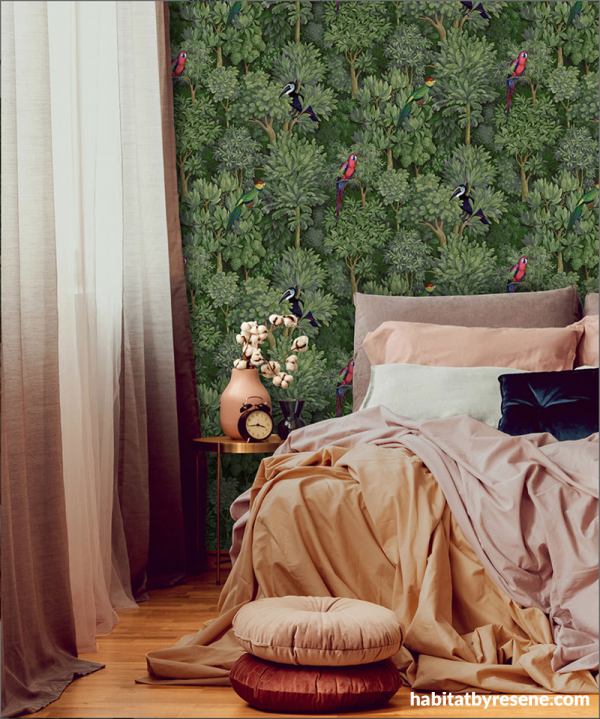 When you are after those lush, soft greens, Resene Wallpaper Collection 91250 is a beautiful pick. The design walks a fine line, as it's more calming and recessive than many conversational wallpapers but the punctuation of parrots still provides an excellent talking point. Bring in suede, mauve and blush tones like Resene Half Rickshaw, Resene Martini and Resene Just Right balanced with a hint of deeper hues like Resene Blue Night and Resene Cinnamon.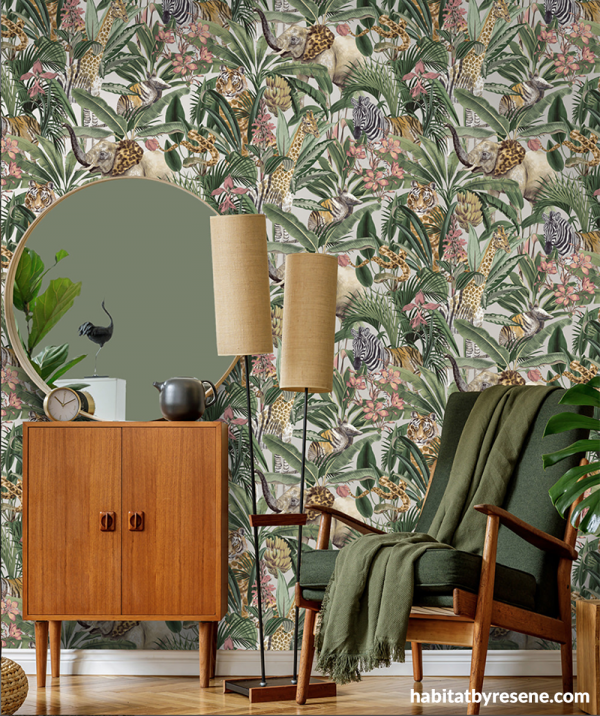 Resene Wallpaper Collection 91314 has it all. Not only does the illustrative style and colour palette carry an elegant vibe when viewed at a distance, closer inspection reveals a fantastical fusion of animals. An elephant with leopard print ears? Zebra in the front, tiger in the back? The who's who of the zoo are all here. Try it with timber flooring and furniture stained in Resene Colorwood Natural, a ceiling in Resene Silver Sand and accessories in Resene Woodland, Resene Spanish Green and Resene Sand.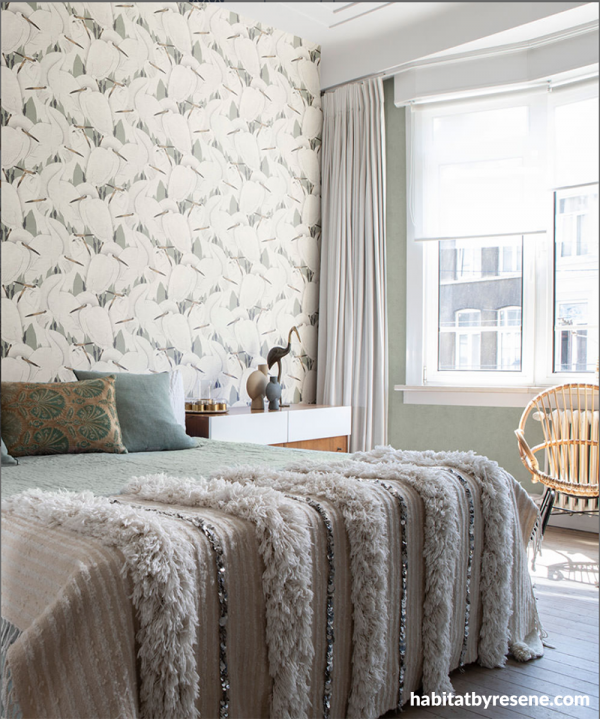 Not all conversational wallpaper designs are tropical, of course. The tightly huddled cranes in Resene Wallpaper Collection 409543 have a distinctly Japanese flair that brings to mind ornate silk kimonos or fine origami paper. Since cranes mate for life, the design can be a romantic choice for a master bedroom. Try it with adjacent walls in Resene Tiara, a floor in Resene Double Concrete and restrained touches of Resene Domino and Resene Ashanti or go glam with gold accents in Resene Gold Dust metallic.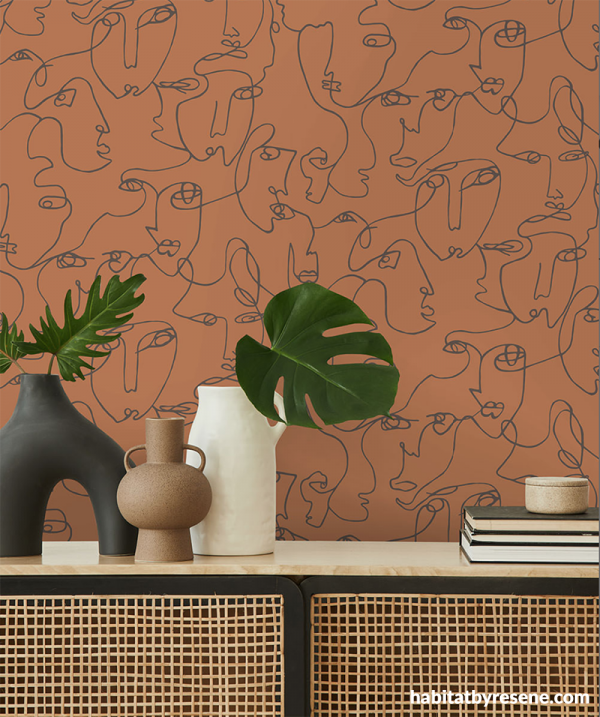 A major interior trend that has become well established in the decorating ethos is continuous line drawings. For clients that are keyed into this concept and want to amp the artistic aesthetic up to a larger scale, there's Resene Wallpaper Collection 91271. Team the fluid lines of this design with curvaceous ceramic décor and artisanal items in Resene Leather, Resene Bone and Resene Snow Drift backed supported with furniture in Resene Triple Dune and adjacent walls in Resene Sante Fe.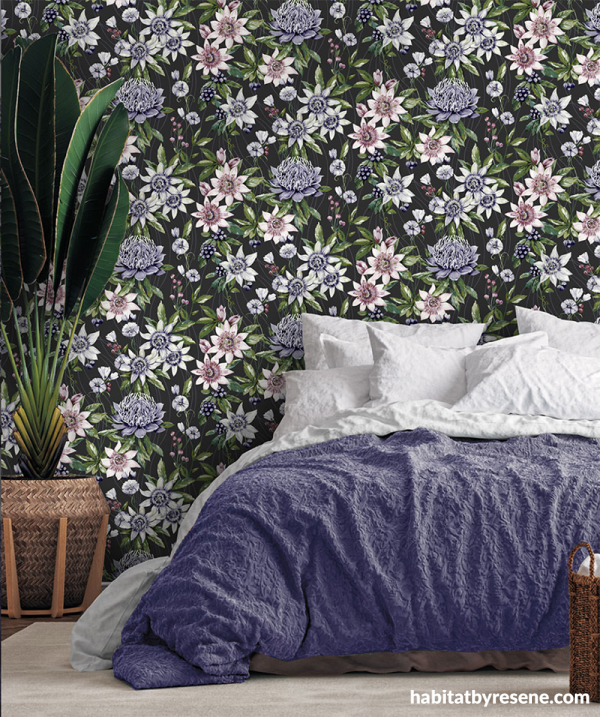 Big, bold blooms are an easy win with clients that want an impactful wallpaper design. The difference that sets the botanicals in Resene Wallpaper Collection 91324 apart from other options is that it picks up cutting edge colour trends like periwinkle, powder pink and nettle green. Pair it with surrounding walls in an inky black like Resene Nocturnal, dark timber flooring stained in Resene Colorwood Bark and offset with furnishings in lighter Resene Blanc and Resene Sea Fog accented with a touch on on-trend Resene Enigma.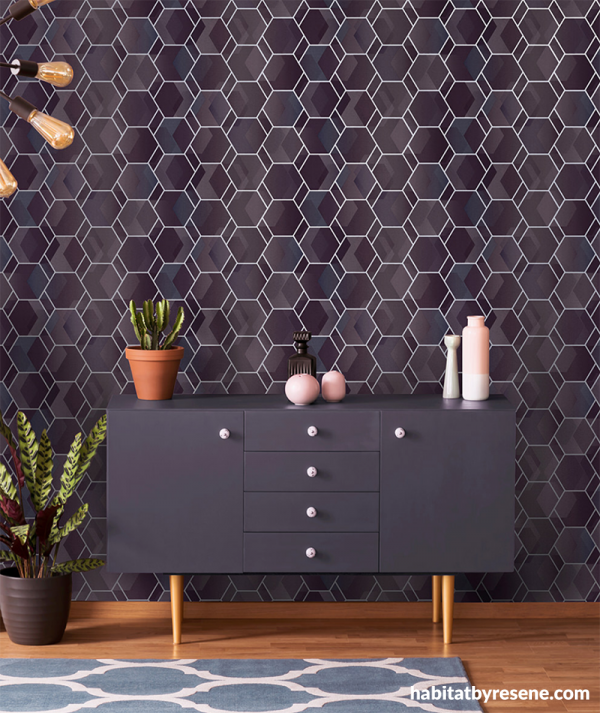 While not as brazen as some of our other options, the eye-catching highlights and complex layers in Resene Wallpaper Collection 91283's geometric design makes it conversational in its own right. The orderliness and depth would make it an ideal choice for a corporate space where the client wants to maintain an air of professionalism while setting themselves apart. Because the colours in this design visually read as a neutral, there are a wide range of hues that it can be paired with. For a chic eclectic look, layer it with warm-toned timber flooring stained in Resene Colorwood Oregon, furniture in Resene Gun Powder and decorative accents in Resene Escapade, Resene Gelato and Resene Japonica.
Top tip: Remember, most wallpaper designs are only available for two to three years and popular options can sell out quickly – so not only do you need to act fast if you want to get your hands on these picks, be sure to snag an extra roll in case your client needs to repair or replace a portion in the future.
For more wallpaper inspiration, check out the habitat plus – wallpaper book. For the latest wallpaper releases, see a taste of the new collections online www.resene.com/wallpaper or view the full Resene wallpaper library at your local Resene ColorShop.
Published: 22 Feb 2022