►
◄
latest
habitat tv
blog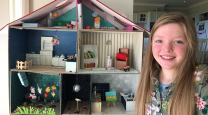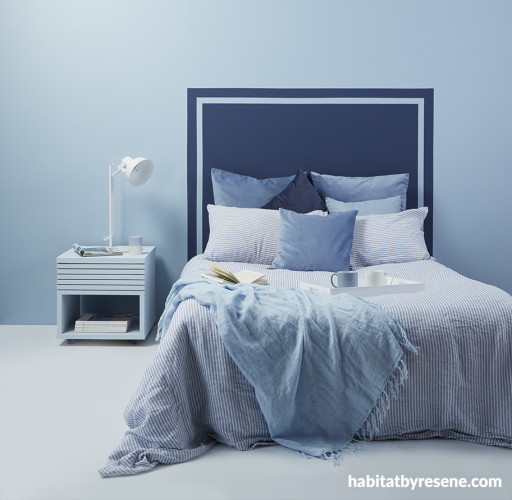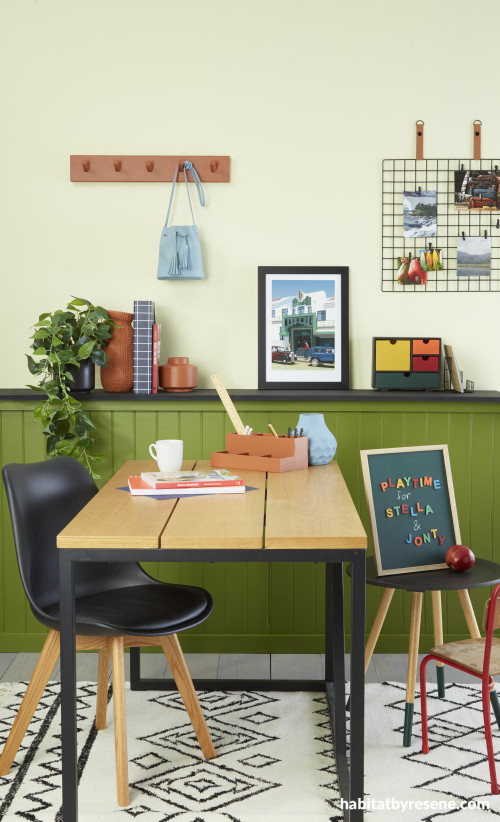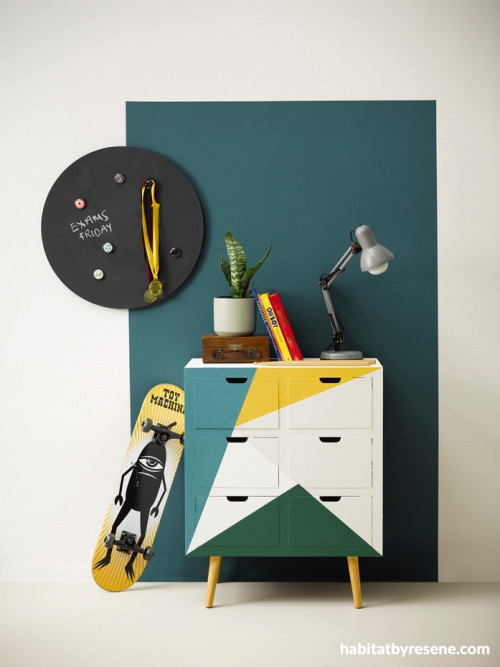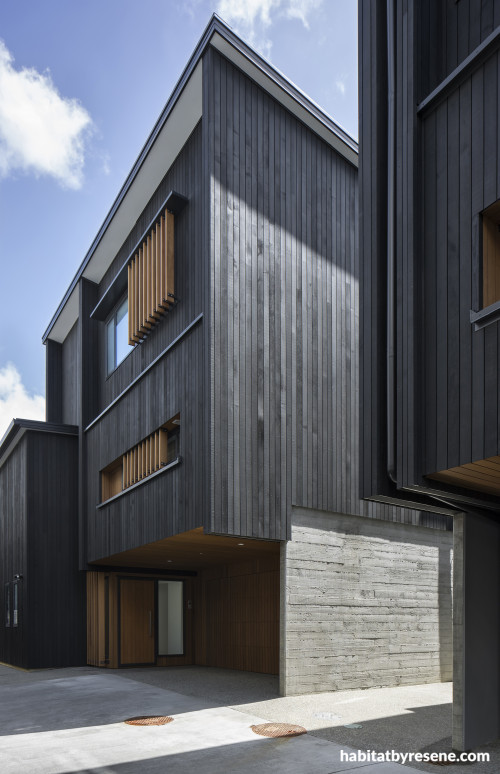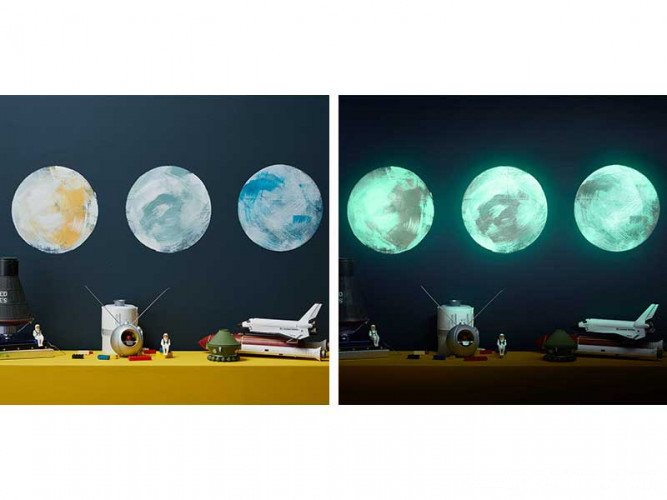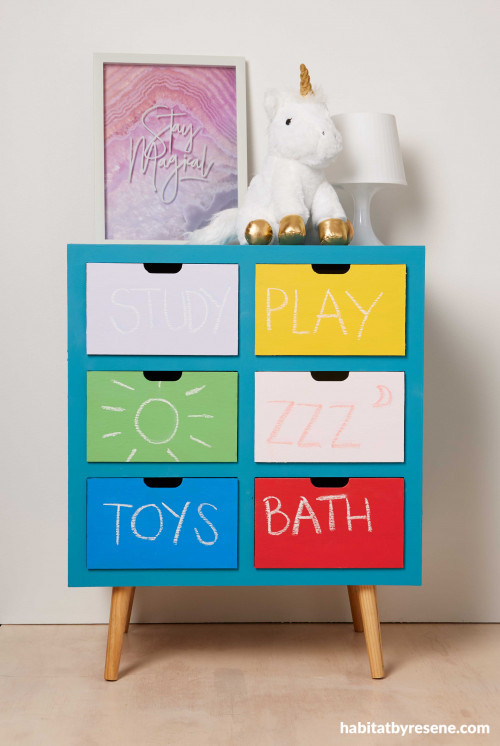 Step into the future with these smart paint technologies
Technology has progressed leaps and bounds over the years, so it should come as no surprise that paint also boasts some modern features. Moving beyond colour and protective coatings, Resene has created some ingenious products that are perfect for the future-minded consumer who's looking to make their smart home even smarter.
If you're looking for a summer project to keep you busy over the holidays, try incorporating one of these innovative ideas into your plans.
Resene SmartTouch?
Published: 19 Dec 2019
Do you have a home full of wonderful Resene paint and colour? Send us some snaps by emailing [email protected].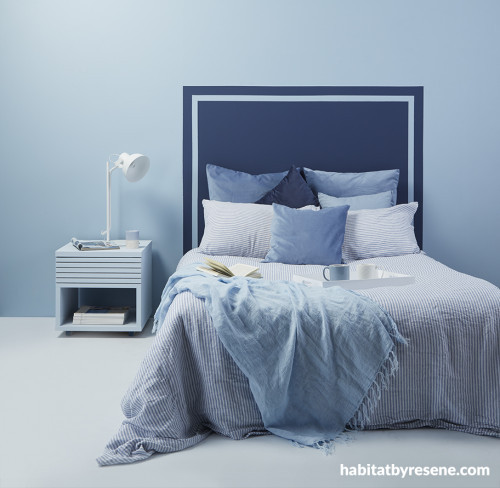 Wall and side table in Resene Frozen, headboard in Resene Biscay, floor in Resene Solitude and tray in Resene Alabaster. The inner dark blue area behind the headboard has been painted in Resene SmartTouch to turn the wall into a light switch. Double tap the Resene SmartTouch area to turn the lights on and off wherever you are in bed without having to reach for the light switch.
Stumbling and fumbling in the dark to find a light switch is a problem of the past now that Resene has released Resene SmartTouch. This touch-activated paint works like a light switch and can be connected into your electrical circuit by a professional electrician. The Resene SmartTouch is applied under your topcoats, so once the wall is finished it looks just like a normal wall. Double tap the wall to turn the lights on and off again.
Resene SmartTouch is ideal for areas such as hallways, open plan living areas, bedrooms and garages. It can cover large parts of the wall to enable tall and short, young and old, mobile and mobility impaired occupants and guests to turn the lights on and off, even if they can't easily reach a normal light switch.
Resene FX Magnetic Magic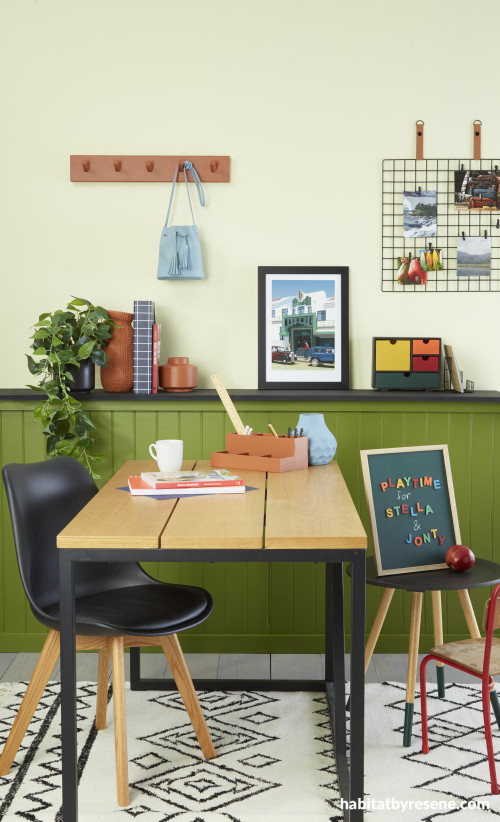 This magnetic chalkboard was created with two coats of Resene FX Magnetic Magic followed by Resene SpaceCote Low Sheen tinted with Resene Family Tree ?which can be used as a chalkboard finish. Once dry, you can write on it with chalk, which can be wiped off with a wet cloth or hang strong magnets on it – like these wooden letter magnets, painted in a bright spectrum of Resene testpot colours. The upper wall has been painted in Resene Moonlight, the panelling in Resene Untamed and the shelf and table legs in Resene Noir, the floor is stained Resene Colorwood Mid Greywash, and decorative accents throughout the space have been painted in Resene Moccasin, Resene Mystery, Resene Away We Go, Resene Moana, Resene Daredevil, Resene Cleopatra, Resene Pohutukawa and Resene Noir.
If the idea of colourful magnets all over your fridge frightens you, never fear: there are other ways for your family to hang important pictures and notices. Enter Resene FX Magnetic Magic.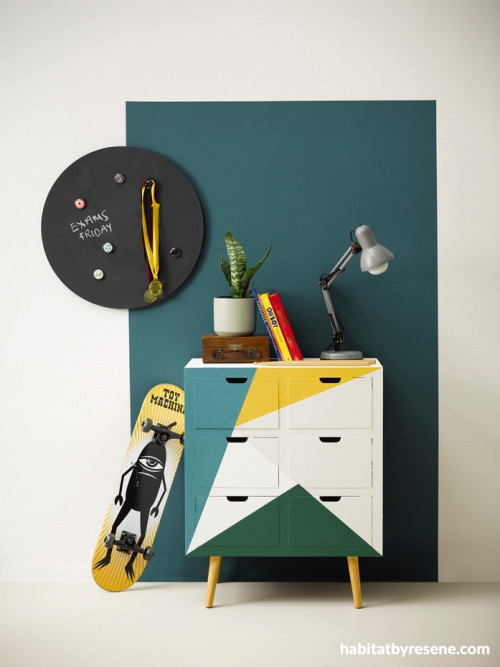 Wall in Resene Sea Fog with a painted colour block feature in Resene Fast Forward, floors in Resene Truffle, dresser in Resene Alabaster, Resene Bismark, Resene Permanent Green, Resene Truffle and Resene Thumbs Up and plant pot in Resene Truffle. The chalkboard has been coated first in Resene FX Magnetic Magic with topcoats in Resene SpaceCote Flat tinted to Resene Noir, which also works as a chalkboard surface. Just wipe it clean with a damp cloth.
This premium waterborne paint is packed with iron oxides for magnetic effect and can be coated with your choice of Resene topcoats. Once the area has been dried and cured, you can adorn your surface (whether it be a wall in your study or playroom) with posters, pictures and more. Simply use self-adhesive magnetic strips on your items and you're away!
Resene CoolColour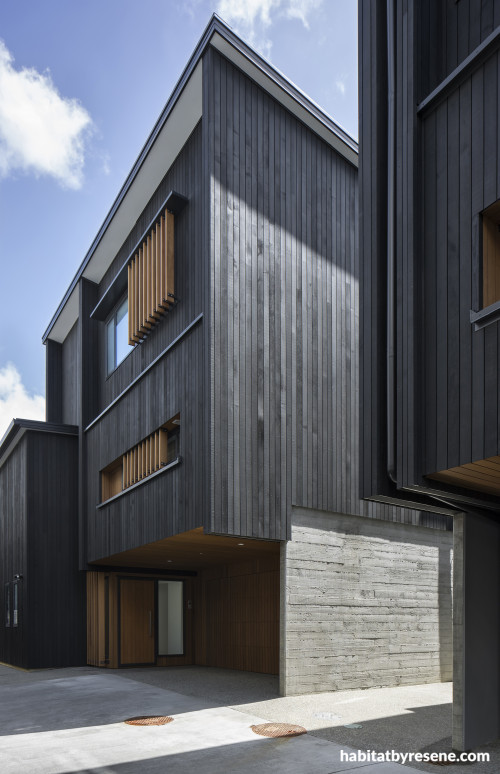 The cladding on this home, designed by JWA Architects, is stained in Resene ?Waterborne Woodsman CoolColour Pitch Black timber stain. Resene CoolColour paint or stain is a must-have for anyone using a dark exterior colour. It reflects more of the sun's UV rays, keeping the paint and cladding cooler, minimising heat stress and potential damage. Resene ?Waterborne Woodsman Natural timber stain has been used for contrast on the vertical cedar fins and soffits.
We all love a glorious summer – just not when it's burning the bottom of our feet whenever we step out onto a dark painted surface. With dark colours absorbing light and infra-red rays making decks unbearably hot, Resene CoolColour is a real foot-saver.
This handy technology (which looks the same as the normal colour) absorbs light and reflects infra-red energy near and far, meaning less heat on your tired feet. When you use it on your exterior weatherboards and walls, it also helps reflect heat from baking your substrate, which can add to the longevity of your cladding. Available in a range of Resene paints and Resene wood stains to suit the majority of surfaces, Resene CoolColour works best on dark colours, and will stay cooler and heat up slower.
Resene FX Nightlight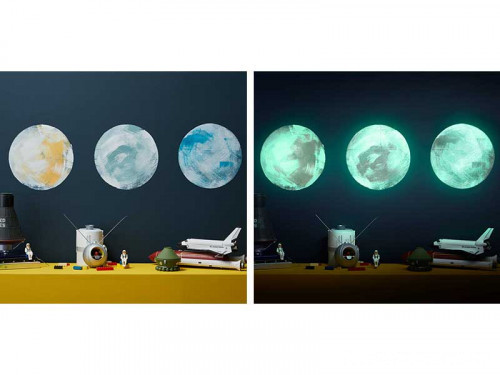 Pale yellow by day, Resene FX Nightlight is a glow-in-the-dark paint designed to keep shining after the lights have gone out. Two to three coats over a white painted circular base will give off the best effect and leave your brushstrokes visible for a lunar-like landscape. Colourful details added above in Resene Sunshade, Resene Juniper and Resene Blue Lagoon.
Being afraid of the dark can make going to bed a scary time for little ones, which is why Resene FX Nightlight glow-in-the-dark paint is the thing sweet dreams are made of.
Perfect for your children's bedrooms, safety signs and step edges, this waterborne paint is pale yellow by day and provides a soft, comforting light in the dark. You can get as creative as you want by coating it on ceiling stars, photo frames, headboards, side tables, shelving ornaments and more. Your little ones can enjoy looking at the soft glow of Resene FX Nightlight features as they slowly drift off to sleep.
Resene FX Blackboard Paint and Resene FX Chalkboard Paint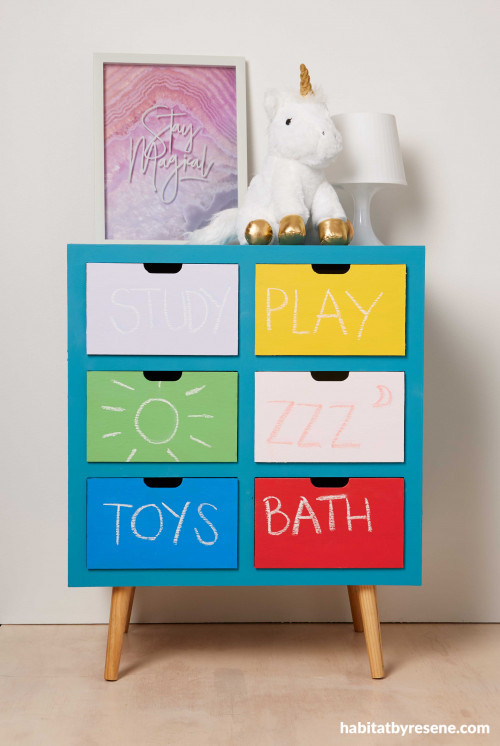 Resene FX Blackboard Paint and Resene FX Chalkboard Paint are a fun way to get your little ones excited about putting things in their rightful place. Or for even more colours Resene SpaceCote Low Sheen can also be used as a chalkboard style finish. The drawer frame is painted in Resene Yes Please with drawer fronts in Resene Zappo, Resene I Dare You, Resene Wham, Resene Pretty In Pink, Resene Splish Splash and Resene Candy Floss. The wall is painted in Resene Alabaster and the floor is in Resene Colorwood Rock Salt.
It may feel counterintuitive to allow your family to write on the walls of your home, but with Resene FX Blackboard Paint and Resene FX Chalkboard Paint, there's no permanent and headache-inducing damage to worry about.
These paints can be used on smooth wallboards and panels both inside and outside your home. Encourage your child to unleash the artist within by painting a wall in their bedroom. If you're looking to get in on the blackboard action yourself, why not add it to a wall in your kitchen to make grocery lists or write your menu?
Resene Write-on Wall Paint
Turn any wall in your office, study or kitchen into a whiteboard with Resene Write-on Wall Paint. This handy technology allows you to get notes, lists, ideas or anything else on your mind onto the wall, without leaving any permanent damage. You can wipe it clean with a soft cloth when fresh ideas strike or you need to adjust your to do list.
This is a great way to make brainstorming easy for anyone in the midst of studying, or as a way to keep important reminders right in front of you.
Inspired to bring a little undercover ingenuity to your house? Visit your local Resene ColorShop to make a smart start.
styling Vanessa Nouwens, Annick Larkin, Leigh Stockton, Laura Lynn Johnston
images Bryce Carleton, Simon Devitt, Melanie Jenkins