►
◄
latest
habitat tv
blog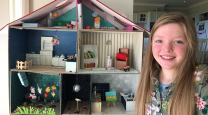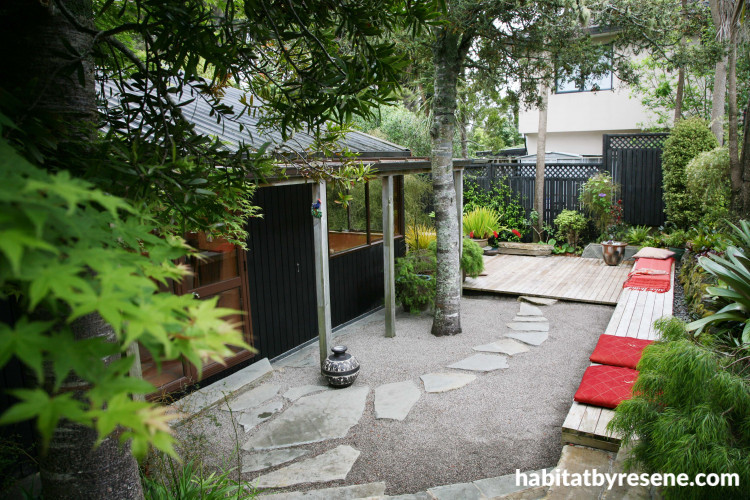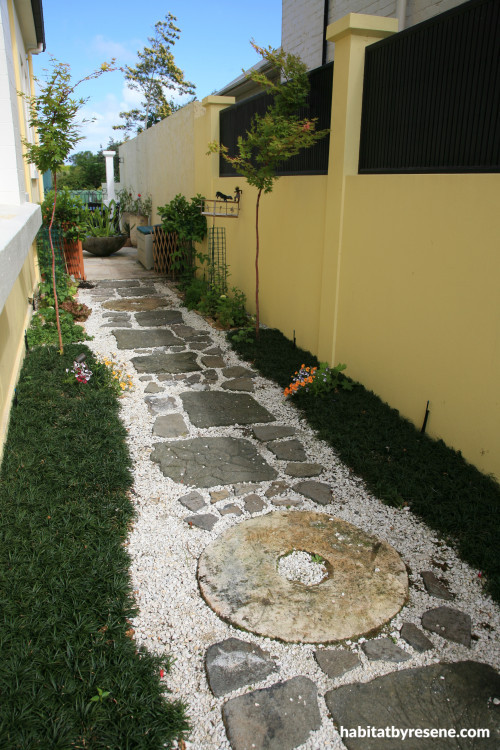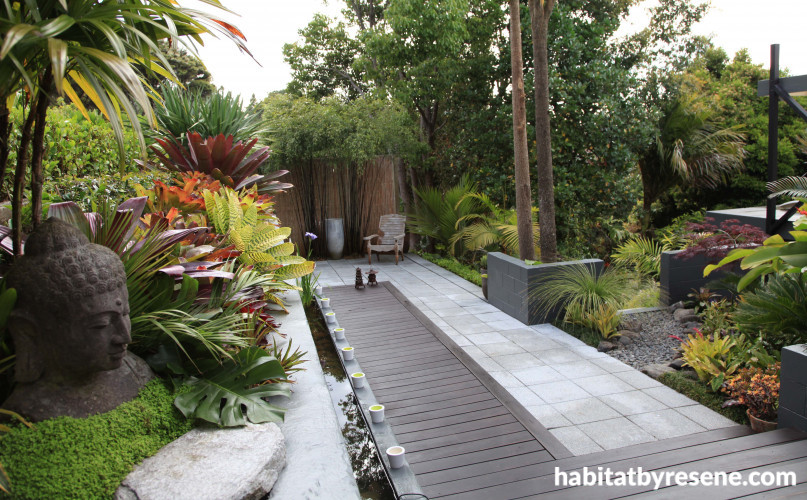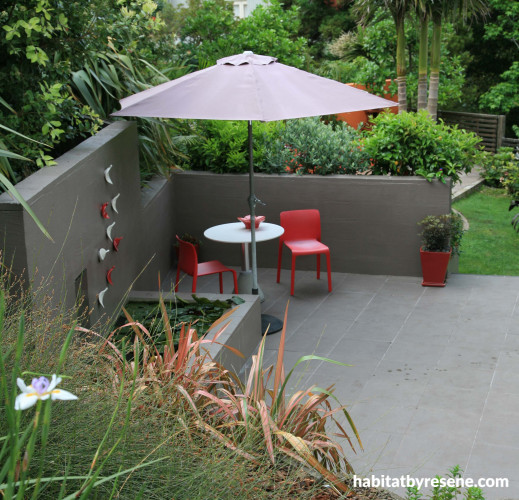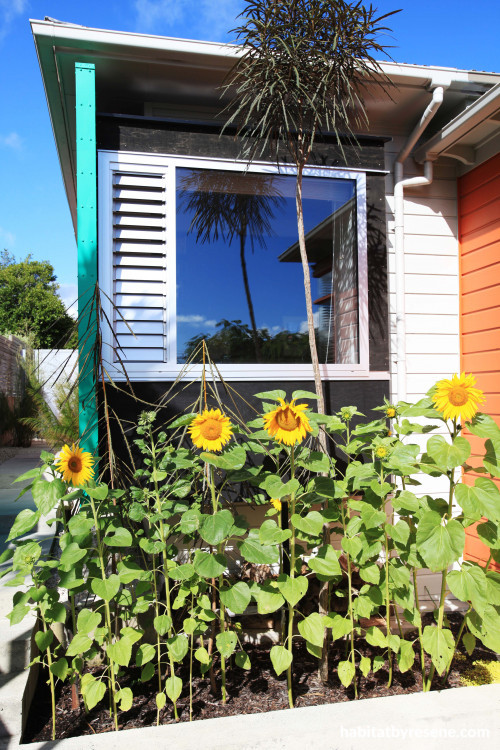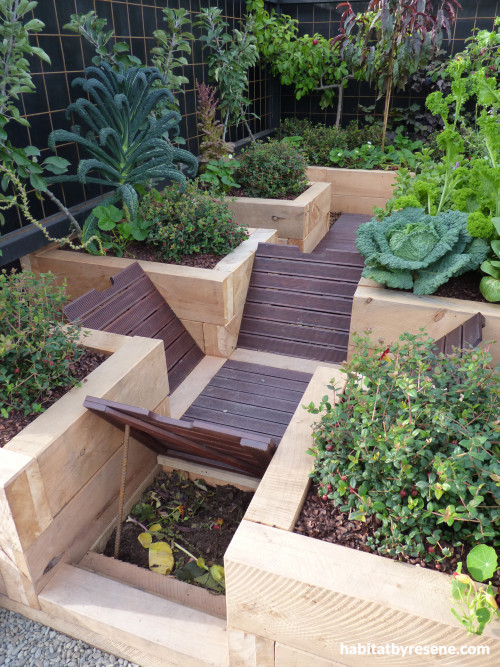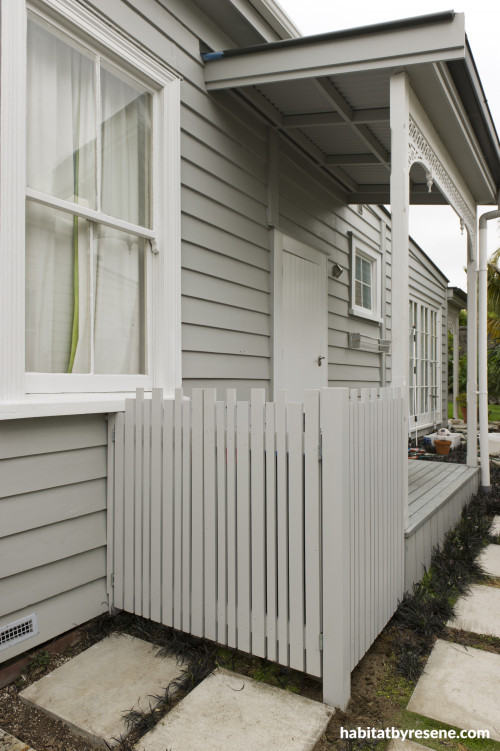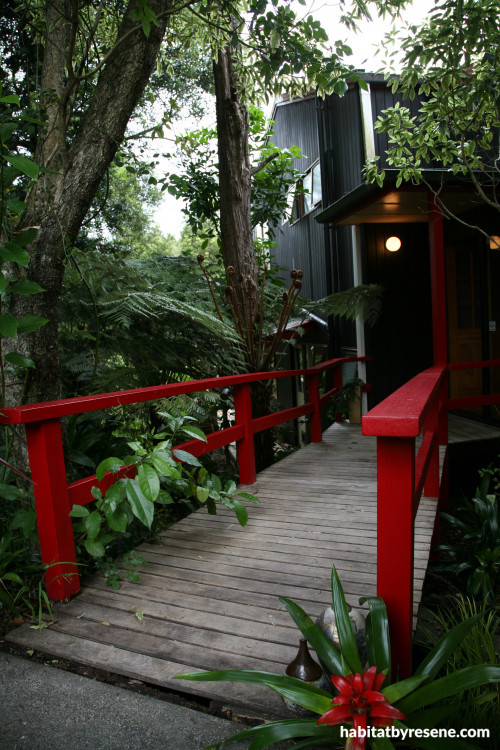 Step outside: get colour clever
The sun is shining, we've emerged from our houses and into the garden… If you're like us, you've winced a little at the faded fence, the scruffy side garden and mossy front path. About the only part of the garden that's looking tidy is the veggie patch.
Of course, it's a great time to fix those problems but also a great time to plan any changes to the garden. Plants may be the heroes but colour in the form of Resene paint or stains can create either a sympathetic framework to put those plants within, or they can be used to enhance a garden feature that would otherwise look drab and dull.
There are a few ways to go about it:
1. For boundary fences you might choose deep blacks or green-blacks like Resene Crowshead from the Resene Woodsman exterior stains range, or Resene Black Forest which gives any garden planted in front good visual depth and helps it blend away behind the green of the plants.
2. Or you can take your cue from the colours on the house exterior, bringing those into the garden so that the entire property has a cohesive look – not just a house plonked into a garden. You might use the house's trim colours on the front fence or extend the weatherboard or wall colour into the outdoor living area, or on to part of a water feature.
3. Or use a bold accent colour on smaller items in the garden, like painted pots. This uses the same principle as you would apply on an interior where you have the main colour for the walls, but use colourful accessories like cushions and rugs to lift the room. The same goes for outside.
Top tip
You've done the painting and ended up with empty paint pails. Don't throw them away. Make a bokashi – a compact composting system that will turn your kitchen scraps into food for your plants. All you need is a couple of recycled 10-litre paint pails and these instructions from habitat magazine.
Published: 28 Nov 2013
Do you have a home full of wonderful Resene paint and colour? Send us some snaps by emailing [email protected].
To blend or go bold?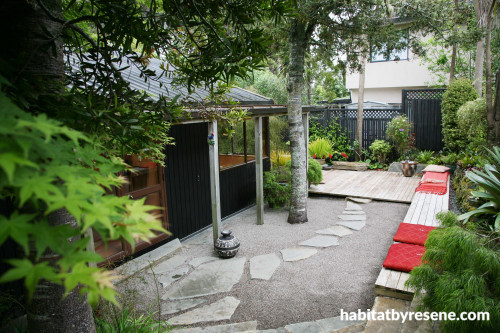 The garden is a place you can experiment with colour and have a bit of fun.
pictures
Garden designed by Lyndell Shannon. Photograph by Sally Tagg. House exterior painted in Resene Crowshead.
Framing a path with colour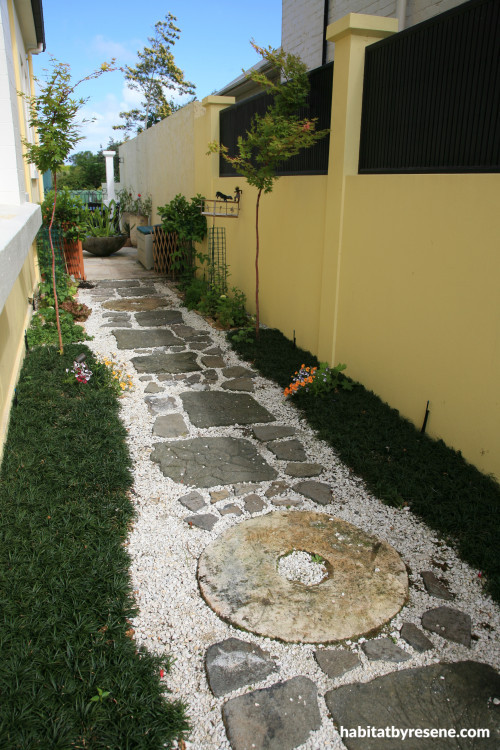 The main colour of this masonry villa, Resene Moonbeam, was extended to the garden wall so that the two act as a frame to an unusual side path made of carved pavers and old mill stones set into white lime chip. The arrangement looks random but actually took many hours for homeowner Sara Noble to create.
pictures
Photograph by Sally Tagg
Working with a slope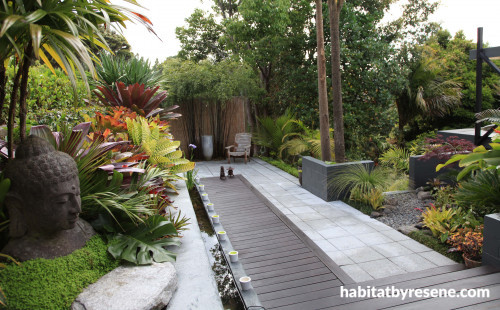 Creating a courtyard oasis in this sloping garden was achieved by using retaining block walls that are then painted in Resene Gravel, part of which you can see on the right. To lead you from the house to the courtyard, a boardwalk finished in Resene Bark from the Resene Woodsman exterior stains range contrasts with the concrete pavers beneath and is joined by a narrow water rill. Along with the subtropical plants and Balinese stone head, it creates a sense of occasion and mystery. The garden was designed by Jules Moore.
pictures
Photograph by Sally Tagg
A restful spot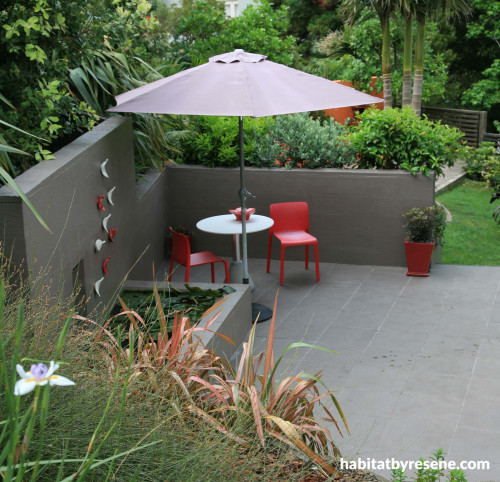 This raised pond has been framed in walls painted with the restful tones of Resene Kabul. The higher wall is treated just like you would inside, by accessorising it with art – in this case, colourful ceramic leaves by Bob Steiner. The garden was designed by Tania Barke of Through the Garden Gate.
pictures
Photograph by Sally Tagg
An artful scheme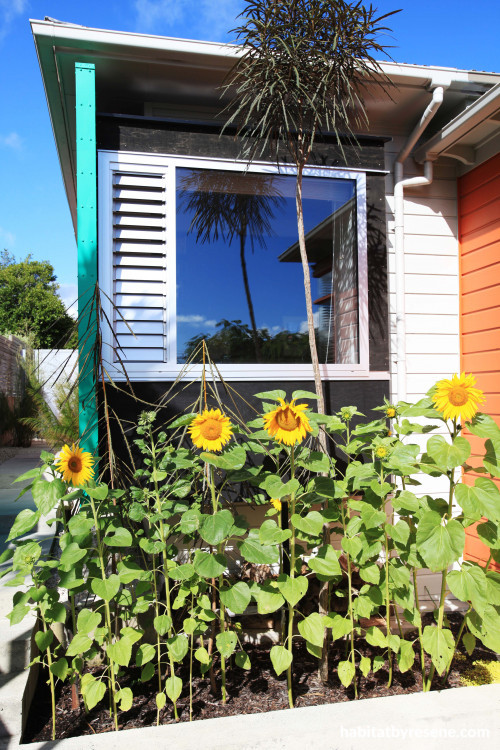 Not content with one colour, architect Pete Bossley and artist Miriam van Wezel chose a multi-coloured exterior to offset the simple yet happy sunflowers planted in front. From the left, the green is Resene Mother Earth, with Resene Sheer Black stain, then Resene Whiteout, and finally Resene Rock Spray (orange). The garden featured in the latest Habitat magazine but also in the book Contemporary Gardens of New Zealand by Carol Bucknell and Sally Tagg.
pictures
Photograph by Sally Tagg
A clever hiding place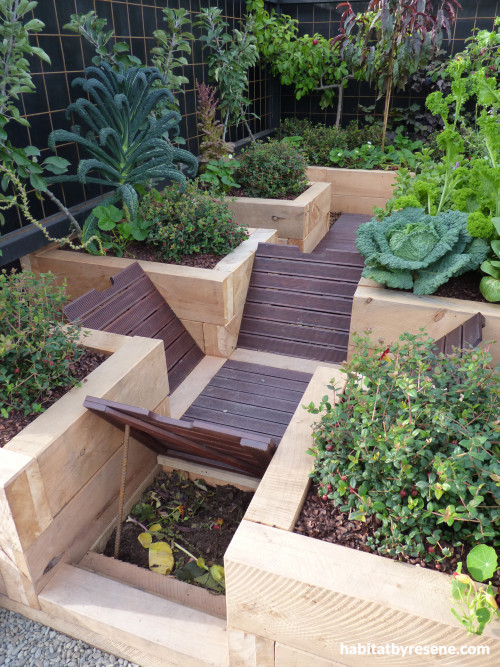 Rachael Matthews of Hedge Garden Design & Nursery designed this clever vegetable garden for an Ellerslie Flower Show exhibition. It features a boardwalk finished in Resene Timber and Furniture Gel tinted to Resene Jarrah Tree with a section that lifts up to reveal a compost bin. Other innovative ideas included bean frames made from flax flowers, and a fence painted in Resene Black to gently radiate warmth back onto the plants and help ripen espaliered fruit.
Even the practical can look good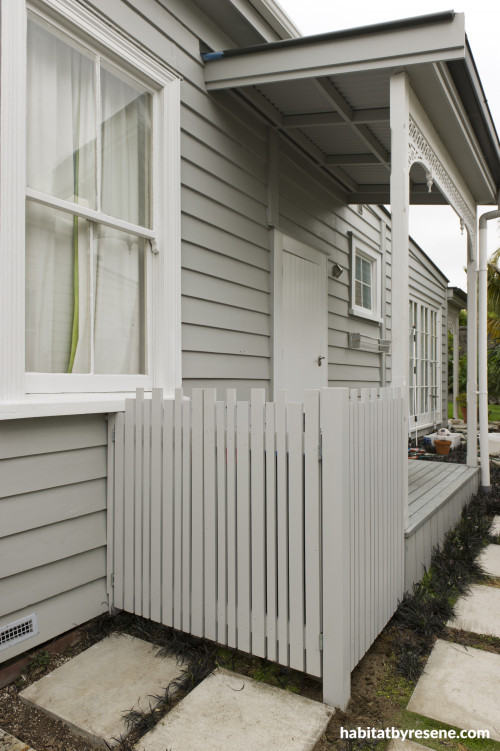 With some clever design and good camouflaging colour, even something as practical as this wheelie bin locker can look amazing. It's enclosed by a fence and gate using palings of varying heights and widths, then painted in Resene Silver Sand to match the house. It was a project we did in conjunction with Hirepool in a recent Habitat magazine. [link to magazine, issue 18]
A sense of arrival in red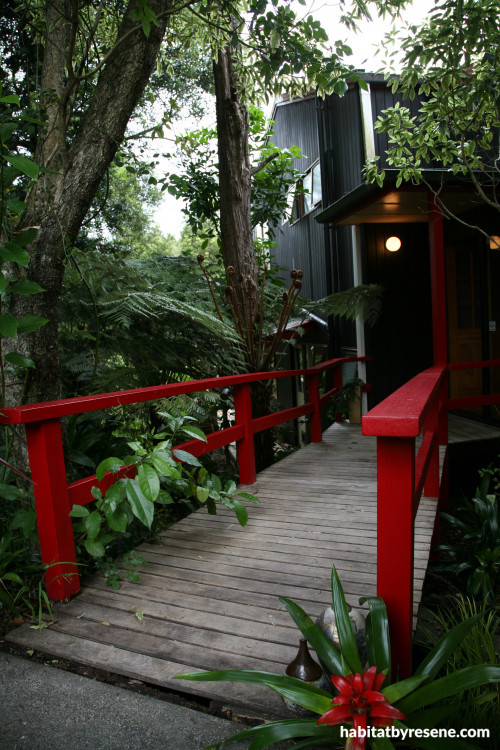 In this garden designed by Lyndell Shannon, the striking Resene Red Berry is used on the bridge-like structure that leads to the front door to create a sense of occasion. Red flowering plants are also used throughout the garden as an accent colour.
pictures
Photograph by Sally Tagg.
the look
If you're stuck on what
colour to use or need colour
advice, try out the Resene
Ask a Colour Expert service.