►
◄
latest
habitat tv
blog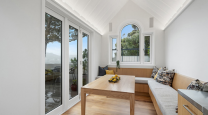 Master Builders' Chief Executive David Kelly shares his tips for building in the challenging climate.

Planning... more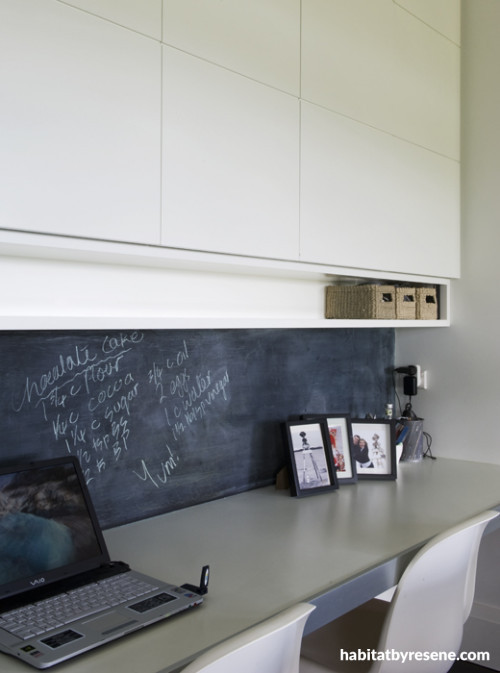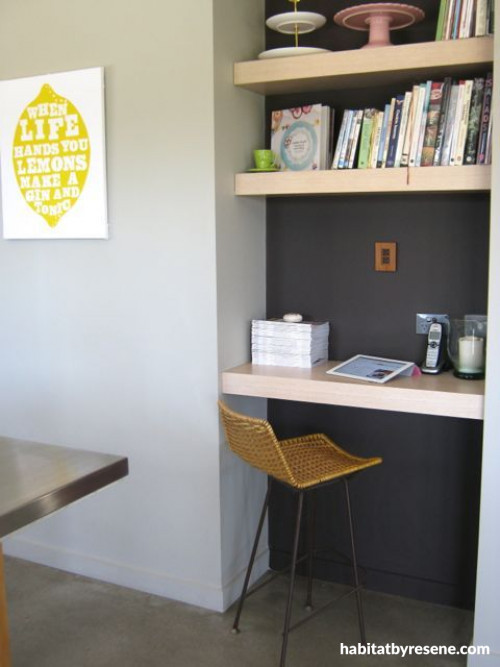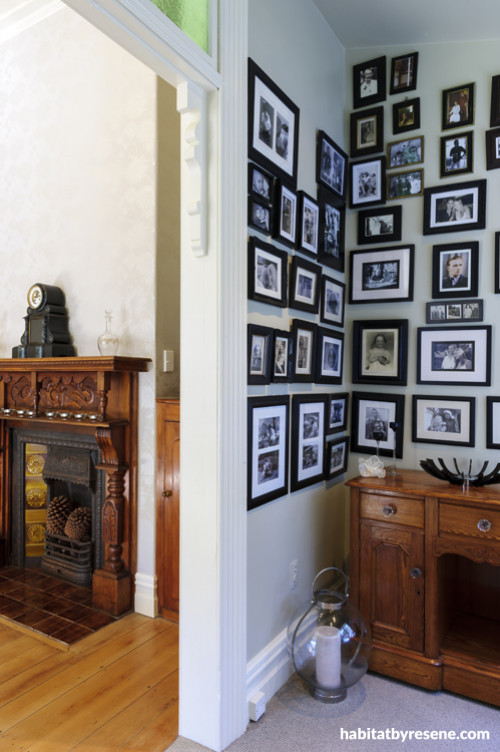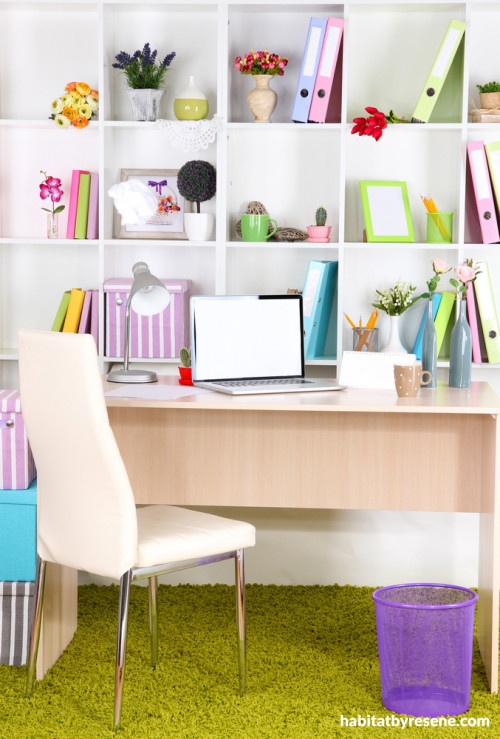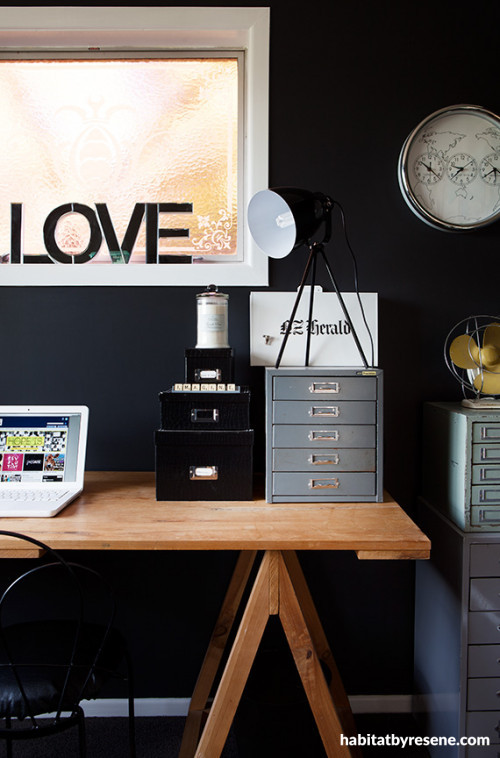 A study of studies
It seems every time you turn around, how we use technology is having an impact in the way we design our homes. Smart TVs, laptops and tablets, wireless modems… these are just some of the things that make us reassess whether we need a dedicated television viewing area, or a dedicated study.
The study debate is an interesting one – how much space do you need to prop a laptop, and in an increasingly paperless world, how much storage do you need for paper files and household records? Not much, really.
With the kids going back to school, it's handy timing to think about their homework needs. Will they prop themselves up at the breakfast bar or dining table, or would a small nook or cupboard in the living area be a good idea to keep other surfaces free, but so that we can monitor their online use?
Things to consider:
A recharging station: This could be a niche cut out of the side wall to house a row of power points (make sure there's space for the various shaped plug that come with your devices), or hide the power points in a drawer for even less clutter.
Simple yet effective storage: A shelf for folders, a drawer for smaller items. Well-designed built-in furniture is more likely to be more practical but don't disregard up-cycling an old desk or trestle table. And…
Movable storage: Perhaps a basket or box for each family member that can be removed, so that the study nook can be more easily used by more than one person.
A noticeboard: Turn your study nook into a multi-use space by painting the wall above the desk in an undercoat of Resene Magnetic Magic, then overcoating in either Resene Blackboard paint or any colour in a matte finish (use Resene Spacecote Low Sheen) to create a chalkboard.
Good lighting: And that means flexible lighting that can be angled and adjusted to cope with the differing light levels needed for reading paper and reading screens.
Visual definition: Give the study nook a distinct look by painting the back wall, or the three walls that make up the nook, in a darker or bolder colour than the rest of the room.
Published: 21 Jan 2015
Do you have a home full of wonderful Resene paint and colour? Send us some snaps by emailing [email protected].
Interior designer Jackie Jones has turned an otherwise forgotten corner of her lower floor into a study corner… and hasn't been shy with colour. The walls are striped in Resene Pink Panther and Resene Ashanti (blue) with plenty of shelving on top.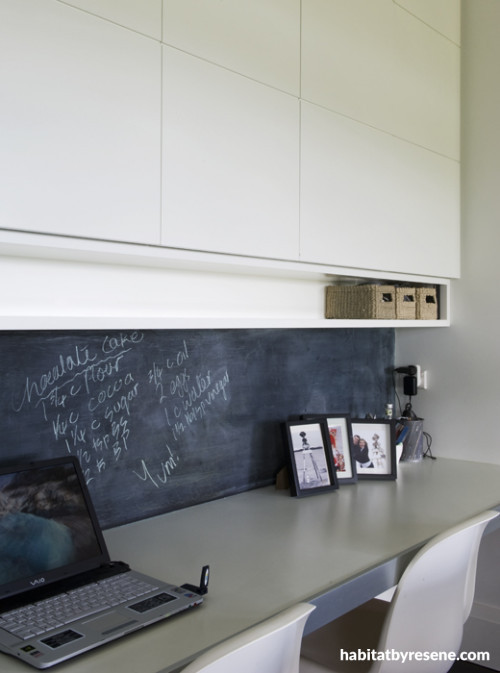 A slim shelf, hidden storage and a wall in Resene Blackboard paint gives this corner of a kitchen designed by Leonie von Sturmer a practical purpose.
Sitting opposite the kitchen this study uses similar cabinetry to the kitchen for visual integration and lets parents keep an eye on computer usage when the kids are doing their homework. There's a noticeboard in Resene Blackboard paint, while the cabinets are Resene Black White with Resene Sea Fog walls.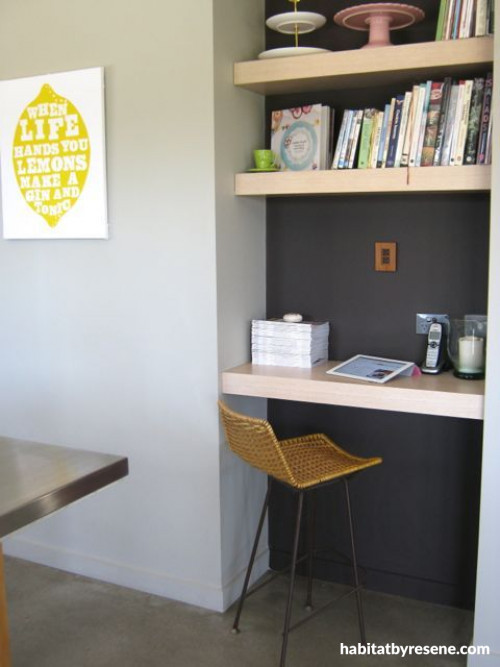 Sitting next to the kitchen this handy nook is the perfect place for recipe books and to keep the tablet near by. The recess is painted in Resene Coffee Bean while the main walls are in Resene Half Napa.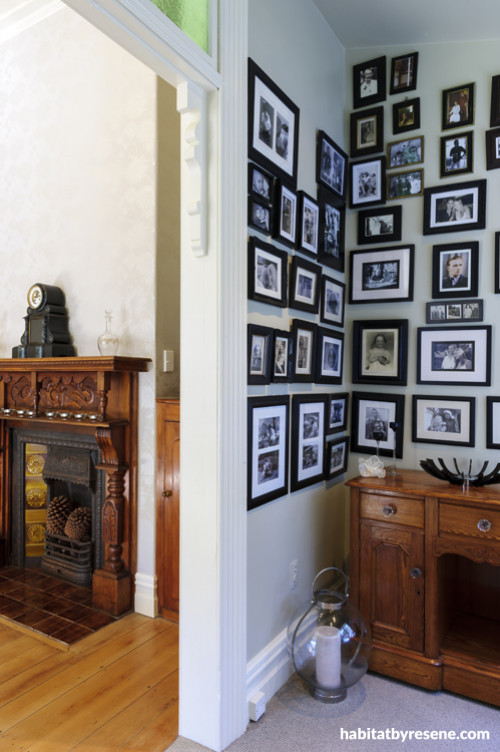 Sitting off a dining room, this more traditional study nook is decorated with a gallery of photos. The walls are Resene Joanna.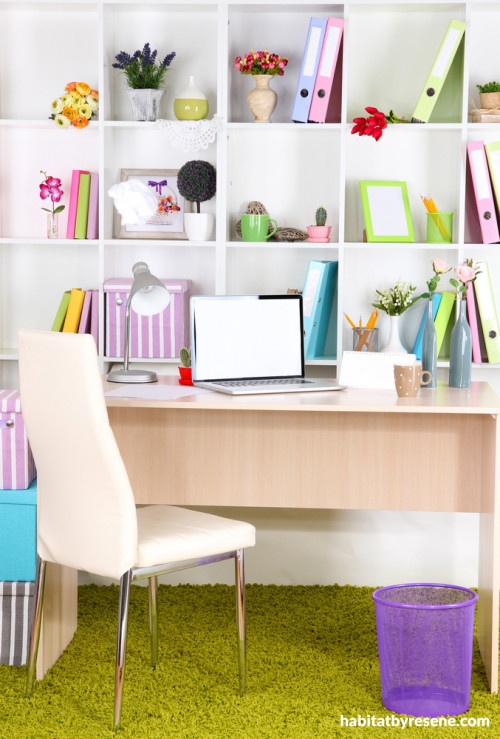 Pops of bright colour are set against walls in Resene Alabaster, and contained within a simple grid of cubed shelving.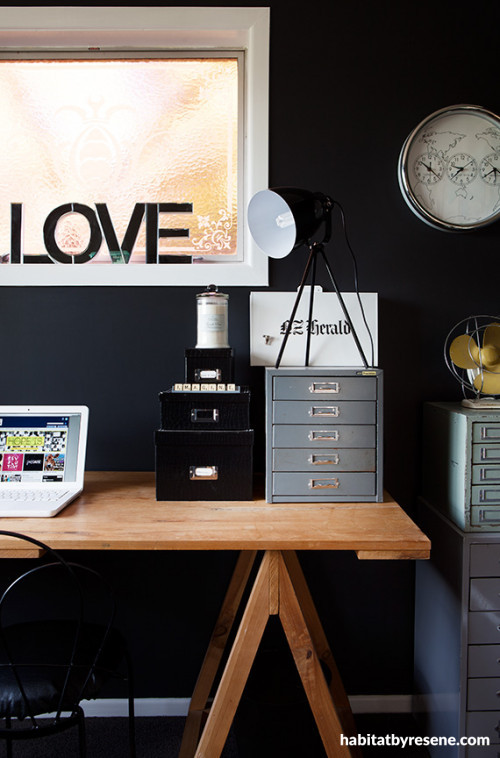 There's so much to love about this industrial vintage style study. Replicate by painting a feature wall in Resene Blue Night. From Rooms to Love, by LeeAnne Yare and Larnie Nicolson.
pictures
Copyright © photographs Larnie Nicolson, 2014.
the look
If you're stuck on what
colour to use or need colour
advice, try out the Resene
Ask a Colour Expert service.