►
◄
latest
habitat tv
blog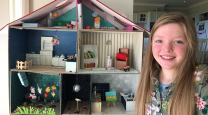 Summer loving
We love our outdoor living, that's for sure. And now that the weather seems to have turned, it's a good time to check whether your outdoor living is up to scratch. Here's a checklist of components to consider:
Underfoot
What type of surface is the most practical – is your outdoor living on a timber deck, balcony or at ground level? If it's timber, you can smarten it up by using one of the Resene Woodsman Decking Stain colours.
If you are considering paving, your options are quite varied. Concrete can be plain, with exposed aggregate, it can be coloured, cut to mimic flagstones, or honed slightly. There are many tiles suitable for outdoor use, with non-slip finishes, or pavers can be made of stone (limestone or granite), or concrete. Be aware that if you are paving around a pool, your options will be limited to those products that come with a bevel or rounded edge version. If you have a slippery surface you need to make non slip, consider using Resene Non-Skid Deck & Path, which is available in a range of colours.
Overhead
How much overhead shelter do you need? Will an umbrella do (either over the table or one of those large pivoting ones), or do you need something more permanent? There are various grades of shade sails (buy a good quality system with good tension or they will flap in the wind and be noisy), or covered pergolas or for the ultimate flexibility, there are louvred panels controlled electronically and with rain sensors.
And at the sides
Is your outdoor area affected by uncomfortable and chilly breezes? Screen types include solid structures such as plastered walls or lightweight concrete plastered walls, through to timber screens which allow some air and light into the area, or those that are semi-permanent like PVC sheets that can be rolled up or put away.
Heating up
To get good use of the area year-round, some sort of heating is a must. Gas-fed outdoor fireplaces can be inserted into a myriad of different styled surrounds.
Fireplaces can range from lightweight fibre reinforced concrete, which allows contemporary styling and is easily installed, to more conventional blockwork fireplaces built on site with extras, such as wood storage areas, cooking and bench space, or even a pizza oven.
There are various fire pits, chimeneas (Mexican ovens), and portable patio heaters available, as well as those that are permanent fixed overhead or on the wall. The can be fuelled with gas, electric or bioethanol.
The barbie… and more
Cooking outdoors now more often involves high-tech gas-fired barbecues with side burners, grills and hot plates. These can be built into an outdoor kitchens and sit alongside storage, a sink, work benches, and table tops.
Furniture
And of course, once you've prepared all that lovely food, you need a table to sit at. Weatherproof materials include timber, powder-coated steel and glass, and chairs can be upholstered in one of the many outdoor fabrics available now.
Add a couple of sun-loungers, some weatherproof sofas, even a bar table, and you're good to go for summer.
Published: 23 Oct 2014
Do you have a home full of wonderful Resene paint and colour? Send us some snaps by emailing [email protected].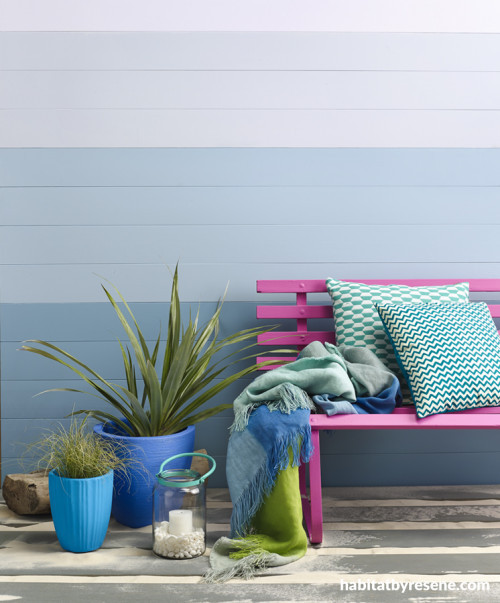 The salt sea air in your hair, sand between your toes and a hot pink Resene Smitten bench to relax on. It's all set against an easy-to-achieve ombre wall, where colour graduates from light to dark - Resene Solitude, Resene Breathless, Resene Frozen and Resene Blue Moon. Alongside the seat, pots are painted in Resene Freefall (small) and Resene Sky Diver (large) while the deck is in Resene Limed Ash. Add some tussock grasses, a beachy blanket and a hurricane lamp, and you're ready to relax at the beach. This setting features in the latest issue of habitat.
pictures
Styling by Claudia Kozub, photograph by Melanie Jenkins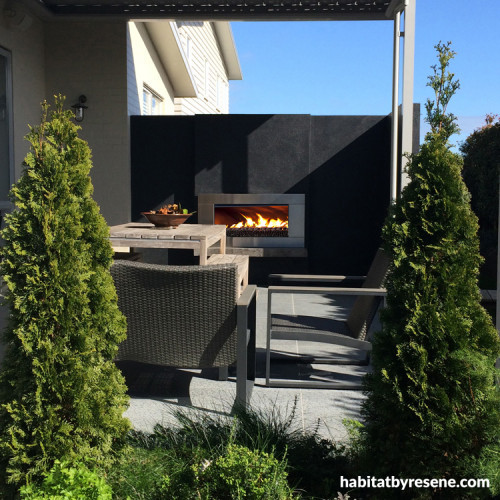 This small outdoor living area was redesigned by Sandra Batley of Flourish Garden Concepts to include a stand-alone feature wall with a built-in gas fire. The bold, dark charcoal of Resene Double Foundry creates a dramatic focal point in the space and a punchy contrast to the neutral colours of the house. It also sets off the modern stainless steel fascia of the fireplace beautifully and works in well with the honed, grey concrete courtyard floors and neutral-coloured outdoor furniture. For more of Sandra's work, see www.flourishgardens.co.nz.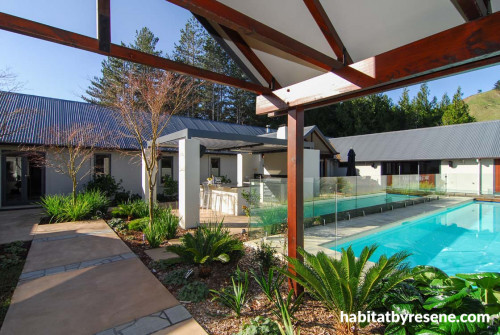 Steve and Annie Harrington wanted a "real showpiece" courtyard; an inviting, yet relatively easy-care, semi-tropical enclosed area. Charlotte Pedersen of Espaso Verde helped design the multi-purpose space which includes the entrance, a pool, a sitting area and a stunning outdoor kitchen. A palette of natural hues harmonises with the setting with house walls painted in Resene Ash and darker trims and doors in Resene Grey Friars. For more of this garden, see the latest issue of habitat.
pictures
Photograph by Tim Whittaker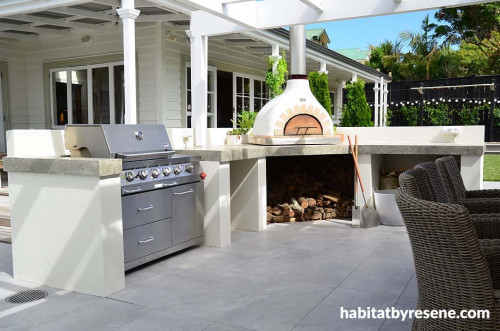 Demolishing the old garage at the rear of their section gave Chris and Sandra room to create their dream outdoor living space – a pergola dining space complete with a pizza oven. It's been a hit with young and old alike, especially their teenage sons and their friends. The plastered block walls and pizza oven (from Authentic Ovens) are finished in Resene X-200 acrylic waterproofing membrane tinted to Resene Triple Rice Cake to complement the house's Resene Triple Rice Cake weatherboards and Resene Tana trims.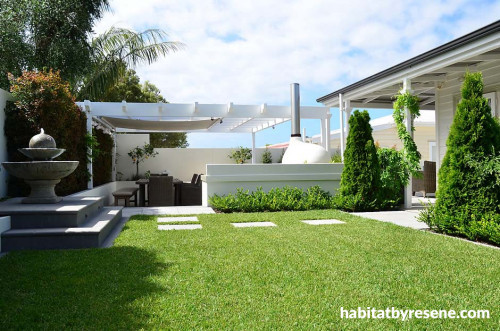 The slope of the section allowed the alfresco dining area to be sunken down, which creates visual drama and a sense of occasion. Sandra designed the Italian influenced space as part of a design course project, with help from local architectural designer Phil Mason, and builder, James Gibson of Trueline Construction. The water feature on the left became central to the design, and means that the family now use their back veranda more regularly because of the lovely garden view. The weatherboards of the home's exterior are painted in Resene Triple Rice Cake.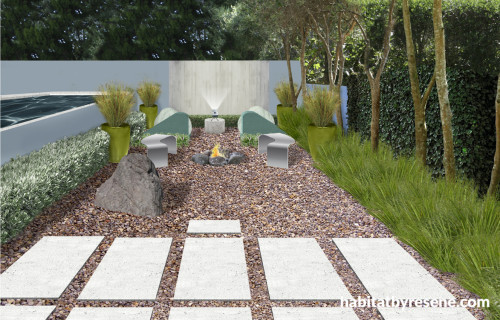 This illustration from a concept design by landscape designer Adam Shuter uses a sheltered corner of a garden as the perfect spot for an outdoor movie theatre. A portable projector is placed on the concrete cylindrical plinth which doubles as a place for a piece of sculpture during the day. Movies are then projected on to the far wall. In the middle of the courtyard two part walls, painted in Resene Imprint, act as something to lean your bean bag against. An open fire pit is flanked by movable steel bench seats. Simple planting includes rushes in the pots painted in Resene Kombi. The left wall is painted in Resene El Nino while the opposite one is Resene Zephyr.
pictures
Illustration by Malcolm White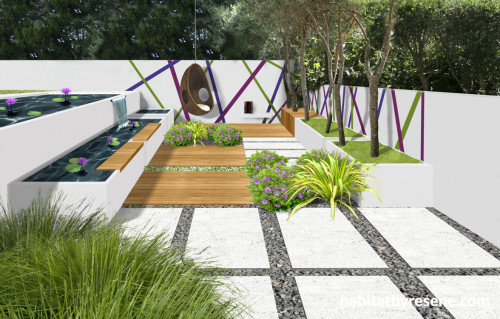 The same area is given a concept by Grant Stephens and Rebecca Hammond of H&S Landscape Design. This fun scheme features walls with bold lines of Resene Belladonna, Resene Sushi and Resene Blue Gem on a base of Resene Athens Grey crossing each other and mimicking the different angles of the tree trunks in front. Vibrant purple water lilies are framed in a pond while channels of blue flowering pratia flow between decks finished in Resene Woodsman in Resene Natural. A hanging wicker egg seat at the back provides a comfortable spot to sit.
pictures
Illustration by Malcolm White