►
◄
latest
habitat tv
blog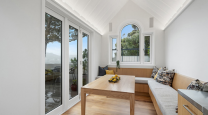 Master Builders' Chief Executive David Kelly shares his tips for building in the challenging climate.

Planning... more
Take it outside: Simple tips and tricks for painting the exterior of your home
It's a big, intimidating task, but painting your home's exterior can instantly boost its resale value and has a huge effect on the way you feel about your home. First impressions matter and the level of street appeal will often hinge on a colour scheme that highlights your home's best features (and hides its more imperfect ones).
The key to tackling this daunting task is knowing the right products to use and breaking your exterior project into manageable pieces. We're here to make it easy with a wide range of Resene products to suit any exterior and a sophisticated collection of colours to make your home the envy of the street.
Preparation is key
Preparation is a vital part of the exterior painting process and will ensure your home's colour scheme stands the test of time. The preparation process varies depending on what you're painting, but here are some of the key steps for most paint projects:
Clean, sand or wipe down the surface you intend to paint so no dust or old paint flakes get in the way.
Ensure that any cracks, holes or imperfections are filled and sealed to prevent weather damage in the future. Spot prime if necessary with the right primer for the surface you are painting. If the surface is in good condition, often all you need is a good wash down and then two topcoats.
The best thing you can do before painting or staining your home is to give it a good wash to remove cobwebs, dirt, chalky build-up and grime that will damage your paint finish. While it might be tempting to dust off the waterblaster to clean your home they're not recommended for weatherboards and joinery as they can damage woodwork. Instead, opt for Resene Paint Prep and Housewash which not only removes dirt but loosens and shifts the chalky surface on UV damaged paint films or for timber, such as stained weatherboards, fences and decks, use Resene Timber and Deck Wash.
Break it down
South African human rights activist and Nobel Peace Prize winner, Desmond Tutu once said, "there is only one way to eat an elephant: a bite at a time" meaning the only way to tackle a big task is by taking small steps. Think of this saying when painting your house exterior by starting with a plan. Consider your exterior as an umbrella project that is made up of several smaller projects. Breaking your project down into bite-sized chunks, such as painting the walls, front door, roof and deck makes it more manageable and allows you to allocate a weekend for each sub-project.
Wonderful weatherboards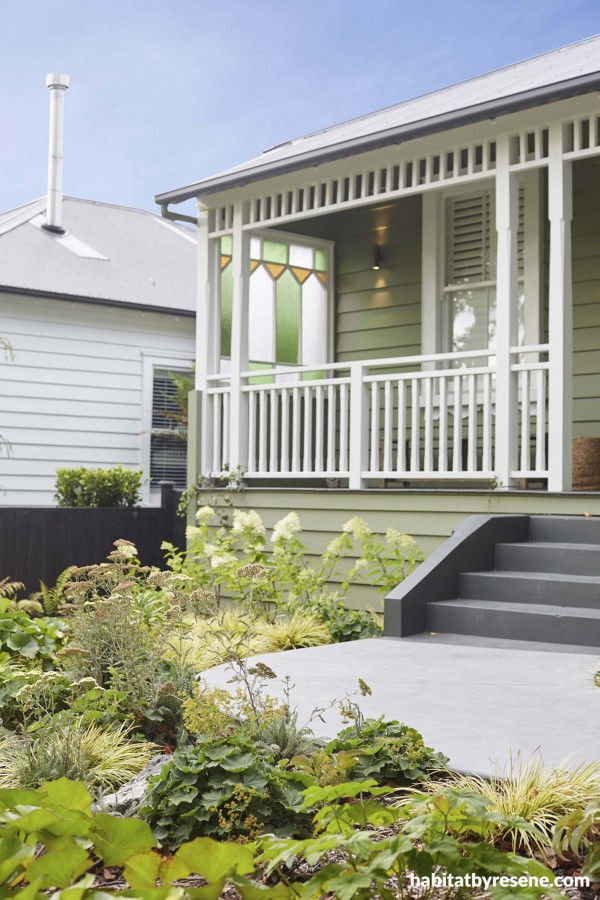 A great way to help your home blend into natural surroundings is to paint the walls a warm green, such as Resene Siam. The trim and balustrade are in Resene Double Sea Fog and the steps are in Resene Gravel. Project by SGA (Strachan Group Architects). Image by Simon Devitt.
As the largest surface area of your home, choosing the colour of your weatherboards is often the first step in creating a cohesive colour palette. It's crucial to get that first colour for your walls right, as the rest of your colours will flow from there. To kickstart your colour scheme, look at your surrounding fixed features first. Existing colours such as the colour of your driveway, brickwork or joinery will need to have their place within your final colour palette. Then, consider the era of your home and your surroundings – do you have a lot of greenery that will reflect off your house or are you in a more urban location?
Older homes work well with classic colour palettes, such as a muted Resene Tea or Resene Siam with a sprinkle of lighter colours to highlight features such as fretwork. More modern homes can be more adventurous with contrast, think dark Resene Fuscous Grey with bright white trim in Resene Barely There.
Here's a quick guide of which paint to choose:
lovely and low
Resene Lumbersider is a durable waterborne low sheen paint ideal for weatherboards and fences and a wide range of projects including painting brickwork. Its finish is sympathetic to less than perfect surfaces.
semi-gloss that's boss
Resene Sonyx 101 is a durable waterborne semi-gloss paint with superb good looks. The higher sheen finish is easy to wash clean.
terrific for timber
Resene Waterborne Woodsman is an exterior wood stain designed to colour timber while allowing the natural grain of the timber to show through. It's easy
to apply on timber cladding, fences and other projects where the wood is the star.
designed for decks
Resene Woodsman Decking Oil Stain and Resene Woodsman are exterior wood stains designed to rejuvenate and enhance timber decks, while still allowing the grain to show through. Or for an oiled look, choose Resene Furniture and Decking Oil.
all the trimmings
Protect hard-wearing surfaces, such as windowsills and doors, with Resene Lustacryl (semi-gloss) or Resene Enamacryl (gloss) waterborne enamels.
beat the heat
If you find the hot weather is drying the paint too fast for you to get a smooth finish, add Resene Hot Weather Additive to it. This will slow down the drying time giving you more time. Avoid painting in the hottest part of the day and in direct sunlight.
Do up your door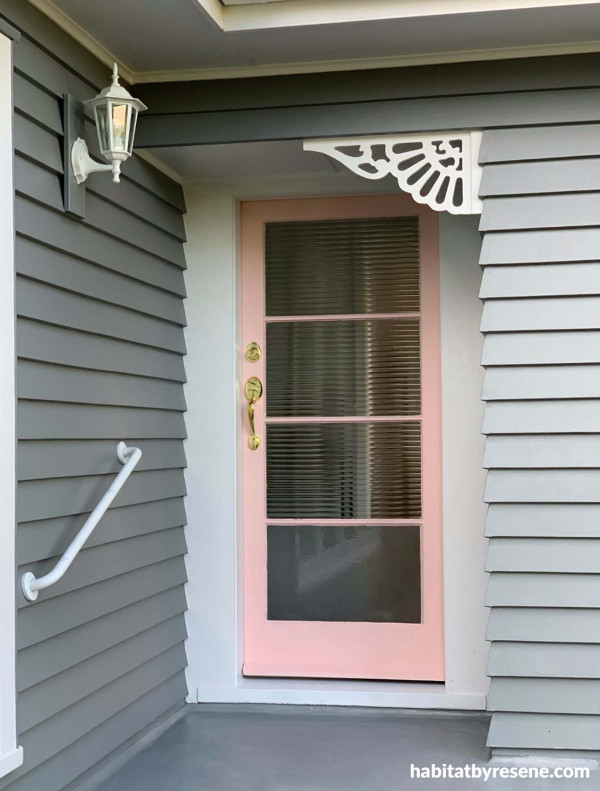 When homeowner Meg purchased her classic 50s cottage she kept its quirks and style, giving it a fresh coat of Resene Double Stack with trim in Resene Black White and beautiful front door in half strength Resene Shilo.

Open the door to colour with a statement front door. Front doors are an important part of your exterior colour scheme and are a place to let your personality shine. Your front door should be a welcome sight after a day at work or for weekend visitors and its smaller surface area makes it the perfect place to experiment with bold colour. Choose a colour that'll put a smile on your face, such as happy Resene Pirate Gold or Resene Red Berry. Depending on your chosen colour scheme, a dark door in Resene All Black or Resene Indian Ink could be just the thing to add contrast. If you're using a dark or rich colour, choose a high-gloss finish, such as Resene Enamacryl gloss waterborne enamel, to embrace its full potential. Your garage door is an equally fun place to get creative with colour and matching your front door with your garage door can be a great way to create cohesiveness within your colour scheme.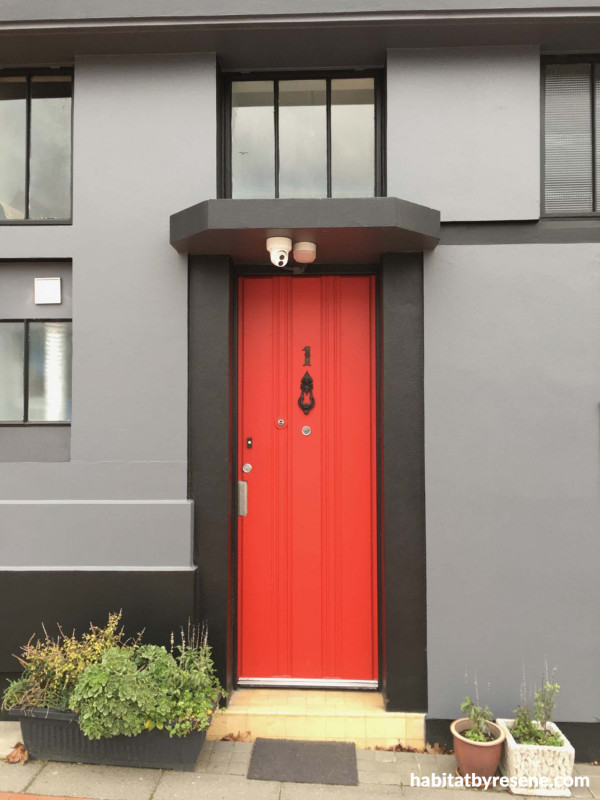 Holly and Graham from Clark Design and Marketing painted the exterior of their bank-turned-home in Resene Half Grey Friars with trim in Resene Black and bold door in Resene Jalapeno.
If you have an older home, it's never too late to rediscover its character with a bold front door. A great example is this vibrant Resene Jalapeno door painted by Graham and Holly of Hawke's Bay. After purchasing a 1956 Art Deco bank on one of the main thoroughfares in the town, the couple set to work masking 150 windows before painting their house in Resene Half Grey Friars with trim in Resene Black and adding the final touch with their bright red Resene Jalapeno front door. "I simply chose colours that I thought would be appropriate for such a large, grand, Art Deco building on a main thoroughfare," says Graham. "It is a grand old building, and I wanted to give it some strength and presence on the street.
"Not only are my wife and I happy with it, but it appears we have the approval of the entire community if the comments, both verbally, and in the newspaper are anything to go by!"
Learn more about front door colour schemes and how to paint a front door here. For more colour ideas and to find out what the colour of your front door says about you, click here.
Revive your roof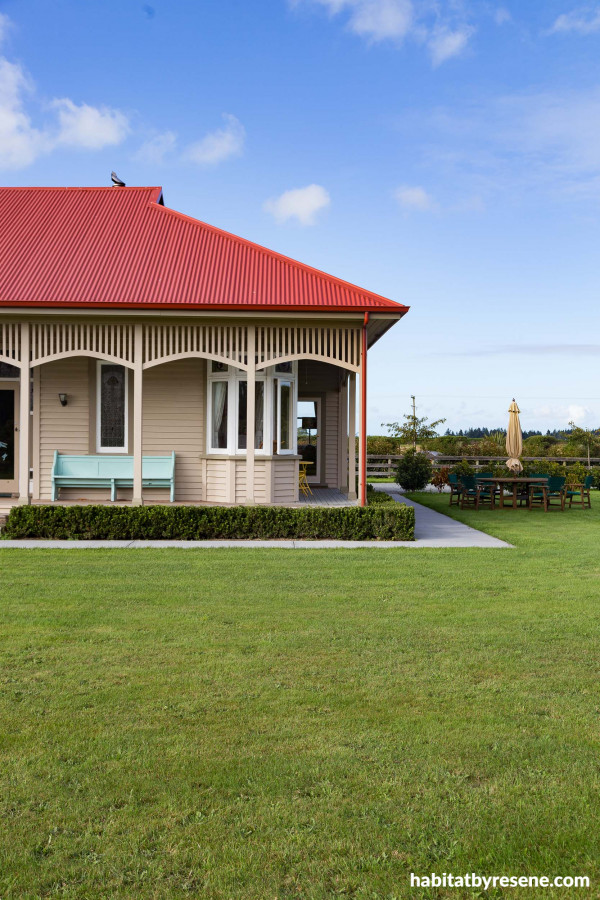 Artist Libby Chambers painted her Canterbury home in Resene Desert Sand with bench in Resene Mint Tulip to complement her existing bright red roof.
Often the finishing touch on a house, a roof revival can go a long way to polish up your home's exterior. Whether you're repainting an existing roof or choosing a colour for a new roof, there are a few key things to consider. If you're thinking of using powder-coated colours such as COLORSTEEL® or COLORBOND®, always request a large metal sample to see how the colour will actually look against your existing colour scheme. Try to keep your guttering the same colour as your roof or joinery to create harmony.
Often your roof colour will be a darker extension of the colour palette you've used on your exterior walls and trim. Thanks to Resene Summit Roof Semi-Gloss CoolColour, you can now use darker colours such as Resene Grey Friars and Resene Element on your roof without worrying about heat build-up. If you've chosen a neutral colour palette for your walls and trim, the roof may be the perfect place to inject a splash of colour. A rich red roof such as Resene Rustic Red looks excellent on a villa or cottage, while a moody blue such as Resene Coast could bring the wow factor to a recent build.
Here's how to paint your roof in three easy steps:
Treat any moss or mould with Resene Moss & Mould Killer, then wash your roof thoroughly with Resene Roof and Metal Wash.
Spot prime any bare areas of your roof with Resene Galvo One, a specially developed primer for new and weathered galvanised steel.
Apply two coats of Resene Summit Roof Semi-Gloss CoolColour tinted to your chosen Resene colour.
Stuck for inspiration? Click here to read more about how to pick the right colour for your roof
Be daring with your deck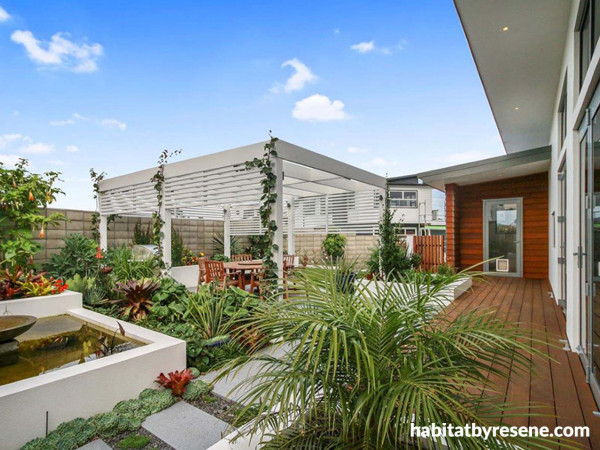 Homeowners Flint and Celia's backyard was a top priority during the renovation of their Hawke's Bay home. The pergola is painted Resene Double Black White and the furniture is stained with Resene Woodsman Whitewash. A selection of subtropical plants creates a striking contrast against the warm timber decking, which is stained with Resene Woodsman Heartwood.
Clear the decks and make way for a brand new colour scheme. If you're giving your home's exteriors a freshen up, why not do up your deck too? As an extension of your house, your deck should also be an extension of your colour palette and should bridge the gap between your home and garden with its colour design.
Resene Woodsman has a large range of exterior wood stains that are designed to colour timber while still allowing the natural grain to show through. Let your chosen wall and roof colours dictate the type of stain you're working with. If you're working with a warmer colour palette, Resene Woodsman Warm Kwila or Resene Woodsman Heartwood are sure to warm things up year-round. A great way to hide imperfections in your deck is to paint it a solid colour. Use Resene Non-Skid Deck & Path tinted to your chosen colour to create a sophisticated colour scheme that doesn't compromise on safety.
Learn how to renovate your tired deck here or click here for more ideas on how to decorate your deck
On the fence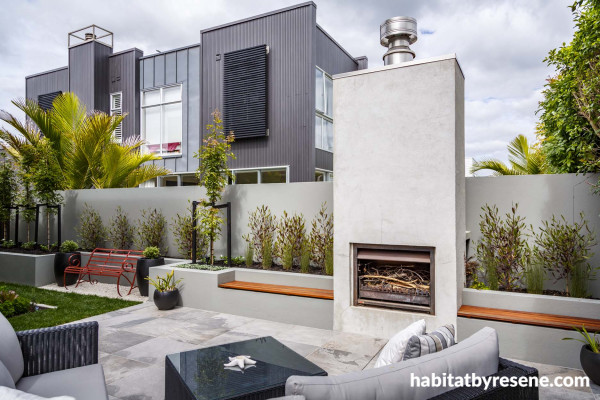 Homeowner Dave Lewis created a detailed yet calming outdoor area with raised planter beds and boundary fence in Resene Tapa. The Resene Tapa fence created a perfect backdrop for Dave's colourful 100-year-old riveted bench seat in Resene Pioneer Red. Image by Bryce Carleton.
Do you want to bring a pop of personality to your garden? Hedge your bets with a painted fence. There's so much more to life than a white picket fence and it's easier than ever to create a statement fence with Resene's wide range of colours. Fences in dark colours or stains, such as Resene All Black or Resene Woodsman Crowshead, will make the greens in your garden pop and will add a sense of depth to smaller gardens. If you have a less established garden or are keen to get creative, try painting your fence with Resene Lumbersider low sheen paint panel by panel with a multitude of colours. Other ways to choose a fence colour are to draw out colours from your interiors to create a cohesive colour scheme that works from your window or use a neutral colour such as Resene White Pointer as a base for a colourful fence mural.
You can learn how to paint a fence here or find more inspiring fence colour palettes here
Top tip: When you're tackling a whole house project, the best idea is usually to start from the top down – roof, walls, then deck – so that any drips don't damage areas already complete. If you are hiring a painter for the roof and waiting for them to get started, start working on the prep for the other areas and painting or staining areas like fencing while you wait for the roof to be finished. Then you can get on with the painting. Or if you want to tackle the easy and smaller jobs first, such as your deck and front door, make sure you cover them well with dropcloths before painting areas higher up.
Remember you can rejuvenate and refresh just about anything around your home, including old pavers, concrete, stairs, planters and more. If you're not sure what the best Resene paint or stain is for your project ask your local Resene ColorShop staff or use the free Ask a Resene Technical Expert service.
While painting the exterior of your home may seem like a big task, it also has big rewards. With increased street appeal and a welcoming atmosphere, a well-thought-out colour palette from Resene will go a long way to make your house feel like a home.
Published: 27 Oct 2021
Do you have a home full of wonderful Resene paint and colour? Send us some snaps by emailing [email protected].