►
◄
latest
habitat tv
blog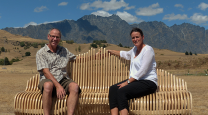 The best berry tones for 2022
Think boysenberries and raspberries, cranberries and strawberries. This is one mouth-watering interior trend you don't want to miss. As the temperature drops, bring out the berry tones and embrace these warm and sophisticated hues. Berry tones are trending for interiors – by incorporating a rich tone or two, you can make your home feel instantly more inviting.
Why use berry hues
From dark burgundies to vibrant reds, berry tones embrace all the sumptuous hues between purple and red on the colour spectrum. Vivid berries are the perfect natural element to draw on in winter. Adding a deep boysenberry or cranberry to your home can add to a moody and cosy winter palette. Maroon and red hues look great in terms of furnishing, too, and can be updated/changed around as the seasons change. Really, the berry colour palette is trans-seasonal, and can be adapted for a brighter and sunnier look in summer. Add depth to your home with shades like Resene Memory Lane,Resene Blackcurrant and Resene Geronimo without dragging it down.
Mix it up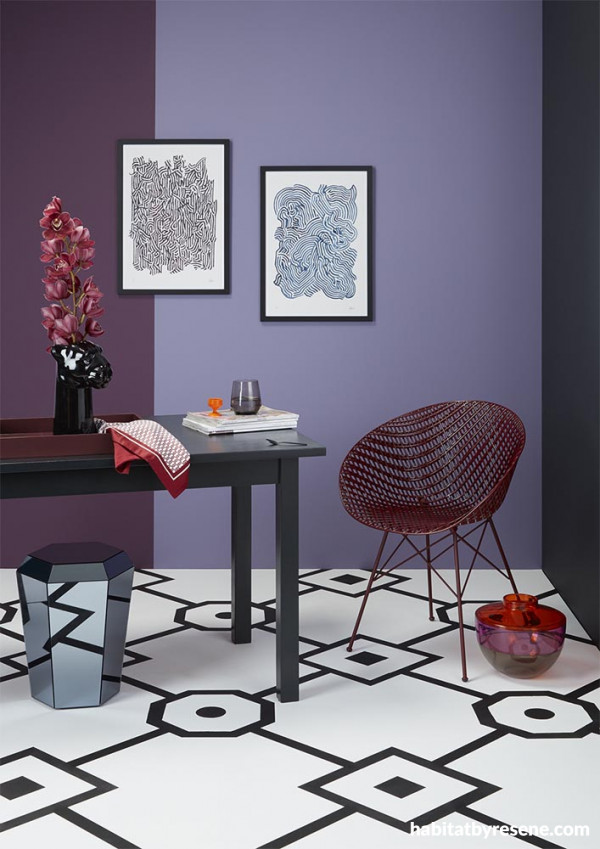 The muted berry tones of violet Resene RSVP on the left and dusty mauve Resene Memory Lane on the right of the back wall create a fun and sophisticated backdrop. The left wall in classic Resene Noir generates even more moodiness while the floor, which was first painted in fizzy warm white Resene Elderflower, keeps the room from feeling too dark or heavy. For added interest, it has been dressed up with a sophisticated geometric pattern painted in Resene Black.Back wall in Resene RSVP (left) and Resene Memory Lane (right), left wall in Resene Noir, floor in Resene Elderflower with geometric pattern in Resene Black, table in Resene Blackjack. Chair and vase from Backhouse, stool from BoConcept, artwork from endemicworld, Project by Kate Alexander, image by Bryce Carleton.
Can't decide between purple, pink, and red berry tones? Why not mix it up and incorporate a couple of berry hues in your space. A monochromatic look is particularly stunning in dining and living areas. This is where shades on the berry spectrum are layered within the same room. Mixing hues from the same shade is ideal if your home needs a little modernising, or a side of pizazz. It'll offer a contemporary look without being overwhelming, as your colours all come from the same family.
Deep purple berry tones mixed and matched like Resene Upstage, Resene Plum and Resene Fandango radiate class, but have a playful edge.
Top tip: The key with this kind of colour scheme is to introduce neutrals into the room as well to create moment for pause and break up the darker colours. Try adding in Resene Rice Cake or Resene Black White on adjacent walls and trims.
Be loud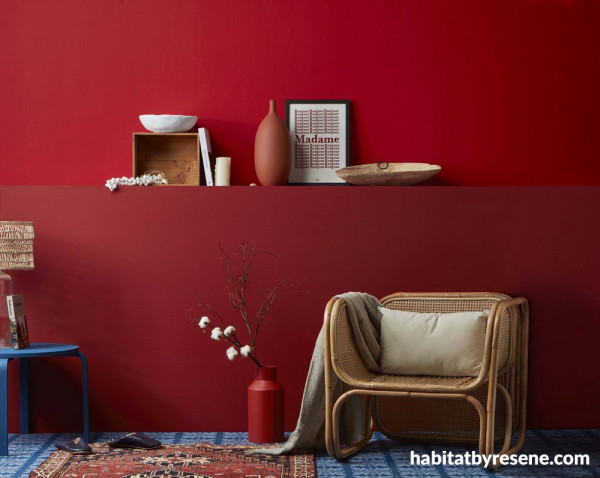 Bold reds create a space that is exotic, casual and warm. This room's upper wall is Resene Poppy with Resene Dynamite on the lower wall. The main floor colour is Resene Wishing Well with a stencilled pattern painted in Resene Time After Time. The table is painted in Resene Wishing Well and the floor vase is Resene Raging Bull. On the shelf the vase is Resene Moccasin, the wine box is stained in Resene Colorwood Natural and the bowl is Resene Elderflower. Project by Gem Adams, image by Wendy Fenwick.
Powerful, warming, full of character, these berry hues pack a punch. Reds are no longer viewed as old-fashioned, appearing on plenty of contemporary walls and furnishings. Berry reds create rich, cocooning interiors that ooze decadence. Cool red with rice whites like Resene Alabaster and Resene Black White or with brooding charcoals like Resene Element and Resene Grey Friars to stop it looking too overpowering. Or try it in a related colour scheme with bruised berry purples like Resene Blackcurrant for a dramatic look.
Try a pale bright red reminiscent of raspberries, like Resene Candy Floss, or a true saturated strawberry red, like Resene Havoc. A red wall around a fireplace in a lounge gives off warmth too, even when the fire isn't lit.
Go moody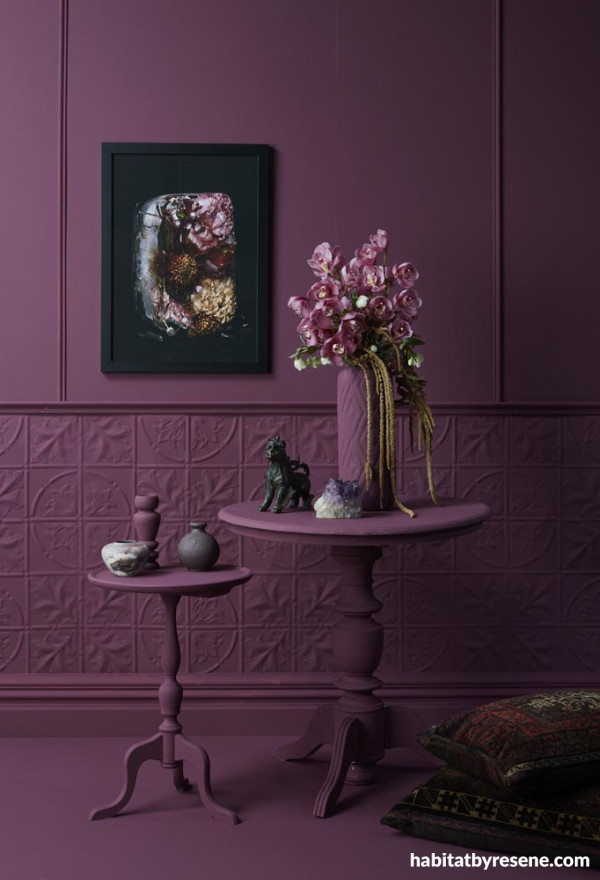 This perfectly purple room uses rich Resene Virtuoso for the tables, wall and floor. Artwork by Maegan McDowell from endemic world. Project by Lisa Morton, image by Bryce Carleton.
If you want to create a sophisticated, elegant and moodier look, go for deep berry tones. Rich reds, purples and pinks contrast beautifully with jewel tones like emerald green and gold – the ultimate opulent look. This combination of dark hues and jewel tones creates a moodier theme, which will give your home more character. Try Resene Grapevine with Resene Botanic or Resene Brush, and Resene Buddha Gold or Resene Yukon Gold.
Deep purple berry tones give a level of richness few other colours can achieve. A true violet purple is strong but if you add some deep red, you get eggplant and mulberry colours, which are easier to work with. If you add grey to mauve-purple, you end up with soft lavender tones. The key to using purple is to get just the right tone and amount.
Top tip: Team soft greyed lavenders, like Resene Poet, with eggshell blues and dusky creams for a dreamy, French-inspired interior.
Lighter pairings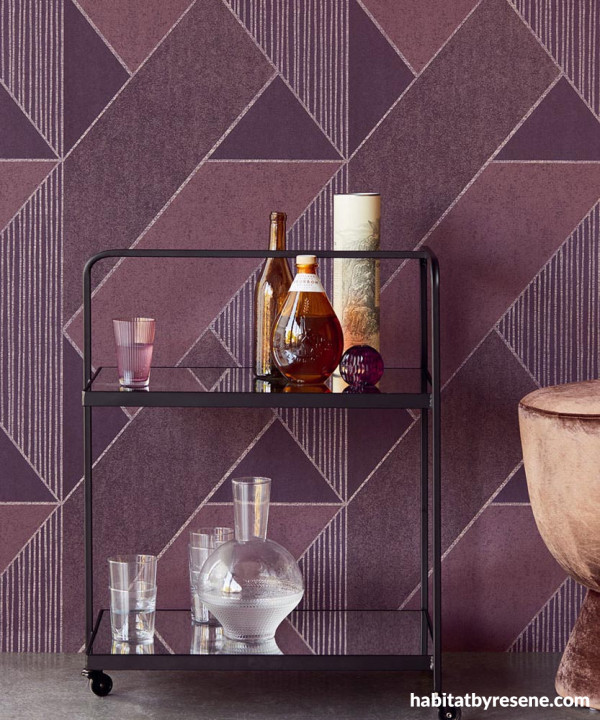 Bathe in the berry hues of Resene Wallpaper Collection E395833, ideal for adding character to any empty-feeling hallways or pockets in your home in need of colour.
If dark and moody isn't your style, don't let that put you off using berry hues. Try a combo like an accent wall in raspberry with bright white applied liberally throughout the rest of your room - Resene Quarter Pohutukawa with Resene Rice Cake, for example. This will prevent your space from looking too deep and shadowed, yet still give it an eye-catching quality. Use white details to decorate your space for ultimate sophistication. For a contemporary look, keep your wall art simple and minimal, and add soft furnishing like a white sheep's wool rug.
You could try a grey-hued mauve but mix it up with a darker neutral – this will create a modern, adult look. This is a gentler approach to purple. Try a hue like dark charcoal grey, think Resene Bokara Grey. For a Scandi feel, add crisp white details and grey accents throughout the room in shades like Resene Half Black White and Resene Half Nocturnal.
Pattern
Floral berry toned Resene Wallpaper Collection KEN001 and Resene Wallpaper Collection KEN506 designs (background in hallway) stun with rich velvet furnishings. Pair with lower walls in a hue like Resene Burgundy.
Patterns are a lovely way to introduce berry tones to your interior, and the Resene Wallpaper Collection has plenty of options to choose from. Keep in mind that as with any pattern, the busier the wallpaper, the less busy you'll want your furnishings. A busy pattern will look great with solid-hued furniture like a couch, ottoman or carpet in complementary purple hues. If the wallpaper design is more on the subtle side, introduce more texture through cushions and other accessories.
Another nice way to add to the wallpaper is choosing three colours that are complementary. Introduce your three hues through candlesticks, vases, cushions, throws and on adjacent walls – try going with lighter shades, and be sure to ask advice from the expert staff at your local Resene ColorShop if you're unsure which colour to pick. Or ask a Resene Colour Expert free online, www.resene.com/colourexpert.
Top tip: Velvet and deep berry tones go together like nothing else. A few accent colours to consider on other furnishings include slate grey like Resene Slate, yellow like Resene Spotlight and forest green like Resene Turtle Green.
Published: 20 Jul 2022
Do you have a home full of wonderful Resene paint and colour? Send us some snaps by emailing [email protected].
the look
If you're stuck on what
colour to use or need colour
advice, try out the Resene
Ask a Colour Expert service.