►
◄
latest
habitat tv
blog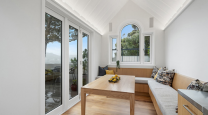 Master Builders' Chief Executive David Kelly shares his tips for building in the challenging climate.

Planning... more
The castle on the hill: This Whangamata home has a modern take on family living, but what's behind the dark exterior?
Homeowners Sara and Brendon live life on the edge. They mountain bike along steep forest trails, surf the shoulders of Whangamata's rolling waves, and live in a house that teeters on top of a hill. Nothing is too hard for this daring couple, including building a new home in a bold Resene colour scheme including Resene All Black and Resene Seaweed. Despite starting their project in a year fraught with interuptions and lockdowns, the couple were surprised at just how easy they found the process and built a home perfectly intuned to the conditions.
Sara and Brendon's home sits at the top of a hill on the outskirts of the surf town, overlooking rugged farmland and forest. Its cloak of Resene All Black helps it blend into its natural environment and the Resene Half Black White on the soffits add contrast.
"We always wanted a striking black on black house with contrasting white to give the illusion of light and space," says Sara. "Building up here is obviously a little bit different to building in town.
"We've got extra-high winds up here and we're quite exposed."
To contend with the strong natural elements, Sara and Brendon used Resene Lumbersider tinted in Resene All Black. Resene Lumbersider imparts a natural low sheen look and its tough waterborne makeup ensures maximum durability in all exposed conditions.
But don't be fooled by this home's dark and moody exterior. Inside lies a haven of pasture greens and light. The office nook and master bedroom are in Sara's favourite colour Resene Seaweed; a deep, luxurious olive brown. Sara had always wanted to use Resene Seaweed as a feature and this new build provided her with the perfect opporutnity to give the walls a touch of colour. She liked it so much she's inspired to use colour more in the future.
"I thought Resene Seaweed suited this house perfectly. We love the warmth and depth it adds to each space," says Sara. "If I was brave enough I may have added a few more colours to our palette. Now that I have seen how great the green looks, I'd like to add a couple more.
It was important to the couple that the two cavity sliders on the feature wall in their master bedroom had a seamless finish. One slider reveals an ensuite bathroom, while the other cleverly hides a wardrobe. Sara achieved a smooth look by painting the sliders in Resene Seaweed with Resene Half Black White trim.
Sara's stylish décor is accentuated against walls in Resene Half Black White in the open plan kitchen, living and dining room.
"I would say my style is classic, modern and minimalist with a touch of boho," says Sara. "We went for a classic modern minimalist look with natural colours and materials. We wanted it to be family friendly and to be easily changeable if need be.
"Resene Half Black White was the perfect option as we can easily add colour with furnishings to give our home a different look."
In the open plan living and dining room, sunlight pours through large glass doors and bounces off the crisp Resene Half Black White walls and ceilings, making this home seem larger than its three-bedroom floorplan. "Our favourite space is definitely the open plan living and dining area," says Sara. "Every aspect of the area flows onto our covered deck.
"The living area is where we can spend time as a family and look out on our gorgeous 360 degree views."
Sara and Brendon worked with Coromandel builders and designers Home & Lifestyle to find and create their dream home. From start to finish the project took six months and part of the process included paint recommendations.
"We'd been looking around Whangamata for a house to buy, but everything got snapped up really quickly. We came up here [in the Whangamata hills] because we wanted to be out of town, it was the view that did it for us.
"The whole process was really easy and seamless. It was six months and then we had a house.
More about Home & Lifestyle
Katrina from Home & Lifestyle worked closely with the couple to create their dream home. "We worked with Sara and Brendon to tweak the house and land package to create the family home they were looking for," says Katrina. "Home & Lifestyle specialise in site specific designed and built homes.
"We take care of our clients and their new home dreams from conception right through to handing them the keys, it's a building journey that is personal, stress free and exciting."
To learn more about Home & Lifestyle visit their website
Top tip: If you're thinking about painting your home in a dark exterior, consider using a Resene CoolColour version of your colour. A Resene CoolColour looks like a normal colour but has a special pigment technology that helps it reflect more heat, so it doesn't get as hot as a normal colour would. It can be used on a range of exterior materials, from weatherboards and concrete to windowsills.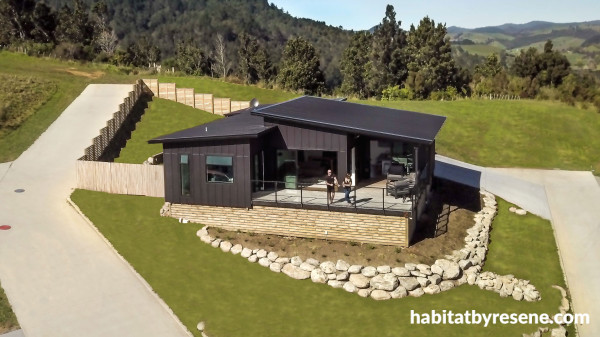 High in the hils of Whangamata, Sara and Brendon realised their dream of a black on black exterior when they painted their new build in Resene All Black with Resene Half Black White soffits.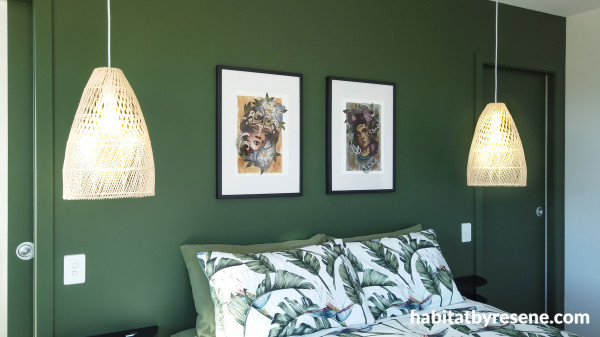 The master bedroom is painted in deep Resene Seaweed, Sara's favourite colour. The surrounding walls and trim are in bright Resene Half Black White.

The family's office is in Resene Half Black White with a creative recessed nook richly painted in Resene Seaweed which highlights the wooden shelves and Sara's minimalist boho décor.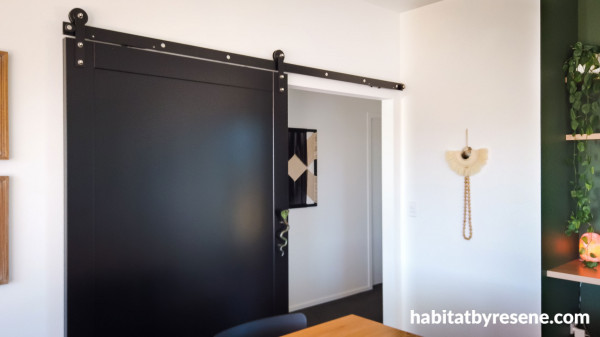 In the office, the barn door mimics the home's exterior in Resene All Black. A glimpse of the Resene Seaweed nook provides contrast with the ceiling and walls in Resene Half Black White.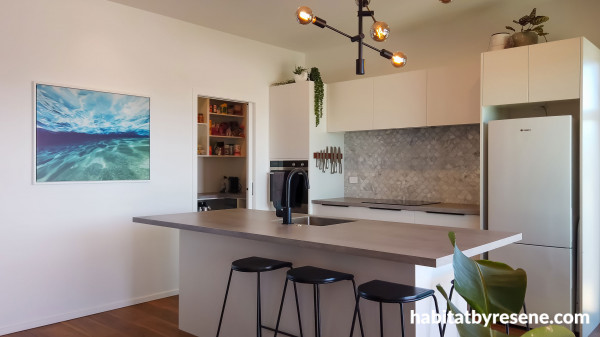 A subtle beach theme in the kitchen creates a connection to the nearby Whangamata Beach. The walls and ceiling give the space a clean atmosphere in Resene Half Black White.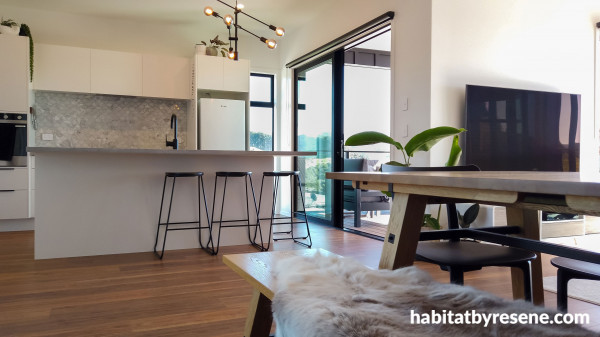 The open plan kitchen, living and dining room was the best part of the build for Sara and Brendon. The wide glass doors don't just provide the family with stunning views. An abundance of light floods through the doors and is reflected against the Resene Half Black White walls and ceiling.
Published: 01 Jul 2021
Do you have a home full of wonderful Resene paint and colour? Send us some snaps by emailing [email protected].
the look
If you're stuck on what
colour to use or need colour
advice, try out the Resene
Ask a Colour Expert service.