►
◄
latest
habitat tv
blog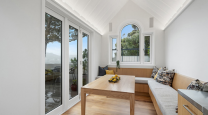 Master Builders' Chief Executive David Kelly shares his tips for building in the challenging climate.

Planning... more
The hottest paint colours and decorating trends for 2022
Creativity is on trend this year and the hottest Resene paint colours are here to help. We all have our own unique and wonderful style, so much so that some may ask why trends are so important? The simple answer is they fuel our creativity. Trends feed our creative inspiration, helping us to make smarter and more informed decisions about how we live. Backed by research and influenced by world events, the new ideas and styles that trends introduce to the design landscape often evolve into enduring classics. They introduce us to the unexpected, whether that be bold feature walls, intrepid themes or daring DIY décor.
Here are a few of the hottest paint colours of this year, inspired by our latest habitat plus: decorating and colour trends booklet to splash around your home that are sure to refresh the way you live and work.
Neutral ground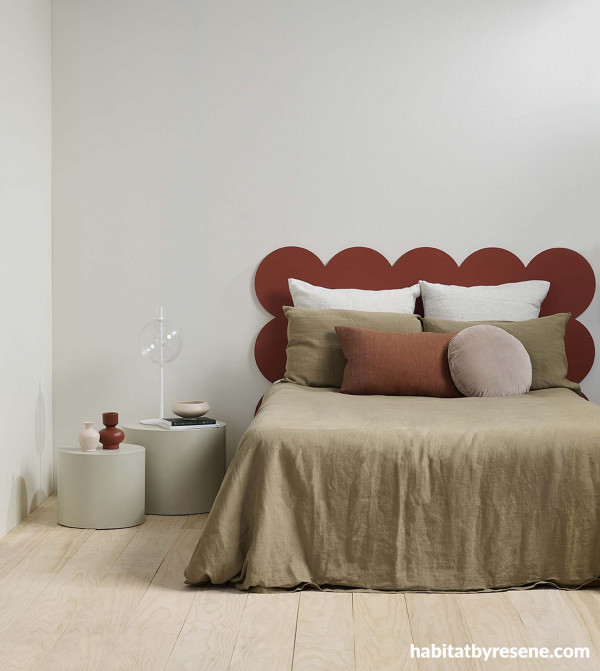 The walls of this neutral haven are in Resene Eighth Tana, circle headboard in Resene Prairie Sand, floor in Resene Colorwood Whitewash, side tables in Resene Tana and vases and accessories in Resene Prairie Sand and Resene Pearl Bush. Lamp, bedlinen and cushions from Città. Project by Laura Lynn Johnston. Image by Bryce Carleton.
Tips for introducing warm neutrals and brown into your home:
Create a brown-based colour scheme using a mixture of wood tones to help build a richer look
For a simple colour palette select three warm neutrals of the same hue – one dark, one medium and one light – and layer them in a space
Look for neutrals with warm-edged undertones such as Resene Eighth Tana
A blast from the past, 70s-inspired brown is back and better than ever. Known to warm and ground spaces, rich coffee and delectable chocolate browns can be used on feature walls to create a stylish space. Redder browns such as Resene Moroccan Spice or Resene Prairie Sand are multi-dimensional hues that can be brought into the space through upcycled furnishings.
Pair your brown accents with warm neutral walls of stone grey or biscuit beige, such as Resene Eighth Biscotti. Neutrals like these are known as character neutrals for their flexibility and depth that is provided by subtle undertones of colour. Use character neutrals such as Resene Eighth Tana as a base wall colour to start your palette, then pair with accents and décor in sugary caramels and toffee.
A little bit of R & R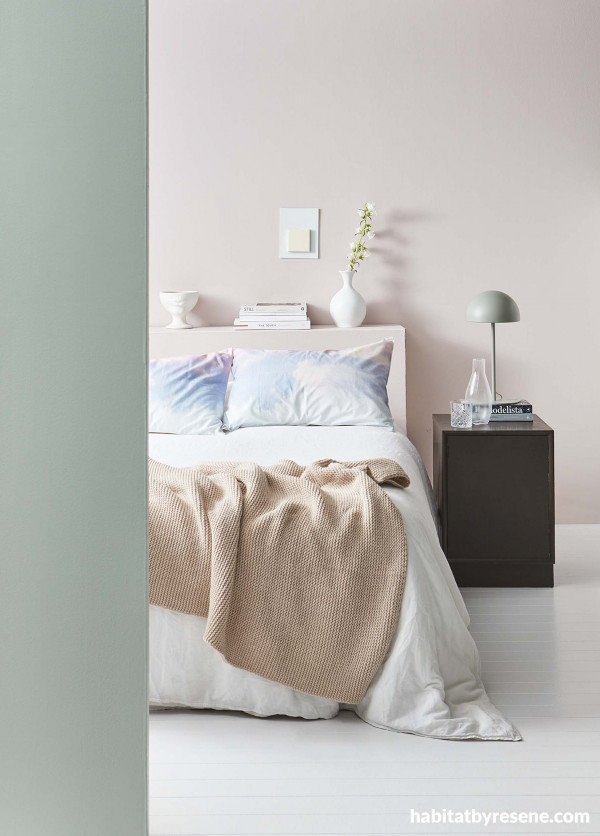 Calming and charming, the back wall of this bedroom is in Resene Soothe, left wall in Resene Peppermint, floor in Resene Hint Of Grey, side table in Resene Blackout and vase in Resene Hint Of Grey. Duvet cover, throw and lamp from Città, pillowcases and ceramic vase from Republic Home. Project by Amber Armitage. Image by Wendy Fenwick.
Tips for creating a relaxing Zen space:

Introduce simplicity through furniture
Choose soothing, fresh colours such as pastel blues and greens or soft pinks
Style the space to enhance your own joy with personal objects and include décor that appeals to the senses
Use white frequently as an accent colour
Say yes to destressing with an interior retreat or Zen space. With an increased focus on self-care and mental wellbeing coming to the fore, it's time to make a yourself a tranquil area that encourages quietness and incites creativity. Transform a room or even just a nook with soothing pastel colours, including Resene Peppermint or Resene Soothe. When it comes to the feeling of ultimate serenity, a wall in Resene Duck Egg Blue will always be a hit. Focus on a connection with nature in the space. This can be done with nature murals from the Resene Wallpaper Collection, houseplants, décor that celebrates the season outside your window or could even be as simple as a vase of flowers. An abundance of natural or soft light is also important and walls in soothing Resene pastels will reflect the light, creating a calm, bright space.
Blue is the warmest colour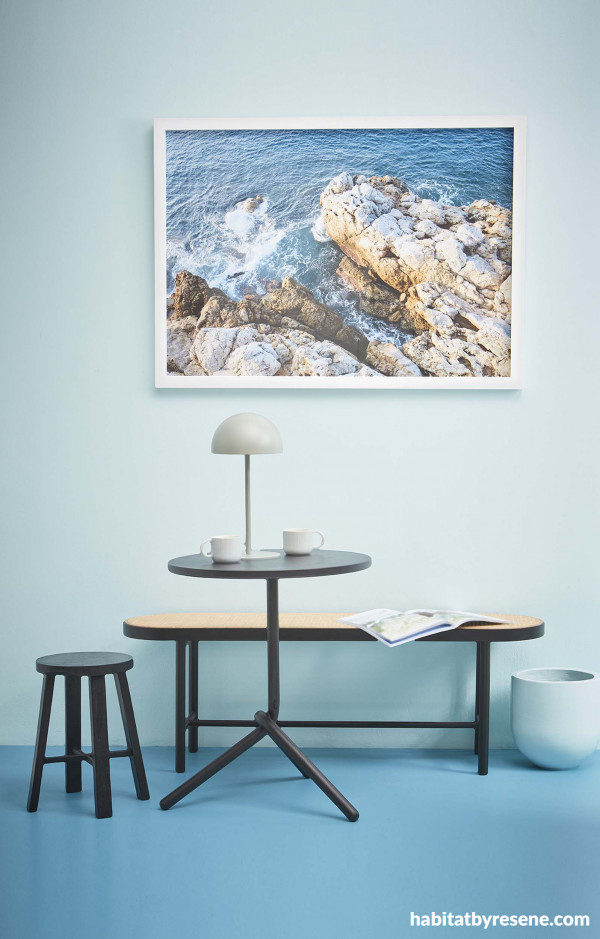 This seaside room features walls and plant pot in Resene Reservoir and floor in Resene Hippie Blue. Bench from Good Form, lamp and cups from Città. Project by Amber Armitage. Image by Wendy Fenwick.
Tips for using blue in your home:
How dark your tone of blue is should depend on the amount of light in the space
Use blue as the base for your colour palette to achieve a range of styles, such as blue and white for a Hamptons look or blue and yellow with accents of gold to create a Moroccan haven
Light blue walls pair well with lighter, whitewashed timber, while dark blues are best friends with dark stained timber
Blue works especially well in relaxation areas such as the bathroom and bedroom
Blue has been a constant companion for homeowners and interior designers alike. Mimicking the hues of the sea and sky in our homes has given us a sense of peace, with grey blues such as Resene Nepal and Resene Smokescreen dominating the design world. Blue is well known for its calming and relaxing properties and Resene's wide range of blue hues means there's a blue for any occasion – and any type of home. The best thing about blues is their versatility – they don't need to be limited to the walls. If bolder blues such as aqua Resene Hippie Blue are more to your taste, try painting a striking floor or ceiling in the colour.
Down to earth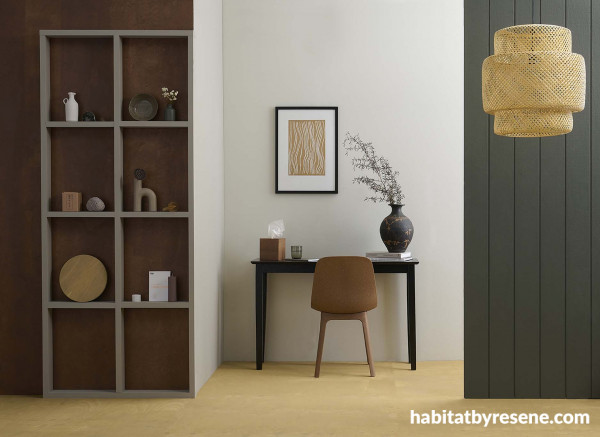 The back wall of this simple, earthy office is in Resene Triple Merino, timber wall (left) stained in Resene Colorwood Pickled Bean, grooved wall (right) in Resene Quarter Karaka, shelves in Resene Settlement, floor stained in Resene Colorwood Uluru and desk in Resene All Black. Artwork from endemic world. Project by Kate Alexander. Image by Bryce Carleton.
Tips for creating an earthy space:
Introduce touches of stained and natural timber
Use natural textures such as rattan, wool and clay
Colours drawn from the earth, such as forest greens, muddy browns and cloudy whites are perfect for a natural colour palette
Warm up your home with rich colours straight from the earth. 70s colours and styles are reappearing, with clay textures and dried floral arrangements adding touches of nature to our homes once more. A palette of soft, naked earth tones is a great way to reduce stress in the home and will create a sense of warmth and comfort. Try colours such as Resene Dusty Road and Resene Korma as well as terracotta hues, avocado greens and warmer whites. If you're after a truly authentic feel, embrace the natural beauty of woodgrain with timber features, walls or floor. Layer a mix of stained timbers and earthy colours in your room to create a rich and cosy look that still mimics the irregularity and interest of natural spaces.
The line up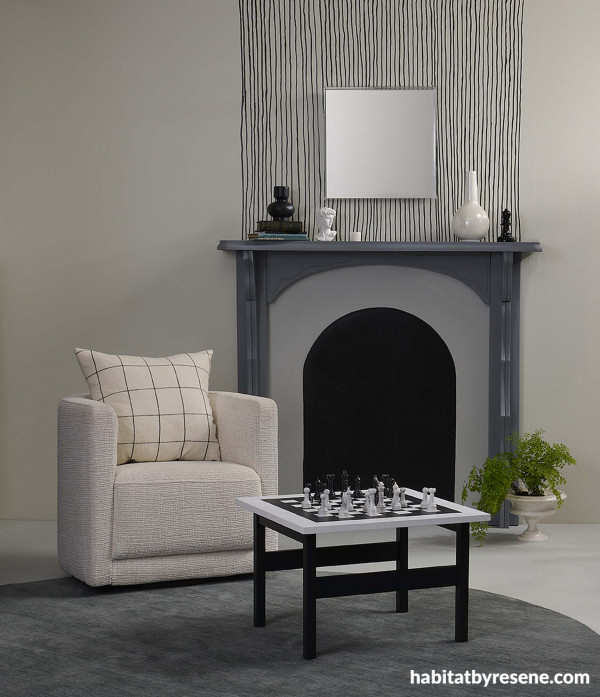 This sophisticated living space features walls in Resene Triple Merino with hand-painted pinstripes in Resene Double Cod Grey, floor in Resene Kensington Grey, mantle in Resene Raven, arch in Resene Double Cod Grey and chessboard table and vases in Resene Double Cod Grey and Resene Seashell. Chair from King, rug from The Ivy House, cushion from Città. Project by Kate Alexander. Image by Bryce Carleton.
Tips for incorporating colour blocking into your interiors:
Use blocks of colour to visually separate areas in an open plan space
Create a chalkboard or magnetic wall using Resene FX Chalkboard Paint or Resene FX Magnetic Magic
Colour blocks don't have to be square – try circles or arches for extra movement
Use bright colours such as yellows, oranges and reds
Use a colour block to highlight an important piece of artwork
Try a tideline effect by using a single colour on the lower portion of your walls and a different colour above
The rise of colour blocking has seen offices, kids' rooms and living spaces transformed into bright and interesting spaces overflowing with personality. Colour blocking has traditionally involved selecting two or three bright colours and placing them together in unique ways to create a centre of interest. Now however, colour blocking has evolved to include shapes such as circles and arches. The colour block palette has also had a makeover, with muted neutral colours such as Resene Triple Merino and Resene Double Cod Grey blocked in as part of more sophisticated designs. One variation of the colour blocking trend is creating impressive wall features with hand-painted stripes. Perfect for adding a sense of texture and hiding imperfect walls, these lined features add a bespoke quality to the space and provide a more subtle effect.
Ahead of the curve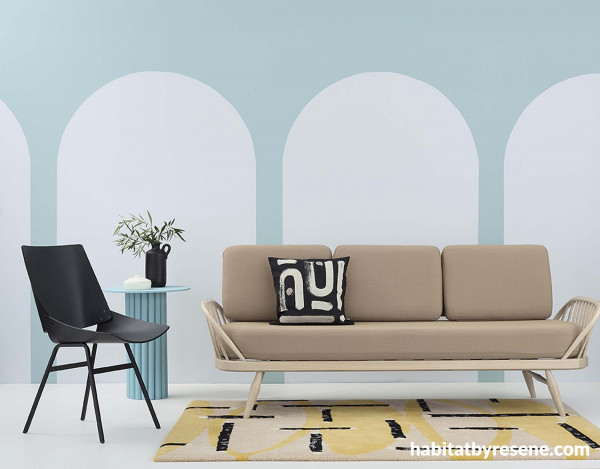 These arches are a triumph with walls in Resene Sorrento. Arches and floor in Resene Zumthor, side table in Resene Ziggurat, vase in Resene Nero and lidded dish in Resene Black White. Sofa, chair and rug from Good Form, cushion from Città. Project by Laura Lynn Johnston. Image by Bryce Carleton.
How to paint an arch on your wall:
First, mark the top curve of your design on to your wall. Use a pencil attached to a string and drawing pin to create a perfect curve.
Next, use a level and painter's tape to mask your straight vertical lines. Ensure you press it down firmly when you apply it.
Use a wide angled high quality paintbrush to paint your curve, feathering in the bottom edges of your strokes so that you don't end up with a hard line.
Next, use a roller to finish painting the remainder of your arch colour.
Once your first coat of paint has dried, apply your second coat in the same manner and remove your tape once your topcoat is dry to the touch.
The trend for conversation-starting arches is in full swing with mirrors, headboards and painted wall designs bringing interiors around the world to life. The revival of key Art Deco designs has increased the humble arch's popularity, making it a must-have statement piece for any home. The key to a successful arch is its subtlety, the way it moves and blends with the room to create interest. Try a row of arches to create a sense of depth in a space by painting the wall in a muted green or blue, such as Resene Sorrento. Paint your arches in a lighter shade of the same colour or an off white, such as Resene Zumthor. This will create contrast without darkening the space. Alternatively, try creating a moody headboard with a single dark arch painted on a crisp white wall.
Serene greens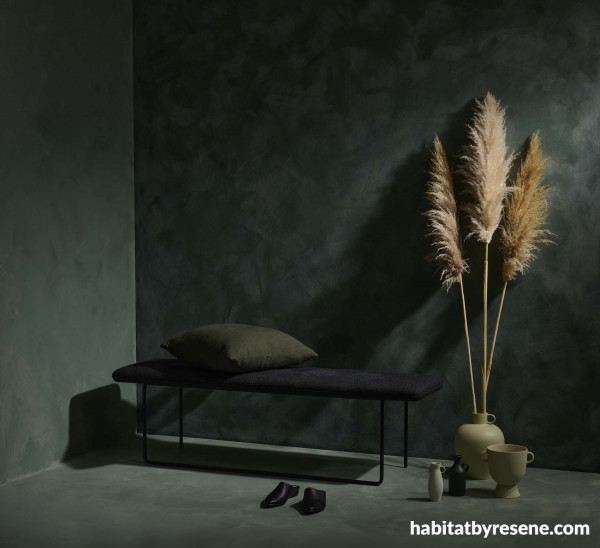 The right wall of this relaxing green nook is in Resene Mangrove with Resene FX Paint Effects medium coloured with Resene Ravine, left wall in Resene Ravine with Resene FX Paint Effects medium coloured with Resene Mangrove, floor in Resene Pumice with Resene FX Paint Effects medium coloured with Resene Ravine, large vase in Resene Nirvana, plant pot in Resene Miso and small vases in Resene Travertine and Resene Possessed. Bench and cushion from Bauhaus. Project by Laura Lynn Johnston. Image by Bryce Carleton.
Tips for using green in your home:
If your home has limited light, or you're worried a rich green may feel too dark, choose more subtle, pastel greens
Bring a fresh touch to your space easily with accents in strong greens, such as painted décor, sideboards or your dining room table
Try a silver-edged sage green such as Resene Thor if your home has lots of pre-existing blue furnishings
Get back to nature with Resene's popular range of green hues. Offering a wide range of restorative and soothing qualities, greens are now moving away from those muted grey green hues and stepping into the limelight. Stay on trend with full-bodied greens that have warmer undertones, such as Resene Wilderness. For a rich and cosy atmosphere, use lush colours such as Resene Olive Green and Resene Mangrove on the walls of your bedroom or living space. Rooted strongly in nature, these popular greens can be taken to a whole new level with Resene FX Paint Effects medium, allowing you to embrace sophisticated colour palettes that bring an added sense of texture to a room or nook.
Make a statement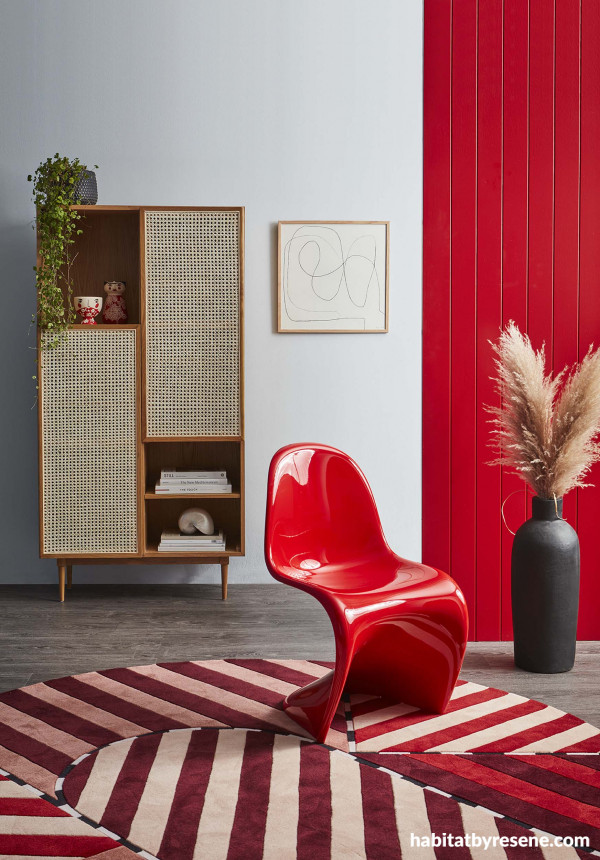 The left wall of this bright sitting room is in Resene Zumthor, right wall in Resene Red Berry and floor in Resene Colorwood Dark Ebony. Bookcase from Danske Møbler, vases from Republic Home, rug from Designer Rugs, chair from Matisse, artwork from Slow Store. Project by Amber Armitage. Image by Wendy Fenwick.
Tips for using statement colours in your home:
Choose one statement colour and introduce varying strengths
Paint a feature wall in a bold colour
Don't be afraid to mix and match décor
Draw the colour into the room with vases and upcycled furniture
When it comes to statement colours, go bold or go home. Accent and feature colours are bold and cheerful, adding a bit of life and pizazz to any space. Use bright statement colours, such as sunshine Resene Galliano to create an eye-catching feature wall. Bright colours link spaces together and do wonders to energise a neutral colour palette. For maximum impact, introduce a splash of classic Resene Red Berry into your grey interior palette. Reds are making a comeback in a big way, with fire-engine reds such as Resene Guardsman Red and deeper red-blue hues such as Resene Vanquish returning to create sophisticated spaces in our homes once more.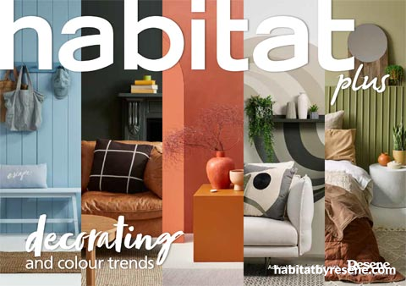 To see more of the latest trends and get inspiration for your decorating project, take a look at the habitat plus - decorating and colour trends here or pick up a free colour from your Resene ColorShop or selected resellers.
Published: 29 Sep 2021
Do you have a home full of wonderful Resene paint and colour? Send us some snaps by emailing [email protected].