►
◄
latest
habitat tv
blog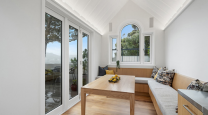 Master Builders' Chief Executive David Kelly shares his tips for building in the challenging climate.

Planning... more
The ins and outs of painting in winter
Painting the house, inside or out, is something that usually sits on that endless list of home renovation or maintenance jobs earmarked for spring and summer – or worse, the high-pressure list of jobs "I must do in time for Christmas". While longer, warmer days do lend themselves to efficient, effective painting, with a little planning and forethought, you can still complete your painting projects in autumn and winter, whether you're doing them yourself or bringing in the painters.
Here's the downlow on everything you need to do tackle the job.
The key three
The key factors to take into account with winter painting, whether you're doing it inside or out, are temperature, timing and moisture; all of which have an impact on how long the paint takes to dry and what your finish will be like. While these generally aren't factors that you can 'control', they should be things that you pay attention to when choosing which day(s) you're going to get stuck in.
Prep makes perfect
The other thing to remember is that the fundamentals of your preparation – such as taking the time to do the prep well - stays the same no matter what time of year you're painting.
To prep your exterior, start by taking a walk around your property - assess its condition and check for any damage. If there are materials or sections that will need replacing, now's the time to start organising them. You'll often find contractors are quieter now than in the pre-Xmas rush when others are trying to get their projects finished before the holidays.
Most exterior surfaces have will have mould or moss growing on them. Unfortunately, it's not enough to remove moss and mould, or paint over it, without first killing it, as residual spores will simply grow back underneath and through new paint. To treat it, simply use a garden sprayer to apply diluted Resene Moss & Mould Killer following the label instructions.
You'll also want to ensure your house gets a proper clean before it gets painted. The most effective way to do this is to use Resene Paint Prep and Housewash, or, if you're painting a roof, Resene Roof and Metal Wash. Scrape and sand any flaking paint from timber and wooden joinery, fill any imperfections and seal up any gaps.
The same goes for the interior, you'll want to have clean walls, sanded joinery and trims and any gaps sealed up – and then sanded down. Of course, before you start painting indoors, remove all furniture from the room, or if you can't do that make sure it is well protected with dropcloths, place dropcloths down to protect the floors and apply masking tape around skirtings, architraves, light switches and window trims.
Tackling your exterior
Obviously, exterior painting throws up more challenges than interior painting during the cooler months, but it is still possible. Cooler temperatures mean there will likely be a smaller window of time each day to paint, so your project may take longer.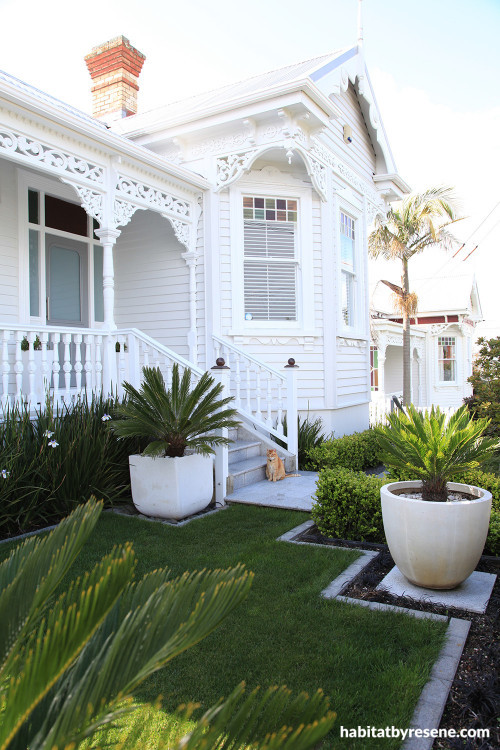 Garry Cullen of Ardmore Architects chose an elegant scheme for his own classic villa, using Resene Sea Fog on the weatherboards and Resene White for the trims.
As Auckland painter Andrew Craigie from Troake says, painting on a substrate that is colder than 12°C with normal paint is a no-go. "Some say 10 degrees, but I stick to 12 degrees. Anything lower than that and your paint just won't dry.
"It might be a nice beautiful day but the dew point can still be below 12°C so you can paint a side of a house and have it end up on the ground because it didn't dry."
Those temperature constraints can leave you with a pretty short period of useful painting time on a winter's day. And it will likely be shorter the further south you live.
But all is not lost. One smart way to extend that period of time is by using Resene Wintergrade Additive with your chosen paint, which means your paint will still dry at temperatures as low as 3°C.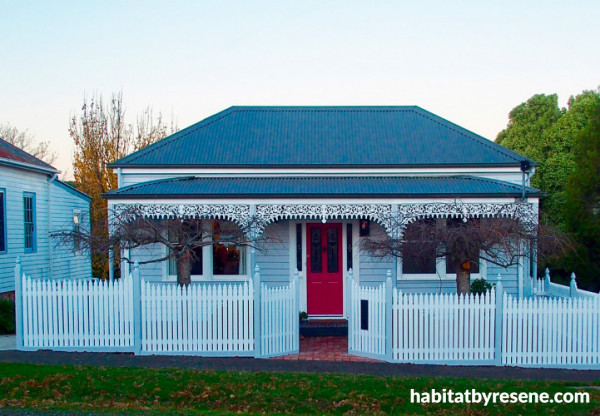 This Victorian villa got a complete refresh with weatherboards and fence posts in Resene Surrender and trims and pickets in Resene Alabaster. The front door in Resene Disco is a standout feature, and painting the fence posts in a contrasting colour from the rest of the pickets is a great idea to add some kerb-side appeal.
"Some pretty impressive chemistry has gone on in the Resene labs," says Christchurch painter Peter Dalman of Finesse Painting and Decorating.
"When a paint is drying and the temperature is not warm enough, the paint just won't work, and will crack or even dry into a powder. Even in the middle of winter the temperatures generally get above 3 degrees, so with the right planning, we can pretty much paint exteriors all year."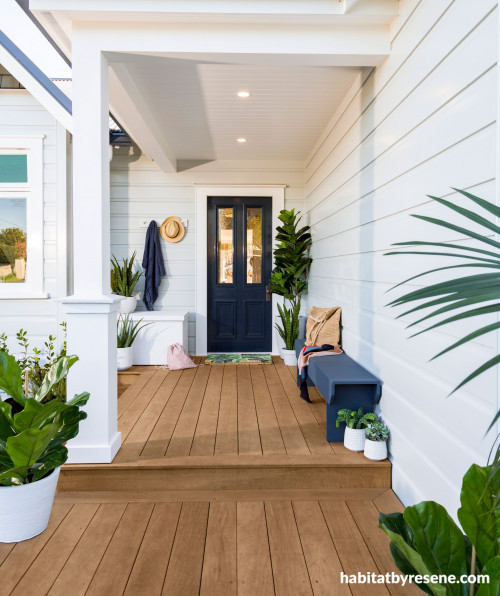 If your porch is partially closed, you might get some respite from the wet. This tonal scheme uses blues instead of neutrals, with weatherboards painted in Resene Half Periglacial Blue, accented with a Resene Blue Night door and Resene Alabaster trims. The bench is painted in Resene Coast, the storage box by the door is in Resene Poured Milk and the deck is finished in Resene Woodsman Driftwood stain.
Andrew Craigie has another great tip that can be applied at any time of the year, but it is especially helpful with managing painting time on shorter winter days. "We try and follow the sun around the house. If the sun comes up in one area, we'll start there because that will be the driest, warmest part of the house. It also means the sun's not beating down on whatever product you've just applied."
Getting your house wrapped will also enable year-round painting, mentions Andrew, but it's a choice that will obviously add to your total project cost.
Interior considerations
Things are a little easier when it comes to painting indoors in winter, though there are still some key factors to consider such as temperature and moisture, particularly in older houses.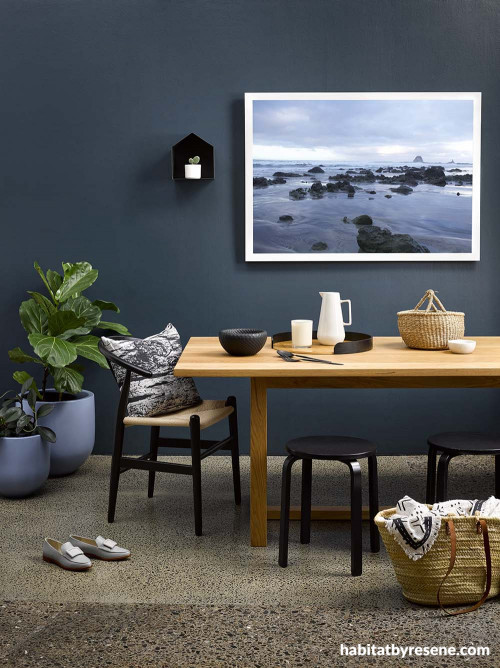 Blues with warm undertones such as Resene Coast are the perfect choice for moody winter interiors. The floor here is protected with Resene Concrete Wax, the concrete pots are painted in Resene Ship Cove, and the stools are in Resene All Black.
Condensation on windows, or 'crying windows' is one area in that can cause problems. "All that water has to run somewhere. It ends up on the windowsill and going into cracks. When it dries, it can lift the paint," says Andrew.
Both Andrew and Peter recommend running a heat pump or heater for a while before painting to get the house to an even, comfortable temperature of around 15-16°C.
"Keep the windows open for ventilation and airflow while the paint is drying, and if you have access to a dehumidifier, get that going as well to help the drying," says Peter.
Wallpapering is a popular project for the cooler months. It's easy to do with paste the wall options no matter what the weather is doing outside. Usually the hardest part is choosing your favourite design.
Smaller projects
If the day is too wet and rainy to be painting the exterior of your house, and inside doesn't require a fresh lick, it's the ideal opportunity to give a loved piece of furniture a fresh new look or some garden pots or planters a brightening up. Winter is a great season to give your smaller painting projects a go, seeing as you'll likely be spending more time indoors anyways.
The garage or covered outdoor areas are the best places to start these projects. Make sure you have a reliable drop sheet underfoot to prevent any paint from spilling onto the floor – which will also help keep your feet warm and project out of direct contact with the cold ground.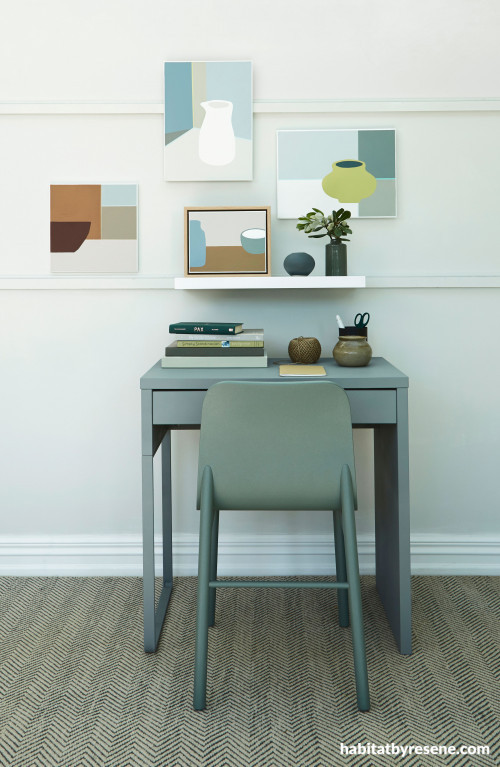 If bigger projects are out of your range this winter, smaller projects are still achievable. You might even want to challenge your inner artist and give this DIY modern art project a go using Resene testpots in Resene Half Dusted Blue, Resene Bubble N Squeak, Resene Triple Sea Fog, Resene Double Pravda, and Resene Alabaster.
Similar principles apply for painting furniture in winter as they do for painting the exterior of your house. You don't want it to be too cold, but you're not as limited to sunlight hours as you would be if you were painting your cladding, roof, trims, soffits or fence. Make sure the area in which you're doing the painting is clean, warm and dry.
Two to three coats of paint will work a treat on most upcycling jobs. For best results, choose a durable product like Resene Lustacryl semi-gloss or Resene Enamacryl gloss for furniture and Resene testpots for smaller décor items, artwork and adding painted details to larger items. Or for a velvety flat finish opt for Karen Walker Chalk Colour paints and waxes from Resene ColorShops. If your furniture has a very smooth surface, use Resene Waterborne Smooth Surface Sealer first to help your topcoats grip onto the surface.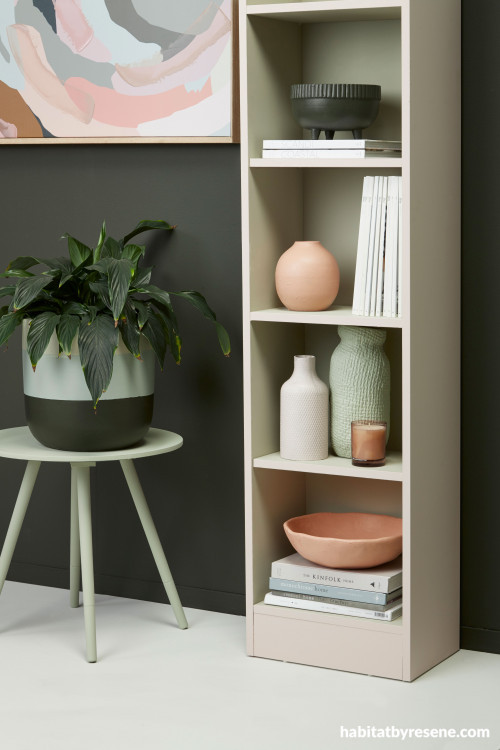 If you're transforming a piece of furniture like a bookshelf, consider using different colours on the inside and outside – or one your shelf fronts – for more interest and depth. The outside of this bookcase is in Resene Soothe, the inside is in Resene Eagle, the wall is in Resene Karaka, the floor is in Resene White Pointer, the side table is in Resene Bud, the large plant pot is in Resene Bud, Resene Pewter and Resene Karaka while the pots and vases on the shelves are in (from top to bottom) Resene Karaka, Resene Just Dance, Resene Soothe, Resene Bud and Resene Just Dance.
If you're bored or stuck for ideas, there are plenty of small projects to tackle; you could give your plain coffee table a glamourous upgrade, transform your bedside table with an ombre paint effect, get creative with a painted toy crate, make your own painted woven basket gallery wall or simply give your potted plants a colourful new look.
Prep and plan for summer
If the cooler, wetter weather really has given you the winter blues and you're feeling like getting out the paintbrush right now is not really your thing, don't despair because there's plenty of prep and planning to do for painting in the warmer months.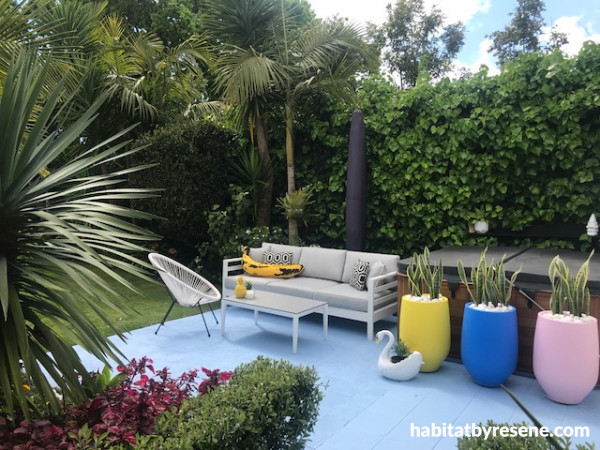 If you have a big paint project in mind, it might make more sense to plan now and paint later in the year. This colourful patio was inspired by a visit to Bali. It features pots painted in Resene Princess (pink), Resene Half Turbo (yellow), Resene Mariner (blue) and pavers in Resene Polo Blue.
In fact, if you have a bigger project on the horizon, now is the perfect time to get everything sorted and actually have some fun with the planning. You'll have the luxury to take your time choosing your colour palette – and if you're having trouble, visit a Resene ColorShop for some advice or book a virtual colour consultation with a Resene Colour Consultant.
When you're narrowing down your colour options, make sure you test them out first with a Resene testpot. Using its entire contents, paint two coats over an A2 size card but leave a white border around the edge. Then, leaning it against each wall you're planning to paint it on. Be sure to move the card around at different times of the day and evening to see how the light affects the colour before you settle on your final selection.
If you're doing the prep yourself, plan out the prep needed and do a set amount each day with your music turned up or with a handy helper to get the prep done faster. A little prep done often is usually easier to fit into most people's schedule and it's surprising how fast you can be ready to paint.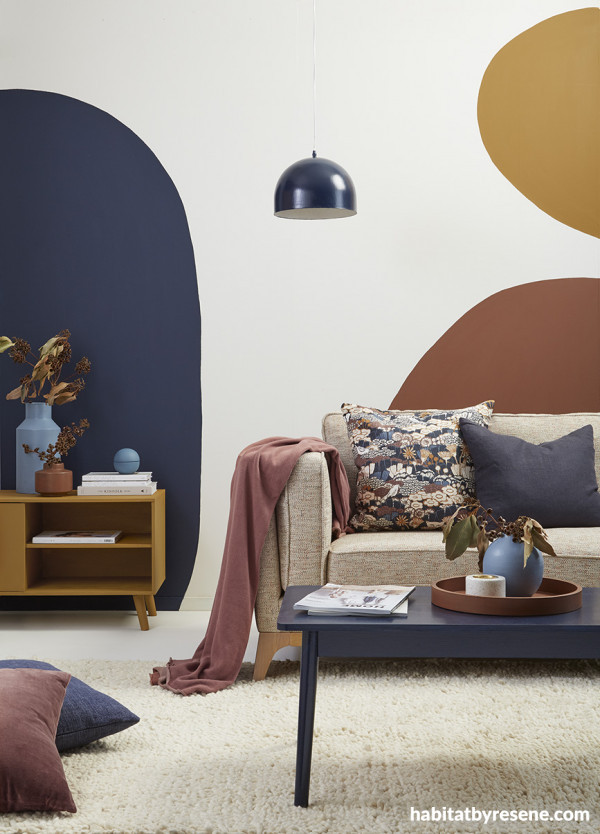 Ensure your chosen Resene colours work well together by testing them out on A2 swatches first. This room is painted in Resene Merino on the wall with small wall circle (top right) in Resene Swiss Caramel, large wall circle (left) in Resene Indian Ink and corner wall circle (bottom right) in Resene Route 66. Pendant lamp and coffee table in Resene Indian Ink, tray in Resene Route 66, round vase (on coffee table) and tall vase (on sideboard) in Resene Excalibur, round cork tealight holder in Resene Merino, sideboard in Resene Swiss Caramel with small vase on top in Resene Route 66. Sofa and rug from Freedom Furniture, cushions and throw from Citta.
This is also a great time to book in a painter for the coming months or, if you're doing the painting yourself, pick up all your supplies and ensure you have everything ready to go when the sun starts to shine again.
images Paul Broben, Bryce Carleton, Garry Cullen, Erina Emery
styling/design Kate Alexander, Amber Armitage, Greer Clayton, Gary Cullen, Vanessa Nouwens, Emily Somerville-Ryan
Published: 01 Jul 2020
Do you have a home full of wonderful Resene paint and colour? Send us some snaps by emailing [email protected].