►
◄
latest
habitat tv
blog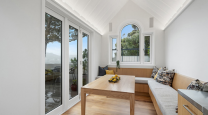 Master Builders' Chief Executive David Kelly shares his tips for building in the challenging climate.

Planning... more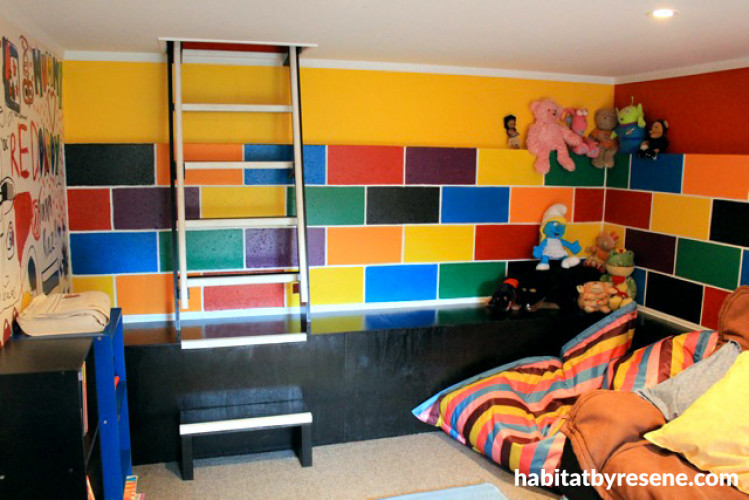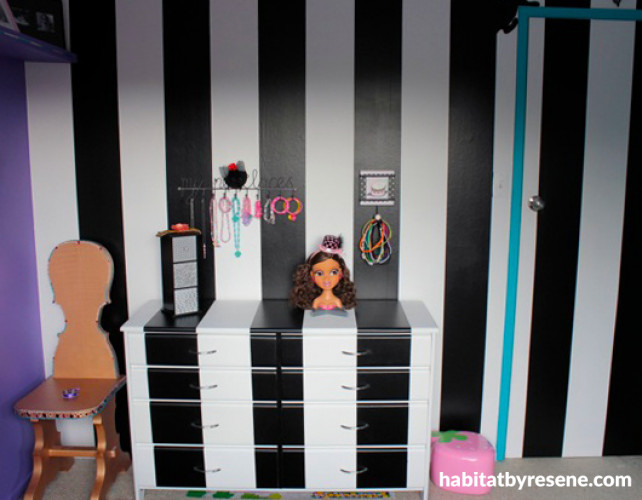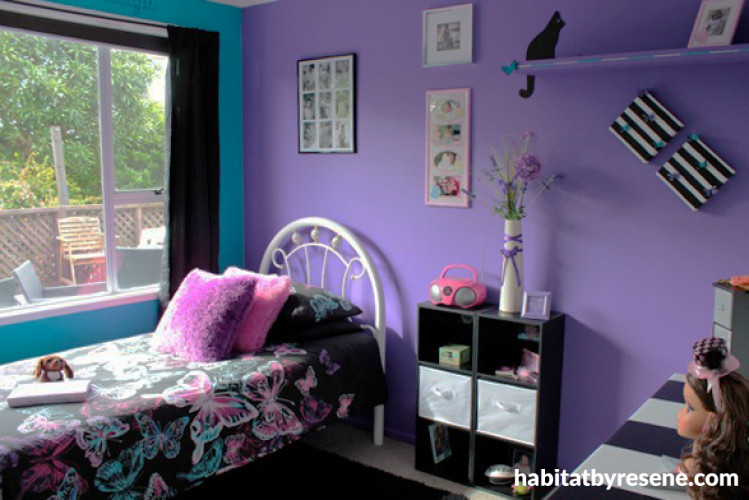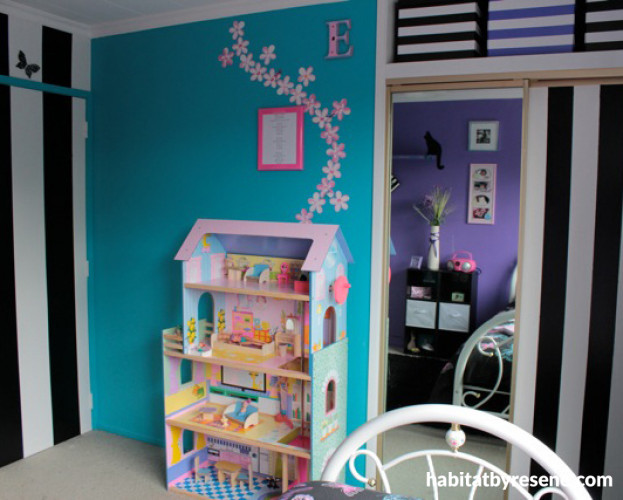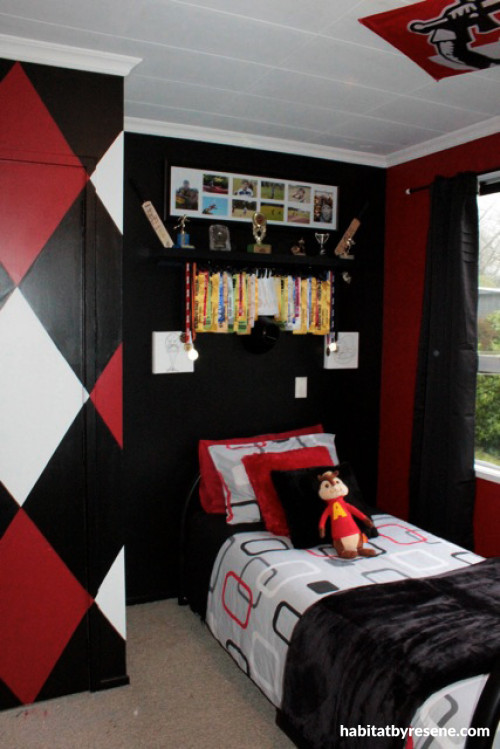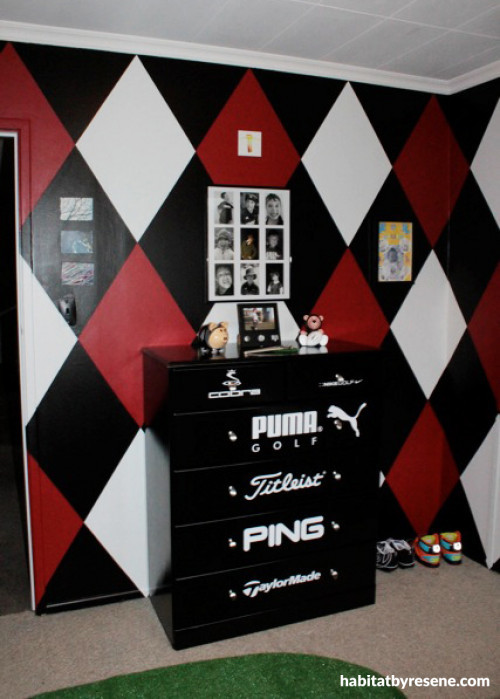 These are two lucky kids
The kids were in for a treat when parents Carrie and Bryn Plimmer inherited money from a relative – both getting a colourful bedroom makeover and a fun playroom to boot.
The whole family and their friends mucked in to paint the playroom, a rainbow of Resene colour. In contrast, the bedrooms show off Carrie's love of black and white, with splashes of colour inspired by daughter Ellex's penchant for purple and son Dillin's happy place – the golf course. With the use of Resene paints, Carrie shows us a decor scheme that bends to the whims of both young and old.

What inspired the colour choices for your daughter's room?

I decided to give Ellex a room that will work for her at this young age, and for when she becomes a tween. I love black and white and pinstripes, so decided to paint her a pinstripe feature wall with drawers painted in the same effect. To add some colour, Ellex picked out purple for one of the walls (painted in Resene Studio) and a Resene colour consultant helped me choose the blue, Resene Pelorous – they look awesome together.

What is your advice for someone trying to achieve a similar look?

Think outside the box. Kids love bright – ask your kids what colours they like, experiment with colours that you like yourself, and put them together. You'll be surprised with what comes up.

What was the biggest challenge for this project?

Preparing and measuring walls before painting the colour was the biggest task, especially with Dillin's wall and around the door frames in his bedroom – we learnt that taking our time led to good results. There's no need to rush.

Do you and your children have a favourite colour, and if so why is it your favourite?
My favourite colour is black and white; I love to wear it and it looks good on everything. Dillin loves red – he's a Manchester United and Canterbury Crusaders fan. And Ellex is a girly-girl and loves purple, a colour she chooses over pink.
Published: 21 Aug 2014
Do you have a home full of wonderful Resene paint and colour? Send us some snaps by emailing [email protected].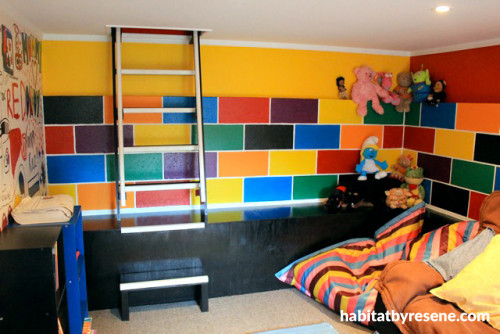 A trapdoor ladder from Dillin's bedroom wardrobe shoots into the kids' playroom, where colourful brickwork and fun toys await. The upper part of the wall is painted in Resene Lightning Yellow, and bench is in black Resene Nero. The coloured 'bricks' are in a variety of Resene testpots.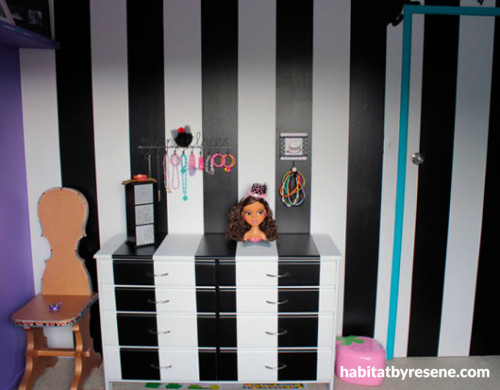 Carrie loves black and white, so painted pinstripes in Resene Black and Resene Half Sea Fog for the feature wall and drawers in daughter Ellex's bedroom.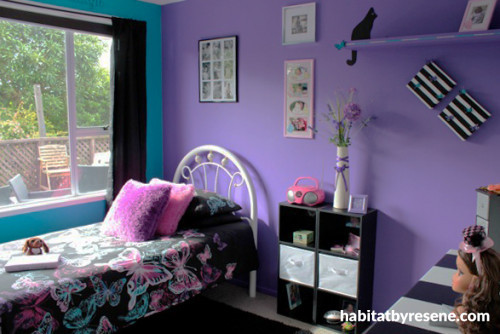 While Ellex likes all colours, she's a 'girly-girl' at heart and loves purple. Her bedhead wall is painted with Resene Studio (purple) and remaining walls in Resene Pelorous (blue).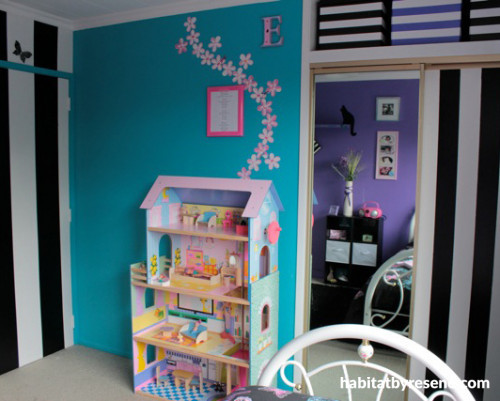 All three colour schemes come together to create a room that Carrie hopes Ellex will love all the way through to her tweens. Resene Pelorous is the blue, the purple is Resene Studio and the stripes are in Resene Black and Resene Half Sea Fog.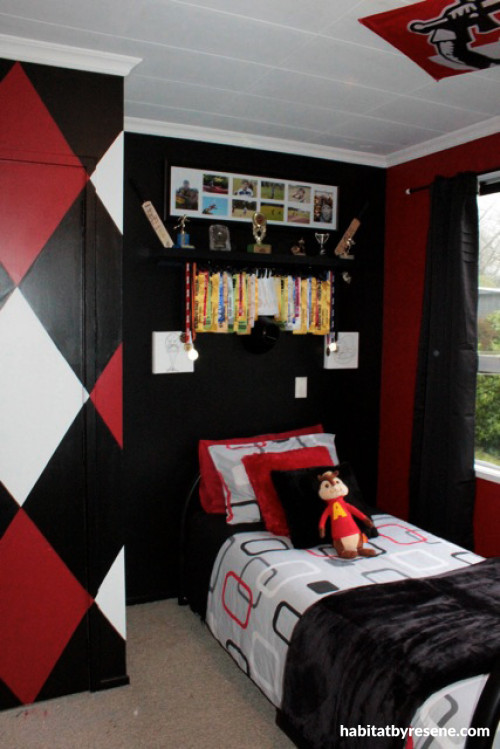 It took a little over four hours to tape the lines for Dillin's bedroom feature wall. Carrie says the playful argyle pattern was fun to make but took a lot of concentrating. She used Resene Hot Chile (red), Resene Black and Resene Half Sea Fog.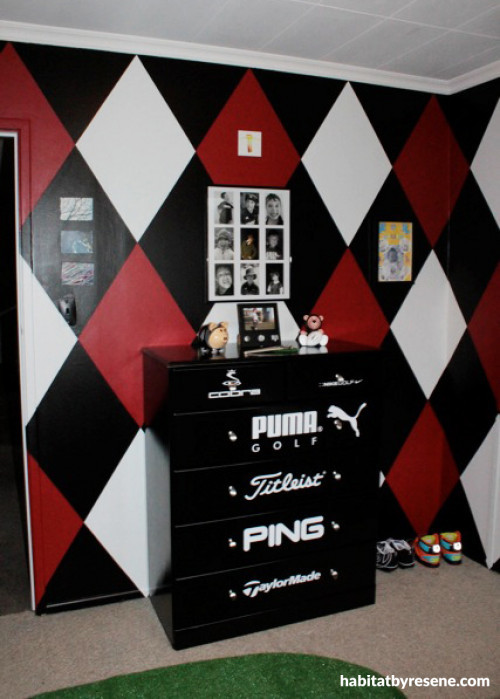 The bedroom is based on a golf theme due to Dillin's love of the game, with a putting green carpet and drawers decorated with popular sport sponsors' logos. The colours are Resene Hot Chile (red), Resene Black and Resene Half Sea Fog.
the look
If you're stuck on what
colour to use or need colour
advice, try out the Resene
Ask a Colour Expert service.