►
◄
latest
habitat tv
blog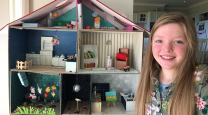 These colour ideas will have your home fit for royalty – from jewel tones to purple reign
Give your home the royal treatment this long weekend. Embrace your inner king or queen and pamper yourself with a room painted in royal colours. Resene has a rich range of royal blues, emerald greens and lavish purples that will add a hint of luxury to your interior style.
Queen's Birthday weekend isn't just a time to celebrate an extra day off. It can also be a time to embrace the sumptuous palatial styles that have trickled into our homes over the years. With three days up your sleeve and 1200 years of historic colour palettes to draw inspiration from, head to your nearest Resene ColorShop and get painting.
Purple reign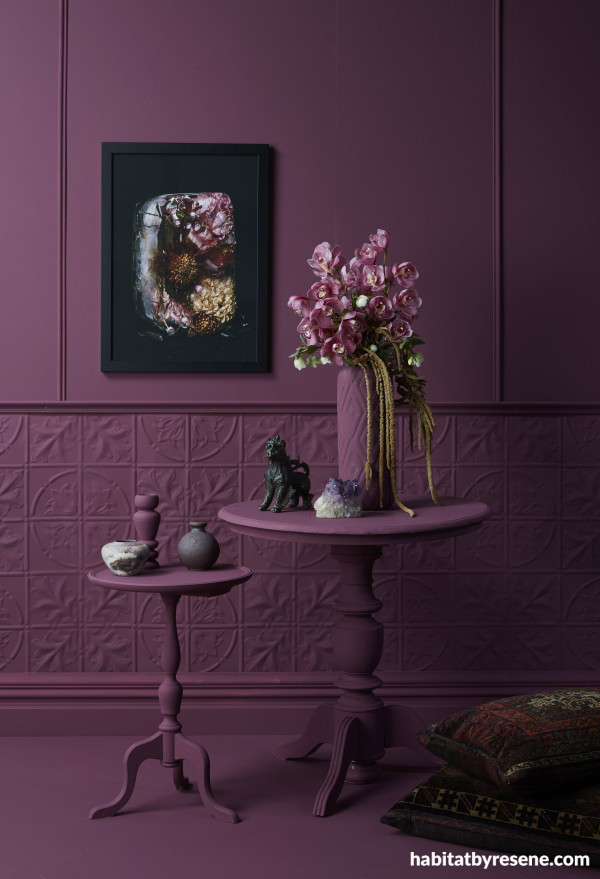 This perfectly purple room uses rich Resene Virtuoso for the tables, wall and floor. Ice Flower XXV Photographic art by Maegan McDowell from endemic world. Project by Lisa Morton. Image by Bryce Carleton.
Using royal purple will have your home dripping with elegance. The colour purple reached royal status in ancient times when purple dye, known as Tyrian purple, was created using pigment from a special species of sea snail. Purple materials were incredibly hard to obtain so they naturally became the coveted colour of wealthy royals. Luckily purple is much easier to achieve in modern times and Resene's range of purples come in a variety of shades, making it easy to match your choice of purple with your pre-existing décor and wall colours. Deep purples, such as Resene Blue Diamond, can create a rich, peaceful space. Fruity purples, such as Resene Plum and Resene Blackcurrant, make great accent colours in a room with a neutral colour palette or a hint of yellow. Start small, painting tables or door frames in deep purple for a refined look. Alternatively, try a gallery wall in a deep Resene Violent Violet. The darker colour will recess into the background and help your vibrant artwork to pop on the wall.
Good as gold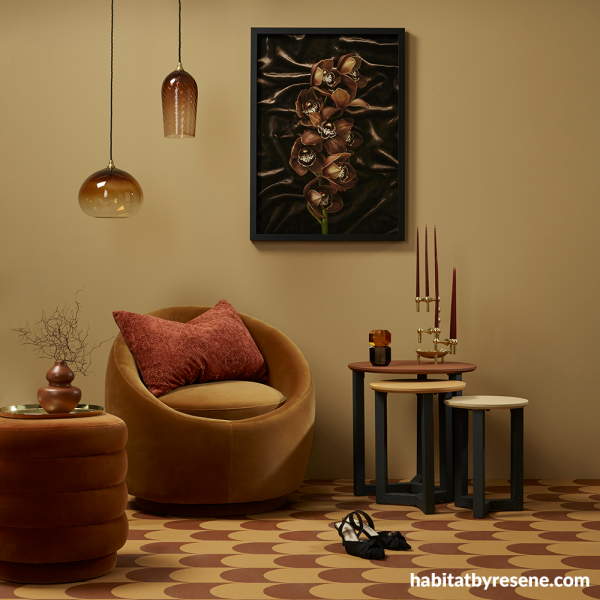 A gold wall is a great way to create an elegant atmosphere in your living space. This wall is in Resene Gold Coast, with a patterned floor in Resene Pendragon and Resene Hairy Heath. The nesting tables (from left to right) are in Resene Hairy Heath, Resene Pendragon and Resene Gold Coast with legs in Resene Noir. Project by Melle Van Sambeek. Image by Bryce Carleton.
Gold is associated with prosperity, luxury and of course royalty. Gold forms the base of most of the crown jewels including one of the most popular pieces, St. Edward's Crown, that contains nearly three kilograms of gold. Try using gold as the foundation for a luxury parlour or living room. Gold provides a warm, vibrant atmosphere and can be muted to create a more traditional space. Try painting a wall in Resene Pirate Gold; a deep ochre, or a more spirited ochre; Resene Gold Coast. Warm brown and gold provide a dynamic duo that will warm up a living room or entranceway. When dealing with strong colours such as gold on your walls, keep other elements and colours to a minimum to avoid overwhelming the space. For an alternative approach, try adding warmth and shine by painting your décor in Resene Metallic Gold.
Into the blue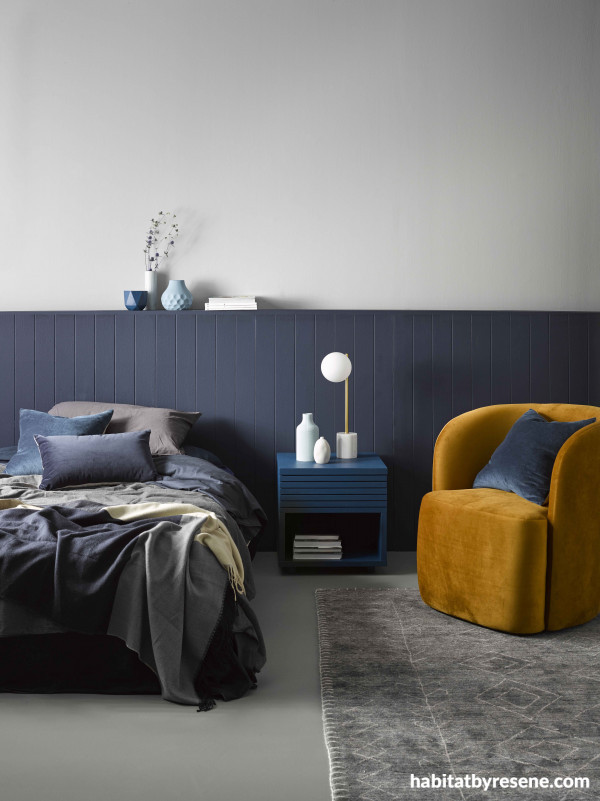 The dark tongue-and-groove panelling gives this room a royal revamp in Resene Indian Ink. The wall is in Resene Quarter Emerge and the floor is in a moody Resene Half Chicago. The side table is in Resene Wishing Well. Project by Claudia Kozub. Image by Melanie Jenkins.
The name royal blue was first coined in the early 1800s when the colour was created during a dress-making competition for Queen Charlotte. Blue has more recently been associated with the royals through the sapphires in the Duchess of Cambridge's engagement ring (formerly Princess Diana's ring) and the Imperial State Crown. From the ever-popular Resene Duck Egg Blue to the elegant and traditional Resene Aviator, blue continues to provide one of the most versatile colour palettes. Deep, dark blues provide a peaceful atmosphere and work well in bedrooms. For a modern look, pair a wall in Resene Aviator with décor in a crisp white, such as Resene Alabaster. If you're after a more traditional space, incorporate accents of gold and silver through lamps and vases of dried flowers. The brown hues in the dried flowers will act as an intermediary between your deep blues and bright golds.
Paint the room red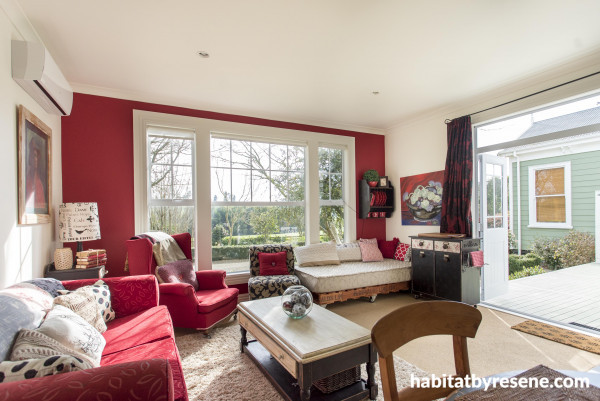 Homeowners Marc and Maria went for a cosy French country style when they gave their lounge a splash of Resene Red Berry. The surrounding walls and trim are in Resene Bianca.
As an integral part of the union jack, red colours the cross of St George on the English, New Zealand and Australian flags. But red isn't just patriotic; it's also a vibrant expression of personality and can help you embrace yours within your home. Red, typically associated with power, can also represent a richness of character and can add a luxurious twist to your interior spaces. Bright reds such as Resene Red Berry or Resene Jalapeno can energise a room but use them with caution. Using too much of a bright red can cause overstimulation. Try a red feature wall with a clean white trim and surrounding walls in Resene Black White. Deeper reds, such as Resene Salsa, are perfect for bringing a cosy yet elegant feel to smaller rooms.
Gracefully green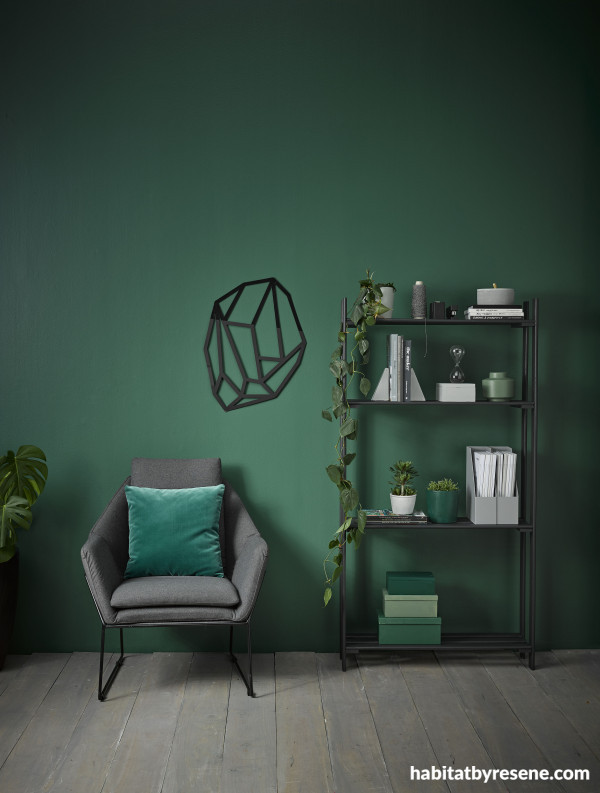 A sumptuous room in Resene Mother Nature takes the emerald green colour palette to a whole new level. The floor is in Resene Colorwood Greywash and the bookshelf is in Resene Noir. Project by Vanessa Nouwens. Image by Melanie Jenkins.
A constant in the crown jewels featuring in tiaras worn by Queen Victoria and more recently Princess Eugenie on her wedding day, emeralds have inspired deep green interiors for generations. Emerald greens such as Resene Mother Nature or Resene Timber Green have the capability to transform a simple guestroom or dining space into an elegant feature. Resene Timber Green is a traditional palm green that is powerful and intense. Deeper greens darken a space and work best in rooms that have an abundance of natural light. When it comes to emerald greens, a little goes a long way and you can create a dazzling emerald room with green accents alone. You don't have to limit your use of green to the walls; try staining your floorboards in Resene Colorwood Emerald Green. Resene Colorwood Emerald Green is a blue green jewel that is rich, vibrant, and perfect for an elegant conservatory. This wood stain finish adds colour to your timber whilst still allowing the natural wood grain to show through. Pair a floor in Resene Colorwood Emerald Green with flowerpots painted in Resene Planter and a wicker chair for a cosy, natural reading nook.
Published: 03 Jun 2021
Do you have a home full of wonderful Resene paint and colour? Send us some snaps by emailing [email protected].