►
◄
latest
habitat tv
blog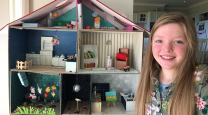 These design pros tell us which three Resene colours they're crushing on
As we enter a new season, it's natural to want to change things up around the home. What better than a new colour scheme to freshen up your bedroom or living area?
Feeling inspired, we asked three design experts for their current colour crushes from the Resene Multi-finish range. From a smoky grey-blue to sandalwood pink, here's what they shared with us.
Shayden Whipps of Mooch Style is crushing on earthy hues, paired with sophisticated neutrals:
"I've always been a fan of earthy tones, especially those that can affect your mood. Resene has a great range of colours that do just that and I'm on a mission to use them wherever I can."
My current colour crushes are Resene Bitter, Resene Sunbaked and Resene Double Sisal.
I'd stay neutral when pairing these colours, so that they blend rather than punch. Use hues such as Resene Napa, Resene Truffle and Resene Triple Black White. I'm a Resene Black White man through and through. I've used it in my own home and it's the perfect base to build up from.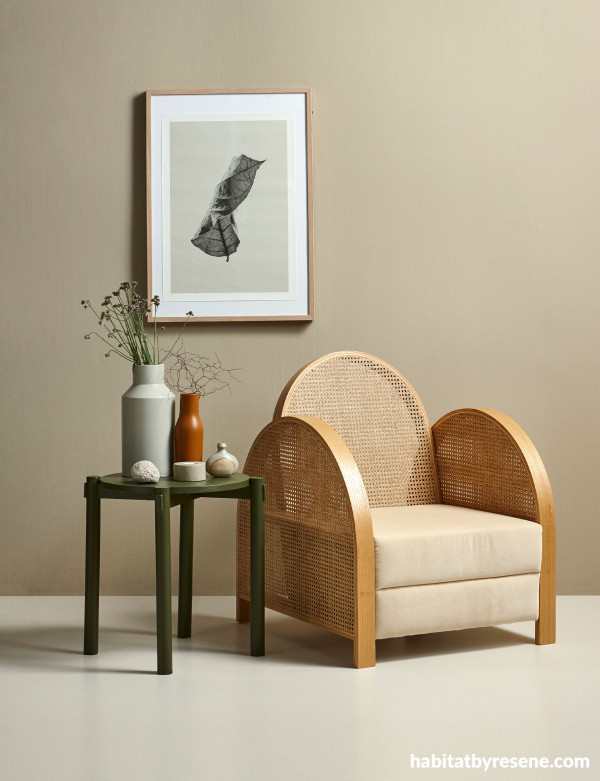 Soft greens and beiges make a soothing neutral space feel warm and welcoming. Resene Double Sisal on the wall and Resene Parchment on the floor are the perfect backdrop to gentle pops of moss green, such as Resene Scrub, on the side table, spicy mustard brown and velvety grey, such as Resene Korma (right) and Resene Triple Ash (left) on the vases. Chair from Douglas and Bec and print from Paper Plane.
These colours are great for accenting. I can see them on a feature in a playful feature kid's bedroom, adding character to a dining space or study nook, or even on upcycling projects like painting old pots and wooden furniture.
Did you know… that if you're crushing on a certain colour (whether it be in nature or on a favourite dress) that you'd love to use in a paint project, there's a quick way to match it to a Resene colour online? Simply take a photograph, upload it to Resene ColourMatch online, and it will find the closest Resene colours. Try it for yourself at www.resene.com/colourmatch.
Emma Adkins and Georgia Hay of Sample Workshop have their eyes on these contemporary Resene shades:

We are crushing on Resene Rhino, Resene Brandy Rose and Resene Half Linen.
Resene Rhino is complex and full of depth. By being bold with colour, you can drastically transform your uninspiring home office into an elegant, intimate space by painting your walls in Resene Rhino.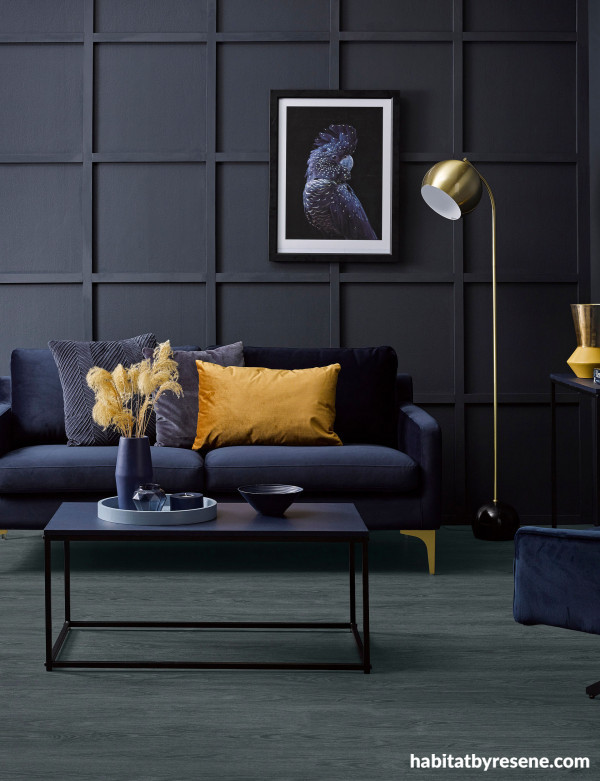 Resene Rhino is a lovely smoky grey blue, it pairs effortlessly with even darker shades of blue, such as Resene Indian Ink (on the coffee table) and pops with golden mustards like Resene Cleopatra on the vase (at right) and cushion and leathery tans like Resene Papier Mache. Sofa from Me & My Trend, lamp from Freedom Furniture and print from Kmart.
Pair Resene Rhino with a Resene Quarter Truffle ceiling and earthy accents, such as Resene Papier Mache. For those that would like a brighter room, we suggest painting your walls in Resene Truffle and use Resene Rhino as a feature wall and/or for painted cabinetry.
Resene Brandy Rose has the ability to walk the fine line between being a feminine and masculine colour. Whether your home is contemporary or classic, the sophistication of Resene Brandy Rose will make a gorgeous feature wall.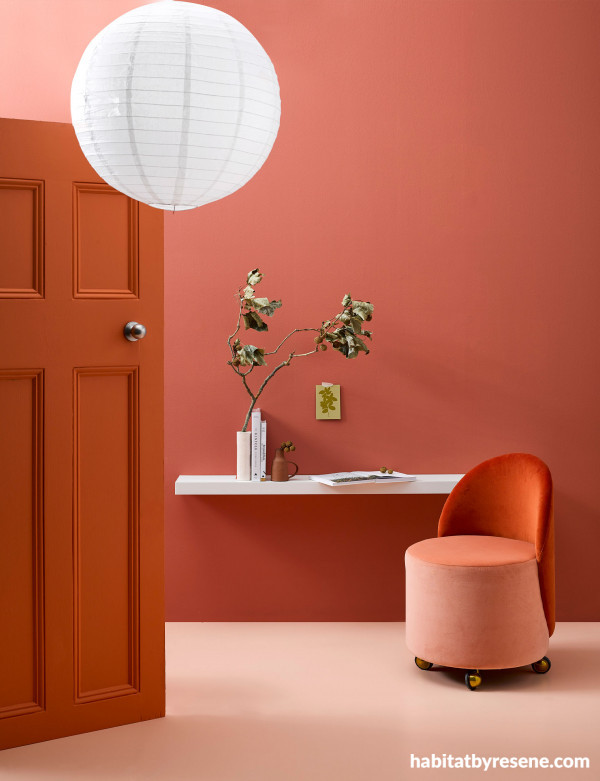 Resene Brandy Rose is a mild sandalwood pink, when paired with a warm terracotta like Resene Crail it creates a rosy tonal look. In this entrance, the redder terracotta of Resene Apple Blossom on the wall, the soft apricot rose of Resene Wax Flower on the floor and Resene Sebedee on the door create a similar tone-on-tone look. Chair from Douglas and Bec, paper shade from Wah Lee Co.
Pair your Resene Brandy Rose feature with a moody wall colour like Resene Tide and a light Resene Eighth Tea ceiling. Accent your space with saturated colours such as Resene Crail.
Our favourite neutral right now is Resene Linen, particularly in half and quarter strengths. Resene Linen has a subtle green undertone, which makes it a great neutral for those who can't decide between cool blues, greens and warm browns. Painting walls in Resene Half Linen and ceilings in Resene Quarter Linen creates a universal canvas with flexibility, enabling you to cohesively layer accents over an open plan space.
We suggest pairing Resene Linen with a Resene Pewter feature wall and accents of Resene Coral and Resene Green Meets Blue for a lively and contemporary look.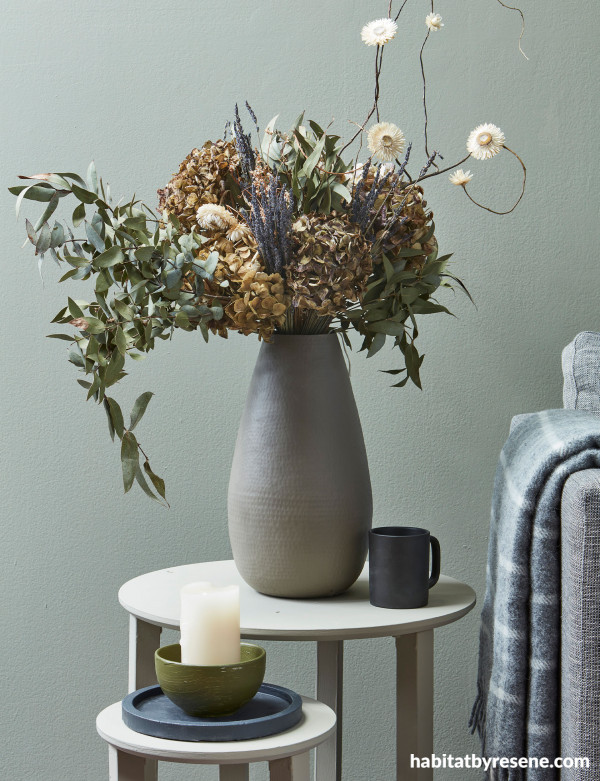 The soft grey green of Resene Pewter makes it the perfect candidate for a wall colour – especially in restful spaces. Warm beige, like Resene Coral (similar to the dusty hues in the dried hydrangea) is a balancing mid-tone next to Resene Poured Milk on the nesting tables. Pops of green such as Resene Waiouru on the round bowl and smoky blue on the plate in Resene Bermuda Grey, echo this earthy, calming vibe. Sofa from Freedom Furniture, throw from Paper Plane and dried arrangement from Mark Antonia.
From the perfect neutral to a versatile dusky green, here are the picks from Resene colour consultant Brooke Calvert:

I am obsessing over Resene Rivergum, Resene White Pointer and Resene Just Dance.
Resene White Pointer is a great neutral white that can be used for a main wall colour through an interior or exterior. Resene Rivergum and Resene Just Dance can be used as a single colour on all walls within a space or added as a feature colour to walls, furniture or accessories. Pair them with blonde timber tones and woven textures for a light and breezy contemporary feel.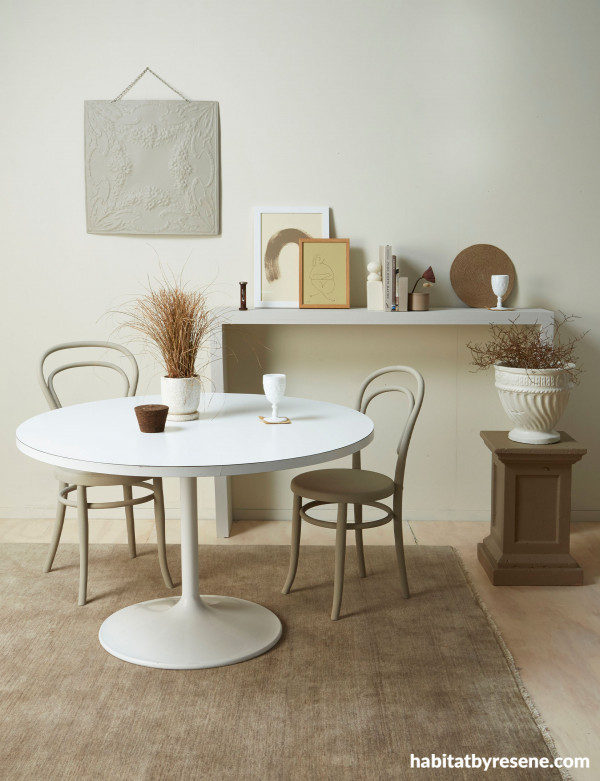 Resene Half Spanish White is another versatile neutral to be used throughout an interior or exterior. It has a warmer, creamier tone than the stark off-white of Resene White Pointer. In this room the softer neutral shades of Resene Half Spanish White (on the pot plant), Resene Artisan (on the neo-classical plant stand), Resene Napa (on the chairs) and Resene Eighth Stonewashed (on the sideboard) are given a fresh revive with the bright white on the table, similar to Resene Alabaster. Rug from The Ivy House and prints from Endemic World.
If you prefer a layered neutral look, Resene White Pointer is the perfect backdrop to use throughout your interior. It works well when teamed with greys, warm tones and grey/browns. It provides more depth to your walls than a stark white. Try with fresh whites like Resene Double Alabaster and introduce soft linen and timbers to complete the look.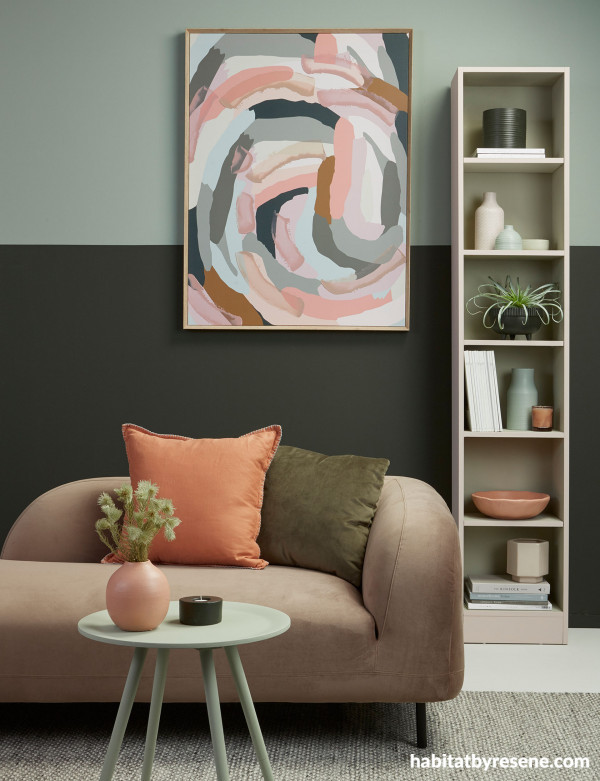 Resene Rivergum is a beautiful mid-grey green. Other hues in this colour tone that can be used alongside it for a tonal look are the softer hue of Resene Pewter (top half of the wall) and the muddier green of Resene Karaka (bottom half of the wall). Resene Bud on the coffee table and Resene Soothe on the bookshelf provide neutral highlights and accessories in Resene Just Dance provide a pop of warm pink. Rug from Freedom Furniture, artwork and sofa from Shut the Front Door.
I love how versatile Resene Rivergum is – it's a colour that works well with both warm and cool colours. For an on-trend look, accessorise with blushes like Resene Shabby Chic and terracotta oranges like Resene Sunbaked, paired with soft timbers and green indoor plants.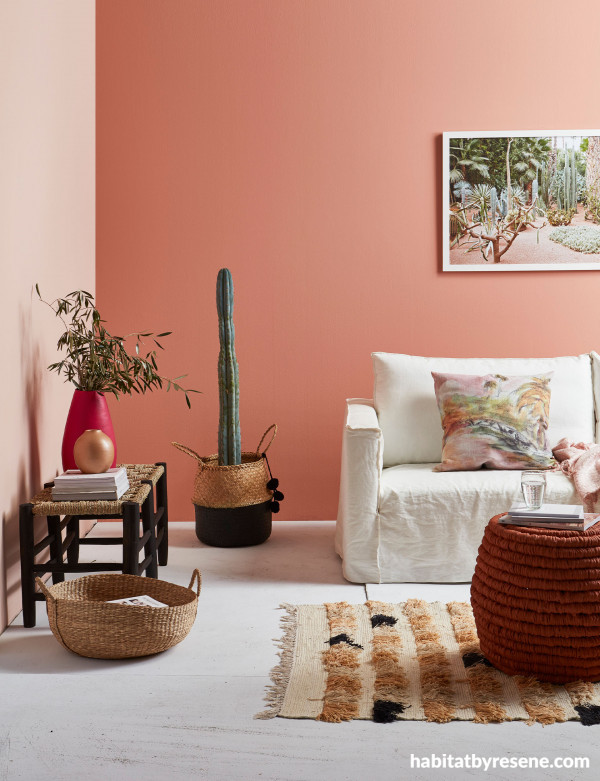 Resene Just Dance pops as a feature wall in this desert-chic lounge. When paired with a more muted pink, Resene Sorbet (far left wall), and a warm white on the floor (Resene Poured Milk), it's not too overpowering. The round jute coffee table painted in Resene Sunbaked and the vases painted in Resene Irresistible (tall) and Resene Rose Gold (small) contribute to the warm vibrancy of this desert sunset palette. Sofa from Soren Liv, rug from Republic Home, Cactus Print by Amber Armitage and basket from Indie Home Collective.
If you are looking for a colour that's going to create an earthy calm feeling to your space but a little less ordinary, Resene Just Dance fits the bill. Paired with rich greens like Resene Waiouru and gentle tones of apricot with Resene Soulful, accessorise with a touch of brass and cane furniture for a space steeped in warmth.
Need more help choosing the right hues for your home? Now you can get help without leaving the comfort of your home with a Resene Colour Expert, who can provide advice virtually! Simply book online at www.resene.com/colourconsultant and a Resene Colour Expert will get in touch with you for your colour appointment to assist with paint colours, wood stain colours and even wallpapers.
styling Gem Adams, Kate Alexander, Claudia Kozub, Vanessa Nouwens
images Bryce Carleton, Wendy Fenwick, Melanie Jenkins
Published: 15 Jun 2020
Do you have a home full of wonderful Resene paint and colour? Send us some snaps by emailing [email protected].