►
◄
latest
habitat tv
blog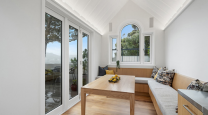 Master Builders' Chief Executive David Kelly shares his tips for building in the challenging climate.

Planning... more
These eight mini mural ideas will transform your walls
If you're wanting to make a statement in your space, lending an ear to the old adage 'a little goes a long way' could be just the ticket. For those with larger open plan spaces, painting a full wall in a contrasting colour might not be an option on the table. Instead, try creating a 'mini mural' – one of the hottest trending ways to create a unique look and define a smaller area within a greater space.
From small and intricate designs to larger geometric or abstract shapes, the options are virtually endless when it comes to bringing some artistic licence to your walls with paint. No matter what design you choose, it's always a good idea to mark out your plan on paper before you start, and mock-up your colours with Resene testpots on a large piece of card to ensure your palette goes well together. Take a look at these mini mural ideas below for quick-and-easy ways to create maximum impact through colour and pattern.
Artfully placed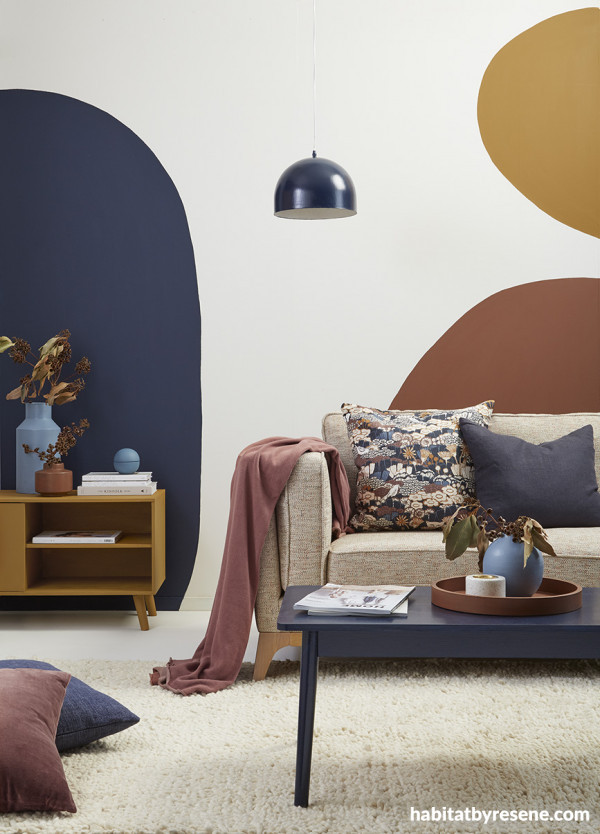 Allow an abstract mural design to delineate an area in an open plan space. This room is painted in Resene Merino on the wall with small wall circle (top right) in Resene Swiss Caramel, large wall circle (left) in Resene Indian Ink and corner wall circle (bottom right) in Resene Route 66. Pendant lamp and coffee table in Resene Indian Ink, tray in Resene Route 66, round vase (on coffee table) and tall vase (on sideboard) in Resene Excalibur, round cork tealight holder in Resene Merino, sideboard in Resene Swiss Caramel with small vase on top in Resene Route 66. Sofa and rug from Freedom Furniture, cushions and throw from Citta.
In an open plan space, defining task-specific areas can be particularly tricky. So, instead of erecting physical barriers like walls, a mini mural can help provide definition between areas. In a lounge nook that craves cosiness, comfort and splashes of colour, an abstract mural in warming hues is an ideal solution. Draw from colours already in the room, or from a specific item in the room. We've used Resene Indian Ink, Resene Route 66 and Resene Swiss Caramel on this wall to tie in with the colours found on a statement cushion. Because these three blocks of colour are quite dominating in the small space, keep other larger items in the room – the couch, floor, ceiling and rest of the wall – neutral in Resene Merino. Remember to try your colours together before painting them on the wall with Resene testpots painted on A2 card. When it comes time to get stuck in, you'll need a high-quality painter's brush – one with plenty of soft bristles – to get your lines nice and smooth.
Pots on the walls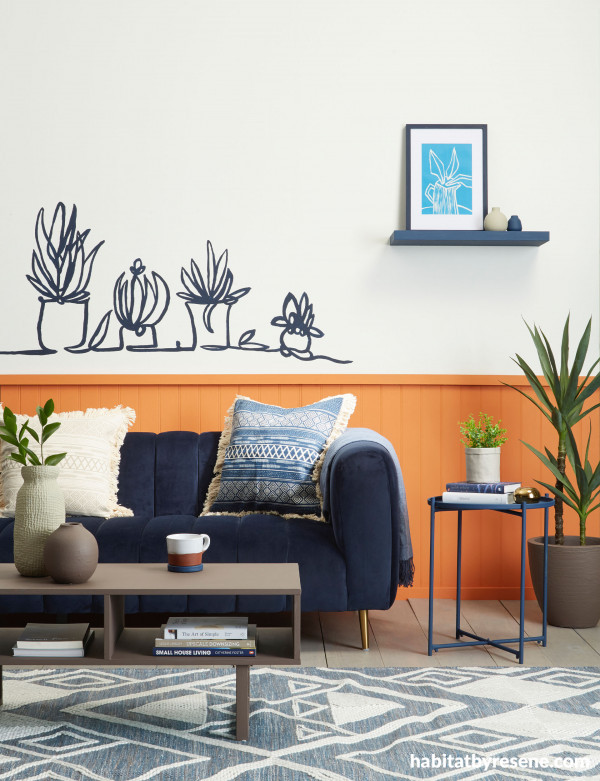 This wall is painted in Resene Rice Cake and the fun pot plant mural is painted in Resene Midnight Express. The tongue-and-groove panelling provides a pop of colour with Resene Smoke Tree. The floor is stained in Resene Colorwood Mid Greywash timber stain, the shelf, side table and coaster are in Resene Bunting, the coffee table and round vase in Resene Felix, the tall woven vase is in Resene Grey Olive and tiny bud vases are in Resene Grey Olive and Resene Bunting. Sofa from Nood, cushions and throw from H&M and un-killable faux plants from Freedom Furniture
Whether you're a proper plant lady or lad, or simply wish you had a green thumb, there is no wilting or overwatering this succulent-inspired mini mural. Created with a continuous line in Resene Midnight Express, this wall in Resene Rice Cake with tongue-and-groove panelling in Resene Smoke Tree has been completely brought to life. The succulent mural stands out nicely and even with the bright orange hue of Resene Smoke Tree below, it manages to be the feature that draws the eye in the room.
Practice definitely makes perfect when it comes to this mural. Getting your continuous line, well, continuous, requires a carefully planned design and a steady hand. Work it out on paper first and then lightly trace it onto the wall when you're certain you've got the proportions right. When you're painting it onto the wall, take your time and use a smaller paint brush to get clean, thin lines.
Take the whole look a step further by making a companion piece of artwork using Resene testpots and a similar drawing technique. For ours, we used Resene Mariner and Resene Alabaster in a frame painted in Resene Midnight Express.
Art without a frame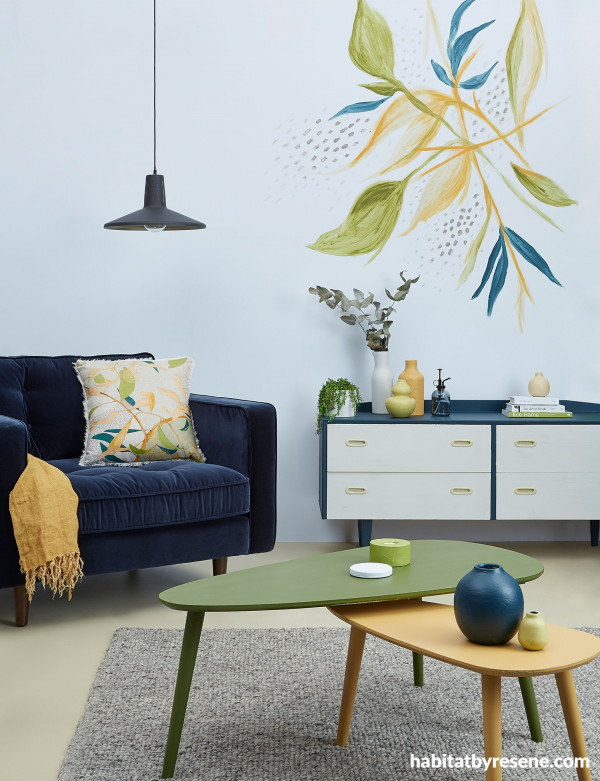 Resene Solitude is the perfect base colour for this painterly art-inspired mural. It's been created with Resene FX Paint Effects mixed with Resene Tussock, Resene Saratoga, Resene Elephant, Resene Pirate Gold, Resene Calico, Resene Cobblestone and Resene Bubble White. The floor is in Resene Chino, the sideboard is in Resene Elephant with drawers in Resene Half Copyrite and handles in Resene Chino, the nesting tables are in Resene Saratoga and Resene Tussock, and the accessories feature in Resene Half Copyrite, Resene Calico, Resene Elephant, Resene Kombi, Resene Solitude, Resene Tussock and Resene Gimblet. Chair and pendant lamp from Freedom Furniture, cushion and throw from Adairs.
If you haven't found the perfect piece of art to don your wall, a mini mural is the ideal solution. Search for inspiration from within the room, or in pieces you'd like to put in the room. This painterly mini mural was inspired by the cushion on the blue velvet chair. Using Resene FX Paint Effects Medium mixed with Resene Tussock, Resene Saratoga, Resene Elephant, Resene Pirate Gold, Resene Calico, Resene Cobblestone and Resene Bubble White, a watercolour-like effect has brought this room-defining art piece to life.
The key to nailing this style of mini mural is not to overthink your brushstrokes. Keep movements soft and fluid and work up your layers. Use a high-quality painter's brush for the main piece and then add in the finer details with a small flat artist's brush. Before you start painting your masterpiece straight onto the wall, mock it up on a large piece of paper first and try it out in different placements around the room to ensure you've got it in the best orientation.
This look is pulled together by introducing the colours in the mural throughout the whole room too. In this room, the mustard yellow of Resene Tussock is repeated on one of the nesting tables and again in some accessories on the side table. Resene Saratoga, a burnt lime green, features on the larger nesting table, while Resene Elephant gets picked up on the side table, round vase and arm chair.
Look beyond the walls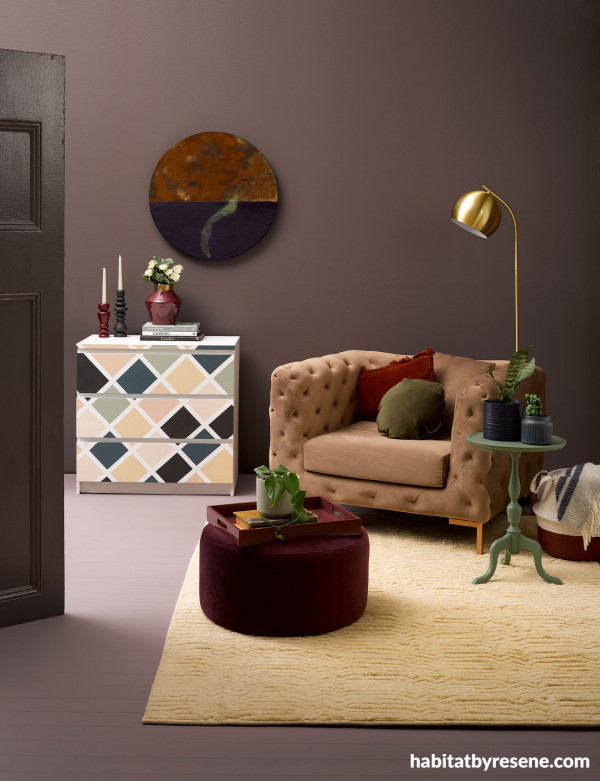 Take your mini murals from the wall to your furniture. The chest of drawers in Resene Alabaster has been made the focal point of the room with a painted harlequin pattern in Resene Despacito, Resene Peace, Resene Safehaven, Resene Shabby Chic, Resene Porter and Resene Crowdpleaser. By painting these same hues onto accessories, furniture and accents in other areas of the room, it makes the space feel cohesive rather than busy; the side table is Resene Rivergum, the tray is Resene Courage, the candlesticks are in Resene Courage (left) and Resene Noir (right) and the plant pots are Resene Indian Ink (left) and Resene Safehaven (right).The wall is in Resene Rocky Mountain, the floor is in Resene Sixth Sense and the door is in Resene Thunder Road.
A mini mural doesn't have to be relegated to your walls. In fact, giving old furniture an uplifting new colour and design can help totally transform a space. This design is simple to pull off, and incredibly effective. You'll need to start off by sanding off the old paint and wiping it clean. Or for smooth surfaces, clean then apply Resene Waterborne Smooth Surface Sealer to help the paint stick. Follow this with your base coat, we used Resene Alabaster, and after it's completely dry mark up your shapes with masking tape. Carefully paint each shape one at a time and when it's dry, pull the masking tape off.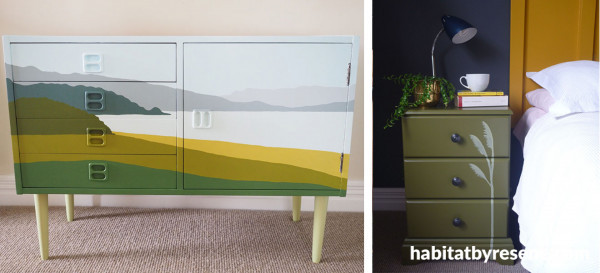 A sideboard is transformed with a beautiful hand painted landscape mural using Resene Onahau (sky), Resene Half Eskimo (pale, furthest hills), Resene Destiny (grey hills), Resene Green Meets Blue (hills with rocky headland), Resene Foam (sea), Resene Saratoga (green hill), Resene Karma (sand/beach), Resene Grass Hopper (foreshore), Resene Green House (green paddock) and Resene Iko Iko (legs). Alternatively, go for a simple design, this toi toi side table is painted in Resene Waiouru and the toi toi motif is painted in Resene Flax.
If bold and graphic is not your style, you can switch it up to match your space. A beautiful simplified landscape mural could provide the view you're craving, or if you're looking for something more natural and minimalistic, try painting some toi toi.
Terrazzo illusion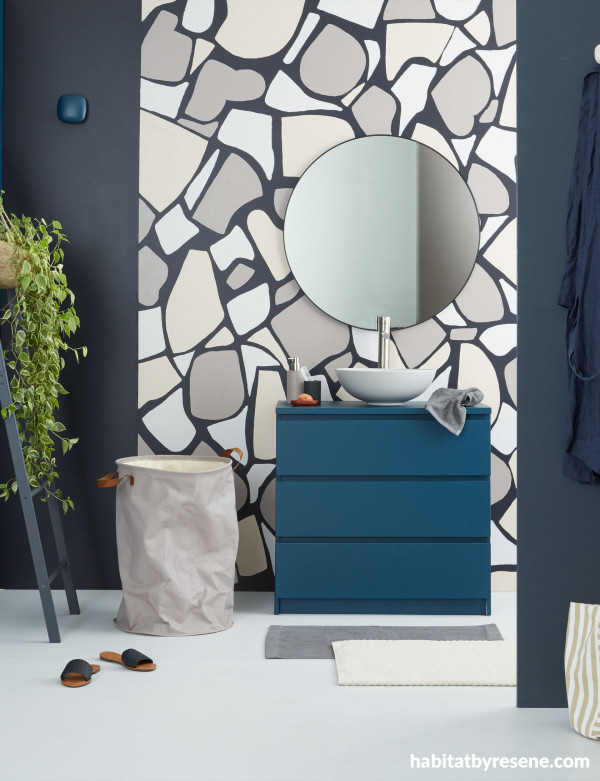 Terrazzo is wonderfully un-structured, so it's not that hard to replicate in design using paint. Create simple, random shapes in three repeating colours with a darker 'grout' colour in between. We used Resene Alpaca, Resene Tom Tom and Resene Urbane for the terrazzo tiles with Resene Jaguar for the base colour. These earthy hues are matched with Resene Mercury on the floor, Resene Tangaroa on the left wall, vanity and large coat peg, and Resene High Tide on the right wall and ladder.
Terrazzo continues to be a popular choice for interiors, but finding the right terrazzo tile colour, shape or price can be tricky. Cue a mini terrazzo-themed mural that won't break the budget and can be easily changed out if your tastes shift.
To create this trendy stone look, you'll need a high-quality painter's brush and four Resene colours. We used Resene Alpaca, Resene Tom Tom and Resene Urbane for our mis-matched stone, with Resene Jaguar for the base colour.
The trick to making this mini mural look authentic is to not be too precise. Terrazzo, by its nature, is random and unstructured. Make sure you have a mix of larger shapes and smaller shapes, some with sharp edges and others with curved edges. Space them randomly – some close and others further apart and allow your colour patterns to be 'strategically random'. Start with your base colour and then faintly mark your terrazzo shapes over the top with pencil, followed by paint.
Line it up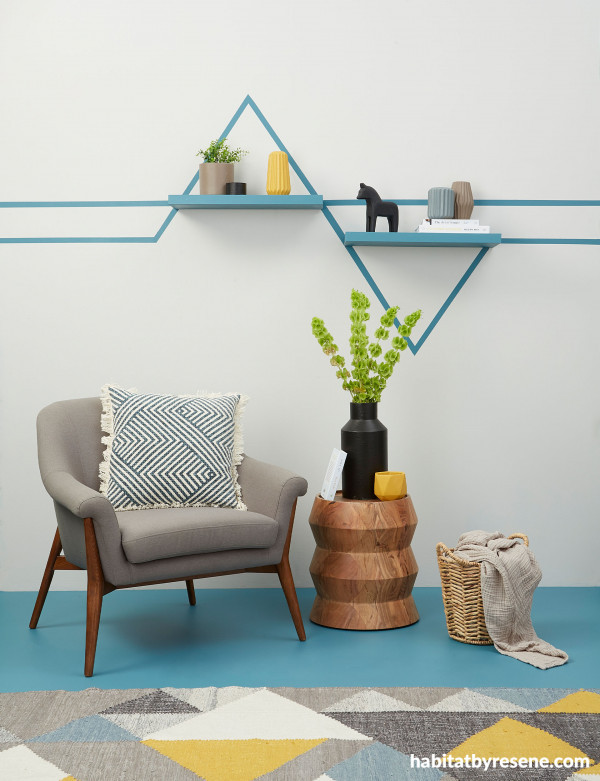 Sometimes less really is more, as is the case with this simplistic mini mural. The wall is painted in Resene Quarter Truffle with the graphic lines, floor and shelves in Resene Bismark. The large vase, tea light holder and horse decoration are in Resene Nero, the plant pot is in Resene Kabul and the small vases are in Resene Pizza, Resene Kabul and Resene Dusted Grey. Chair, rug, side table and cushion from Freedom Furniture.
In a smaller space, having too many items on the wall can often make it feel even smaller. But, having nothing on the wall can make the space feel empty and soulless. A minimalistic mini mural like this one is a great solution to creating an interesting wall feature without being too dominating.
The two parallel lines, painted in Resene Bismark, make a strong graphic feature on the wall, painted in Resene Quarter Truffle. They diverge into triangles for an interesting visual effect, framing the shelves and referencing the pattern in the rug. To get this look, you'll need a level, ruler and masking tape. Take your time, the last thing you want is sloping or wonky lines.
Decorative doors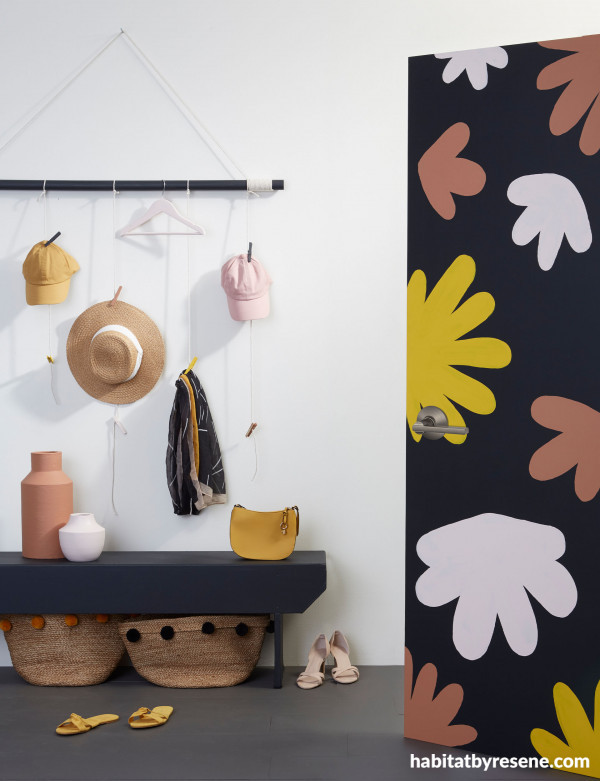 Nothing says 'welcome home' more than a colourful door. This one is painted in Resene Double Foundry, Resene Sante Fe, Resene Dust Storm and Resene Galliano. The back wall is in Resene Double Alabaster, the bench and the DIY coat rack are Resene Double Foundry.Purse, sandals, pompom baskets and straw hat from H&M.
Give a neutral entryway an injection of colour and pattern with a mini mural painted on a door. If you're feeling brave, paint your mural design on the front of the door to give your exterior a fun new look, or, if you'd rather keep it indoors, paint the back of the door.
If your entryway has neutral walls, like this one in Resene Double Alabaster, your options for your door mural are limitless. Start by painting the base coat of your door, we used Resene Double Foundry, wait for it to completely dry and then paint your design over the top. Give it two coats to ensure the colour is beautiful and bold.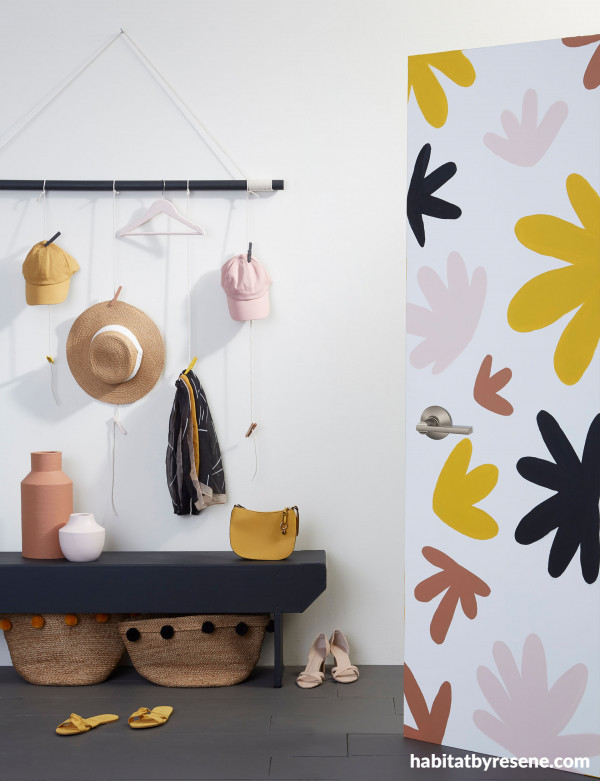 The door design is totally transformed with Resene Double Alabaster as the background colour and the floral designs painted in Resene Double Foundry, Resene Sante Fe, Resene Dust Storm and Resene Galliano.
If the dark background feels too moody, you can create a totally different look simply by swapping out the background from Resene Double Foundry for Resene Double Alabaster. Another idea to is paint each side of the door in two different colourways using the same palette and pattern.
To give extra pop to the colours try using a gloss finish, such as Resene Enamacryl.
A room with a forever view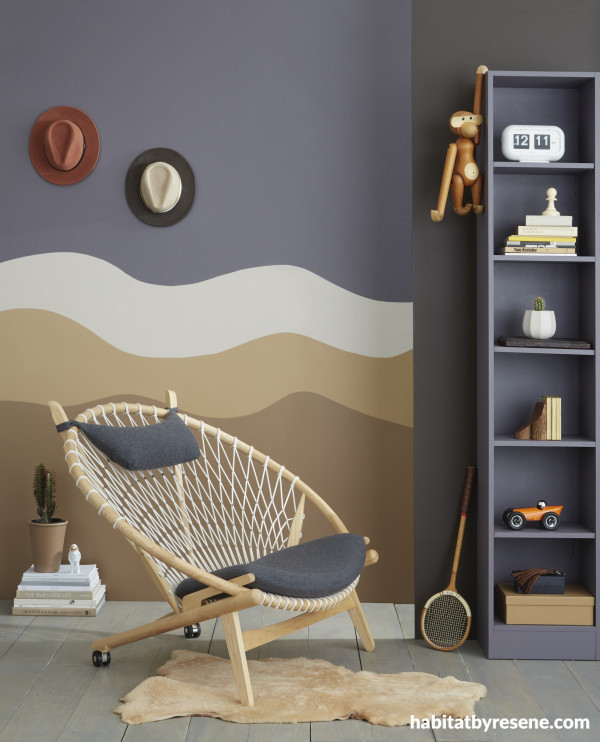 Create a landscape-inspired mini mural with (from top to bottom) Resene Zulu, Resene Antidote, Resene Sorrell Brown and Resene Lone Ranger. The floor is stained in Resene Colorwood Mid Greywash timber stain, the side wall is Resene Half Wood Bark, the bookcase is Resene Zulu, the plant pots are Resene Lone Ranger and the vase is Resene Merlot. Chair and sheepskin rug from Homage.
If can't enjoy a view out your window, there's no reason why you can't create one on your wall. It's the perfect mini mural idea for a lounge or bedroom, where soothing, restful features are encouraged. Depending on the look you're after, you can keep the lines as literal or abstract as you like. Even simple, wavy lines are enough to get the effect.
Be sure to use a high-quality paint brush for this mini mural project – one with plenty of soft bristles will help you achieve smoother lines. Perspective is also something to keep in mind, if you want the landscape to appear further away, your 'land' ratio will be smaller than your 'sky' ratio. If you want the opposite – for the landscape or horizon to appear closer – then your 'land' ratio will be larger than your 'sky' ratio. If you want to try a more literal landscape mural, sketch it out on paper first to ensure you have your proportions correct.
images Bryce Carleton, Melanie Jenkins, Fleur Thorpe
styling Kate Alexander, Laura Lynn Johnston, Annick Larkin, Vanessa Nouwens, Fleur Thorpe
Published: 08 Jul 2020
Do you have a home full of wonderful Resene paint and colour? Send us some snaps by emailing [email protected].