►
◄
latest
habitat tv
blog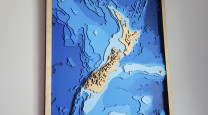 These spicy shades are the next big thing
Swipe your way through Instagram or Pinterest, flip through a design magazine, or step foot into your local décor shop and you'll have no doubt that the interiors world is lighting up for spicy shades evocative of Morocco, vast deserts and Eastern spice markets. The warmth and elegance they infuse into a room is simply exquisite, and the range of hues within this trend are remarkably versatile.
From bitter oranges to rich saffron yellows to capsicum reds, there are a multitude of ways to incorporate the spicy shade trend into any room in your home. Here are some top tips to get you started with these red hot hues.
Warm up your walls
The easiest way to lean into the trend is by choosing a neutral spiced tone to paint on a large surface. Go with an area that enjoys lots of foot traffic, like a lounge, kitchen or dining room, and paint the walls in inviting browns like Resene Mocha,Resene Cinnamon or Resene Moccasin, chic gold like Resene Pirate Gold or terracotta like Resene Sunbaked. These tones make a great base for building a rich tonal look by layering furnishings and accessories in similar shades.
If the idea of all four walls being a single hue slightly frightens you, start with an accent wall. Designer Sylvia Sanford recommends going with a feature wall with fixed open shelving painted in the same tone. "Each will complement the other as shelves come alive with accessories," she says.
Published: 26 Feb 2020
Do you have a home full of wonderful Resene paint and colour? Send us some snaps by emailing [email protected].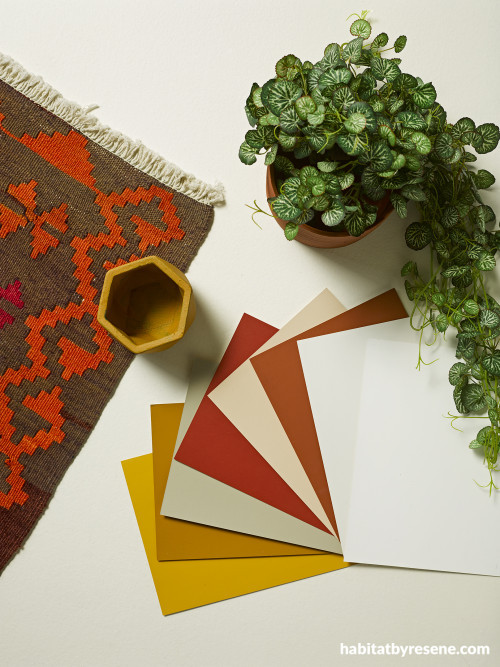 Try layering spicy shades for an especially rich look. Background in Resene White Pointer with A4 drawdown paint swatches (from left to right) in Resene Cleopatra, Resene Twisted Sister, Resene Double Bison Hide, Resene Raging Bull, Resene Shabby Chic, Resene Sunbaked, Resene Merino and Resene Alabaster. The hexagonal pot is painted Resene Cleopatra and the plant pot is painted Resene Sunbaked.
Embellish furnishings and accessories
Build drama against a spicy backdrop by embellishing small furnishings and decorative items in bold spice shades and luxurious metallics. A side table or small chest of drawers would look sublime in warm tones like Resene Swiss Caramel, Resene Raging Bull or Resene Moccasin.
Treat small, decorative items like your very own spice rack, adding both bright and toned-down hues that sit nicely side by side. Go with rich reds like Resene Lusty, curry yellows like Resene Noosa and dusty browns like Resene Desperado and add hints of sparkle using Resene Spark and Resene Rose Gold metallic paint on vases, bowls and lampshades. These touches will build more character in your chosen room if you'd prefer to spice up your current colour scheme.
Sylvia notes spicy shades can run the risk of dominating a room, and recommends accessorising with nature as a way to bring in a calming influence. Place lush, leafy plants in colourful pots to get the best of the trend with a touch of natural harmony.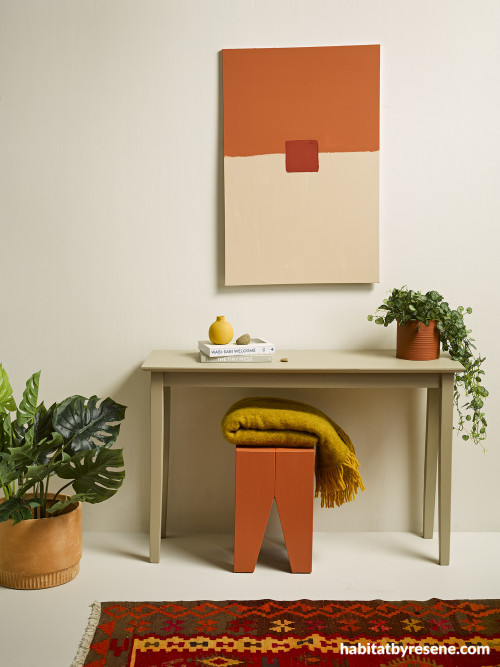 This room leans into the spicy shade trend via fun accessories and furnishings that pop. Wall in Resene Alabaster, floor in Resene White Pointer, small vase in Resene Cleopatra, plant pot in Resene Moccasin, table in Resene Double Bison Hide, DIY artwork in Resene Sunbaked, Resene Shabby Chic and Resene Raging Bull and peg stool in Resene Sunbaked.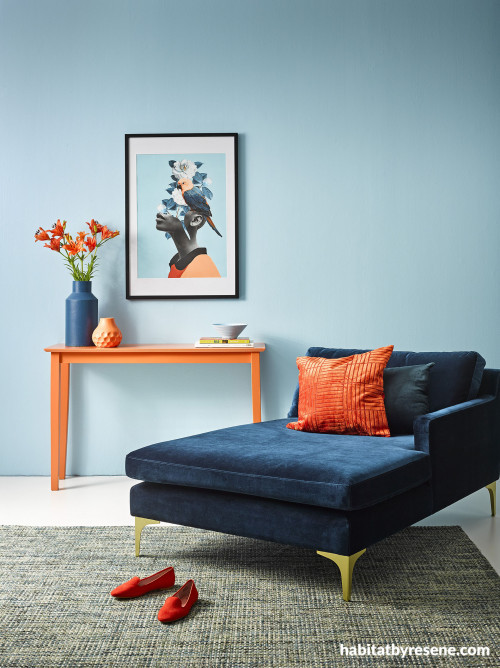 Adding accents in vibrant orange is an easy way to inject interest into an interior scheme if you don't want to start again from scratch. Wall in Resene Bluetooth, floor in Resene Alabaster, table (behind sofa) in Resene Jailbreak, large tall vase (with tiger lilies) in Resene Wishing Well, small bowl in Resene Bluetooth and hexagon pattern vase painted in Resene Japonica.
Textures you'll want to touch
Spicy shades go hand in hand with textured decorative items – think woven art pieces, sisal rugs, rattan chairs and stonewashed linen curtains. Try warm hues in reds, oranges and blushes that are reminiscent of a desert sunset. Resene Blaze, Resene California and Resene Chilean Fire will bring some heat into your décor whether on a woven rug or cushion.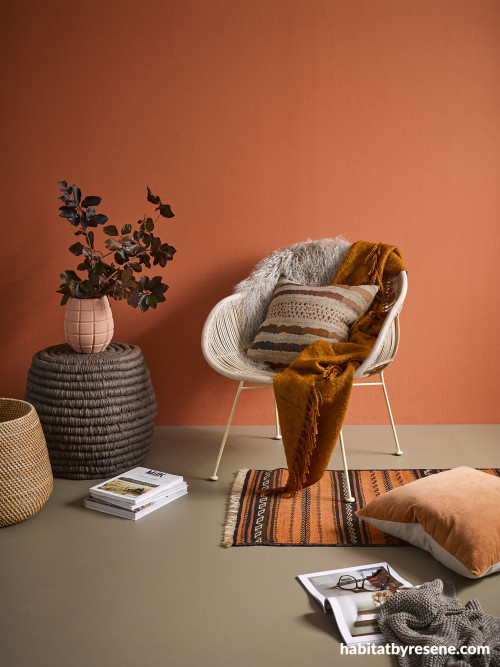 Painting a wall in a spicy orange shade is the ultimate commitment to this trend. Wall in Resene Sunbaked, floor in Resene Earthen and grid vase in Resene Just Dance. The woven side table in Resene Thunder Road adds extra interest and works well against the boldness of the wall.
Textured items can even extend to fruit bowls and baskets – ideal for holding firewood, extra throws and cushions or magazines. Paint your baskets in bold reds like Resene Pohutukawa or Resene Salsa to make a real statement.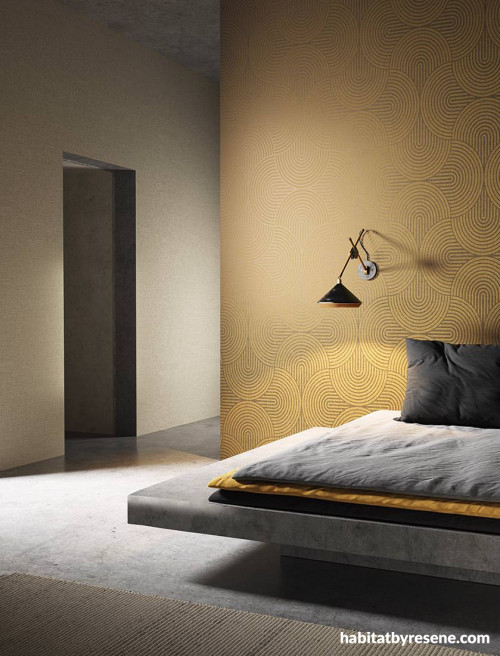 Resene Wallpaper Collection EAR605 is an elegant example of how spicy touches can work in any setting, even a luxurious, minimalist bedroom like this one. Pair it with surrounding walls in Resene Tea and simple grey furnishings in Resene ­Silver Steel and Resene Atmosphere for a similar look.
Playful patterns
Adorning your walls, furnishings and floors with spicy painted patterns can offer a global feel. Take inspiration from Moroccan tiles and stencil borders around a door frame, or go big with an impressive graphic motif on your living room wall. Opt for a coriander like Resene Stinger over walls painted in Resene Golden Sand, or Resene Chamois over Resene Apache for a more subtle look.
For a kitchen or foyer floor, lean into fun, eye-catching patterns on a grander scale. "An old floor can withstand a large painted tile pattern," says Sylvia. Paint a diamond pattern, for example, on your kitchen floor in alternating shades of Resene Flax and Resene Kalgoorie Sands.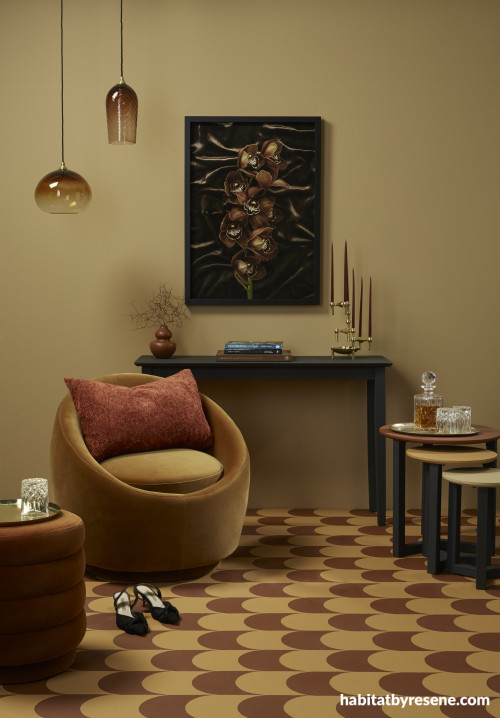 Wall in Resene Gold Coast, floor in Resene Pendragon and Resene Hairy Heath, hall table in Resene Noir, nesting tables in Resene Hairy Heath (large), Resene Pendragon (medium) and Resene Gold Coast (small) with legs in Resene Noir, vase (with twigs) in Resene Hairy Heath and candlesticks in Resene Noir. Chair and ottoman from Soren Liv, artwork by Helen Bankers, pendant lamps from Monmouth studio, candlestick from Mr Bigglesworthy and cushion from Adairs.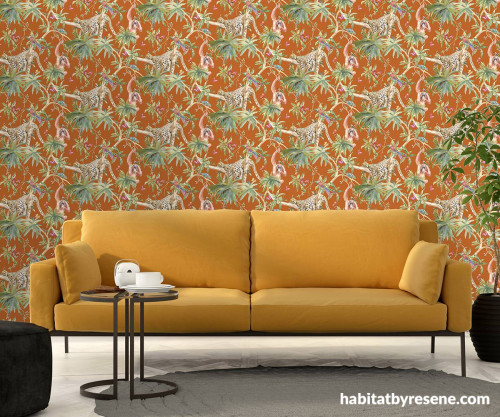 Kick off the spice trend in your home with a playful wallpaper feature like Resene Wallpaper Collection 90564. Use it with flooring in Resene Poured Milk, a sofa in Resene Bittersweet, pot plants and stools in Resene Sambuca and some lush greenery break up the intensity of the wallpaper.
Go tonal
One of the perks of the spicy shade trend is how well it lends itself to layering. Create a pared-back tonal colour palette in your room by using shades like Resene Beethoven, Resene Crail, Resene Twizel and Resene Hot August.
Alternatively, go for a bolder theme with Resene Raging Bull, Resene Rustic Red and Resene Red Oxide, with some added warmth thanks to Resene Mai Tai and the sunny Resene Bittersweet for contrast. Using a tonal colour palette can be key to creating a peaceful, balanced vibe in your room, and can be easily added to with accessories when you're craving change.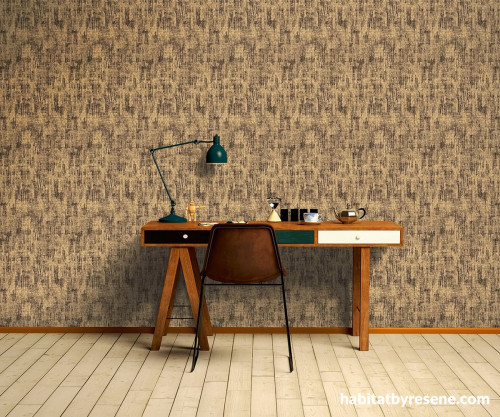 Resene Wallpaper Collection 64625 is a tasteful example of using texture with the spicy shade trend. Use it on a study or office feature wall with a floor in Resene Colorwood Rock Salt, before adding on-trend spice with a desk in Resene Twisted Sister and a chair in Resene Carnaby Tan. Add contrast with deep greens like Resene Atlas on a lamp and desk drawers.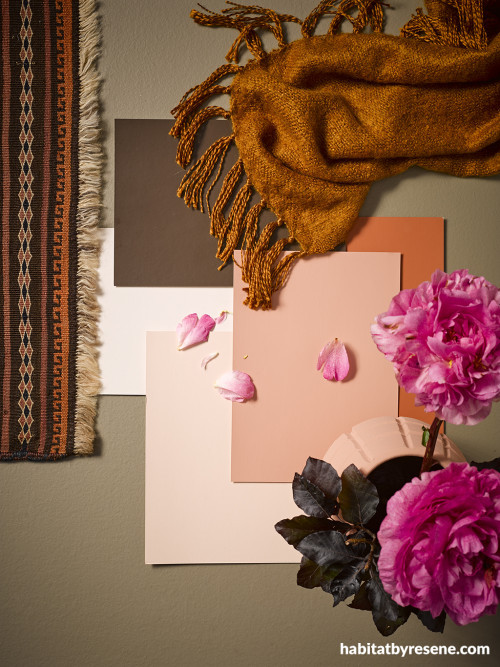 Background in Resene Napa with A4 drawdown paint swatches (clockwise from top) in Resene Sambuca, Resene Sunbaked, Resene Just Dance, Resene Soulful and Resene Despacito and a vase painted Resene Just Dance.
styling Gem Adams, Claudia Kozub, Vanessa Nouwens, Melle Van Sambeek
images Melanie Jenkins, Bryce Carleton