►
◄
latest
habitat tv
blog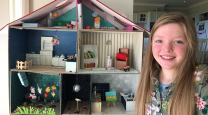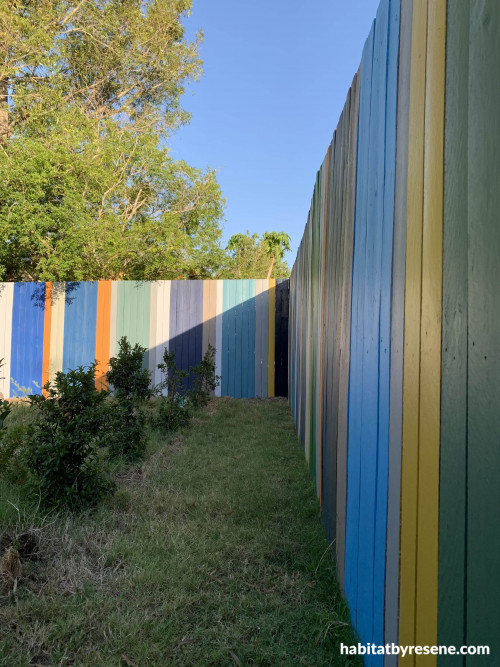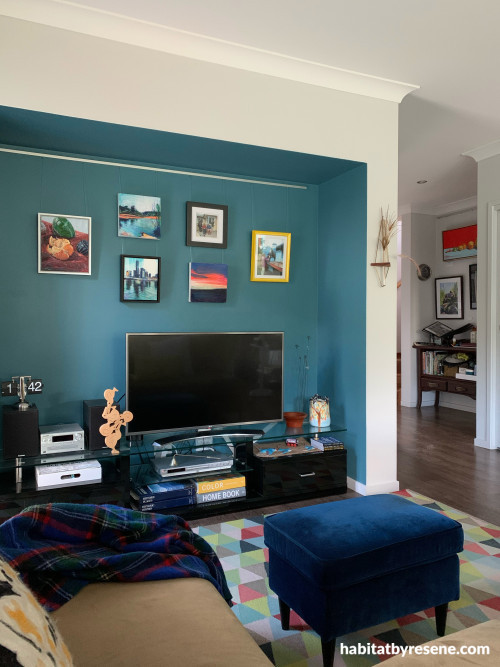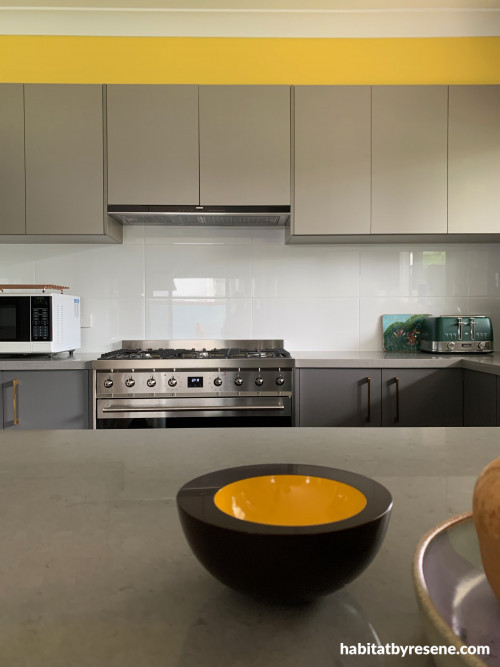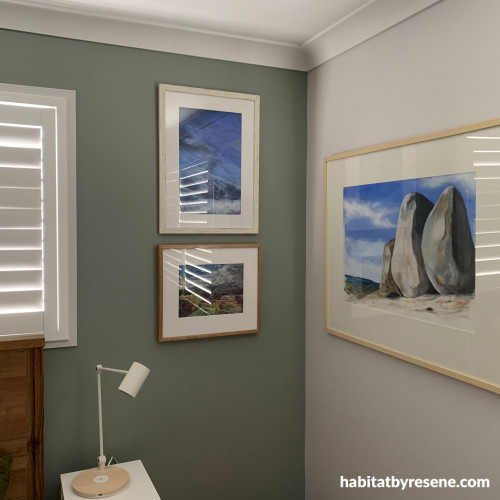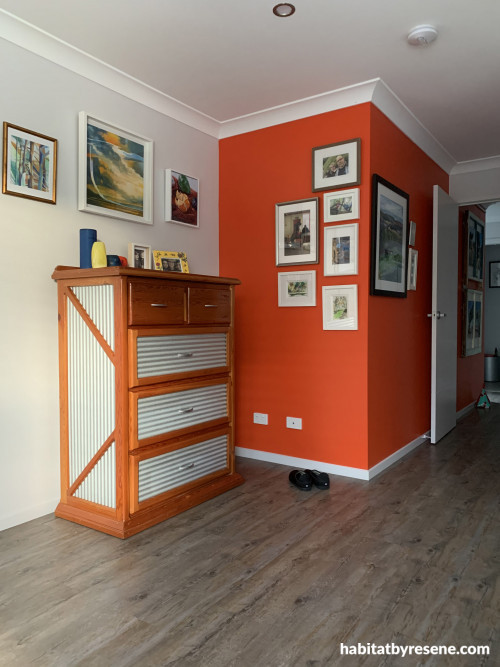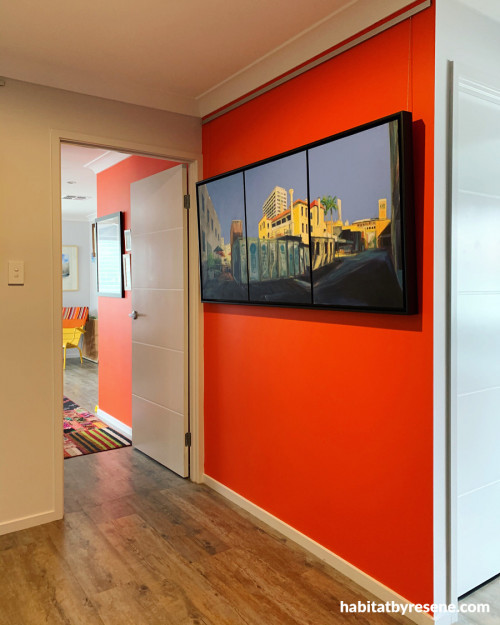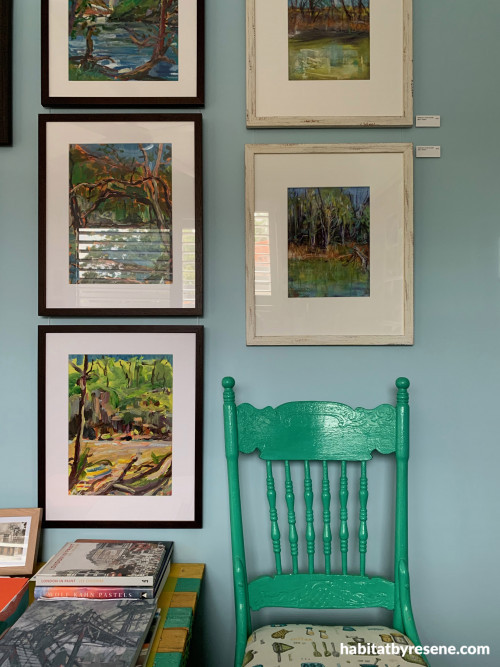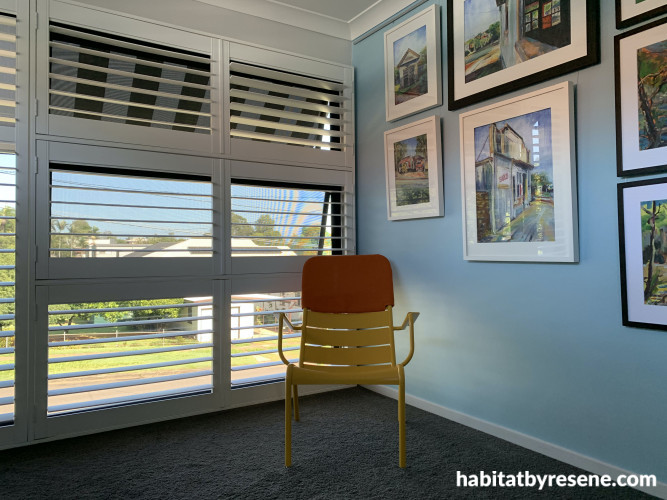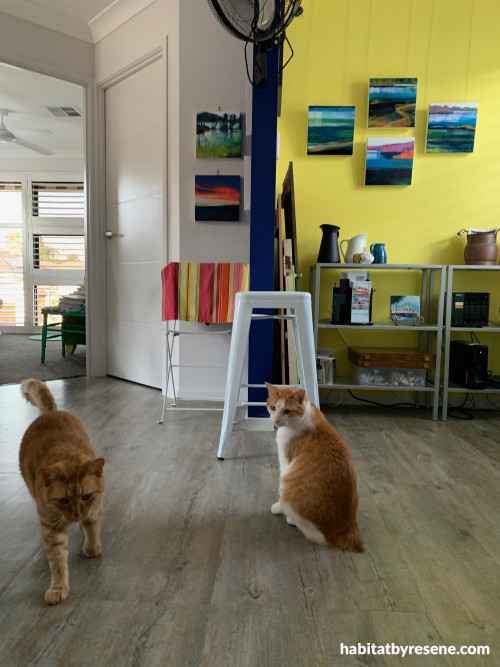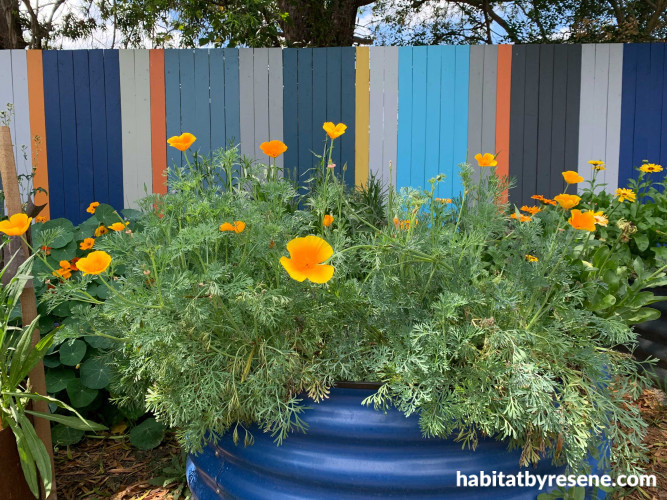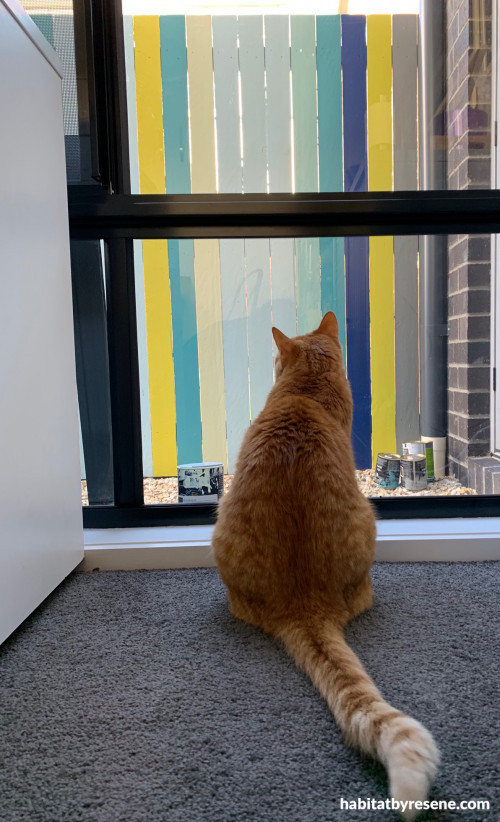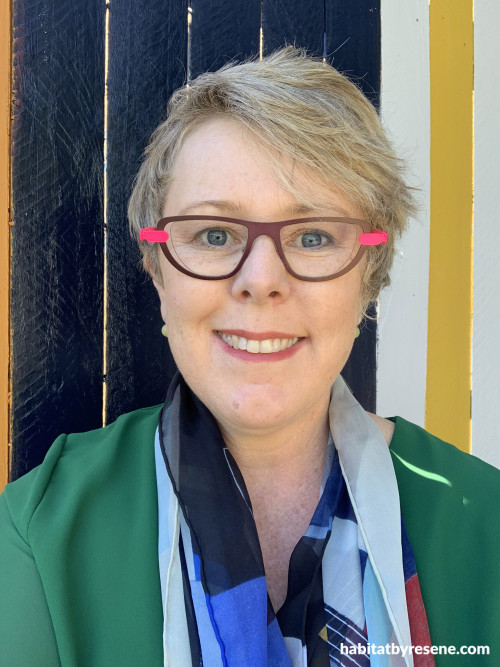 This artist's Brisbane home is so colourful even the 85m fence is an elegant rainbow
Artist and colour consultant Kelly Southee isn't on the fence about using colour in her Brisbane home. Originally from Upper Hutt, Kelly's new home on the outskirts of the Toohey Forest sports a new and fabulous look, thanks to her clever use of Resene paint. She even painted the fence a rainbow of Resene colours as part of her renovations.
With an interest in the impact of colour on surfaces and spaces, Kelly's philosophy on colour is reflected in her fresh and bold style. "Life is too short to put up with living beside drab colours," says Kelly. "If your favourite colour is purple then find a wall and give it your personality stamp!
"I have injected feature colours throughout my house and into the garden. I like to introduce colour that creates a sense of cheeriness in some areas and calmness in others."
Kelly, who trained as an interior designer in the 1990s and also works as a colour consultant and in the construction industry, chooses her colours by considering what would improve the atmosphere of an individual space. She also considers how it will complement the floor, furnishings and view outside.
"As an artist, I appreciate the colours that Resene create," says Kelly, who finds that the fan decks and online Resene colour tools make it easy to envisage how colours will work in a space. "As a DIYer, the paint has great coverage and lightfastness. And I love supporting a Kiwi company."
Kelly created a modern yet comfortable atmosphere in her favourite room of the house, the living room, with a feature wall in Resene Bismark. "Resene Bismark is a lovely teal colour," says Kelly. "It reminds me of twilight. It is the perfect colour as a backdrop to the TV screen. Dark enough, but also lovely to hang art and family photographs on."
The living room wasn't the only room to be spruced up with a feature wall. A vibrant yellow feature wall in Resene Wild Thing brightens Kelly's kitchen. In the master bedroom, cloudy green Resene Ravine walls provide a muted base for the adjacent lively Resene Daredevil feature wall.
Kelly lives in her home with her two teenagers Erin and Andrew and two ginger cats, Vinnie and Sir Ed who "look great against the colour Resene Escape". The aptly named dreamy cerulean paint is used in the library and is a lovely backdrop for her art pieces.
Kelly's art practice focusses on landscape paintings and what she calls Our Places. "Homes and gardens, civic buildings and streets.
"I've lived in twenty-four homes in my life, so the idea of 'places' has always been important."
Kelly has coloured her studio in Resene Aviator; a deep dusky blue, and a cheerful Resene Paris Daisy. "I find art looks great hanging on a wall that tells your story and lifts the spirits."
Kelly's biggest challenge was painting the massive 85-metre-long fence that surrounded her property. "When I first bought the property, the backyard tended to feel like it was boxed in; the timber fencing looked very uniform and uninteresting," says Kelly. "My goal was to create a sense of place where none existed."
After experimenting with various shades of blue Resene testpots along the back fence, Kelly transformed her fences by creating a striped colour design.
"The stripes widen the narrow block. The light and dark stripes make the flat fence appear more three-dimensional, with the darker colours recessing and the lighter colours projecting."
The discovery of a Coillioure Roy tablecloth while unpacking her house gave Kelly the inspiration to incorporate yellows, oranges and greys into the mix. "To achieve the right tones of orange and yellow I consulted my Resene The Range fashion fandecks and visited my local Woollongabba Resene Colorshop a few times. I think the staff got to know me as the crazy artist!"
Using colours such as Resene Influential, Resene Jailbreak and Resene Baltic Sea on her fence panels, Kelly has introduced a resort feel into her backyard. "I'm not keen to install a swimming pool, so this will be as blue as it will ever get.
"Each fence area has a slightly different colour scheme. The front is a more subdued palette as I didn't want to scare the neighbours!"
Kelly changed her stripes for the front yard fence, using a colour combination reminiscent of misty mornings at the beach that included Resene Lemon Grass, Resene Miso and Resene Coast. Kelly transformed her north-facing fence with a richer, more traditional striped colour palette of Resene Cobalt, Resene Champagne and Resene Peru Tan.
"Seeing the glow of the fence's different colours beyond the foliage really brings me joy."
All artwork in Kelly's home has been created by her. To see more of her artwork visit her Facebook page here or see her design work here. Kelly would love to help others brighten their fences. She also works as a colour consultant and you can follow the journey of her striped fences here.
TOP TIP: When painting an outdoor area, such as a fence, use Resene Lumbersider waterborne low sheen paint. Resene Lumbersider is perfect to ensure maximum durability in exposed conditions, is washable and provides a natural low sheen finish. Before you begin painting wash bare timber with Resene Timber and Deck Wash to clean off contaminants.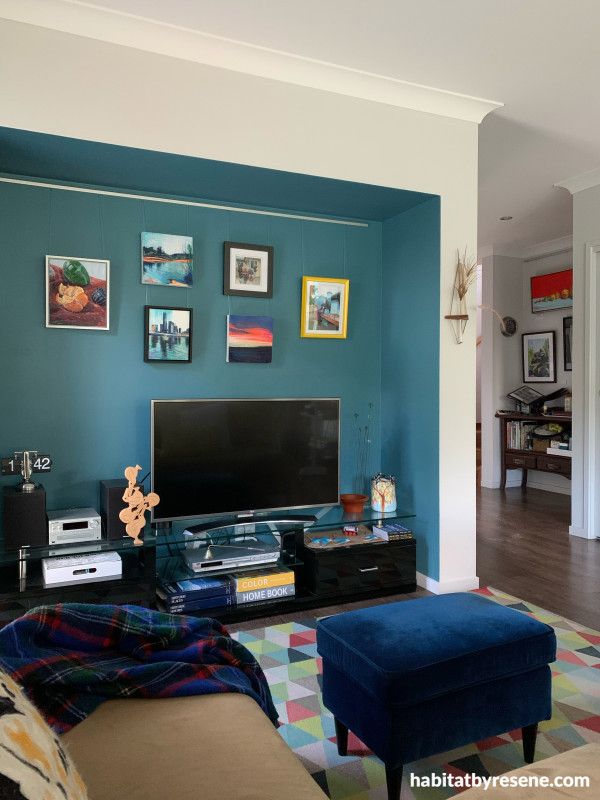 Resene Bismark adds a warm and peaceful recessed feature wall in the living room. You can achieve a similar look by pairing your Resene Bismark feature wall with adjacent walls in a linen beige, such as Resene Albescent White. Finish off the look with crisp Resene Alabaster for the ceiling and trim.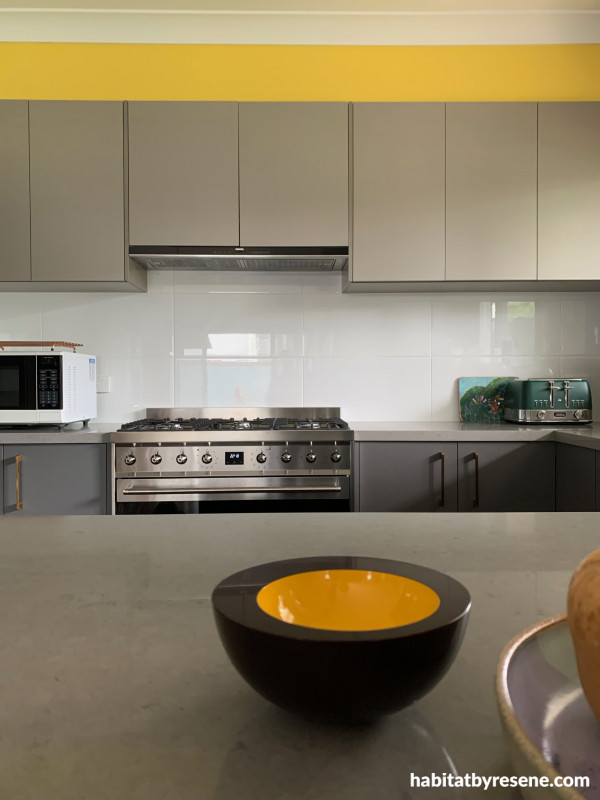 Bright and cheery, Kelly's kitchen got a sunny update with a bold yellow feature wall in Resene Wild Thing.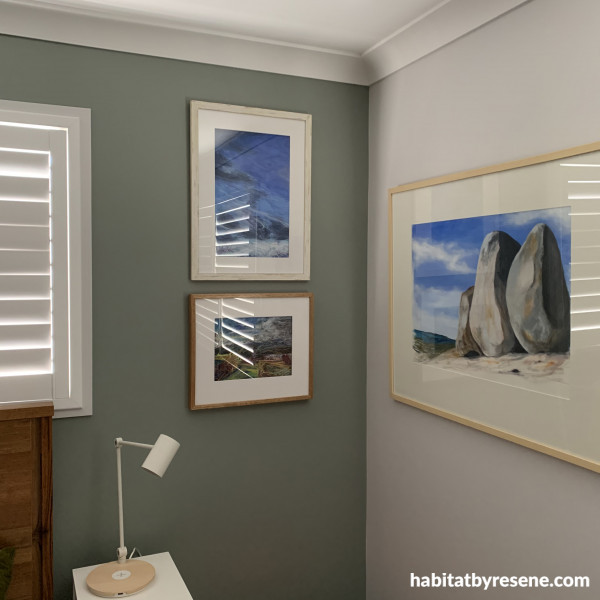 One of Kelly's top priorities in her home is establishing a connection with nature. She did this in the master bedroom by creating a muted green feature wall in Resene Ravine that perfectly complements her paintings of natural landscapes. Resene Ravine really pops when paired with walls painted in Resene Quarter Foggy Grey and the ceiling and trim in Resene Black White.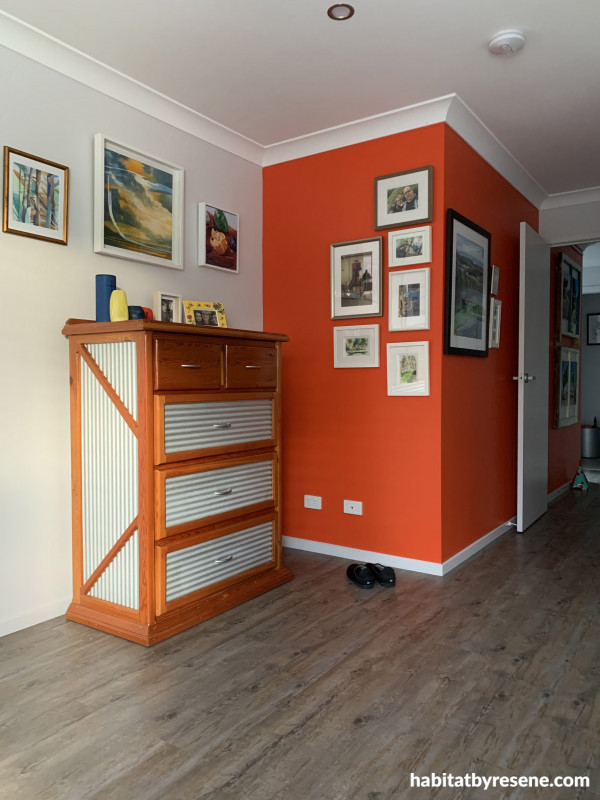 Kelly chose another feature wall in the master bedroom, this time in Resene Daredevil to complement the chest of drawers made by her talented father, who is a retired carpenter.

Kelly's home was painted entirely in neutrals when she moved in, but she quickly jazzed up her home with feature colours such as Resene Daredevil in the hall leading into the master bedroom.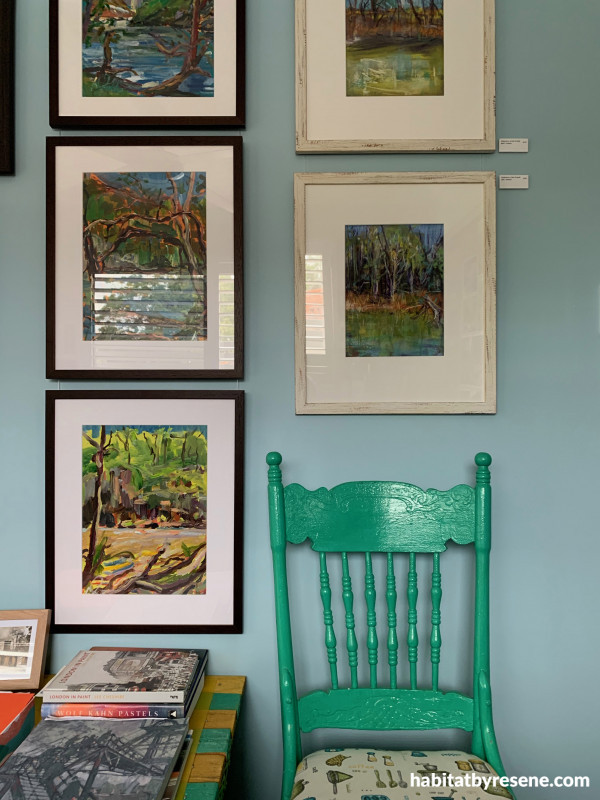 The library is a serene retreat, painted in Resene Escape and featuring Kelly's collection of 'Our Places' paintings.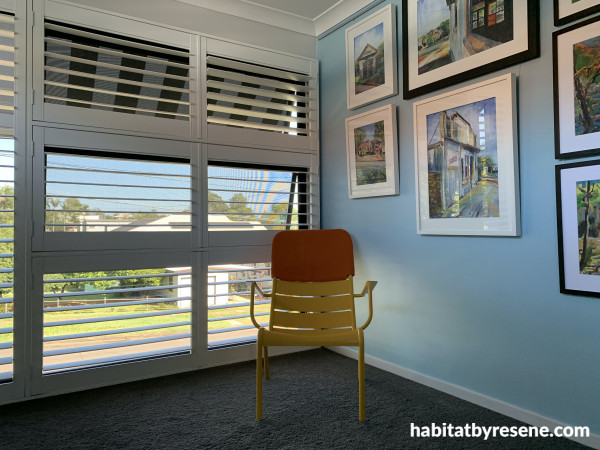 Resene Escape is the perfect backdrop for Kelly's art collection as the muted colour lets the artwork colours shine.

Kelly used creative colours for a creative space and painted her studio feature wall in a bright Resene Paris Daisy. This creates the ultimate contrast with the secondary feature wall in deep, moody Resene Aviator. With such strong personalities, both Resene Paris Daisy and Resene Aviator work best when paired with neutral adjacent walls and ceilings, such as a fresh Resene Black White.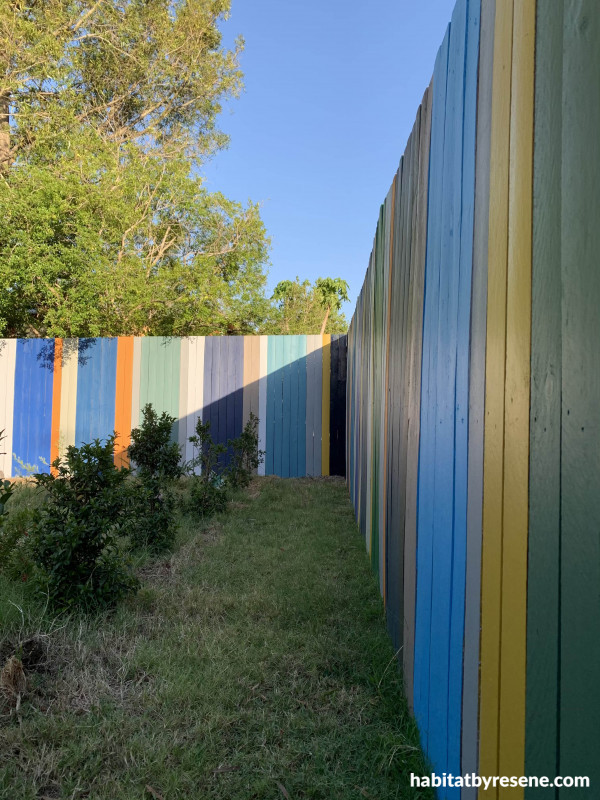 Taking a month to complete, Kelly's backyard fence uses an array of vibrant colours, including blues in Resene Indian Ink, Resene Coast, Resene King Tide, Resene Bismark, Resene Green Meets Blue, Resene Submerge, Resene Liberty, Resene Bewitched, Resene Avalanche, Resene Torea Bay, Resene Jasper, Resene Wishing Well, and Resene Dali. Green hues included Resene She'll be Right, Resene Mother Nature, Resene Kaitoke Green, Resene Away We Go, and Resene Yowza.

Greys, oranges and yellows used on the fence include Resene Mischka, Resene Baltic Sea, Resene Trojan, Resene Jailbreak, and Resene Influential which pops against orange annuals such as Californian poppies and marigolds. The colourful fence adds vibrancy to the garden while fruit trees such as lilly pilly, lemon scented myrtle and tropical plants such as hibiscus and frangipani get established.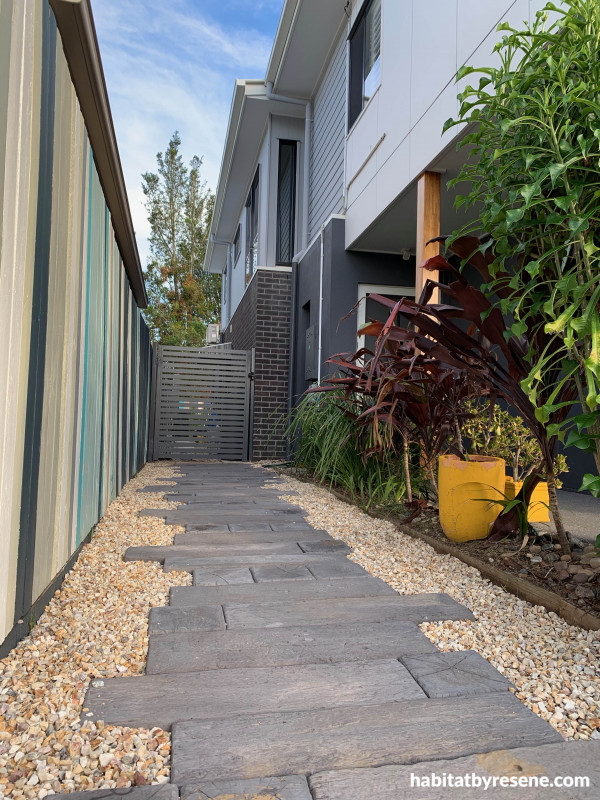 Kelly made sure her coloured stripes created a cohesive fence by consulting Resene colour fandecks and talking to staff at her local Resene Colorshop. Her front fence is painted in Resene Lemon Grass, Resene Miso, Resene Coast, Resene Such Fun, and Resene Rice Cake.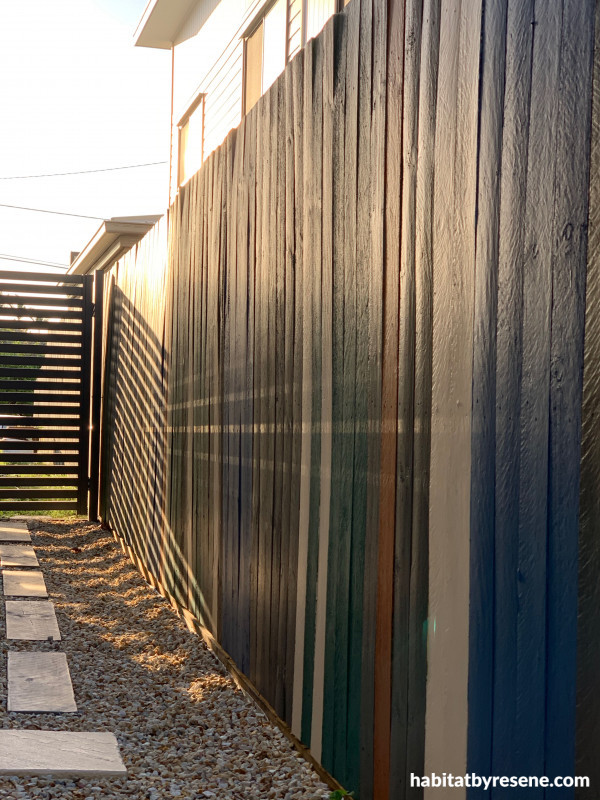 The fence on the northern side of Kelly's property received a more traditional beachy finish. It is painted in Resene Atlas, Resene Cobalt, Resene Champagne, Resene Peru Tan, and Resene Baltic Sea.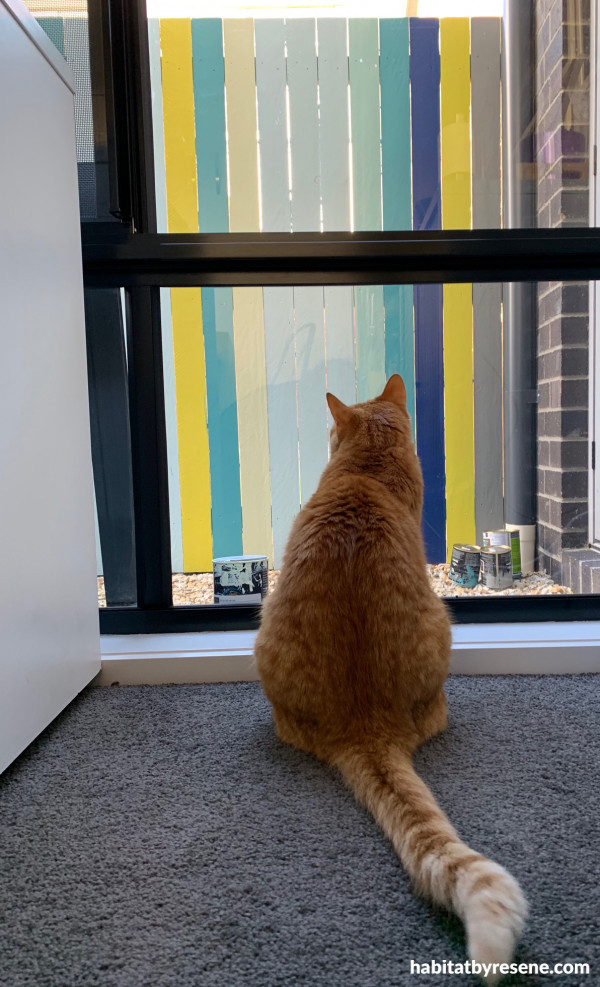 Kelly enjoys the way her ginger cats Vinnie and Sir Ed contrast against the colourful fence on the southern side of her property. Due to the southern side of the house receiving less light, the fence is painted in lighter colours including Resene Escape, Resene Onahau, Resene Unwind, Resene Miso, Resene Koru, Resene Quarter Baltic Sea, Resene Into the Blue, and Resene Midnight Express.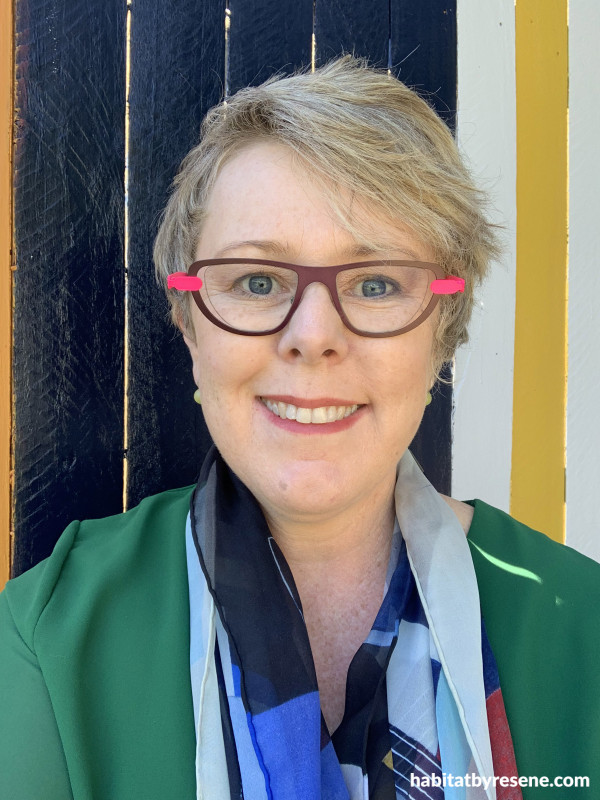 Homeowner Kelly, pictured here in front of her colourful fence, wears many hats. She juggles work for a construction company with colour consultancy jobs and her own art practice.
Published: 28 Apr 2021
Do you have a home full of wonderful Resene paint and colour? Send us some snaps by emailing [email protected].