►
◄
latest
habitat tv
blog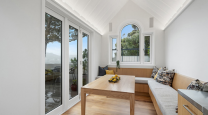 Master Builders' Chief Executive David Kelly shares his tips for building in the challenging climate.

Planning... more
This century-old Brisbane Queenslander is transformed into a tropical oasis with summer green Resene Edgewater and Resene Warrior
For homeowners Maria and Roger, renovating their century-old Brisbane Queenslander helped them fall in love with the features of their heritage home. With a dark, dated interior and tired yellow exterior, the couple's feelings toward their home were lacklustre at best. Enter, interior decorator Kathryn Lyons. With a keen eye for design and numerous cans of Resene paint, Kathryn reignited the spark with summery green Resene Edgewater, making Maria and Roger fall head over heels for their tropical oasis once more.
Kathryn originally visited the home as a colour consultant with a brief to create something fresh, but the charm of this traditional Queenslander lured her in and she stayed on to style the home and unearth its hidden architectural gems.
"I love helping people rediscover their homes and see the beauty in them," says Kathryn, whose colour consultancy business specialises in helping people get their homes ready for market by embracing existing features of the home.
"I love recycling features when I can, as it's better for the environment and often has more longevity than the latest fad."
Situated in the subtropical climate of inner North Brisbane, the home's extensive gardens with well-established palm trees inspired Kathryn to create a traditional look with a touch of Bahamas. She created bright interior spaces with a simple colour palette of Resene Quarter Villa White throughout to complement the original polished hoop pine floors. But it is her exciting and bespoke exterior colour palette that truly steals the show.
"It takes confidence and experience to interpret and implement a bespoke colour scheme," says Kathryn.
"Taking into consideration the owners' eclectic collection of much-loved artwork and furniture, the inside of the home in its former colour scheme felt dark and a little cluttered.
"The exterior colours of yellow and maroon felt too hot for a subtropical environment. I knew in this project that the colour scheme would do the heavy lifting and I was confident that Resene would provide the choice of colours and products that would be required."
Kathryn began her exterior colour palette with light walls in Resene Quarter Villa White with window frames and door frames in Resene Half Villa White, before highlighting the home's architectural features with a lick of Resene Warrior on the trim, railings and window hoods. Resene Warrior is a deep, dusky green, perfect for mimicking those richer tones from the surrounding foliage.
"Resene Warrior is my favourite colour, it has undertones of green and blue so looks different at different times of the day," says Kathryn, who loves the depth and individuality Resene Warrior brings to the home.
"Colour can change so much about a house. It can make an older home feel modern, bright and welcoming.
"I am happy that the colour scheme is different from any other in the neighbourhood, but it's still traditional colonial and is in keeping with the history of this type of home."
When the British settled in Australia, they took inspiration from other tropical settlements across the world, embracing many building features from the Bahamas. From this inspiration the Queenslander was born, with its tin roof, wide verandas and post elevation to allow more breeze and protection from the sun. It was these verandas that gave Kathryn a daring idea.
"I was conscious that the colour scheme needed to complement the lushness of the tones of green in the garden," says Kathryn, who painted the veranda floors and front steps in hot Resene Double Sisal and gave the veranda ceilings a crisp update in pale summer green Resene Edgewater.
"It took a number of trials to achieve the correct shade of green for the veranda ceiling and was tricky choosing a colour to paint the rafters to make them look brighter and more finished.
"I love how the colours cool the verandas and make them feel relaxing and inviting.
Resene Edgewater highlights the high ceilings, creating interest and a subtle sense of drama upon entering the home."
The abundance of tropical greens introduced through paint were complemented by finishing touches with wicker furniture, intricate lighting fixtures and pops of colourful textures. "I love many styles," says Kathryn. "I try and look at each project as something new and my style is eclectic.
"I really try and find something to celebrate about every era that a house was built."
As for Maria and Roger, they've found everything to celebrate about their home's new look.
"We have fallen back in love with our home. We can now see its quiet beauty and the reason why we originally fell in love with it many years ago."
To see more of Kathryn's work and for enquiries, visit her website or check out her Facebook page.
Top tip: If you're keen to paint the floor of your veranda, try Resene Walk-on flooring and paving paint. Resene Walk-on gives maximum abrasion resistance and is designed to reduce the hazard of slipping, without sacrificing a clean satin finish. Add Resene SRG Grit for extra slip resistance.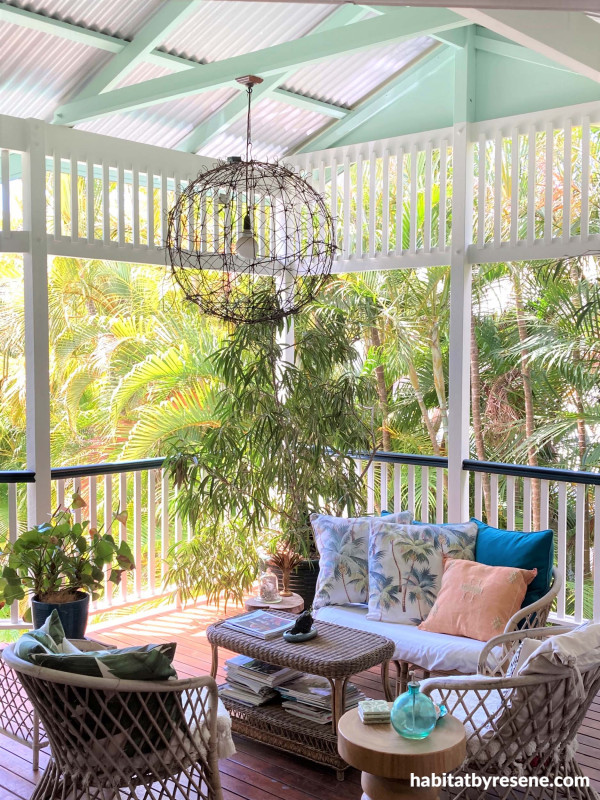 Kathryn created a tropical delight on the balcony with Resene Double Sisal on the floor and Resene Half Villa White on the railings with railing trim in deep Resene Warrior. The exposed beams were painted in bright Resene Edgewater.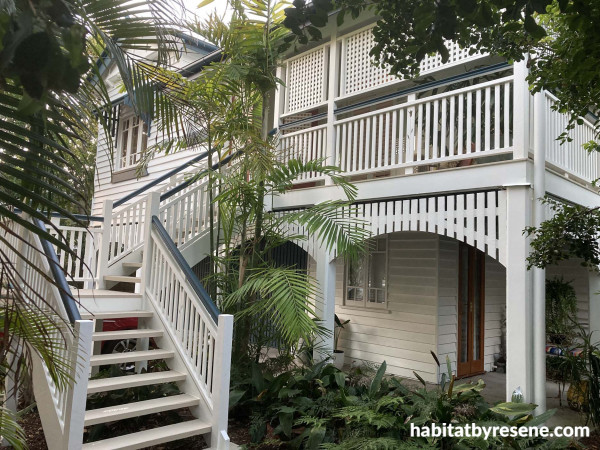 Situated in a luscious garden, Maria and Roger's home glows in Resene Quarter Villa White with window and door frames in Resene Half Villa White and Resene Warrior trim.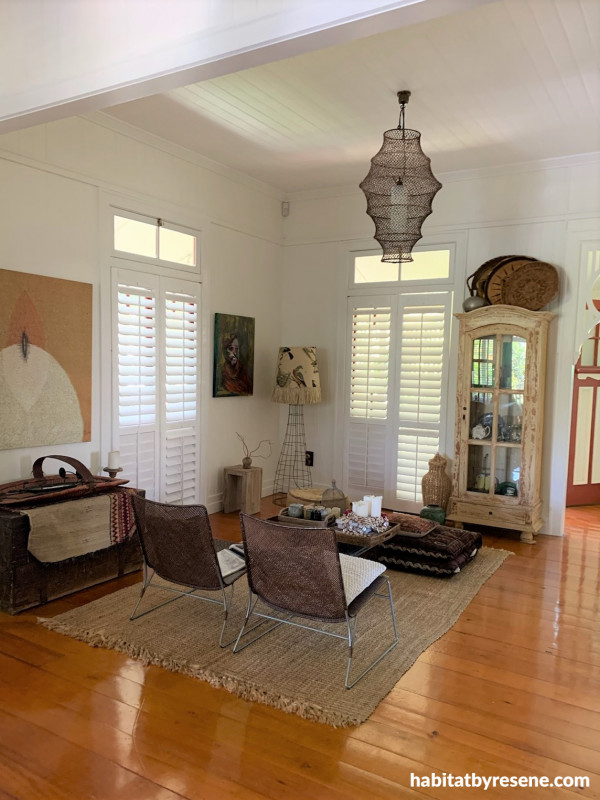 Inside, the walls, ceiling and trim in Resene Quarter Villa White complement the polished hoop pine floors.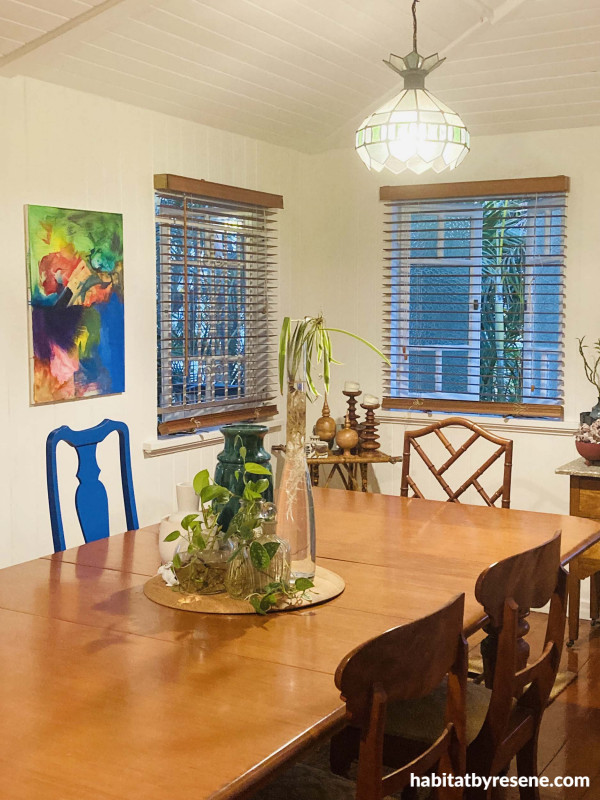 Walls in Resene Quarter Villa White act as the perfect canvas for Maria and Roger's eclectic and colourful furniture.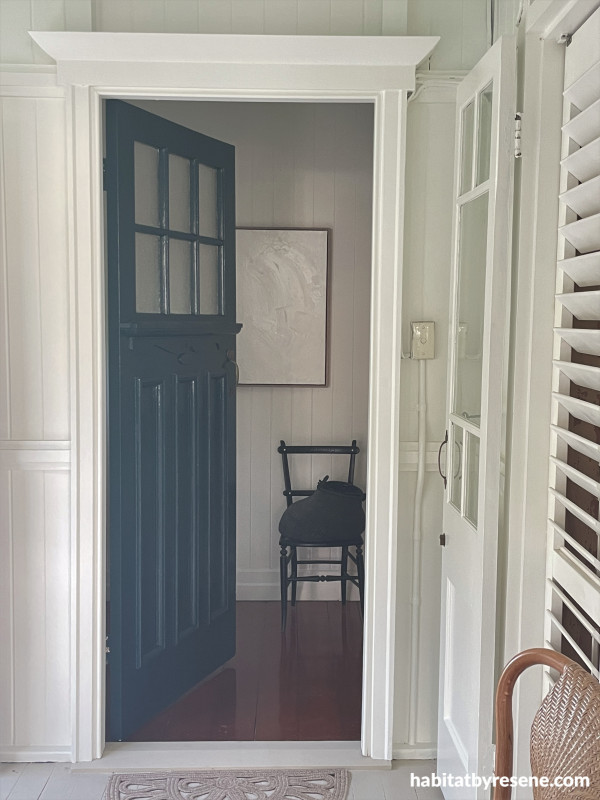 The front door in Resene Warrior brings a sense of depth to the space. The surrounding walls are in Resene Quarter Villa White and the door frame is in Resene Half Villa White.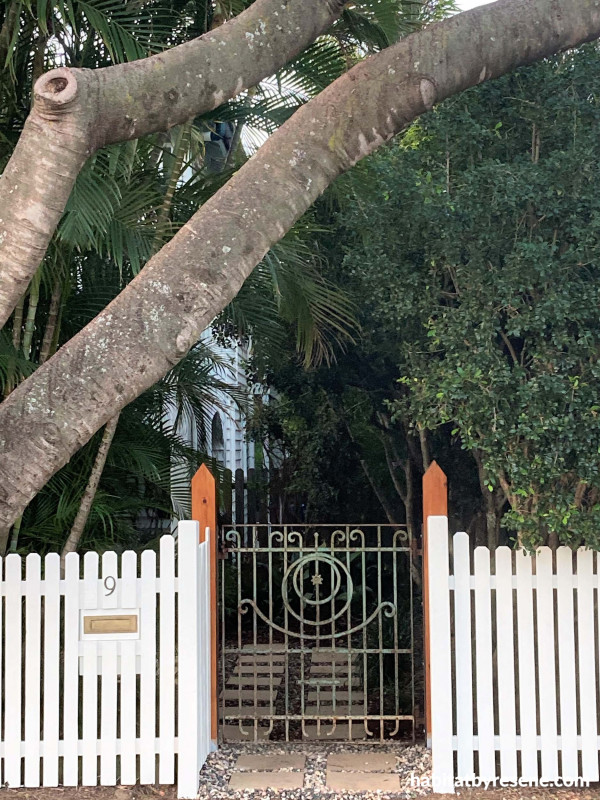 Elegant in its simplicity, the rustic front gate is paired with a white picket fence in Resene Half Villa White.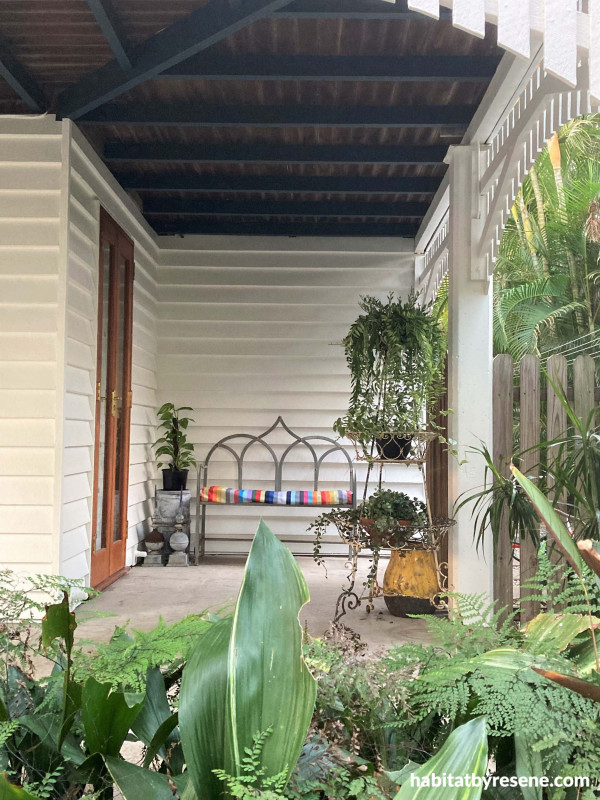 Resene Quarter Villa White brings to life the lower level of the house which also features deep Resene Warrior on the beams.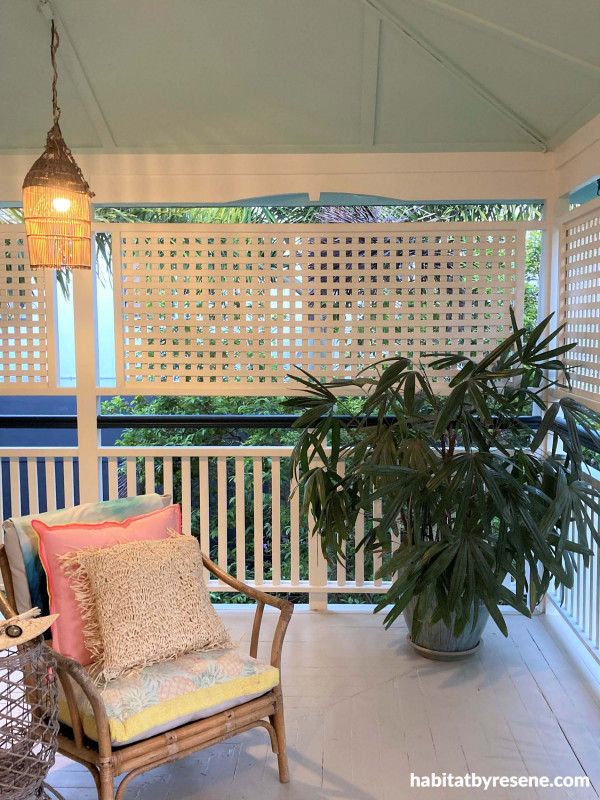 The veranda houses a unique array of wicker furniture, intricate lighting fixtures and lush foliage. The ceiling is in Resene Edgewater with railings in Resene Half Villa White and trim in Resene Warrior.
Published: 21 Oct 2021
Do you have a home full of wonderful Resene paint and colour? Send us some snaps by emailing [email protected].
Resene Quarter Villa White
the look
If you're stuck on what
colour to use or need colour
advice, try out the Resene
Ask a Colour Expert service.