►
◄
latest
habitat tv
blog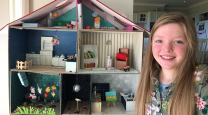 This classic Mt Maunganui Art Deco treasure sparkles with an exotic update
Interior designer Lorraine Brennan felt a weight of responsibility on her shoulders when she renovated her Mt Maunganui home, Trouville. Built in 1945 in an Art Deco style, Trouville was one of the five original baches on the beachfront and is part of the history of the seaside Tauranga suburb. When she and her husband Paul bought the home, locals were worried they would tear the building down, but Lorraine, who runs her interior design company LB Design from Trouville, was keen to show the building the respect she deserved using Resene paints.
"Everyone loves Trouville's uniqueness and everyone, it seems, has a story about her past to tell," say Lorraine. "But this old girl needed a new look and a touch of style to bring her into the new millennium."
The name Trouville was inspired by a seaport in north-western France of the same name. Lorraine brought a taste of faraway lands to the shores of Mt Maunganui including a creating Riad-inspired courtyard and earth-tones they had seen on trips to Bali.
"Our home reflects our love of travel and is a mixture of objects and styles."
Lorraine colour matched Trouville's exterior to the weathered copper roofing iron and spouting by painting it Resene Double Mondo, similar to the dark hues found on the roofs of Balinese temples.
"The name Trouville was really important – everyone knew the name of the bach, where it was, what it looked like," says Lorraine. "I wanted an intense exterior colour so the name, which is painted in Resene Titania, would stand out. Hence the dramatic, bold Resene Double Mondo." Resene Double Mondo is a rich brown; the perfect blend of contemporary and rustic.
For the interior, Lorraine embraced soothing, warm colours. "I wanted a cosy feel to the home as it is small and complex," says Lorraine. "We needed old-style, inviting colours so that layers could be put on layers.
To create a vintage look, Lorraine used paintable Anaglypta wallpaper from the Resene Wallpaper Collection (for a similar look try Resene Wallpaper Collection RD124). "I wanted to add something old fashioned to the house," says Lorraine. "So we went with paintable wallpaper in a pressed-tin style so I could change the colour of it and place it in different areas."
Lorraine painted the pressed-tin style wallpaper in Resene Artisan in the master bedroom. "It provides texture and warmth to the area," says Lorraine, whose favourite room of the house is the master bedroom. "It is so luxurious and soothing. You can't help but relax when you go in there."
Lorraine also used the pressed-tin wallpaper in the kitchen and dining area and painted it in Resene Merino. The ceilings, architraves and trim were painted in Resene Merino as well to provide a subtle flow between rooms. Lorraine spiced things up in the lounge and bathroom, painting the walls a muted pebble grey in Resene Akaroa.
Resene Merino and Resene Akaroa were chosen specifically for their warmth and ability to complement the couple's numerous keepsakes they had collected on their travels. "We have travelled extensively overseas and brought some treasures back: a rug and some leadlights from Marrakesh, a light from Bali, as well as some antiques we had in storage," says Lorraine. "It had to be an eclectic mix of everything."
The house was extended by Phil Mouldey from Wave Construction to create a 'u' shape, which surrounds a new white tiled Moroccan-style courtyard. Lorraine created a riad-inspired look using bright décor and a rustic feature wall using Resene FX Faux Rust Effect to mimic the look of rusted steel. "I love Resene FX Faux Rust Effect, it makes people do a double take and ask what it is as it's so effective," says Lorraine, who plans on using the rust effect technique for her courtyard pot plants too.
The project wasn't without its challenges, as Lorraine attempted to work everything she wanted into the home's small footprint whilst still complying with Council regulations.
"There were large cracks in the old stucco. We used Resene X-200 to hide these. It worked really well," says Lorraine.
"The renovation was no mean feat by all accounts, but it is now a seamless blend of old and new."
Lorraine says the greatest pleasure has come from neighbours and passers-by appreciating Trouville's new look, reminiscing about their own memories of the home and telling the couple how pleased they are that the bach was not torn down.
"We're happy that Trouville's distinctive heart remains beating along with its stories," says Lorraine.
Top paint tip: Use Resene SpaceCote Low Sheen for interior walls and Resene Lustacryl (semi-gloss) or Resene Enamacryl (gloss) for trims. To make a colour moodier go for an ever flatter finish, like Resene SpaceCote Flat. An easy way to add extra interest to your décor is with the Resene FX Paint Effects range, with everything from magnetic and blackboard finishes to metallic, shimmer and faux rust finishes.
Lorraine runs an interior design studio from her home called LBDesign, for enquiries contact her on [email protected].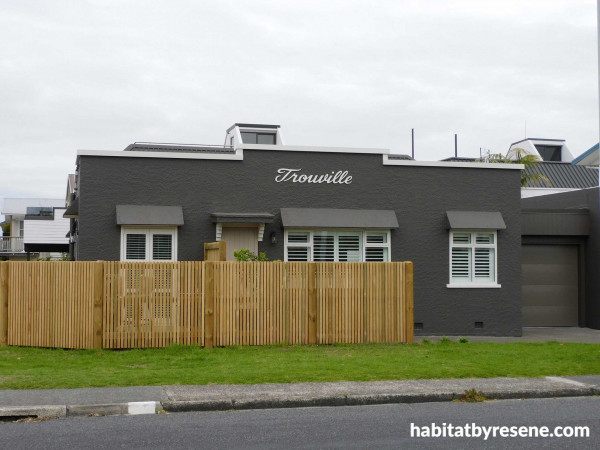 Trouville's exterior walls are painted in striking Resene Double Mondo and contrast with the Resene Titania capped pelmets and name painted in Resene Titania.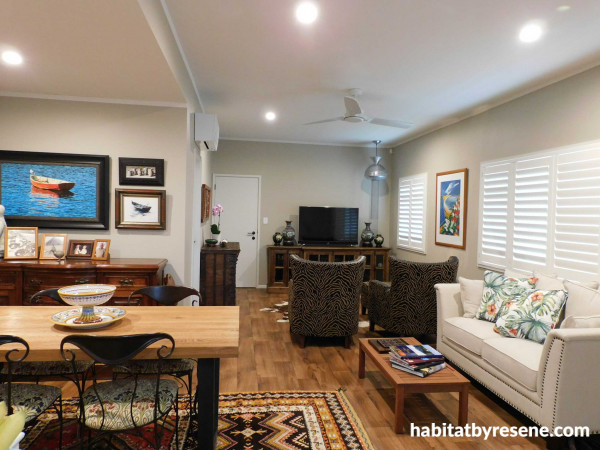 The living areas retain a warm, old-style feel with Resene Akaroa on the walls and a neutral Resene Merino that lightens up the ceiling and trim.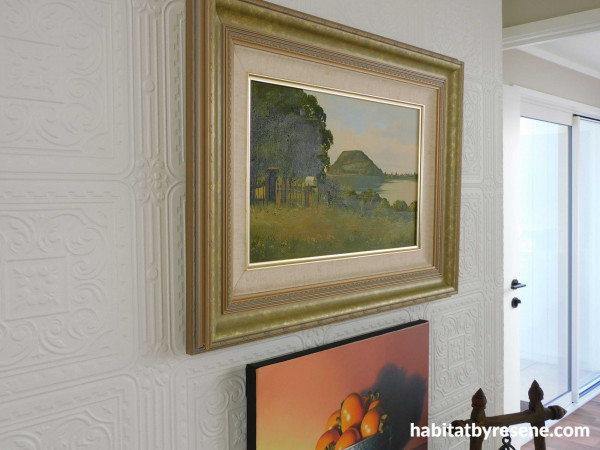 The kitchen and dining area got a classic update with pressed-tin style paintable wallpaper from the Resene Wallpaper Collection, painted in Resene Merino. For a similar pattern try Resene Wallpaper Collection RD80000.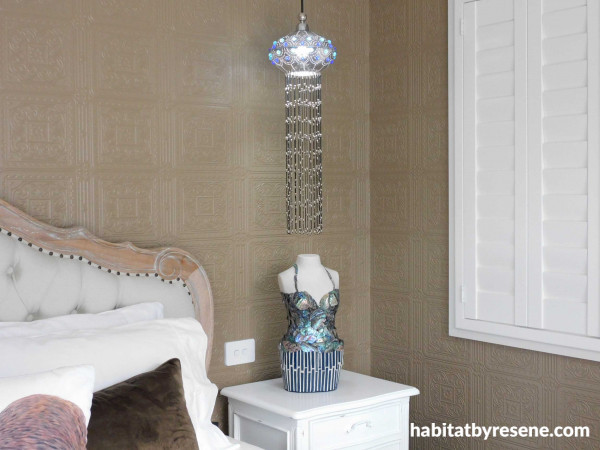 Lorraine's favourite part of the house, the master bedroom, also uses the pressed-tin style paintable wallpaper from the Resene Wallpaper Collection. She achieved a cosy look by painting the wallpaper in Resene Artisan and the trim in Resene Merino. For a similar pattern try Resene Wallpaper Collection RD80000.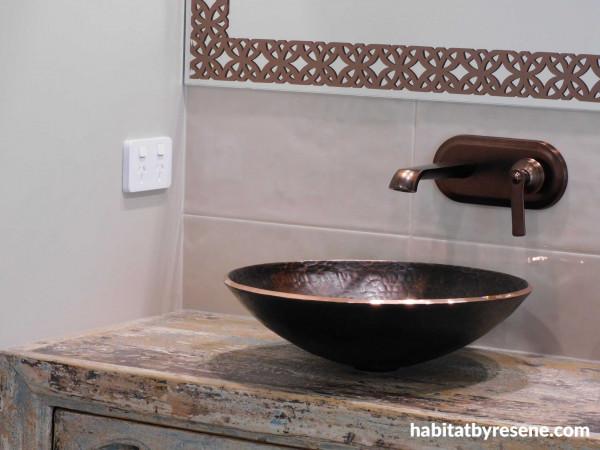 The walls in Resene Akaroa perfectly complement Lorraine and Phil's eclectic mix of décor.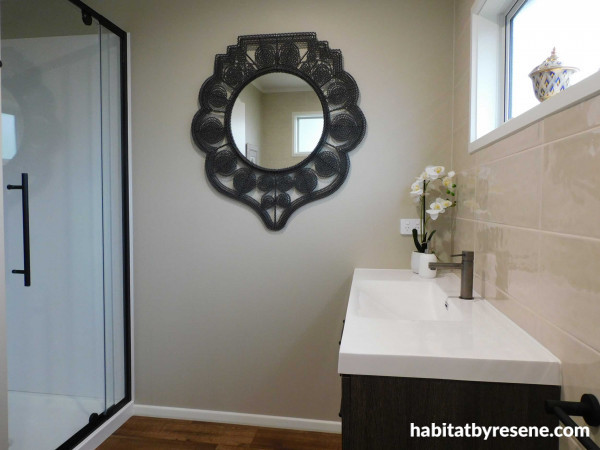 The bathroom walls in Resene Akaroa and trim in Resene Merino are coated in Resene SpaceCote Low Sheen waterborne enamel to ensure the long life of the paint in wet areas.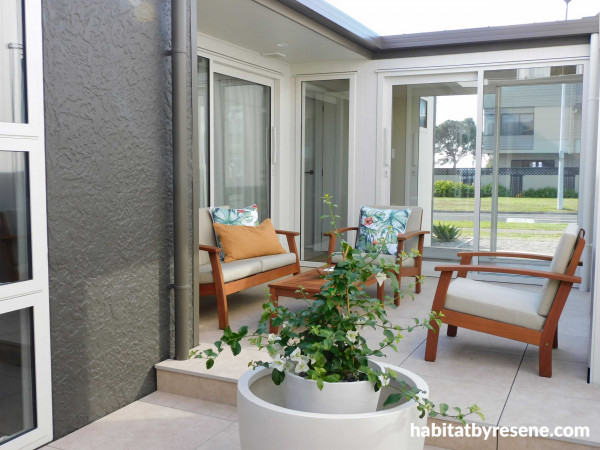 Lorraine and Phil's private Moroccan-style courtyard is nestled next to the home's internal walkway that links the original, renovated Trouville bach with their new modern pod-style extension. The exterior in Resene Double Mondo provides a cosy feel to the space.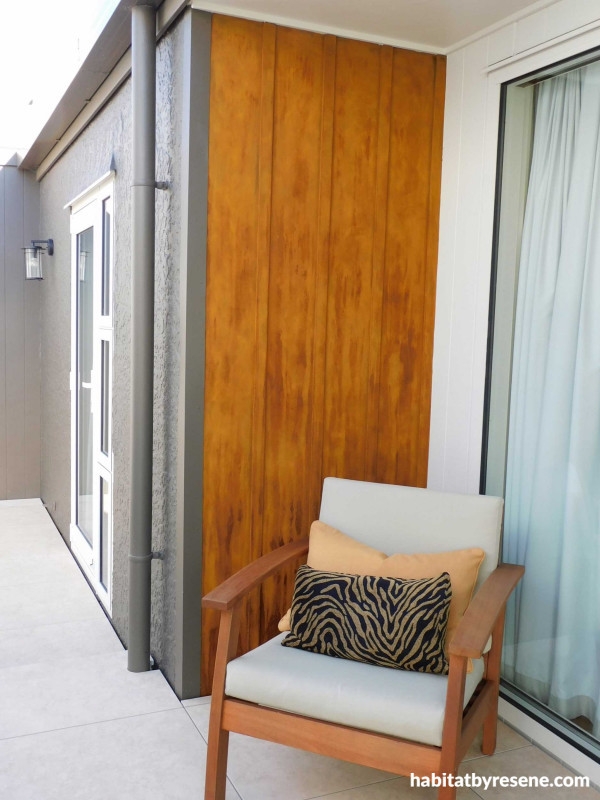 The courtyard's feature wall uses Resene FX Faux Rust Effect for a rustic look reminiscent of Moroccan brass lanterns.
Published: 22 Apr 2021
Do you have a home full of wonderful Resene paint and colour? Send us some snaps by emailing [email protected].
the look
If you're stuck on what
colour to use or need colour
advice, try out the Resene
Ask a Colour Expert service.