►
◄
latest
habitat tv
blog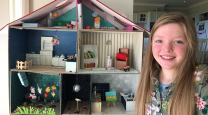 This eclectic Greytown home is a celebration of creative colour use
Every design decision Nikki makes when decorating her Greytown home follows a simple rule: it has to be pretty and practical. Working with a lively palette of Resene colours, Nikki has decorated every inch of her house to these requirements with stunning effect.
No matter where you turn your head there's an innovative use of colour to behold, and it's clear how much fun Nikki has had experimenting. And fun is the key word here. "I often read or hear people saying, 'we wanted to pick a colour that was timeless,' but the fact is paint doesn't last forever and you really want to be giving things a refresh every few years anyway, so why not have some fun?"
Nikki's first fun colour experiment sits proudly as you enter the house. A colour blocked mural greets you warmly in the entry way. Inspired by mural artist Rachel Jackson, Nikki created the arched design using Resene Cleopatra, Resene Deep Teal, Resene Deep Sea and Resene Rock Spray. The saturated hues pop against backdrop of Resene Black White on the walls and skirtings in Resene Merino. Two wall mounted coat racks painted in a similar colour to Resene Nero make sure the feature entranceway ticks the practical checkbox.
In the lounge, a vibrant ceiling in Resene Half Resolution Blue draws eyes skyward. In a past life, the room had been a formal dining room off the kitchen linked only by a small door. Nikki and her partner Tom, who are both builders by trade, opened up the wall to make the space more condusive to modern family living. They added the energetic blue hue up top to "bring it to life and stop it feeling like the box tagged onto the end of the house."
Throughout the house, clean walls in Resene Iron and sharp skirtings in Resene Merino let the electric flashes of accent colours be the star of the show. This clever strategy is evident in the bedrooms of Nikki's children Jude and Harper. Filled with bright toys and rainbows of colourful accessories, the rooms still feel fresh and restful because of the refined scheme they're based against.
For someone who's clearly not afraid to use colour, it is a little surprising to learn that Nikki's favourite colour is actually black. But take a closer look and you'll see the shade is actually peppered through the house. "I have a very eclectic style, but I also love the simplicity of monochrome. I often use black, I'm not afraid of it." Nikki explains. "People often think dark colours make areas feel small, but if you use them right, they can do the opposite and add depth and warmth."
The kitchen is a masterclass in using black to inject a space with style, colour and flare. Walls in Resene Double Foundry, a shade of rich charcoal, provide a soulful backdrop for Nikki display her pop art collection and colourful accessories. Open light timber shelves add to the warm unfussy feel.
Nikki has decorated the back of the adjacent pantry with a graphic arch pattern she hand-painted using Resene Double Foundry and Resene Black White. "I was inspired by tiles I saw on a bathroom floor but knew I would never be able to find them in NZ," Nikki says. It was a fiddly job, but the finished product makes her smile every time she sees it. Nikki thinks the secret to a great paint job is in the prep. "The more prep you can do in an area before you paint, the easier the actual painting part will be."
The pantry is concealed from the kitchen with a sliding barn door that Nikki made from scratch. Finished in Resene SpaceCote Flat tinted to Resene Black, it's the project Nikki is most proud of.
The other area Nikki is particularly pleased with is a space that perfectly aligns with her pretty and practical rule: the laundry. As a mum of two young children, it's an area she spends a lot of time in, so she's designed it to work and look just how she wants. With walls and overhead storage in Resene Black White and under bench plywood units she made then stained in Resene Colorwood Pitch Black this inviting room is practically perfect – just like the rest of the house.
Published: 09 Sep 2020
Do you have a home full of wonderful Resene paint and colour? Send us some snaps by emailing [email protected].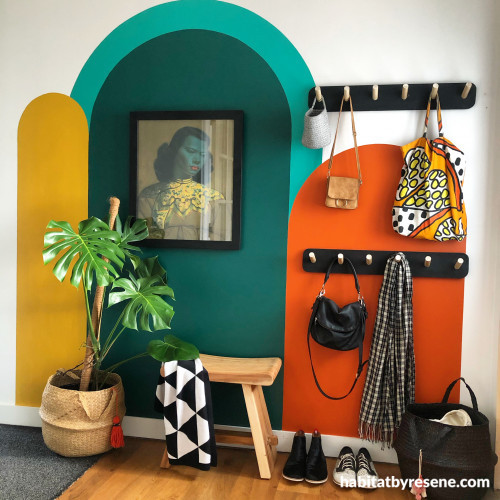 A theme of bright colours set against a warm white background with sharp black accents runs right throughout Nikki's home. This bold colour blocked mural in the entryway features Resene Cleopatra, Resene Deep Teal, Resene Deep Sea and Resene Rock Spray with walls in Resene Black White. Skirting in Resene Merino frames the bottom of the mural.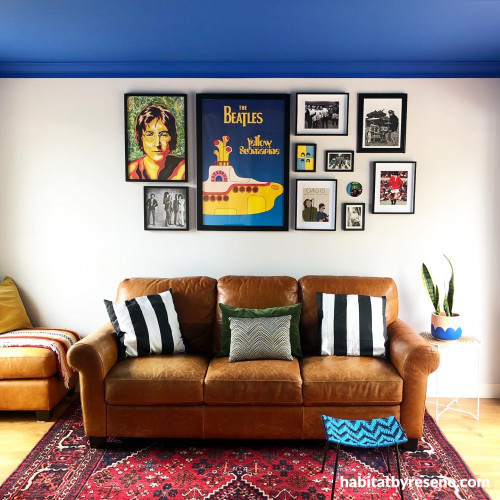 Nikki's lounge has a fantastic energy about it and it starts from the top with a ceiling in Resene Half Resolution Blue. She's carried the brilliant blue theme into rest of the room with the artwork and accessories, like the scalloped pattern on the plant pot. Using clean whites likes Resene Iron on the walls and Resene Merino on the skirting boards allows the blue ceiling to take centre stage as the hero of the room.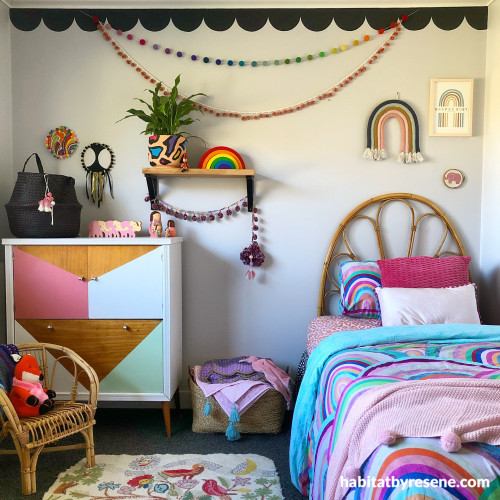 Nikki upcycled a dresser in daughter Jude's room using Resene Soft Whisper, Resene Tutti Frutti, Resene Splat and Resene Pink Panther because she wanted her kids' bedrooms to display their treasures rather than hiding them away. A muted palette of Resene Iron and Resene Merino on the walls stops the space from looking too busy. Scalloped trim in Resene Double Foundry mimics the shape of the other bunting.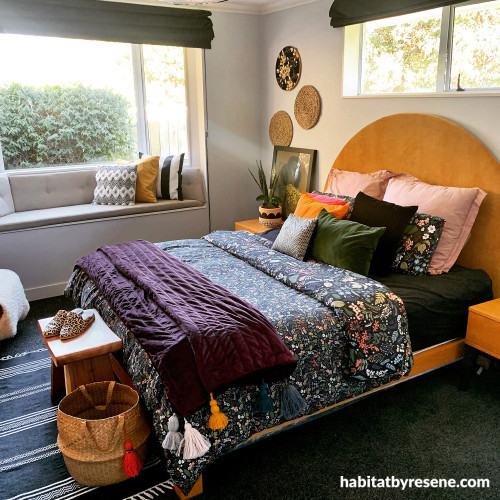 In the master bedroom, Nikki combined vintage floral designs with deep on trend colours. To embrace this design, layer in smaller items in your room in key hues like Resene Meteor, Resene Sakura and Resene Palm Green. Walls in Resene Iron, ceiling in Resene Black White and trims in Resene Merino.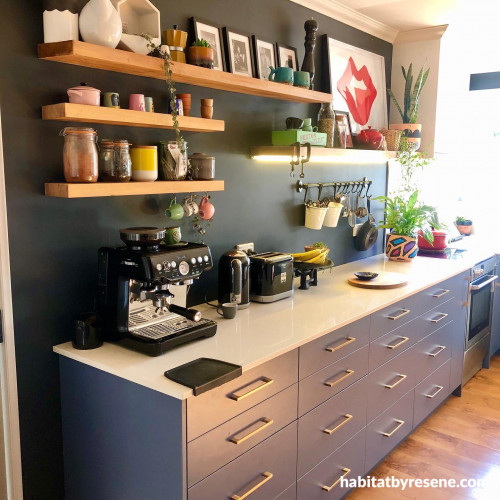 Nikki's collection of pop art and decorative treasures are displayed against the walls in Resene Double Foundry. The open shelving reflects the warmth of the floor. Ceiling in Resene Black White and trims in Resene Merino.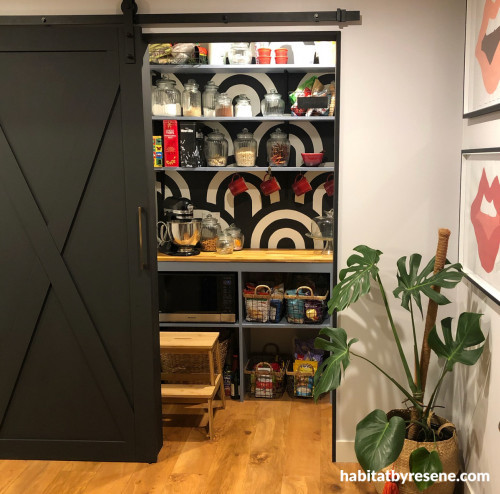 Recreate Nikki's arch motif with hand-painted shapes in Resene Double Foundry and Resene Black White. Her hand-painted barn door is in Resene SpaceCote Flat tinted to Resene Black. Get the shelving look with Resene Ship Cove.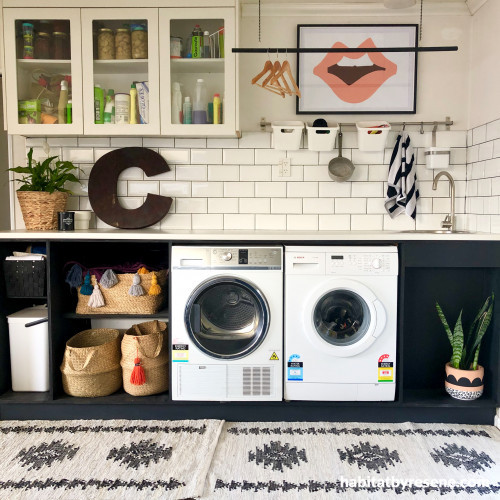 The feeling in Nikki's adorable laundry is clean with a capital C. To get the same look paint walls and cabinetry in Resene Black White and stain under bench storage in Resene Colorwood Pitch Black. Choose soft textiles in a colour similar to Resene Eighth Joss for soft warmth underfoot.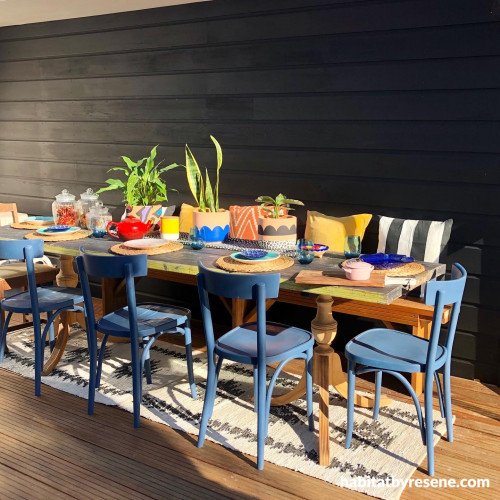 The playful colour use extends outside at Nikki's too. The cedar cladding was one of the first things to get a refresh when Nikki and Tom moved in. They used Resene Woodsman stain in Resene Pitch Black. Get the look by repainting your outdoor seating in Resene Lustacryl semi-gloss tinted to Resene St Tropaz.
images:Nikki Kettle