►
◄
latest
habitat tv
blog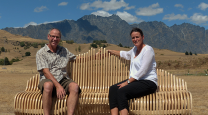 This home shows why you shouldn't fear using edgy Resene Black on your walls
Arna and Dave say when it comes to picking colours and styling a home, don't overthink it. Choose what you love and you can't go wrong. This meant bold and exciting Resene colours for this couple, in rich, earthy tones like Resene Waiouru and Resene Desperado. "We wanted to add interest with colour without being blindingly bright."
Arna's dad (Gary) built the family of four's home and separate matching apartment in rural Feilding in 2020. "It was his last big project after 50 years as a builder. We were inspired by other new builds we'd seen on a winter holiday to Queenstown and Wanaka."
There were plenty of black and cedar clad exteriors down there, which Arna says they hadn't really seen in the North. "That look in the alpine setting really stood out and subsequently inspired our new build. So we went with that alpine exterior theme, which fit with our amazing view of the Ruahine Range."
Inspiration for Resene colours in their home came from a few places. Early in their build they'd spied an olive-green leather couch in a furniture store. "We loved it, bought it and based the wall colours around that."
Using the deep and dark Resene Black in their home was a no-brainer, Arna says. She loved its edginess and wanted a hard contrast against any white, to add depth and interest. "Resene Black White was an easy pick, there are so many white choices, but friends had used Resene Black White in their house, and we thought it looked nice and crisp."
In a world of white kitchens, Arna's fearless use of Resene Black paid off in all the right ways. The inky kitchen is striking, softened by rattan pendant lights on the ceiling. "Interior-wise I guess you could say we went with a rustic, mismatched, industrial feel. We have lots of random antique and retro furniture and interesting art pieces from our old place that we wanted to be able to keep and display in the new house."
Resene Black was used again as a feature wall in their media room, and on all their internal doors. The resulting look is bold and contemporary. The earthy and wild Resene Desperado was used under the bulkhead of their fireplace.
In their daughter Willa's room, Arna chose a three-quarter feature wall in Resene Waiouru. "We love Resene Waiouru for its natural and calming feel. This smokey army green offsets her girly pastel linen and furnishings nicely." In their son Nash's room, they went with the same feature wall style, but with the lower half in bright ochre Resene Rusty Nail. Resene Black White provides contrast in both their rooms on the tops of the wall.
"We are stoked with the whole house really, but we're particularly happy with the exterior look. Now that our gardens are a bit more established the house looks so striking on the corner section, especially at night with the outdoor lights on." Outside, weatherboards were painted in Resene All Black using Resene CoolColour technology.
"We were so lucky having my dad build and manage the project, he has 50 years of experience in the industry and had so many tips to better our build," Arna says. "We were mid-build during the first Covid lockdown, so that halted progress considerably as sub-contractors were unavailable for a month or so. But otherwise we were so lucky to have a challenge-free experience really, and again my Dad is to thank for that, he ran the show."
Recently, Arna and Dave's family home was crowned the winning home of the Your Home & Garden 2022 Resene Colour Home Awards. Design from the heart and don't worry about trends and what others say, Arna emphasises. "Enjoy the building process and get involved where you can, the house means more when you know what's behind the walls and have contributed to its construction."
Top tip: Ever thought your home would look great painted in a darker colour, but had to shelve plans for fear of the heat damaging the substrate or the building getting unbearably hot in summer? There's a solution!
Resene CoolColour technology (like Arna used on their exterior) makes painting exterior surfaces in darker colours both easier and safer. It can be used on all sorts of exterior materials and applications, from weatherboards and concrete to windowsills. A Resene CoolColour looks like a normal colour but thanks to special pigment technology it reflects more heat, so it doesn't get as hot as a normal colour would.
images by Florence Charvin, courtesy of Your Home & Garden magazine.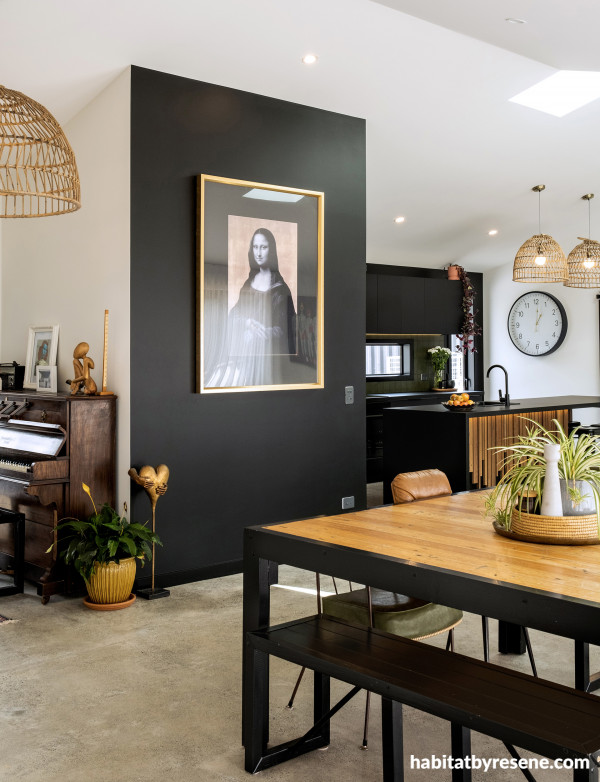 "My dad did a rough polish on the concrete flooring which has a really cool, imperfect, industrial feel, so we built the interior styling from the ground up (literally). We chose bronze tapware and light fittings, huge rattan lampshades, a matte black kitchen benchtop and a real mixture of old and new furnishings in different textures, bold art and quirky knickknacks." Walls in Resene Black, opposite walls and trims in Resene Black White and ceiling in Resene Half Black White.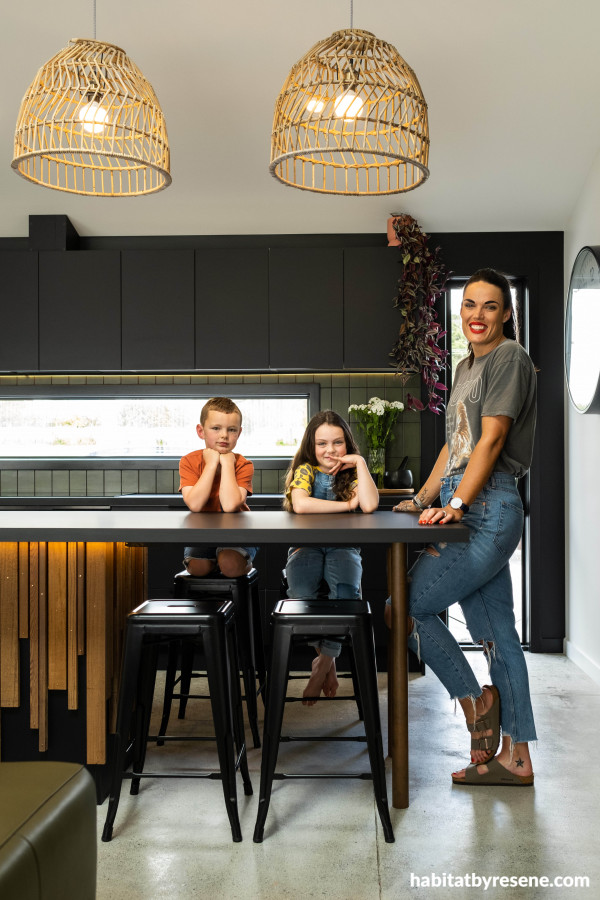 "Dad drafted the plans, as builders did in days gone by, and they were fine-tuned locally by Nest Architecture. The main house has three bedrooms and two big living spaces, plus we have the separate one bedroom apartment with full size kitchen, bathroom and garage where my parents live." Top of walls in Resene Black, opposite walls and trims in Resene Black White and ceiling in Resene Half Black White. For a seamless look bring your Resene wall colour onto your kitchen cabinetry with Resene AquaLAQ.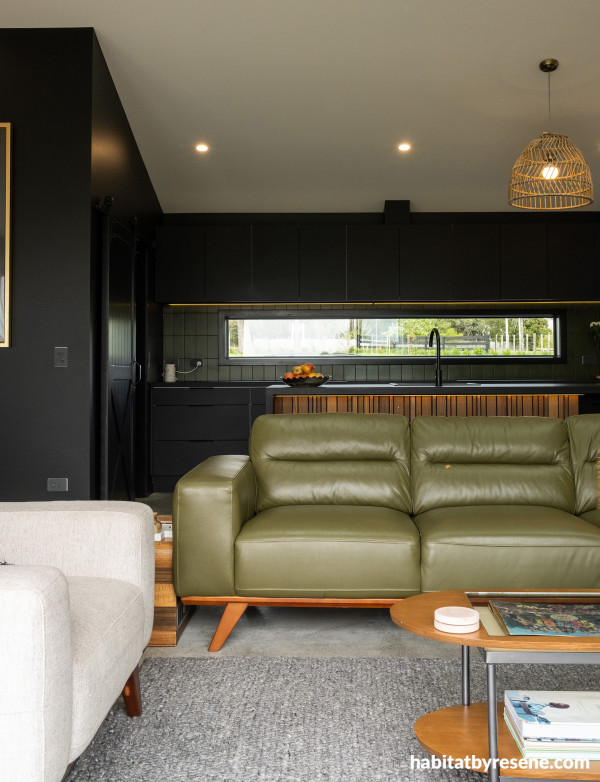 "For the most part we used Resene Black White on the internal walls, skirting and door frames and Resene Half Black White on the ceilings. But being a bit eccentric we couldn't go past pops of colour throughout the home." Walls in Resene Black and ceiling in Resene Half Black White.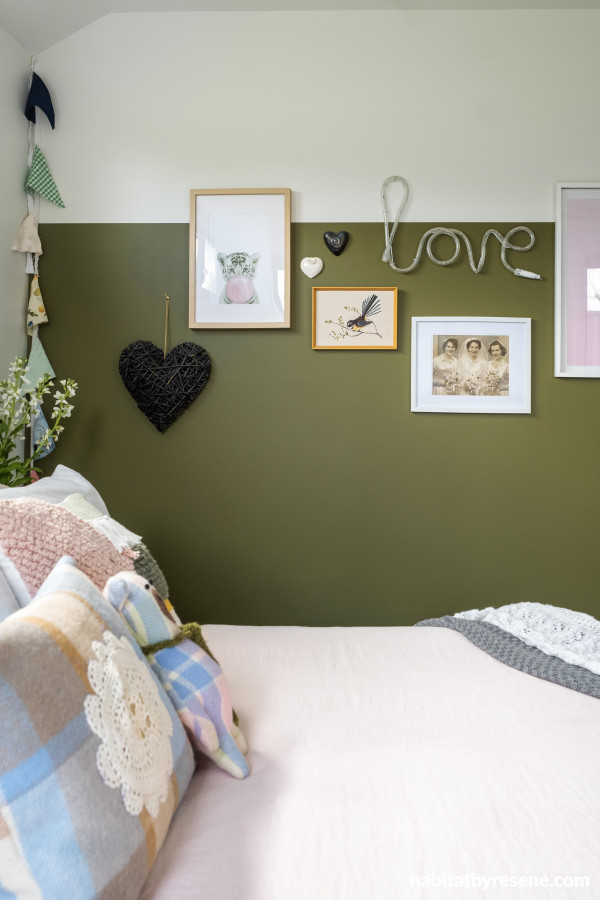 The three-quarter colour-blocked style wall in Resene Waiouru in Willa's room is offset by Resene Black White on the upper quarter to define the earthy pigments.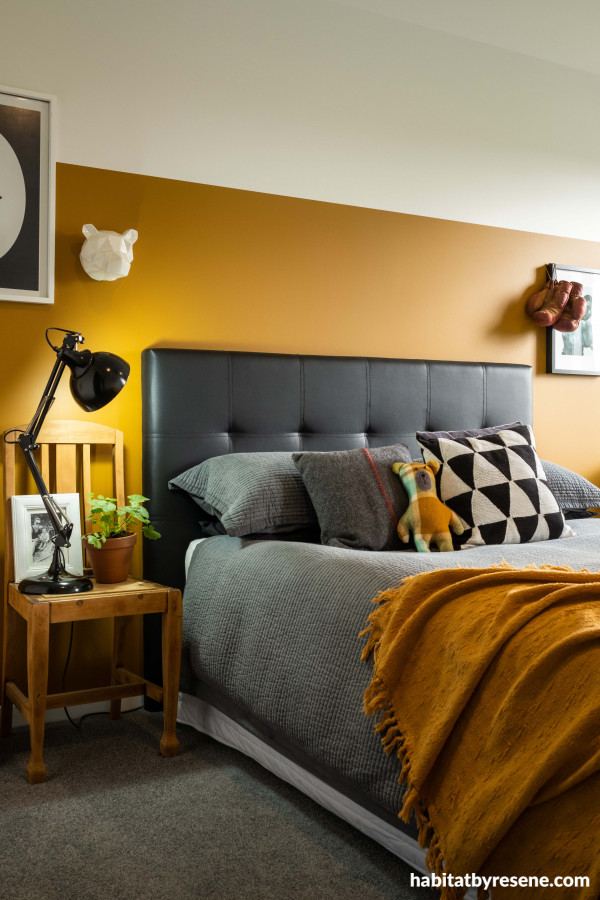 In Nash's room, bright ochre Resene Rusty Nail is the star. Resene Black White provides contrast on the upper wall, with Resene Half Black White on the ceiling.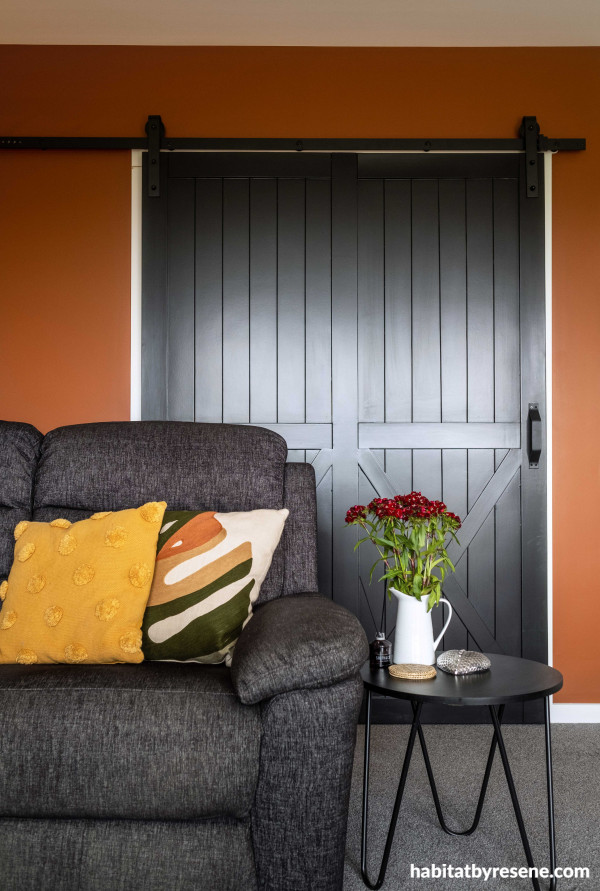 "We used Resene Desperado under the bulkhead of our fireplace and as a feature wall in the apartment. We love the open informal lounge space next to the fire. It's where we spend most evenings. There's no TV in there, just a beautiful view out to the ranges." Wall in Resene Desperado, door in Resene Black, trims in Resene Black White and ceiling in Resene Half Black White.
Published: 27 Jul 2022
Do you have a home full of wonderful Resene paint and colour? Send us some snaps by emailing [email protected].
the look
If you're stuck on what
colour to use or need colour
advice, try out the Resene
Ask a Colour Expert service.