►
◄
latest
habitat tv
blog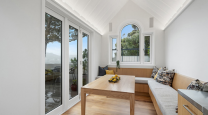 Master Builders' Chief Executive David Kelly shares his tips for building in the challenging climate.

Planning... more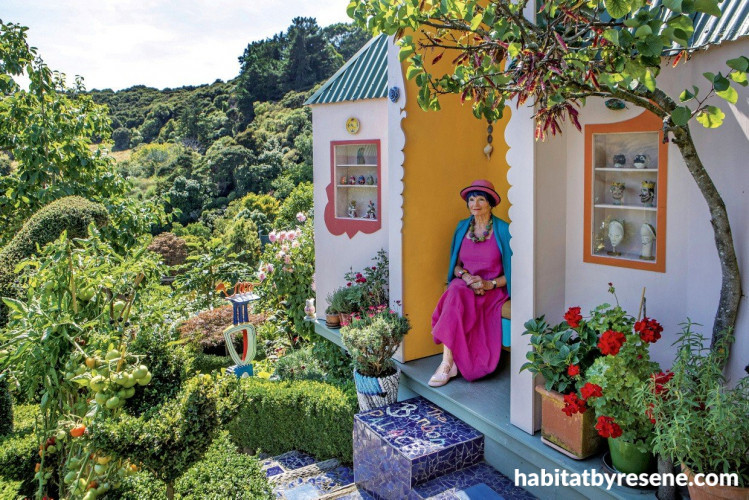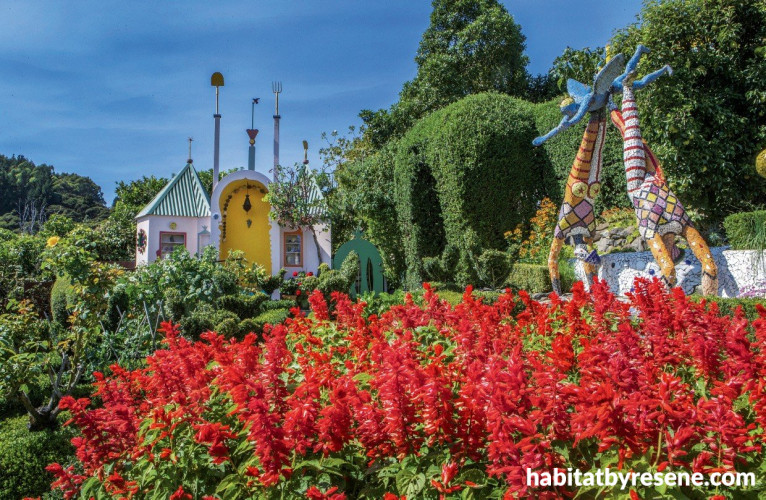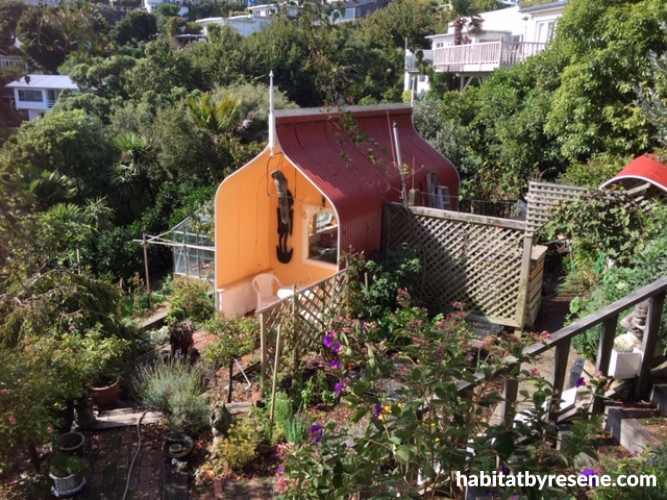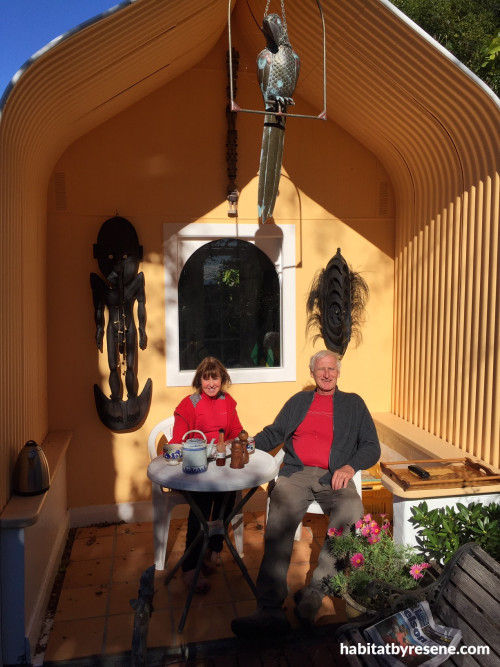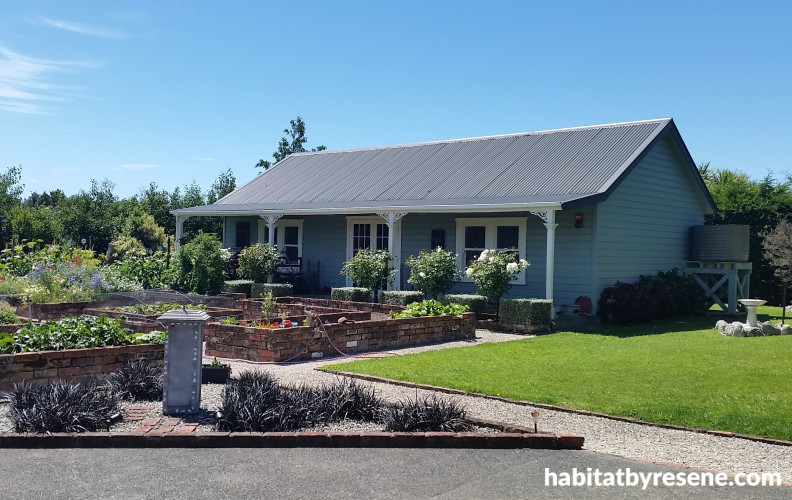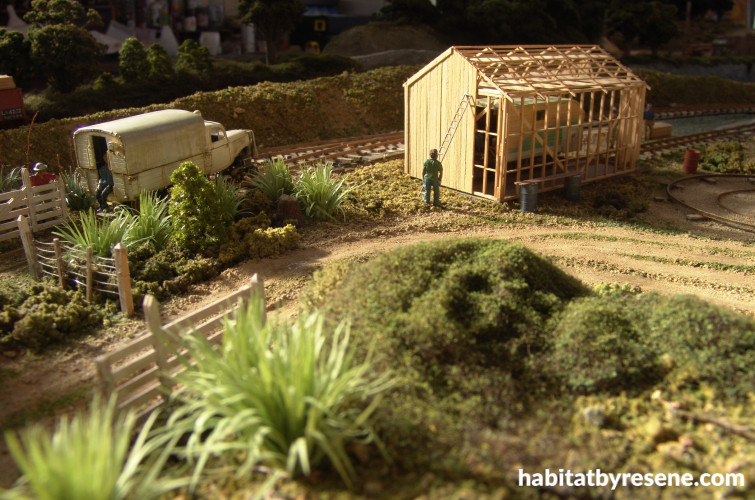 Three spectacular garden sheds that do more than just store tools
For most, a shed is a basic garden structure where we might keep our lawnmower, potting mix or general outdoor bits and bobs. But, for these three creatives, a shed is something completely different. Prepare to be inspired by how each has used Resene paint colours to bring their unique spaces to life.
Josie Martin's Bonbon Palace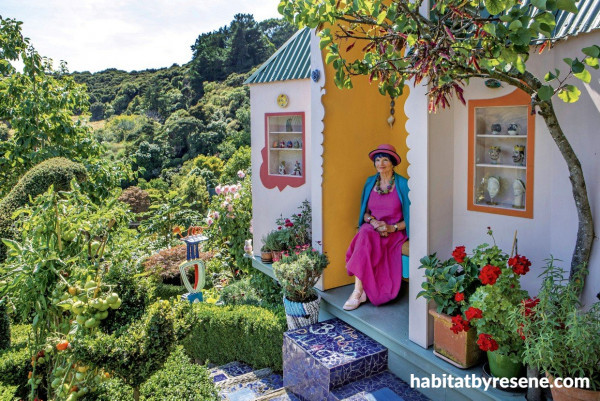 Josie Martin sits on the porch of her colourful shed, aptly named 'The Bonbon Palace'. Resene Wafer, a soft pink, features as the main exterior colour of the shed with Resene Red Berry (left) and Resene Tangerine (right) on the whimsical window trims. Resene Gold Tips brightens the doorway with its molten yellow hue and Resene Pelorous, a friendly sea blue, graces the roof and floorboards.
Spectacular doesn't even begin to describe the sight that greets you at The Giant's House, the world-famous garden and property in Akaroa, New Zealand. Owned and created by artist Josie Martin, it blossoms with colour from sky high mosaic sculptures and a whimsical garden shed, known as 'The Bonbon Palace' – which was runner-up in NZ Gardener magazine's Resene Shed of the Year competition in 2019.
It's a project that started more than 20 years ago, when Josie first used broken pieces of China to create a mosaic doorstep. More mosaic pieces were added to the garden, their designs getting more impressive with each addition. An acrobatic trio, a grand piano fit for a rockstar's performance and a ship ready to set sail are just a few standouts.
"I have always been a bit of a rebel. It's in my DNA," says Josie. "I have a love for creating, interesting colour combinations and the element of surprise. The possibilities presented by living at The Giant's House offered me the opportunity to practise such, and the challenge to combine my art and horticulture to build a sculpture garden."
With her 40 years experience in art and horticulture, and involvement in 30 art residencies around the world, Josie was the perfect person to create a colourful paradise at The Giant's House. Her efforts didn't go unnoticed. It's been named as an International Garden of Significance, attracting tourists all over the world to visit and experience its beauty.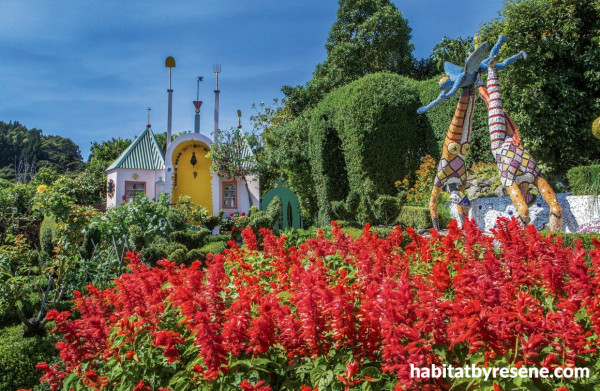 Nestled amongst the mosaic-filled sculpture garden is The Bonbon Palace. Its golden yellow arched door, painted in Resene Gold Tips, stands out as a feature next to Resene Wafer (the main exterior colour) and Resene Pelorous (on the roof).
The Bonbon Palace is Josie's favourite painted element in the garden, a gloriously whimsical shed finished in Resene paints. Resene Wafer is the main exterior colour with Resene Gold Tips at the entryway and a final flourish of Resene Pelorous sings from the rooftop.
Her advice for creating such a magical garden? "Just start," says Josie. "Do your homework and then trust your intuition – and believe in yourself."
Adrian's garden temple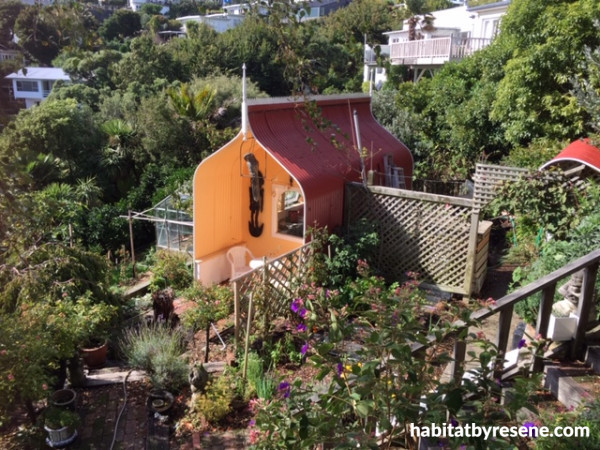 Adrian's attractive arched shed sits snuggly in his garden. Resene Pioneer Red features on the corrugated iron roof and the warming tones of Resene Chardonnay lines the inside. A spire painted in Resene Alabaster is "the icing on the cake," says Adrian.
"Anything I put on my property must be interesting, sometimes practical and preferably beautiful," says Adrian Faulkner. His garden shed is no exception. Adrian, who describes himself as "not a builder, just a practical bloke," built the shed himself in 2006 and says it has been a total success.
Much like Adrian, the shed is a jack of all trades, serving as storage for garden equipment, a café where Adrian and his wife Helen enjoy their morning coffees – and a retreat for Adrian to enjoy on his own.

Helen and Adrian sit in the outdoor seating area of the shed where the walls are lined with Resene Chardonnay and the window trims and architraves are painted in Resene Alabaster.
The shed is resplendent in a rusty red and warm yellow colour palette – Adrian's favourite colour combination (he also has a yacht in the same colours, which he sailed the world). For Adrian, Resene Pioneer Red is a reminder of his childhood on the farm and traditional shearing sheds while Resene Chardonnay, an orange-based yellow, is the perfect pairing.
"The colours are also very Buddhist," says Adrian. "There are a dozen stone Buddhas throughout the garden," which made the colour palette seem even more fitting given that the shed has hints of a temple's form.
"It was a great challenge designing and building something totally unlike anything I have ever seen before," says Adrian. He tentatively ordered 28 pieces of rolled corrugated iron for the roof without knowing if his grand design was going to work. The design in question was a double-curved roof with a shell of corrugated iron extending to the base of the structure.'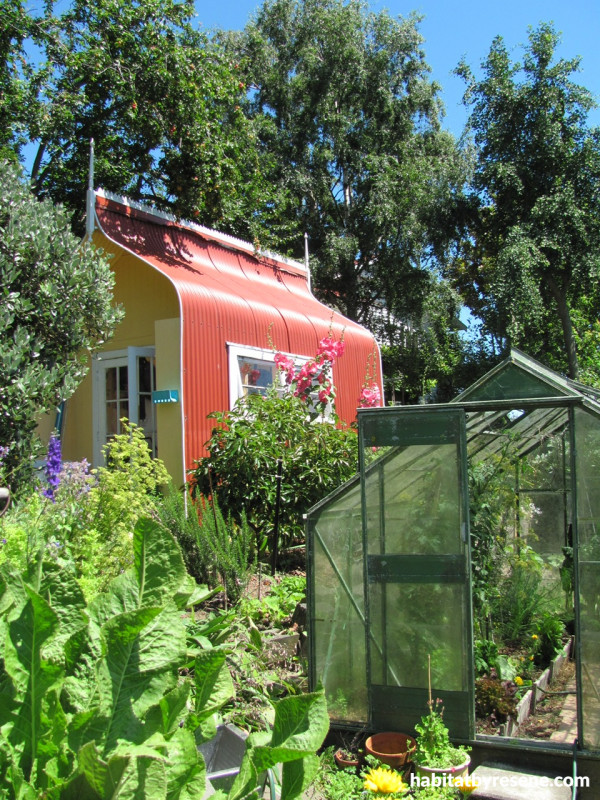 Adrian loves the colour combination of red and yellow, so Resene Pioneer Red and Resene Chardonnay were his go-to choices for the shed. Resene Alabaster adds a fresh white accent on the trims and spires.
"I was really nervous," he says. "In my head, I knew it had to work, but translating that into reality was scary. But when the first two panels worked, I just kept on moving until all 14 were joined together."
Decorative frieze strips made their way onto the roof of the shed, which pay homage to a trip to Mauritius, along with a spire that was left over from the house build. It provided the perfect finishing touch. Or, as Adrian says, "the icing on the cake."
Grant's train modelling workshop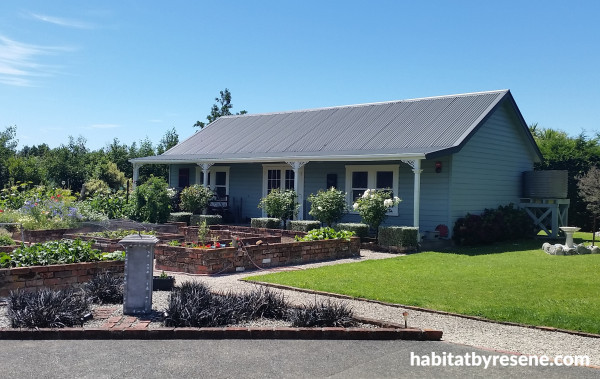 From the exterior, you'd never guess what lies inside Grant Morrell's charming shed. It's painted in Resene Blue Smoke with Resene Half Spanish White on the trims and recycled windows and doors. The model train enthusiast didn't have many requirements for the style of the shed, except that it needed to have a roof pitch in the style of a railway station.
Inside Grant Morrell's charming shed is an epic miniature world; the NZ bush railway scene of the 50s and 60s. The former navy man has a long-term love affair with trains. He has fond memories of staying with his grandparents in the school holidays and visiting the railway workshops in Otahuhu where his grandfather worked. "I spent many hours as a child on the bridge or down the station watching trains go by," he says.
A passion for model kitsets – cars, trucks, planes or ships – was born from a young age, too. "Model trains – New Zealand Railway, in particular – came to the fore and still continues today now that I have retired," Grant says. "It's a passion of relaxation and the comments I get from the many people that visit my train room is very favourable to my detailed work."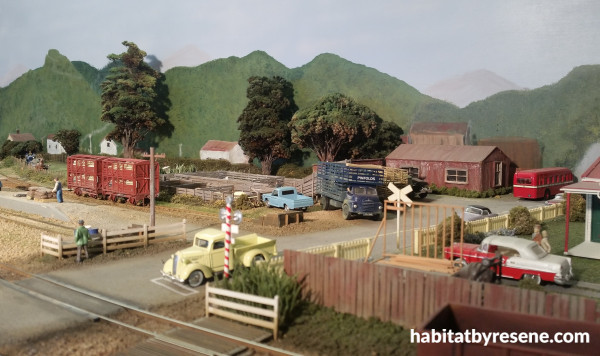 Grant's models are painstakingly detailed. Colours like Resene Buttermilk, Resene Pioneer Red, Resene Camouflage and Resene Escape are synonymous with 50s and 60s New Zealand.
Researching plays a big role in his modelling to ensure it's a correct representation. Grant remembers a young boy saying to his mum when they were viewing the layout, "Mum, that's like looking out our back door," – no higher praise.
Of course, a model of this size needed a space for itself, and this is where the shed came in. When the family moved to their new house in 2004, Grant spied the perfect spot in the garden for his workshop to be built. "I knew what I wanted with regards to having a hobby room. I set about pegging the size required on the back lawn and it went up from there." The design itself needed to have a railway station style roof pitch, he says, as well as blending in with the house and garage.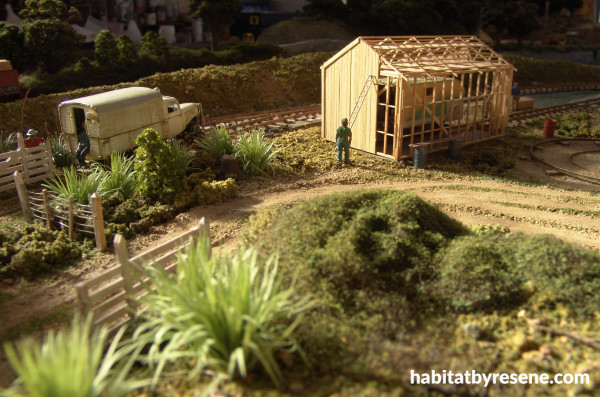 Visitors from all over New Zealand travel to see Grant's epic miniature world.
He chose Resene Blue Smoke for the main exterior colour and Resene Half Spanish White for the trims and recycled windows and doors. The shed is a testament to his detailed work, so much so that it even won NZ Gardener magazine's Resene Shed of the Year for 2020.
Grant spends most of his evenings working on models out in the shed, "I'll either be building and fixing for other modellers, or just tinkering on my own layout."
images Adrian Faulkner, NZ Gardener magazine/John Kirk-Anderson, Grant Morrell
Published: 24 Jun 2020
Do you have a home full of wonderful Resene paint and colour? Send us some snaps by emailing [email protected].
Resene Half Spanish White
the look
If you're stuck on what
colour to use or need colour
advice, try out the Resene
Ask a Colour Expert service.