►
◄
latest
habitat tv
blog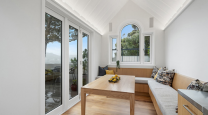 Master Builders' Chief Executive David Kelly shares his tips for building in the challenging climate.

Planning... more
Amazing garage ideas as seen in Three's The Block NZ Garage & Laundry week
It was the week to win this week on Three's The Block NZ. With $7000 up for grabs and the chance to remove another team from room reveal, the teams created some showstopping garages & laundries using a range of dreamy Resene neutrals, including Resene Barely There and Resene Alabaster.
The teams took to the stage in Block Stars this week, pulling out all the stops to entertain a crowd with their singing, dancing and comedic skits. Tim & Arthur proved they were a tough act to follow and stole the show, winning themselves $5000 towards their budget, $5000 of outdoor furniture and the opportunity to remove another team from this week's room reveal.
After three weeks away on recovery, Keegan was back this week and his team appeared to be stronger than ever, winning the game changer marble run challenge. However, Dylan & Keegan weren't able to use the -2 reward they won in the challenge at room reveal as Tim & Arthur chose to eliminate them using their prize from the Block Stars challenge.
We take a closer look at the four garages & laundries this week:
Tim & Arthur's Winning Garage & Laundry
Final Score: 27/30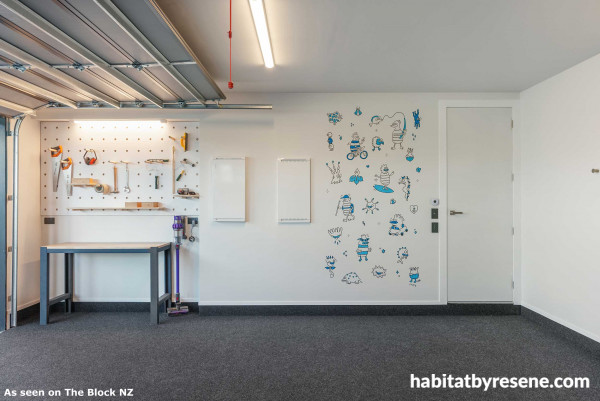 Tim & Arthur's walls in Resene Black White perfectly complement their creative artwork and functional workspace.
Tim & Arthur's winning space features a creative doodle wall painted by a local Auckland artist Chippy on the Resene Black White walls. They created a minimalist workspace with a functional tool board. The team brought wooden accents from their kitchen into the cabinetry of the laundry, creating a warm and welcoming space.
The judges thought their garage's simplicity and fun elements created an effective space. Chris liked the size of the work bench and said the laundry space tied in well with the kitchen. "This is a fun space," says Ann-Louise. "I really love the artwork, if you can't have a bit of fun in the garage where can you?" Lauren agreed, saying it was a happy space that connected well to the rest of the home and gave it some soul.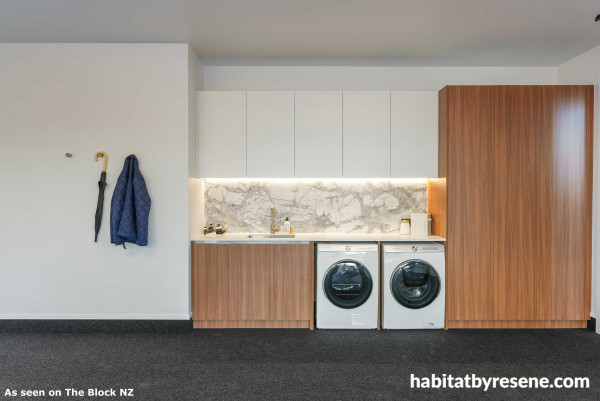 Tim & Arthur created a stylish laundry area that was highlighted by surrounding walls in Resene Black White.
Connie & Rach's Garage & Laundry
Final Score: 18.5/30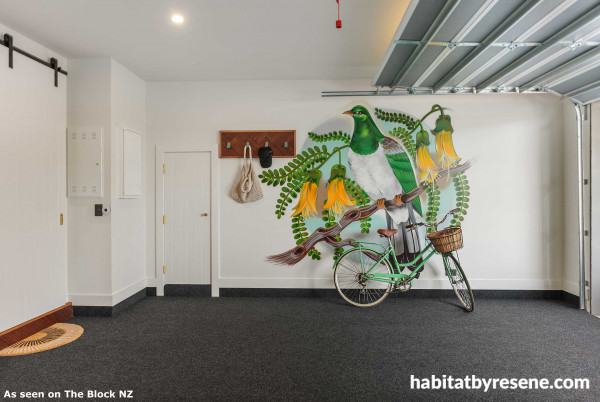 Resene Barely There on the walls inside Connie & Rach's garage provide the perfect canvas for their colourful mural.
Rach stepped out of her comfort zone this week and invited colour in. Connie & Rach commissioned a local artist to create a vibrant mural of a kereru and kowhai flowers on their Resene Barely There wall. They continued their use of deep olive-green tones with accents in their laundry corner and a space-saving washer dryer.
The judges thought the space was practical with a bold piece of artwork. "It's a good, practical, usable space," says Ann-Louise. She loved the laundry and said the cleaning cupboard was awesome with good storage. Chris agreed, saying the cupboard under the stairs was a great idea.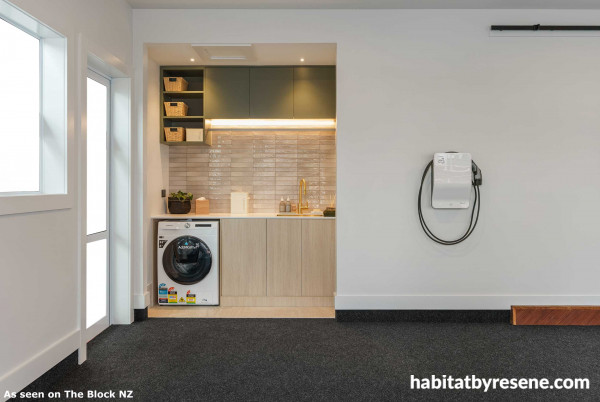 Connie & Rach's sophisticated laundry corner introduced a touch of olive green to tie in with their home's interiors. The walls are in Resene Barely There.
Meg & Dan's Garage & Laundry
Final Score: 25.5/30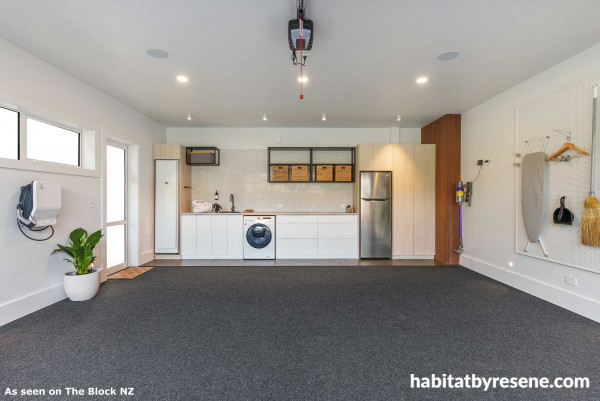 Meg & Dan created a crisp finished garage & laundry with Resene Black White on the walls.
Resene Black White created a sophisticated space in Meg & Dan's laundry this week. They incorporated warm, earthy tones into their design with thatch baskets in their laundry area and beautiful wooden detailing.

The judges thought that Meg & Dan had gone the extra mile in their garage, with touches of luxury creating a very successful space. Ann-Louise loved the pin boards, the black tapware and the beer fridge. "Nice marine carpet," says Lauren, who also liked the inclusion of the plug for an electric car. "That's good, they're planning ahead and future proofing."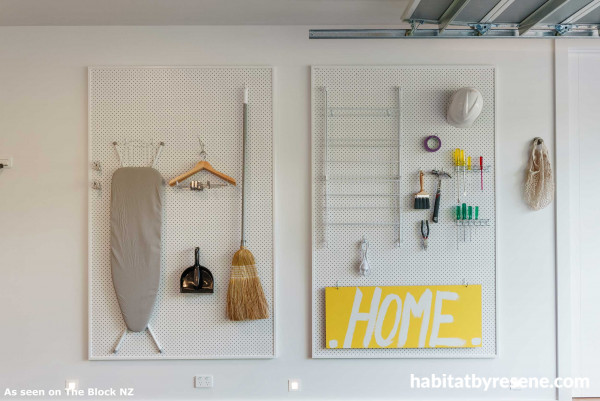 Meg & Dan paired their Resene Black White walls with the colourful wall art they received from Connie & Rach in the give and take challenge.
Dylan & Keegan's Garage & Laundry
Final Score: 24.5/30 (but eliminated from room reveal)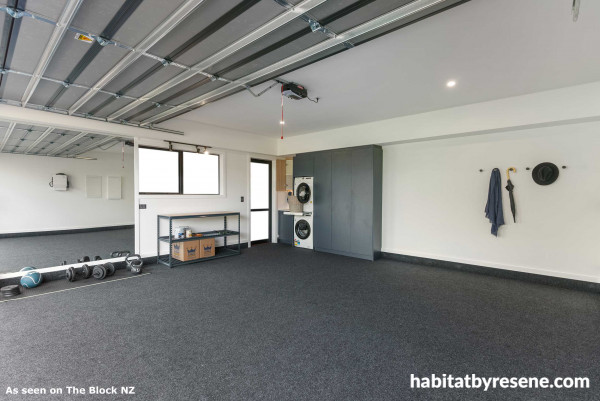 Dylan & Keegan's garage turned work out space uses Resene Alabaster on the walls and ceiling.
Dylan & Keegan chose bright white walls in Resene Alabaster and a minimalist laundry nook with grey accents. They created a sense of depth in their garage with a floor to ceiling mirror and incorporated a unique work out area into their design.
The judges thought it was a fabulous space and would appeal to their target market. They thought the room connected well with the style in the house. Ann-Louise loved the functionality of the mirror and Chris agreed, saying it really opened up the garage. They liked the compact laundry and the styling. "It's very compact," says Lauren. "They've future proofed with the plug for the electric car."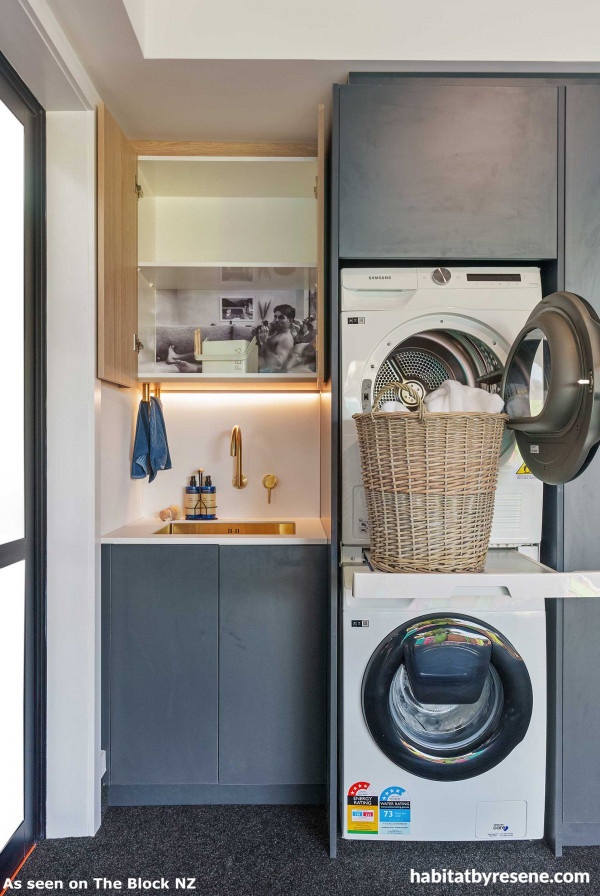 Dylan & Keegan's laundry with trim in Resene Alabaster features a photograph of Tim from the give and take artwork challenge.
Published: 26 Aug 2021
Do you have a home full of wonderful Resene paint and colour? Send us some snaps by emailing [email protected].
the look
If you're stuck on what
colour to use or need colour
advice, try out the Resene
Ask a Colour Expert service.