►
◄
latest
habitat tv
blog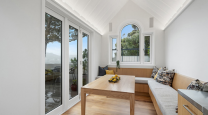 Master Builders' Chief Executive David Kelly shares his tips for building in the challenging climate.

Planning... more
Three's The Block NZ picks up the pace with Kid's Bedroom week
Another exciting week on Three's The Block NZ saw the four teams create five colourful Kid's Bedrooms. With $7000 on the line, the teams continued to up the ante treating Block-a-holics to rooms with bold Resene wallpapers and colours.
The second week also saw the teams settle into their new houses, with Janah & Rach moving into coveted House 1 and Meg & Dan shifting into House 2. Dylan & Keegan continued their good work in House 3 while Tim & Arthur got ambitious in House 4, peeling off Meg and Dan's winning bedroom wallpaper from the previous week to make way for their own delightful kid's bedroom design. The room's crisp, beach-themed design stole the hearts of judges Lauren Mirabito and Ann-Louise Hyde, securing them the win. Judge Chris Stevens was unwell so Lauren and Ann-Louise responsible for judging each kid's bedroom this week, with each team's final scores being scored out of 20.
We take a closer look at the four kid's bedrooms this week: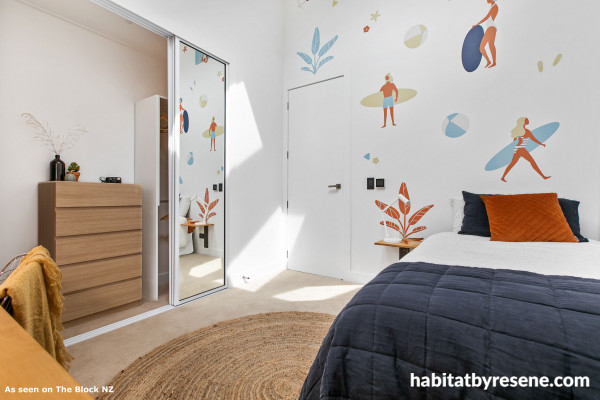 Tim & Arthur used crisp Resene Black White on the walls and ceiling, which they paired with colourful beach-themed decals and décor.
Tim & Arthur's winning room in Kid's Bedroom Week
Final score: 17.5
Grey Lynn best friends Tim & Arthur redeemed themselves from last week's Guest Bedroom score with their winning design for a teenage boy's bedroom. They took a risk and reinvented Meg & Dan's winning Guest Bedroom, peeling off the beautiful wallpaper but saving crucial time on insulation and plasterboard. Their time gained was spent deliberating where to position their stylish floating desk. Tim also cut a deal with site foreman Peter 'the Wolf' Wolkamp; an early carpet install in exchange for Tim cleaning the paint sink. Ten minutes before tools down, the pair decided to revamp their wardrobe, using precious time that Tim says was well spent.
Their risky move paid off – scoring them a whopping 17.5/20. Tim & Arthur's kid's bedroom reflects their collective passion for surfing and music, with surf-themed vinyl stickers applied to the Resene Black White wall and a guitar cleverly hung on the wall opposite. The Resene Black White continued from wall to ceiling, creating a light-filled room leaving the space feeling bright and spacious. Judge Ann-Louise loved the beachy theme paired with the natural textures and stylised decals, scoring the room 9/10. Judge Lauren said the space was sophisticated and comfortable, with a fabulous colour palette. "It's a 100 per cent improvement on where they were last week," says Lauren. "I think buyers will love this room. It's light, it's bright, it's simple and not cluttered. They've thought of all the aspects that need to be thought of with a teenager."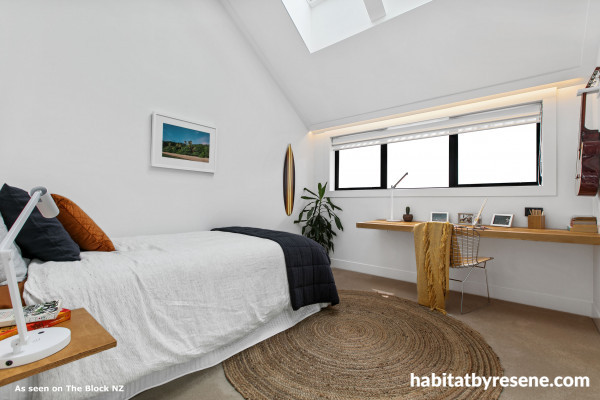 Tim & Arthur's kid's bedroom is a surfer's paradise, with earthy textures highlighting the bright walls and ceiling in Resene Black White.
Janah & Rach's room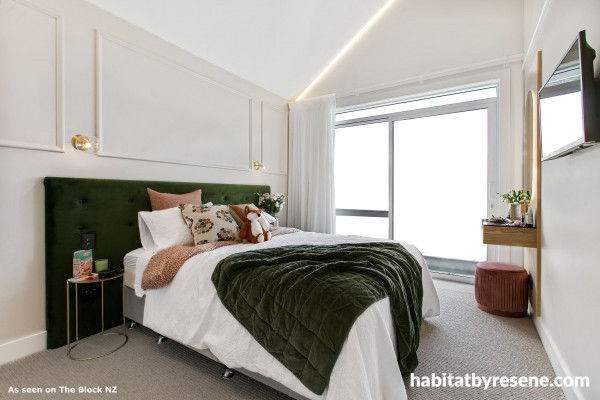 Janah and Rach's luxe teenage girl's bedroom has a touch of elegance with Resene Quarter Joss on walls and ceiling in Resene Barely There.
Final score: 15.5
With first pick of the houses and after much deliberation, the Papamoa 'fun mums' Janah & Rach chose to move into House 1. With architectural ceilings and killer views, the team created a kid's bedroom worthy of the home's elegant spaces. Styled for a teenage girl, Janah & Rach's glamorous bedroom featured a bespoke makeup table and a green velvet headboard created by their husbands. After a few brief hiccups; painting the skirting boards the wrong colour and axing their original panelled wallpaper idea, the team were soon back on track to deliver a stylish finished product. "We love our room and we think we've raised the bar on last week," says Rach.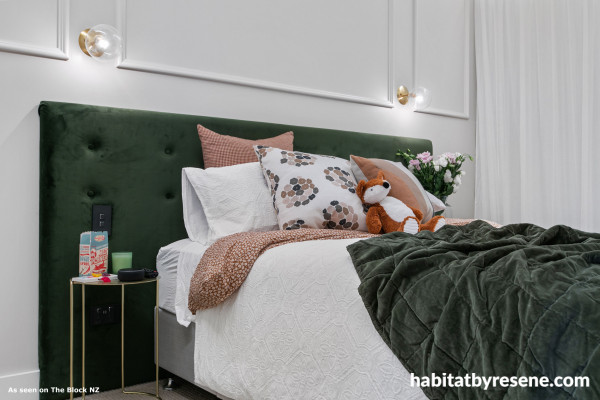 Walls in Resene Quarter Joss highlight the delicate details in the room, such as the refined grooving and bespoke velvet headboard.
The judges were blown away with Janah & Rach's sophisticated room and loved the story it told, dubbing it 'every teenage girl's dream.' Judge Ann-Louise scored the room 8/10 and loved the use of green fabric headboard against the feature wall in Resene Quarter Joss. The color pallete ties in with the brass details of the light fittings to create a modern version of old age glamour. "I'm always conscious we need to introduce those extra little details into these modern houses and they've done that beautifully," says Ann-Louise. Lauren thought the colour on the walls was gorgeous, and would evoke a soft emotional response when people walked in.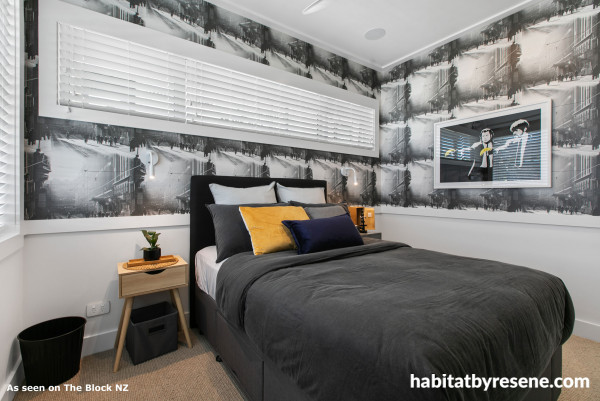 Meg & Dan achieved a moody aesthetic in their boy's bedroom with a trendy cityscape wallpaper in Resene Wallpaper Collection 5239-1. Pops of yellow décor and surrounding walls and ceiling in Resene Black White add an element of brightness to the room.
Meg & Dan's kid's bedrooms
Final Score: 13.5
Rangiora couple Meg & Dan made the move to House 2 and haven't looked back. It was the week for taking big risks and Meg & Dan were no different, deciding to change the home's floorplan to incorporate a fourth bedroom. They decided to use their catch-up week to create two kid's bedrooms; one girl's and one boy's and chose to present the boy's bedroom for judging. Despite an early setback leaving behind the wallpaper yet again at the Resene ColorShop, the Rangiora couple managed to pull off their ambitious plans in the nick of time. Four hours before tools down on Friday, they were yet to install the carpet, wallpaper or electrical fittings. But a solid effort from their tradies (perhaps the fastest wallpaper hanger ever) meant they beat the odds and completed both of their bedrooms to a high standard. "We had a great week, we've learnt a lot," says Meg. "I'm feeling pretty positive about the boy's room." The judges loved the vintage theme of the boy's bedroom but found the overall aesthetic slightly too busy. They thought the room was well executed and there were some architectural details that got them really excited, including the dado railing and the coving around the ceiling in Resene Black White.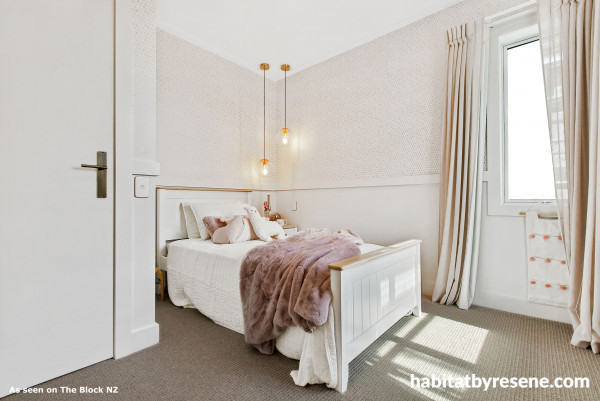 Meg & Dan's second kid's bedroom is aimed at a young girl with delicate Resene Wallpaper Collection 375030 working harmoniously with Resene Eighth Tea on the lower walls and a crisp Resene Black White ceiling.
The judges liked the girl's room, which went unjudged this week. They thought it brought a lot of positive energy to the house, with fabulous Resene Wallpaper Collection 375030 complementing the lower wall in Resene Eighth Tea. The ceiling in Resene Black White added a polished finish to the look. Overall, the judges said it was a stunning achievement to finish two rooms in a single week with an outstanding level of detail.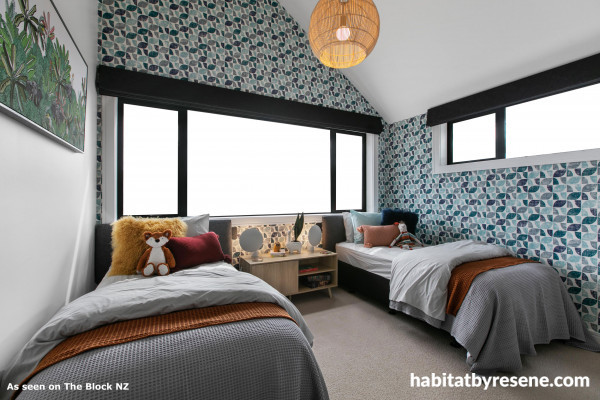 Dylan & Keegan's kids' bedroom came to life with the blue hues of Resene Wallpaper Collection 519839. The surrounding walls are Resene Eighth Truffle and the ceiling is in clean Resene Alabaster.
Dylan & Keegan's kids' bedroom
Final score: 12
'Chalk and cheese' brothers Dylan & Keegan switched up their house layout in House 3, converting what was intended to be the master bedroom into a kids'/guest bedroom. They hoped their kids' bedroom could also double as a guest bedroom and attract different buyers. Despite changing the layout of their house, the brothers kept their cool throughout the week.
Dylan & Keegan wowed the judges with their level of finishing. Both Lauren and Ann-Louise thought the room had fantastic spatial planning with great styling and clever details. Resene Wallpaper Collection 519839 on two of the walls is reflected in the wardrobe's smoky glass doors. The side wall and study nook painted in Resene Eighth Truffle and Resene Alabaster on the ceiling keep the space bright and open. Lauren gave the room 7/10 and loved that the brothers had catered for two children. "From a feel point of view and from a practicality point of view it works. It's creative," says Lauren, who liked the choice of Resene Wallpaper Collection 519839 and thought the colour would appeal to a broad market.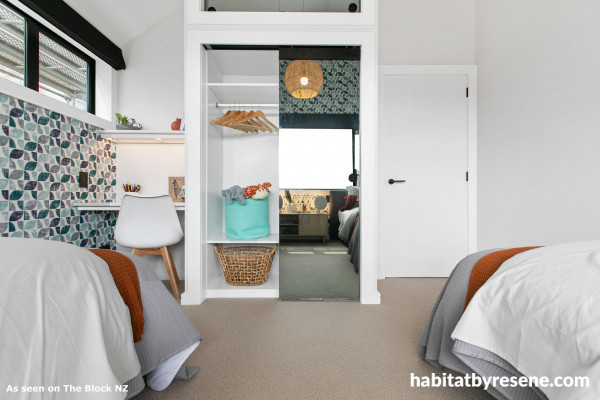 The smoky glass mirrors on the wardrobe add a sense of space and reflect the on-trend Resene Wallpaper Collection 519839. The ceiling and surrounding walls in Resene Eighth Truffle and ceiling in Resene Alabaster which highlights the height of the room.
Published: 01 Jul 2021
Do you have a home full of wonderful Resene paint and colour? Send us some snaps by emailing [email protected].
the look
If you're stuck on what
colour to use or need colour
advice, try out the Resene
Ask a Colour Expert service.