►
◄
latest
habitat tv
blog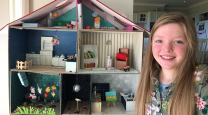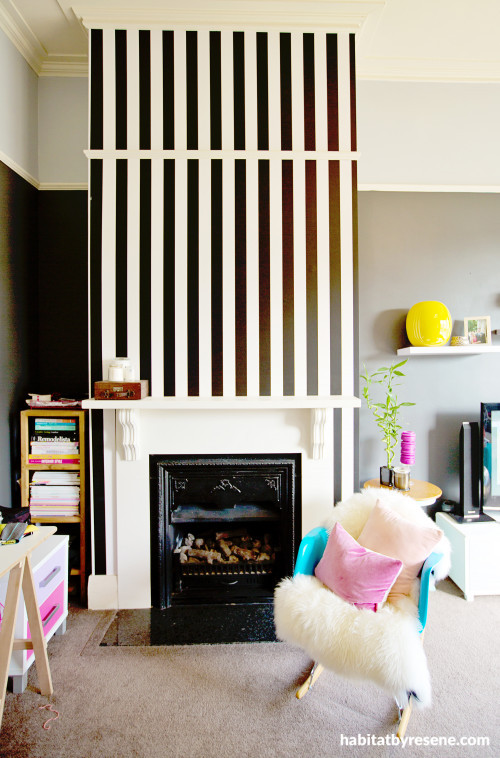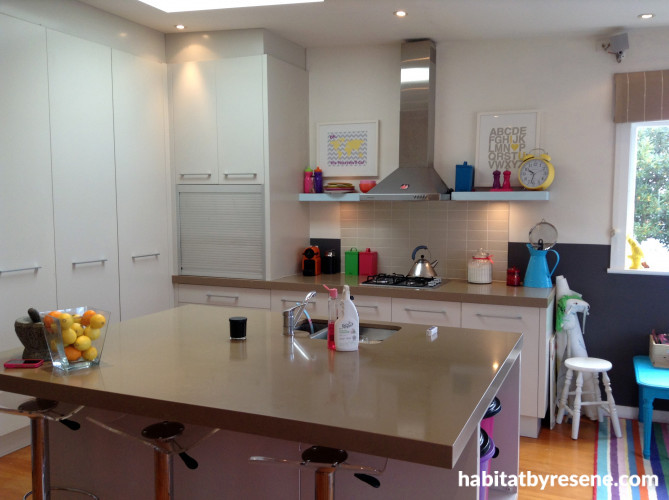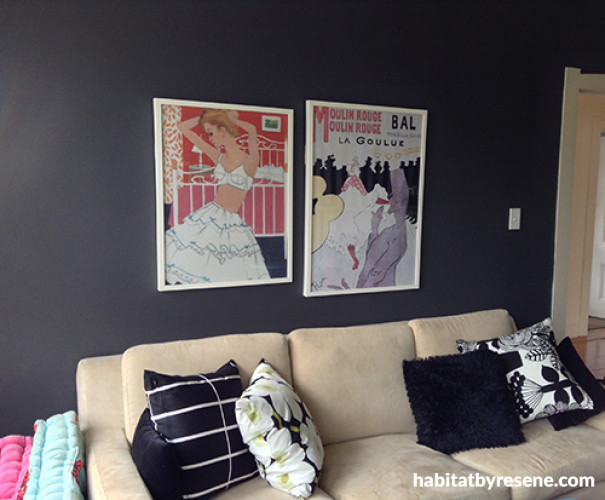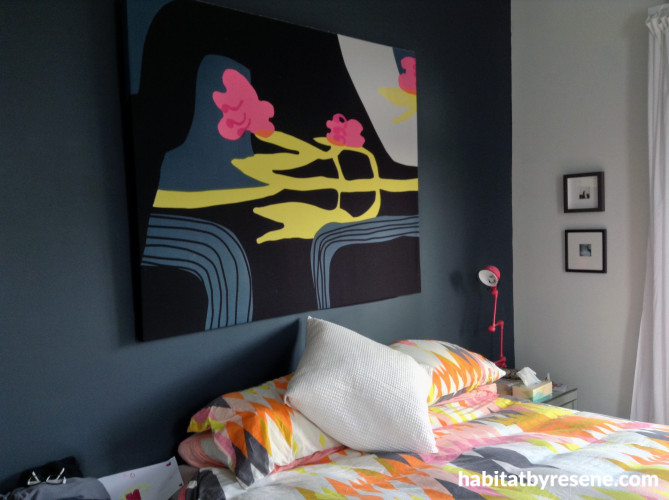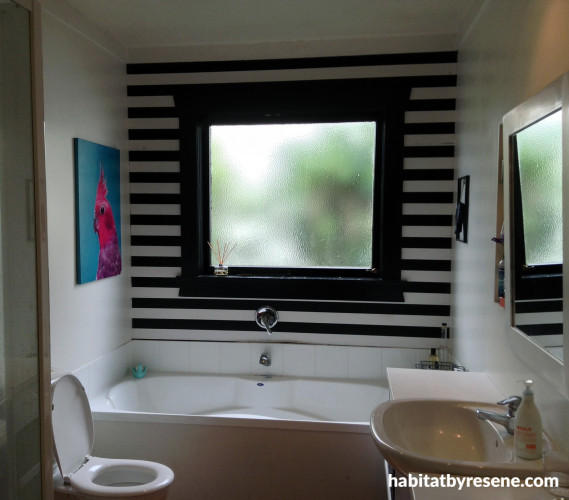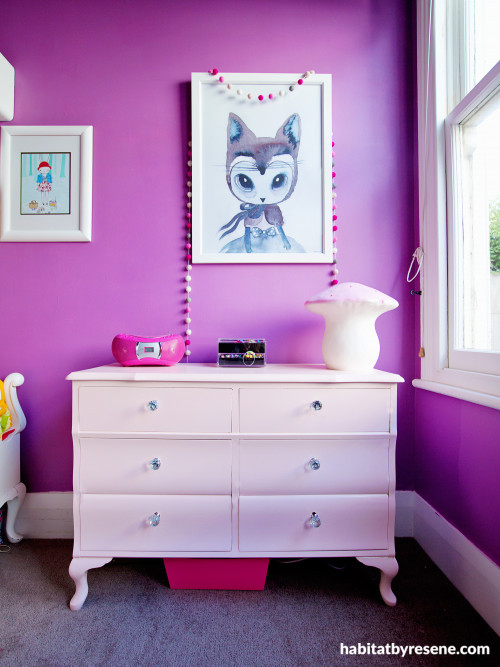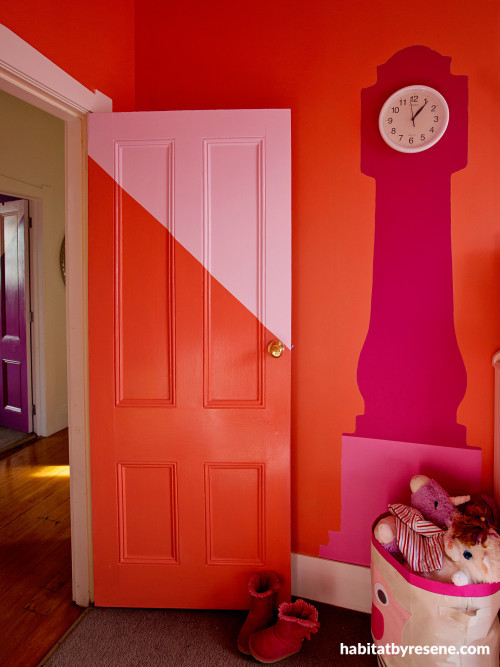 Tim and Annick's cornucopia of colour
Back in 2009, Tim and Annick Larkin were combing Auckland's city fringe for a character-filled home that could cope with the needs of their growing family. This neutrally decorated, weatherboard beauty fit the bill; however, there was one particular feature of the five bedroom home that was destined for change.
Almost every room has been given a lick of Resene paint to inject colour and personality to the interior. The colours range from bold, striking brights in the kids' rooms, like the punchy purple Resene Sassy in five-year-old Esther's bedroom, to the elegant deep blue of Resene Avalanche in the master suite. The shared living areas, such as bathroom, kitchen and lounge, provide a more muted backdrop in Resene Alabaster, Resene Fuscous Grey, Resene Half Fuscous Grey, and Resene Quarter Fuscous Grey, to ensure the colourful accents pop in contrast.
"To me, I want our home to reflect a happy, fun environment, where giving things a go is encouraged," says Annick. Here she talks to us about what inspired her home's overall look.
What are some of the Resene products have you used, and what inspired those choices?
I am privy to all sorts of wonderful ideas and inspiration in my job (I work as a stylist), but it's my hope that I also inspire others with my style. The interior of our home is bold, fun and ever evolving, with colours changing on a fairly regular basis.
The kids' bedrooms have been transformed into playful spaces with striking doors and wall colours which each they chose themselves. Five-year-old Esther opted for magenta Resene Sassy, and younger brother Tom picked his favourite colour green, so we used Resene Amazon for his walls. Chalkboard paint has also been used in each of the children's rooms to help break up the blocks of colour, plus provide a creative outlet for the kids.
What is your advice for someone trying to achieve a similar look?
Bright colours can look amazing and they will always have a positive effect on mood if done right. Always stick to the same tone and intensity with your paint colour and decor. Choose a background hue then add bursts of different colours to it. If you feel overwhelmed simply pare it back with white or timber accents.
Do you have a favourite colour, and if so why is it your favourite?
Yes, I do – pink, and it makes an appearance in just about every room in my house. Be it pastel, hot pink or neon, I am just drawn to it. I have used Resene Smitten on the front door and on our kitchen sideboard, Resene Pink Terrace on my daughter's chest of drawers and to break up the block of orange on her bedroom door. I have also used Resene Scrumptious, Resene Sassy, Resene Memphis Belle and Resene Candy Floss for upcycling stools, cabinets, shelving, terracotta pots and mirrors.
What was your biggest decorating challenge?
I do all the painting myself so I've always found the four-metre-high stud a challenge! Aside from that, it has taken me a while to understand how light in a room can affect the undertones of paint. Several years ago I had difficulty finding the perfect soft grey for our living room, the swatch looked great but once it filled the entire room it felt cold and uninviting. I think that's when I decided to be bolder with my colour choices. The living room has been a medley of colours since but we're currently enjoying the cosy, warm tones of Resene Fuscous Grey, which I love.
Published: 10 Sep 2015
Do you have a home full of wonderful Resene paint and colour? Send us some snaps by emailing [email protected].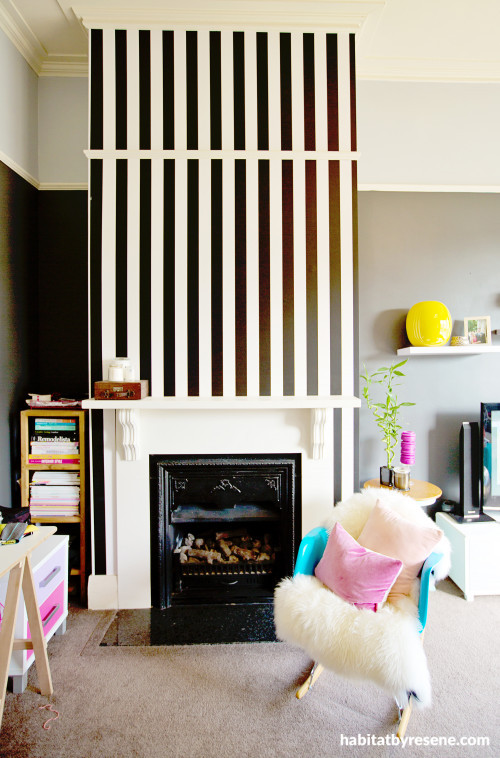 Homeowner Annick did all the painting herself in this character-filled home. Here she mixed a moody feature wall in Resene Fuscous Grey (bottom) and Resene Quarter Fuscous Grey (top), with chic stripes in Resene Black and Resene Alabaster around the fireplace.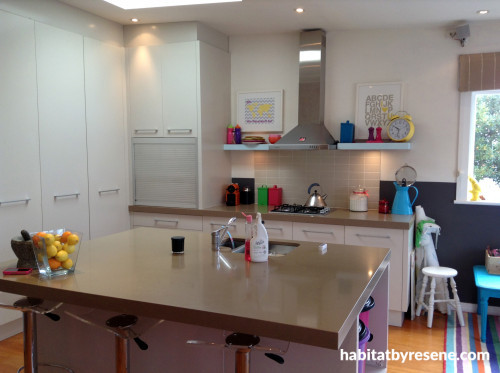 A similar style extends to the kitchen, also painted in a strip of Resene Half Fuscous Grey and topped with Resene Alabaster.
Pattern and colour pops from artwork and furnishings in the lounge, against a wall in Resene Fuscous Grey.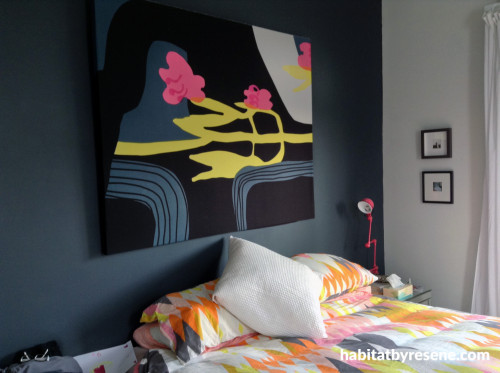 Resene Avalanche gives a moody foundation to the master bedroom, filled with fun bedroom furnishings and stylised artwork.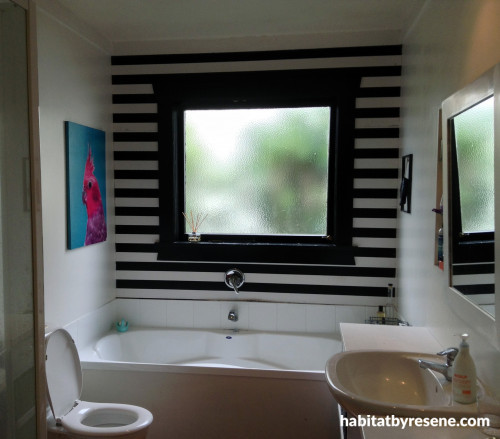 Stripes painted in Resene Black and Resene Alabaster above the bath visually extends this petite bathroom.
Green-loving Tom is pleased as punch with his bedroom painted in Resene Amazon. Take note of the copper bed frame – this is one stylish boy's bedroom.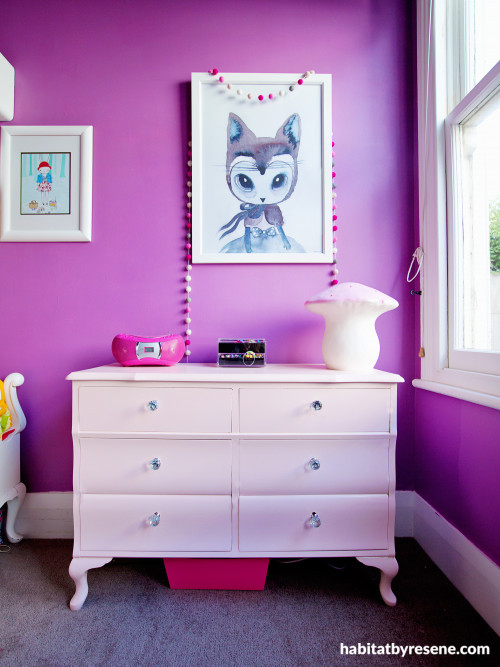 Young Esther's room is bold in Resene Sassy. The chest of drawers was upcycled with diamond-shaped handles and a lick of Resene Pink Terrace.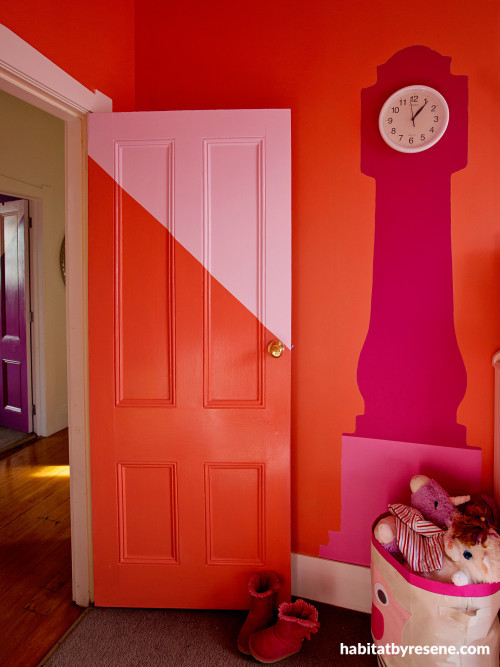 Door envy. The doors of the Larkin household are a sight to behold. This one, for Lottie's bedroom, is painted in Resene Daredevil (orange) and Resene Pink Terrace. A grandfather clock mural is painted using Resene Scrumptious and Resene Smitten, an ingeniously creative way to display the time. The main wall colour is Resene Daredevil, with trims in Resene Alabaster.
Resene Quarter Fuscous Grey
the look
If you're stuck on what
colour to use or need colour
advice, try out the Resene
Ask a Colour Expert service.