►
◄
latest
habitat tv
blog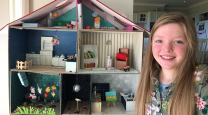 Timber is the star of this Whitianga home, coloured to perfection in Resene wood stains
Cove Construction's Hollie and Nick Gill started their building journey with a bare plot of land and a big dream. Nick had always wanted to build an architectural house where timber played a leading role. The couple's Whitianga section, which they had owned for four years, provided them with the perfect opportunity to create a wooden wonder called the EaGills Nest that glows with a range of Resene wood stains including Resene Colorwood Light Greywash on the interior and cedar cladding stained with Wood-X Foundry from Resene ColorShops.
Hollie is an interior designer and alongside her husband Nick they run Cove Construction; a company that specialises in designing, building and renovating homes in the Whitianga and Coromandel region. They live in the EaGills Nest with their two children, Tayze and Shyla.
"We originally discussed building a few cabins and doing luxury accommodation, but the build soon escalated out of control and we ended up with the EaGills Nest," says Hollie, who is in love with the new build and its location. "You couldn't feel more away from it all up here.
"The positioning of our home opens up straight out to the vista of Mercury Bay and this special view is breathtaking."
The couple aimed to achieve balance and cohesion between their new build and the existing landscape. "We wanted to achieve a retreat style home.
"With so much wood and natural materials it adds comfort and calmness. It's hard not to feel relaxed in this home."
The sleek home sports a cedar wood exterior that the couple finished in Wood-X Foundry wood oil from Resene ColorShops. The striking dark finish highlights the surrounding bush and is the perfect companion to the exterior sliding screens in Resene Woodsman Natural wood stain. The sliding screens act as external curtains, rolling in front of the windows to give the family privacy during the evenings.
One of the challenges the couple faced was figuring out what product would be best for their interior hemlock walls. "We used one coat of Resene Colorwood Light Greywash wood stain and two coats of Resene Aquaclear to enhance the hemlock and still allow the beautiful grain to show.
"Lighting the wood was also very important. It was essential for us to get that mood lighting and create an atmosphere that enhanced the timber within the rooms."
The couple embraced a Scandinavian look to complement the natural materials in their home. "Nick and I had similar tastes for the overall design. We were able to make a call on the spot and run with it," says Hollie, who adds that it was a different experience building a home for herself than for clients.
"When you're working on a project for yourself I think it's important to be brave and just go with something that's a bit different."
With a wealth of experience in building and renovating, Nick and Hollie had a few dos and don'ts when it came to building their own timber home. "Work with the existing landscape. Don't overcrowd the space; let the timber be the hero of the house. Do use materials that will remain functional for years to come."
With its clever use of space and timber, the EaGills Nest has become a sanctuary where the family can enjoy spectacular views during the day and cosy up by the open fire at night. "Each room has a special feel to it," says Hollie. "The large indoor/outdoor living space is a fabulous entertaining area that is full of character and light.
"With its breath taking views we knew we had to build a home to enjoy and be proud of."
See more of Cove Construction's projects here.
images Erica Kurth
FUN FACT: If you thought hemlock was a poisonous plant, Conium maculatum (famously used by the witches in Shakespeare's Macbeth) then you'd be correct, but did you know it is also a timber that can be used on buildings? Hemlock wood Tsuga heterophylla also (called western hemlock) is a type of softwood popular for its white/blonde appearance like white cedar. It's most commonly grown in British Columbia, Canada and is often used for panelling and joinery, like Hollie and Nick have used here on the internal walls of the kitchen and lounge. Western hemlock is sometimes confused with spruce because eastern hemlock is also called Canada hemlock or hemlock spruce. However spruce is an entirely different species.
TOP TIP: If you're thinking of installing a timber interior or want to rejuvenate your existing wooden walls, try the Resene Colorwood wood stain range. It's designed to colour timber while still allowing the natural grain of the timber to show through, Resene Colorwood can easily be applied with a brush or rag and is a great way to add colour to your timber without losing its natural beauty. As all woods are different, use a small off-cut of timber to test the colour before applying a wood stain. Make sure to coat interior wood stains with at least two coats of a clear coat such as Resene Aquaclear. High wear surfaces, such as flooring, may need extra coats of clear.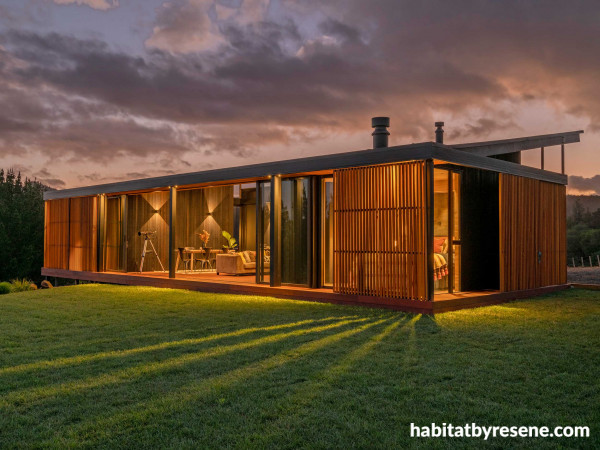 Wood-X Foundry from Resene ColorShops creates a sleek exterior on the cedar cladding and is coupled with wooden screens finished in Resene Woodsman Natural.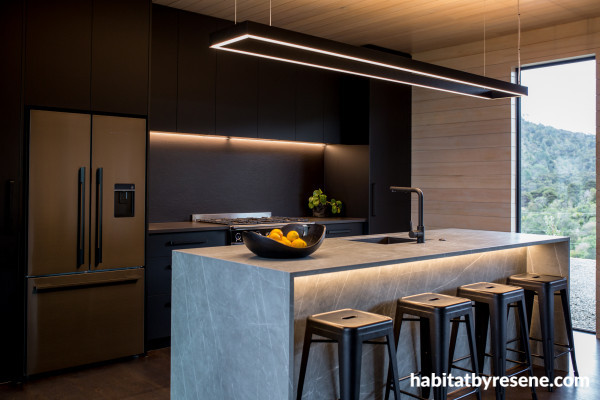 Hollie and Nick's kitchen is sleek and modern with an industrial touch. Their black cabinetry is striking against the hemlock paneling finished in Resene Colorwood Light Greywash and Resene Aquaclear.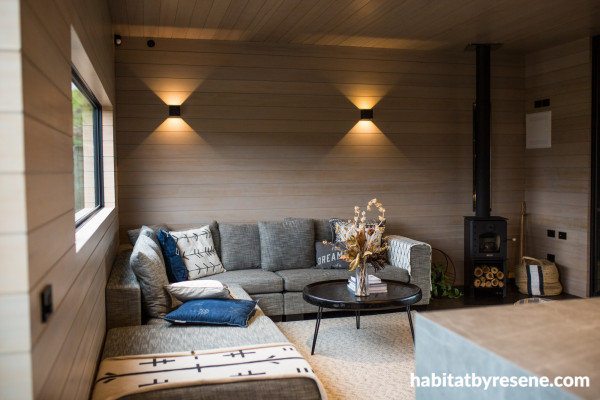 Scandinavian-inspired furniture and décor add a rustic finish to the family's living area. Warm, neutrals tones are accentuated by the walls in Resene Colorwood Light Greywash and Resene Aquaclear. The mounted wall lights accentuate the colour of the wood and the grain of the timber.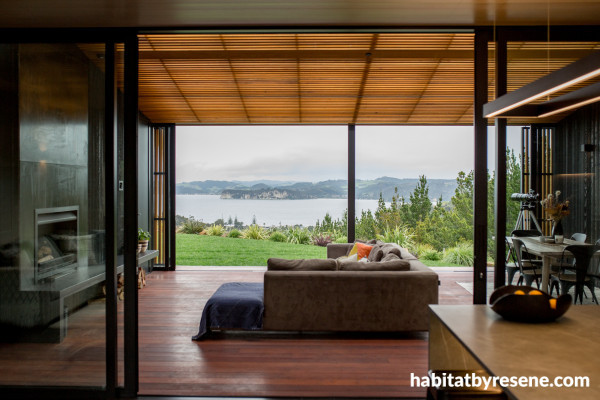 The covered deck area with the second lounge and dining area overlooks the stunning vista of Mercury Bay. The walls in the covered area match the exterior walls and are oiled in Wood-X Foundry from Resene ColorShops. The sliding screens are in a lighter Resene Woodsman Natural. You can achieve a similar look on your floorboards by staining them with Resene Colorwood Western Red Cedar.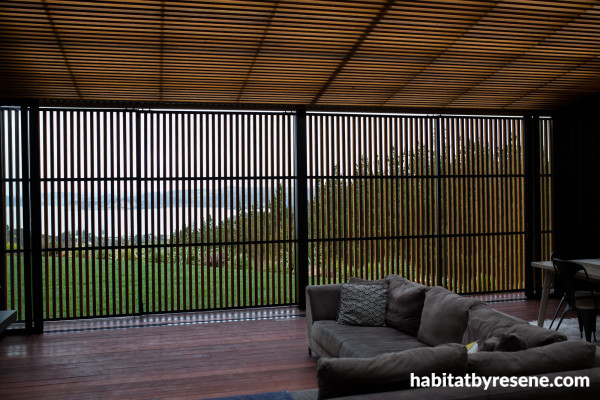 The wooden screens in Resene Woodsman Natural slide closed to act as exterior curtains and provide the family with privacy during the evenings, while still hinting at the view outside.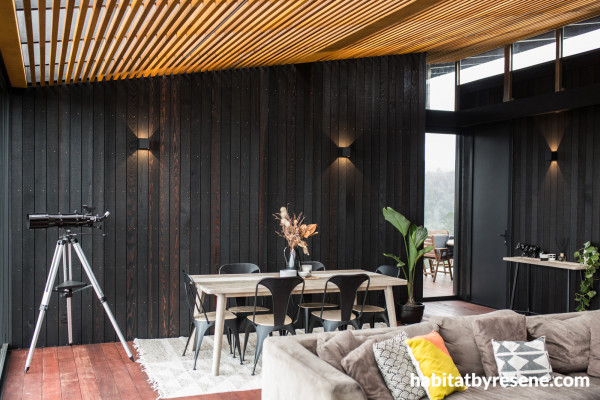 To accentuate the natural timber grain, Hollie and Nick carefully thought out the way they wanted to light their home. Shafts of light from minimalist wall lights add interest and highlight the panels in Wood-X Foundry from Resene ColorShops. The ceiling screen is finished in Resene Woodsman Natural and mimic the slivers of light produce by the wall light fixtures.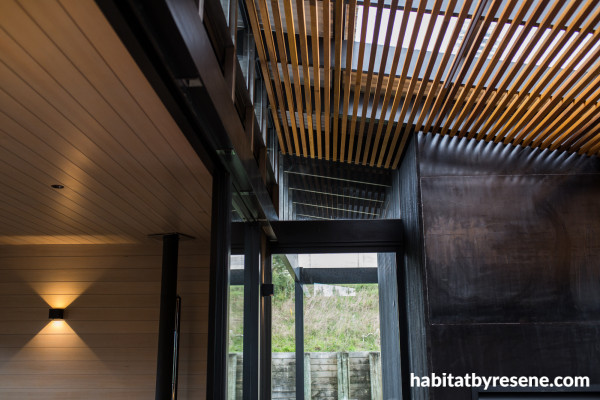 The covered outdoor living area is connected to the main home through a collection of wooden slats and glass. Nick and Hollie have created cohesion between the outdoor living area in Wood-X Foundry from Resene ColorShops and the interior hemlock walls in Resene Colorwood Light Greywash through clever use of black joinery and the wooden slat screen in Resene Woodsman Natural.
Published: 05 May 2021
Do you have a home full of wonderful Resene paint and colour? Send us some snaps by emailing [email protected].
the look
If you're stuck on what
colour to use or need colour
advice, try out the Resene
Ask a Colour Expert service.
the look
If you're stuck on what
colour to use or need colour
advice, try out the Resene
Ask a Colour Expert service.