►
◄
latest
habitat tv
blog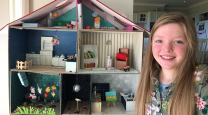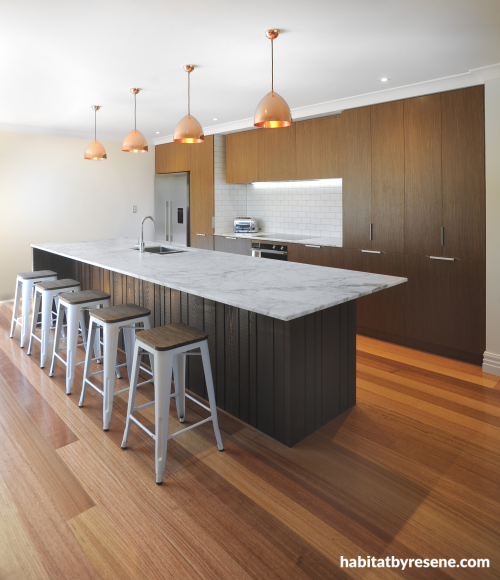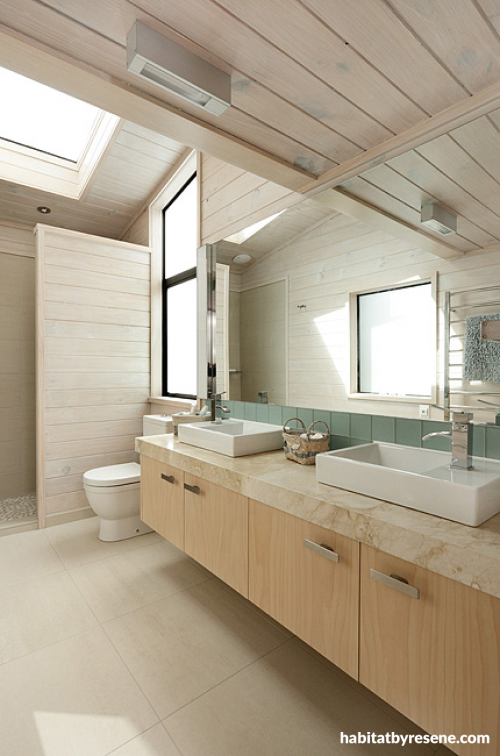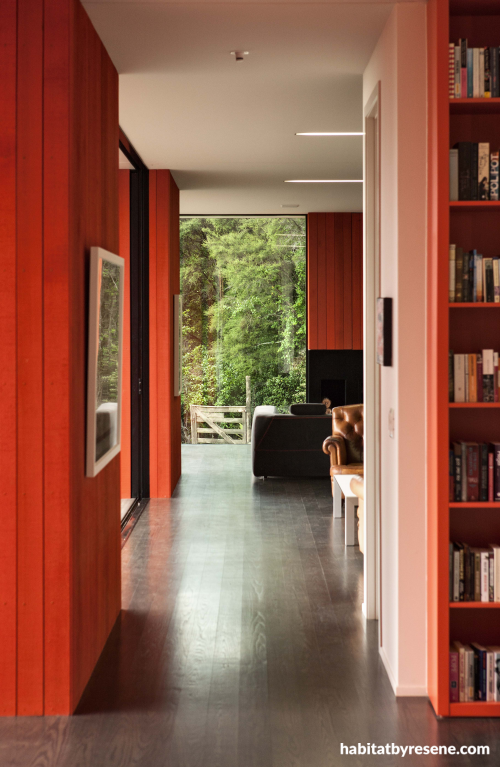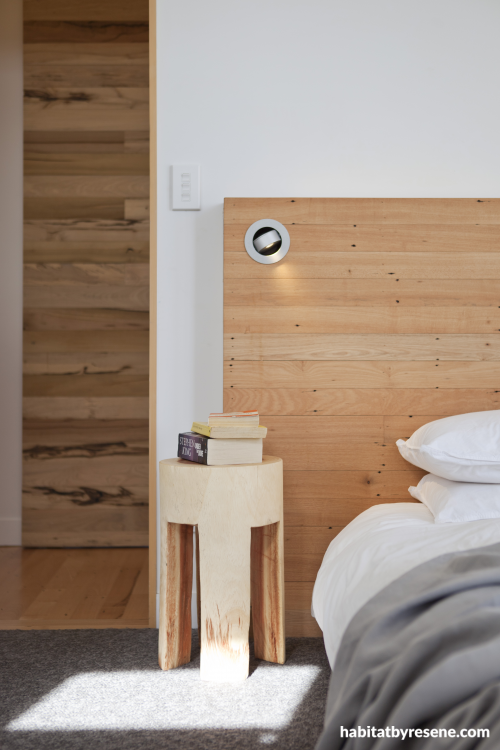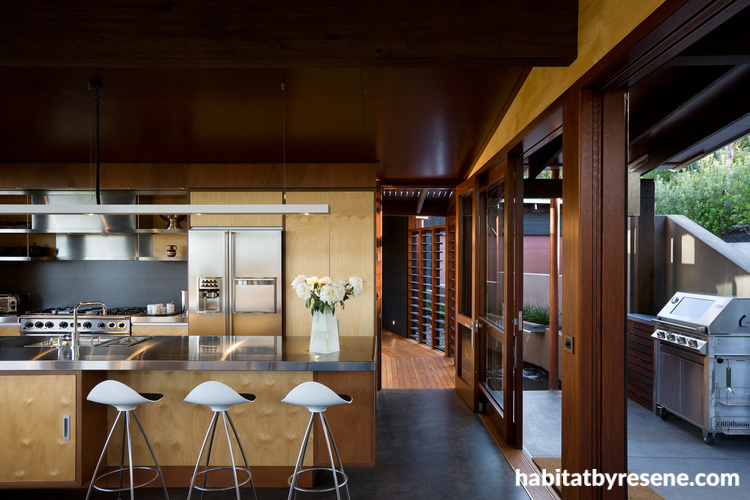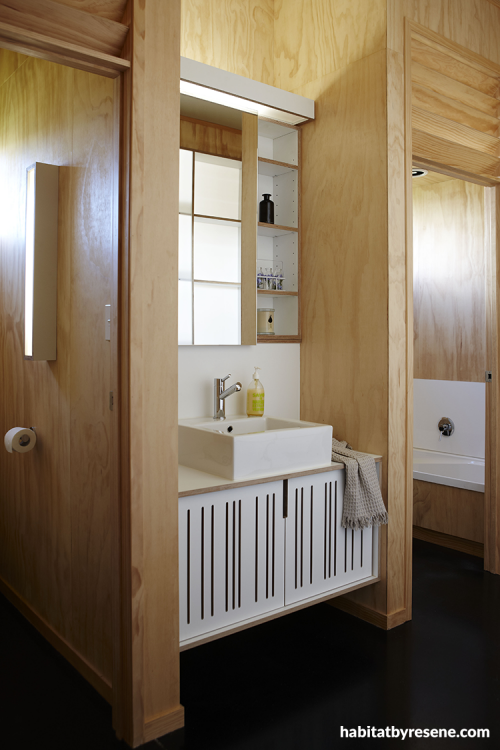 Timber: treat it right
Ply, planking, slats and veneers in any depth of colour… timber has a certain feel that can't be replicated. It has always featured in older character homes, was a darling of the mid-century look, and has come back full force in contemporary interiors, too. Protected and enriched with Resene products, it's a material that will continue to look great for years to come.
Timber has an infinite variety of natural markings and grains – every piece is different. Timber looks and feels warm, and absorbs sound. Studies also show that timber in buildings influences people's behaviour in a positive way – giving health benefits that mimic spending time outside in nature. It's the ultimate 'comfort' material.
The resurgence of timber in interiors goes hand in glove with the return of appreciation for craft production as opposed to industrial manufacturing. It also fits with the eco-trend towards all things natural and sustainable. Timber is being used as a wall lining, on floors and ceilings, cabinetry and bespoke furniture. It's hugely versatile and fits with a variety of interior styles: classic, contemporary, retro, Scandi, beachy, vintage or rustic.
Timbers don't have to be solid. In fact, using timber veneer or manmade composite veneers is not only an eco-conscious choice but also cost effective.
Previously the domain of building sites and dodgy fences, plywood is big news. Made of thin layers of wood veneer bonded together with adjacent layers of wood grain rotated at right angles, ply is versatile, strong, light and inexpensive. It can also be made of many types of timber, from standard pine through to maple, birch and more.
Plywood is being used as a lining, and for cabinetry, sometimes with the exposed layered edge as a feature.
Protecting your timber
Timber needs to be protected to keep it looking its best. These days there are many natural look finishes available from Resene, or you can use a wood stain to change the colour of the timber but still allow the grain to show through. These products make the surface easier to clean, especially in areas where moss, mould and dust are likely. It is much easier to apply more stain or clear finish than it is to replace raw timber that has become damaged.
Check out these options:


Resene Qristal polyurethanes impart a yellow tone to timber so are suited to timbers with a yellow, orange or red undertone like cedar, rimu, eucalyptus and jarrah.
If you want a waxed look but without the hassle of waxing, use two or three coats of Resene Qristal Poly-Flat.
Resene Qristal ClearFloor is a tough waterborne urethane formulated especially for floors. It comes in two grades – 1K for low to medium wear areas, or 2K for high-wear areas. Available in a satin finish, Resene Qristal ClearFloor can be applied by homeowners or tradespeople.
Resene Aquaclear doesn't accentuate the natural undertone of timber to the same degree as Resene Qristal products and is more suited to white (or pale) timbers such as pine, macrocarpa and oak as well as composite boards like MDF and particle and strand board.
Resene Colorwood stains come in a range of natural and brighter colours for interior use. For exterior staining, use the Resene Woodsman range.
Resene Colorwood Whitewash is a great way to get the popular whitewashed effect and can be used on floors, walls, furniture and cabinetry.
Resene Danska Teak Oil will accentuate the grain in most hardwoods for a traditional wood oil finish.
Resene Timber and Furniture Gel is a non-drip, easy to apply, waterborne gel-stain designed for use on a wide variety of new and weathered exterior timber surfaces, including furniture. It is available in four colours – Resene Sheer Black, Resene Kwila, Resene Jarrah Tree and Resene Silvered Grey.
pictures Patrick Reynolds, Jackie Meiring, Paul McCredie
Published: 21 Jul 2016
Do you have a home full of wonderful Resene paint and colour? Send us some snaps by emailing [email protected].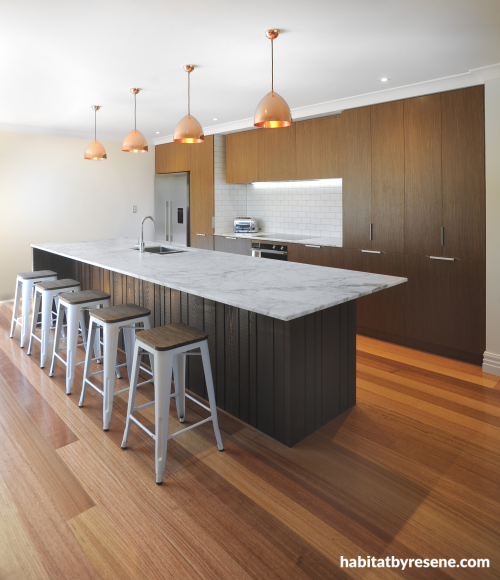 Liz Kerby of Lizzie K & Co used cabinets in the finely grained Wild Pecan from Laminex's Designed Timber Veneers range contrasting with a more rustic cedar beneath the island bench. The kitchen was made by Neo Design and the timbers protected in Resene Aquaclear.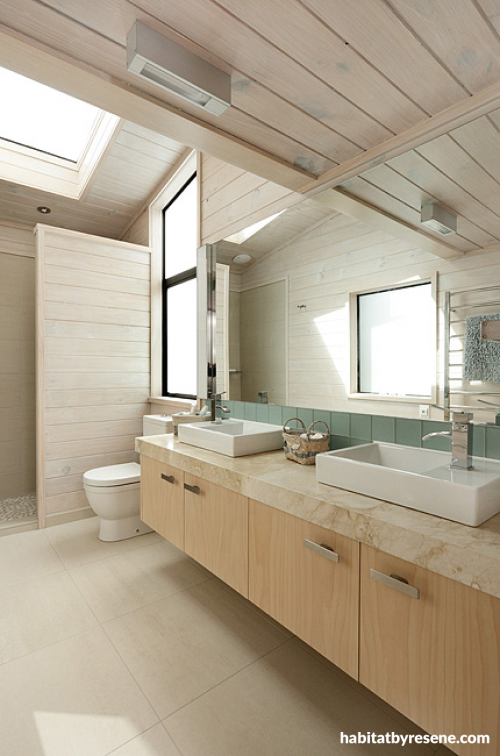 Designer Celia Visser of Visser Design refurbished the traditional pine timbers of a Lockwood home with Resene Colorwood Rock Salt to give it a beachy, blonded look.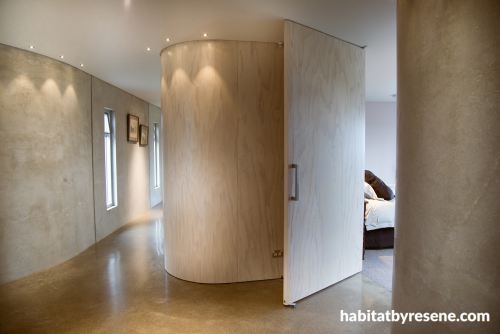 These curved hall walls were made possible with plywood, finished in Resene Colorwood Rock Salt, in a house designed by Studio Pacific. The ceiling is in Resene Quarter Tea.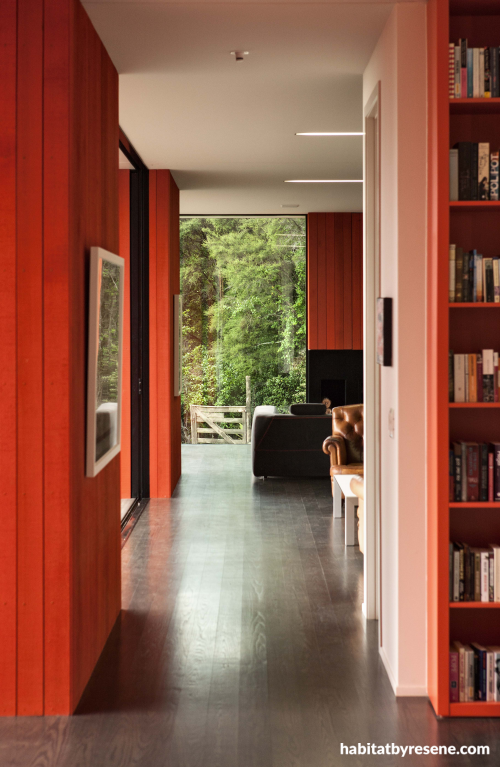 A customised orange stain, called Resene Maungakawa Orange, is an eye-catching colour anchor in this house designed by architect Davor Popadich of Patterson Associates.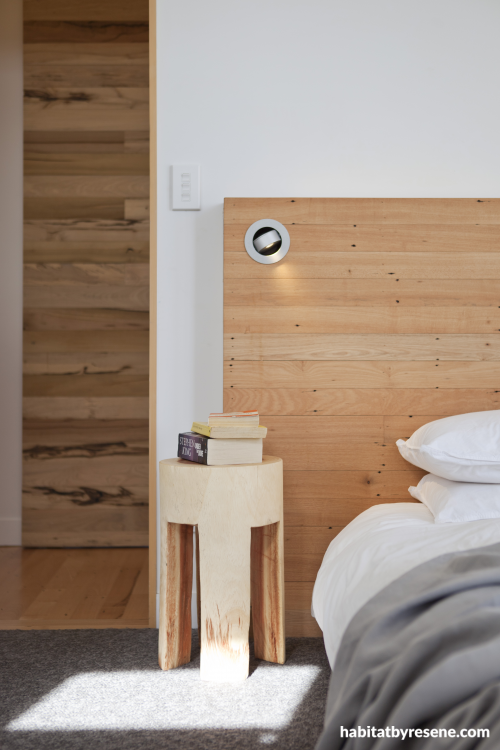 Designer Peta Davy of Yellowfox used a variety of timbers in her own home, including a recycled tawa headboard and hallway wall finished in Resene Aquaclear. The walls are painted in Resene Black White.
Using different timbers together can work a treat. This Strachan Group Architects design uses five types either stained with Resene Colorwood Tamarind, or protected with Resene Aquaclear.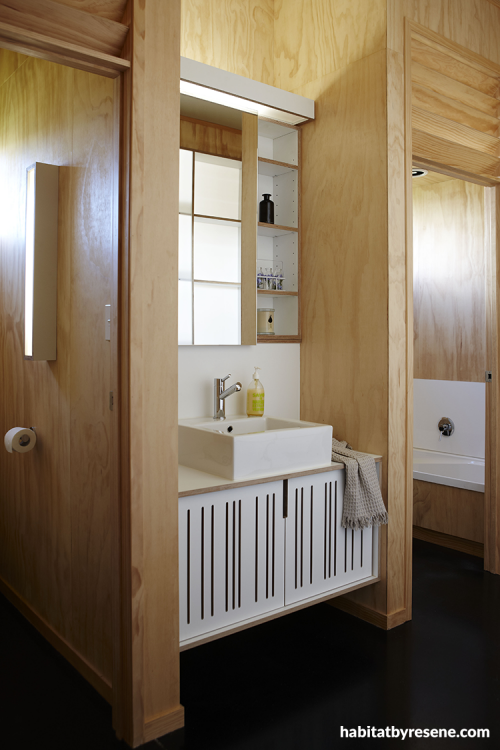 Plywood ticks lots of boxes – it's affordable, versatile, tough and low-maintenance, as well as good looking. This bathroom is in a social housing project designed by Strachan Group Architects and the Unitec School of Architecture.
the look
If you're stuck on what
colour to use or need colour
advice, try out the Resene
Ask a Colour Expert service.