►
◄
latest
habitat tv
blog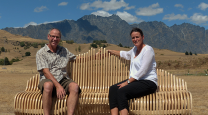 Transform a room with colour: 3 interior designers dish their top tips
It can be overwhelming or even downright intimidating figuring out how to incorporate colour into your home. Perhaps there's a space you love but you know it could do with an update. If you're unsure where to start, three local interior designers have dished their tips on how to transform a room with Resene paints.
How does colour impact a room?
Colour can alter our perception of a room's size and temperature drastically, as well as the way we feel. As a starting point, it helps to understand the impact of different shades. Know that dark and warm colours tend to advance in a room, and are often used to make large rooms feels cosier and more intimate. A darker ceiling in particular can add cosiness. Light and cool colours on the other hand tend to recede. They are used to make small rooms appear larger, and further spaciousness can be added with a lighter ceiling.
When you use different paint colours, your eye stops at the lines where the colour changes. The edges and size of the room become more apparent, as you see its boundaries. With lighter shades, or the same tone, the space seems to continue.
Kate Alexander: Go bold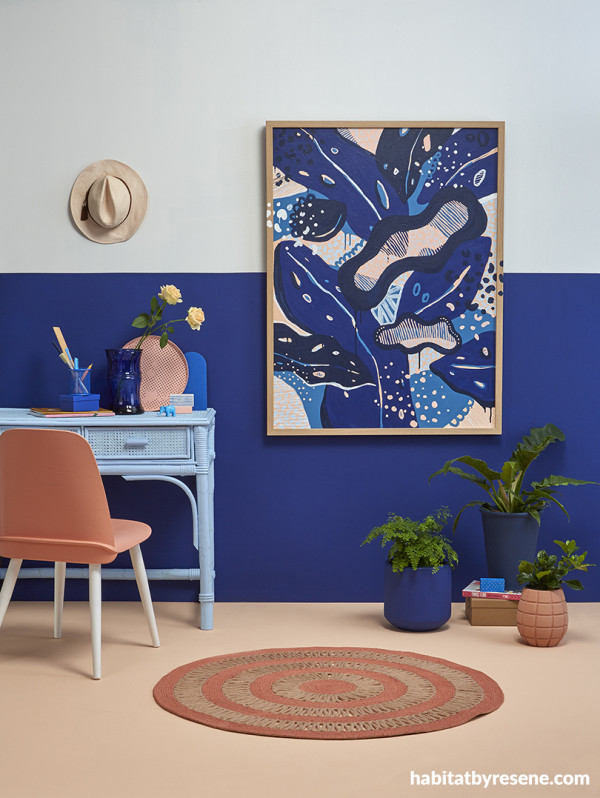 This working nook has been transformed with bold use of blue tone Resene Aviator. Not only does the repetition of the same colours across a number of different surfaces here create a sense of rhythm, so do its horizontal lines, including the 'horizon line' that divides the wall and the shape of the desk.Top wall in Resene Triple Alabaster, lower wall in Resene Aviator and floor in Resene Romantic. Desk in Resene Sail and chair in Resene New York Pink with legs in Resene Triple Alabaster, painted rug in Resene New York Pink and Resene Triple Alabaster, plant pots in Resene Aviator, Resene Bunting and Resene New York Pink, tray in Resene Cornflower, small cardboard boxes in Resene Torea Bay, Resene Cornflower and Resene Aviator and plant pots in Resene Japonica and Resene Wax Flower. Artwork by Alice Berry, chair from Mocka, tray and boxes from Kmart.Project by Kate Alexander, image by Bryce Carleton.
Auckland's Kate Alexander (Places & Graces) isn't afraid of bold colour use. Her first tip is to paint something unexpected in a room. "Painting a surface that we expect to only see in white will not only add instant drama, it's also a tactic to immediately draw the eye. It's perfect if you need to detract the eye from a certain area in a room," Kate says.
She recommends thinking beyond your walls, and try adding colour to your ceiling, or add colour to your ceiling in combination with a top section of a wall. "Using unexpected colour is great for drawing the eye upward. You could also paint your doors or door frames – that's particularly useful if you want to transform a dull hallway." Try Resene Midnight Moss on hallway walls for a moody look, Resene Buttercup for a bright and sunny feel or Resene Smoky Green for a soft and sophisticated feel.
Kate is also a fan of bold feature walls. "You could pick an architectural feature and paint it in a colour in contrast to the rest the room. Choose a colour that you wouldn't expect to see for that piece." Fireplace surrounds, a window frame or a front door are ideal places to add a little unexpected colour.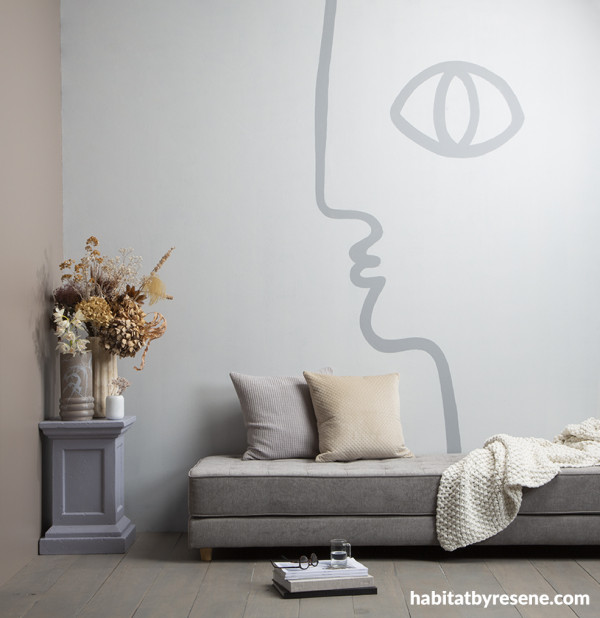 This Bauhaus-inspired mural has transformed a neutral wall in this lounge. Bauhaus designs feature little ornamentation and instead focus on balanced forms, abstract shapes and bold blocks of colours. Back wall in Resene Quarter Surrender, left wall in Resene Americano, floor in Resene Colorwood Mid Greywash, face in Resene Grey Chateau, plinth in Resene Santas Grey, lamp base in Resene Santas Grey, tall vase in Resene Americano with splatters in Resene Grey Chateau, short vase in Resene Sea Fog and jug vase in Resene Lola. Chaise and throw from Nood, cushions from H&M Home. Project by Kate Alexander, image by Bryce Carleton.
To undoubtedly transform a space, get extra creative and freehand it, Kate adds. "We have too many straight lines in our homes. Transform a boring room with a freehand mural. Choose a design that is organic and doesn't require any masking or measuring, like giant terrazzo shapes, squiggly lines or dots." The boldness of drawing outside the lines will certainly transform a space. For a warm freehand feature for winter try tones like Resene Hot Toddy, Resene Rusty Nail or Resene Brown Sugar. For something more muted, try the subtle grey of Resene Half Nomad, or the gentle Resene Fawn Green.
Melle van Sambeek: Create a mood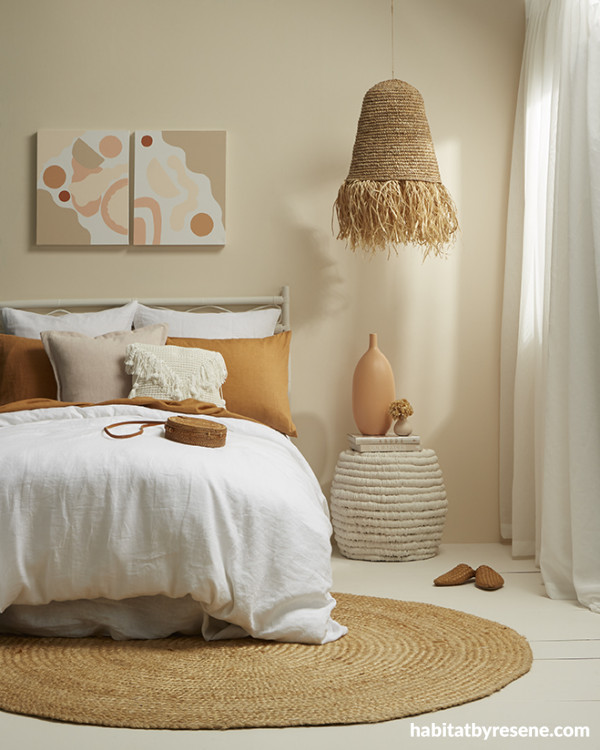 Enjoy a sweet and soothing sleep with a bedroom painted in soft character neutrals, filled with natural texture and a warming palette of colours. This Bohemian-style room glows with walls in Resene Eighth Canterbury Clay, floor in Resene Eighth Joss, lattice in Resene Eighth Pavlova, large pot in Resene Quarter Bison Hide, bedhead in Resene Eighth Joss, window trim in Resene Quarter Villa White, tall vase in Resene Beethoven and DIY artwork in Resene Sour Dough, Resene Waxflower, Resene Tuscany and Resene Beethoven. Bedlinen, lamp shade, rug, artwork, cushions, purse from Mood Store. Project by Melle van Sambeek, image by Bryce Carleton.
Melle van Sambeek (Sailor and Scout) encourages home decorators to consider the mood you'd like your room to evoke. "Perhaps it's a peaceful, calming bedroom you may want to create. If so, using soothing colours will help to create this." Melle recommends hues like Resene Solitaire, Resene Eau De Nil and Resene Meringue.
"Team these with light carpets, rugs and soft linen curtains, with muted soft linens for your bed for a calm tranquil feel." Perhaps you already have a favourite design style? Maybe you could follow the Hamptons design trend. "Use Resene paint colours that complement this trend. Wicker baskets, shells, brass, potted palms and jute rugs can be enhanced by colours of the sea like Resene Timeless, Resene Rulebreaker or Resene Baring Head."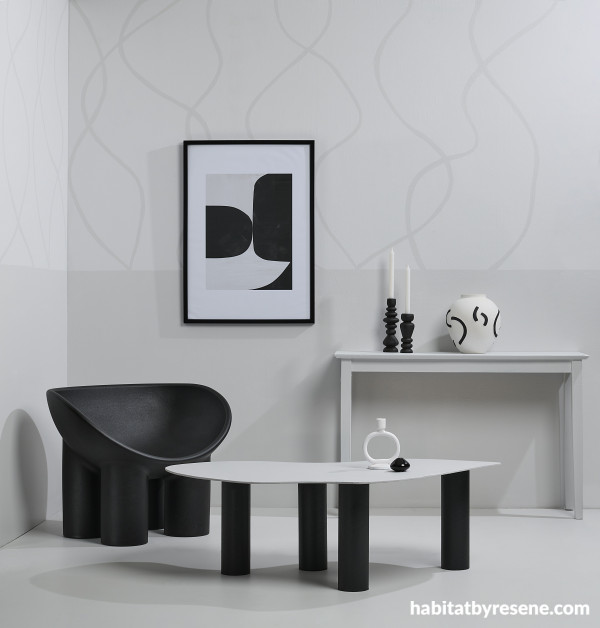 This pared-down, minimalist and achromatic look is striking with pops of colour added through artwork and furnishings, with an added pattern on the wall. Upper wall in Resene Half Concrete, lower wall and squiggle lines in Resene Concrete and floor in Resene Quarter Concrete. Hall table in Resene Concrete, DIY coffee table in Resene Triple Concrete and legs in Resene Element. Circle vase and tiny vase in Resene Soothe, tiny bud vase in Resene Triple Concrete, DIY artwork in Resene Concrete, Resene Triple Concrete and Resene Element and turned wooden candleholders in Resene Element. Chair from David Shore, vases and circle candleholder from H&M Home, circle vase from Kmart. Project by Melle van Sambeek, image by Bryce Carleton.
You can also transform a room using pops of colour with furniture, Melle says. "If you prefer to let your furniture be the hero in spaces (which also gives you room to make small updates in small furnishings more frequently when you get bored), keep your paint palette more neutral in your home.
"Rather than loud walls that scream for attention, paint your walls in soft shades like Resene Half Tea, Resene Kinship, Resene White Pointer or Resene Rice Cake. Using differing strengths throughout your home can keep it cohesive, but give you a slightly different look from room to room."
Amber Hamilton: Make it zen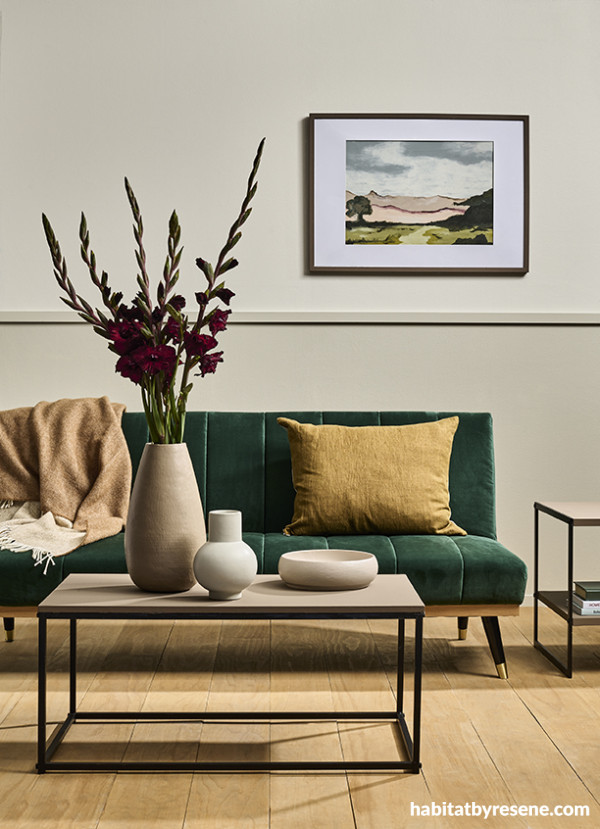 Create a soothing living space using natural tones. The base of this living space and much of its décor is neutral. And yet, the way it has been richly layered with varying tones and textures makes it both interesting and harmonious.Upper wall in Resene Half Thorndon Cream, lower wall and dado rail in Resene Double Thorndon Cream, timber floor in Resene Colorwood Natural, coffee table and side tabletops in Resene Domino, bowl in Resene Half Doeskin, large vase (with gladiolas) in Resene Dusty Road and medium bulb vase in Resene Half Thorndon Cream. DIY landscape painting in Resene Periglacial Blue, Resene Half Thorndon Cream, Resene Lemon Ginger, Resene Middle Earth, Resene Half Doeskin, Resene Domino, Resene Midnight Moss, Resene Soothe and Resene Digeridoo and picture frame in Resene Domino. Sofa from Danske Møbler, throw and cushion from Città Design. Project by Laura Lynn Johnston, image by Bryce Carleton.
Clean and calm is a look that can transform a space, and it's one never goes out of style, according to interior designer Amber Hamilton (Amber Hamilton Interiors)."White is definitely the colour of choice when you want a neutral base for any room. Choosing a white that doesn't feel cold or cast a particular hue is important when wanting to create the perfect blank canvas."
Amber recommends Resene Wan White from the Karen Walker Paints collection. "It has the ability to tone down fundamental elements that aren't easy to change, such as cream window joinery." Resene Alabaster is the ultimate pure white, she says, and is perfect for spaces that need a freshen up without being cold.
Amber emphasises that a space to relax is essential in any home. Natural colours immediately create a sense of calm and can transform any room. "Choose a restful palette that creates a warm and inviting home for a look that will withstand the different seasons. "Take inspiration from our native palette and pair with soft textures and shapes. Opt for ivory, cream, soft greens and grey. Neutral base colours such as Resene Thorndon Cream, Resene Sea Fog or Resene Friar Greystone in their various strengths work for a restful background. Add mossy greens, rich terracotta and deep charcoal blues with furnishings and accessories."
Try earth tones Resene Moroccan Spice, Resene Alert Tan or Resene Dark Buff. Resene Turtle Green is a beautiful moss tone.
Top tip: Dynamic energy can also be brought to a space with colour. For a classic black and white palette, Amber reminds decorators not to be afraid to use glossy black on your interior wooden window trims and sills. High gloss black can be layered in through accents for added visual interest. Look to Resene Enamacryl waterborne enamel to get a gloss finish on furniture or trims.
"Add a pop of unexpected colour such as Resene Café Royale on a feature like a fire surround, or even the ceiling! Tie it all together with a piece of rich tan leather furniture, earthy velvet cushions and neutral drapery for a timeless and luxurious end result. That is far from boring."
Use colour to help you re-shape a room this winter. Pop into your local Resene ColorShop and pick up some testpots and surround yourself with hues you love to live with.
Published: 29 Jun 2022
Do you have a home full of wonderful Resene paint and colour? Send us some snaps by emailing [email protected].