►
◄
latest
habitat tv
blog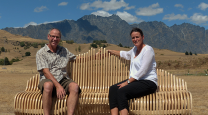 Transform your garage into a space you actually want to be in
For most of us, if we're lucky enough to have one, a garage starts off as a place to park our cars, bikes and lawn mower, but generally ends up being the dumping zone for junk you don't want in the house – sometimes, so much so that the car ends up outside anyway.
According to Tod Crosby and Jeremy Davis, owners of Pimp My Garage, the garage is the most versatile room in the house. Yet, for many families, it is the room invested in the least. "Whether you want to use your garage for storage, play or work, the idea is that we want you to spend more time doing the things you love – and less time looking for what you need," says Tod.
"With property values being so high, people are recognising that the garage is valuable real estate and investing in their garage is adding value to what is, for many, their largest asset. Most garages are your standard 36m2 footprint, which when you think about it, is a very large room. The garage is also unique in that it can be treated as a room that is both inside, yet still outside the house. This gives people licence to be a little more creative with the space."
The key to making the most of this premium space is to transform it into a space you actually want to be in. Tod says, "If you're not using the room regularly, it tends not to receive the same respect and care as other rooms that are always used." With some clever storage solutions and a fresh lick of paint, you can transform your garage into the Swiss Army Knife of rooms; a place for your vehicle, a laundry, a gym, storage – and so much more.

This newly reclaimed garage serves many different functions – storage space, laundry drying, lounge area, playroom and karaoke party zone – and is now enjoyed by every member of the family. The exterior cladding is painted Resene Surrender with trims, accents and fencing in Resene Alabaster. Inside the garage, the back wall is painted Resene Woodsmoke, the left wall is in Resene Duck Egg Blue and the trims and hook rack are in Resene Alabasterr.
It's all in the planning
The first step to transforming your garage into a useable space is to work out what you want to do with it. "Clever design can allow the space to be used for multiple purposes, parking and rumpus, office and storage, second lounge and a place for all your sports and leisure equipment," says Tod.
When he and Jeremy approach a new project, Tod says the most common challenge typically faced is how to create a useable room yet still have the facility to store all those things that don't fit anywhere else in the house. "Most people know roughly how they want their kitchen or walk-in wardrobe space to work, but we find most people do not know what solutions are available for their garage."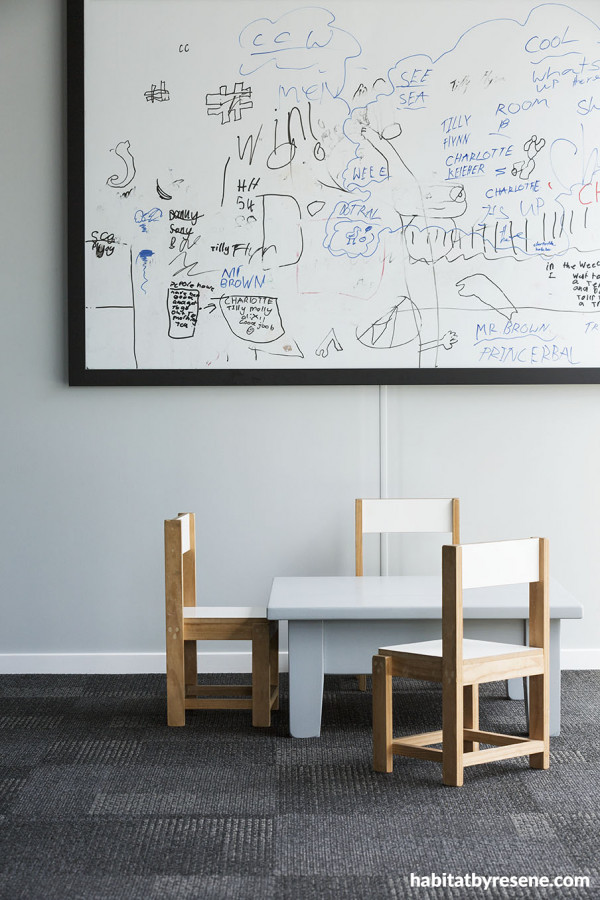 A play area for the kids is a great way to keep mess out of the house. This whiteboard was created by first painting basecoats in an eighth strength of Resene Duck Egg Blue, to coordinate with the walls behind (which are painted in Resene SpaceCote Low Sheen tinted to Resene Duck Egg Blue), then topcoating with Resene FX Write-on Wall Paint. The frame was painted in Resene Woodsmoke. The skirting board is in Resene Lustacryl tinted to Resene Alabaster. If the kids need more creative space, they can draw on the walls with chalk, as Resene SpaceCote Low Sheen also works like a chalkboard finish which be easily wiped clean with a damp cloth.
According to Jeremy, some of the things that are commonly overlooked in standard garage design include poor positioning of power points, insufficient insulation and door seals, and that much of the lighting gets covered up when the garage door is opened. Improving these simple, but key, items will greatly change the way the room feels.
The first thing to decide is whether you want to be able to use the garage to store your car. Once you've decided that, other elements such as where you will place workstations, a laundry or rumpus areas will flow on naturally. If you need to work around cars, look into folding down benches, ceiling-hung laundry racks and foldable tables or gym equipment. If the space will not be home to a car, then you've got a blank canvas for anything you want to do in there.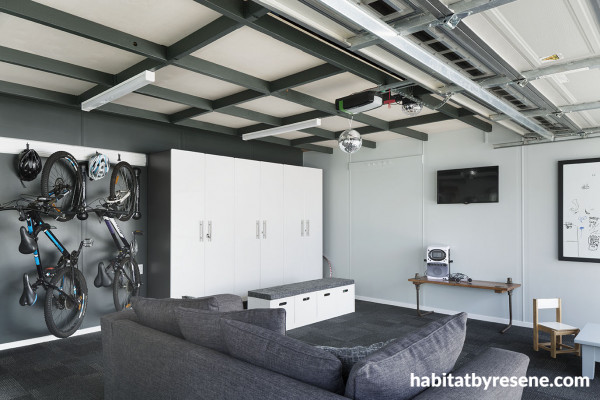 The garage walls are all painted in Resene SpaceCote Low Sheen, a durable finish that can be easily cleaned. The right wall is painted in Resene Duck Egg Blue, the architraves and hook rack are in Resene Alabaster and the timber ceiling is finished in Resene Colorwood Whitewash with battens in Resene Woodsmoke. The whiteboard was created by first painting basecoats in an eighth strength of Resene Duck Egg Blue, to coordinate with the wall behind, then topcoating with Resene Write-on Wall Paint. The frame was painted in Resene Woodsmoke. Choosing a darker colour (Resene Woodsmoke) for the wall behind where the family bikes and gardening tools are hung – which can sometimes be soiled – helps to mask the appearance of dirt or marks.
Embrace your inner Marie Kondo
Before organising and transforming your garage, you've got to de-clutter it. Work out what you'll keep and decide what large items or furniture need to remain and, "be ruthless," says Tod. "If you haven't used something in a year or longer, do you really need to keep it?"
Take all the items out (make sure you pick a fine day) and create three piles: keep, donate and dump. The items you want to keep will go back into the garage, anything that can be donated should be taken to a second-hand store and the rest that can't be re-used or recycled heads to the dump.
When you're packing everything back into the garage make sure you store items that you will use often in spaces that are easy and simple to access. Items that you use less frequently can be placed in boxes higher up on shelves. A peg board is a classic garage storage staple. Not only is it a space saving solution (as it sits flat to the wall), but it is easily changeable to adapt to what you need to store. For example, you can change the peg orientation to create a shelf to hold pot plants, or use them as hooks to hold rain jackets. If you've got a neutral coloured wall, this is your chance to add a pop of colour into the space.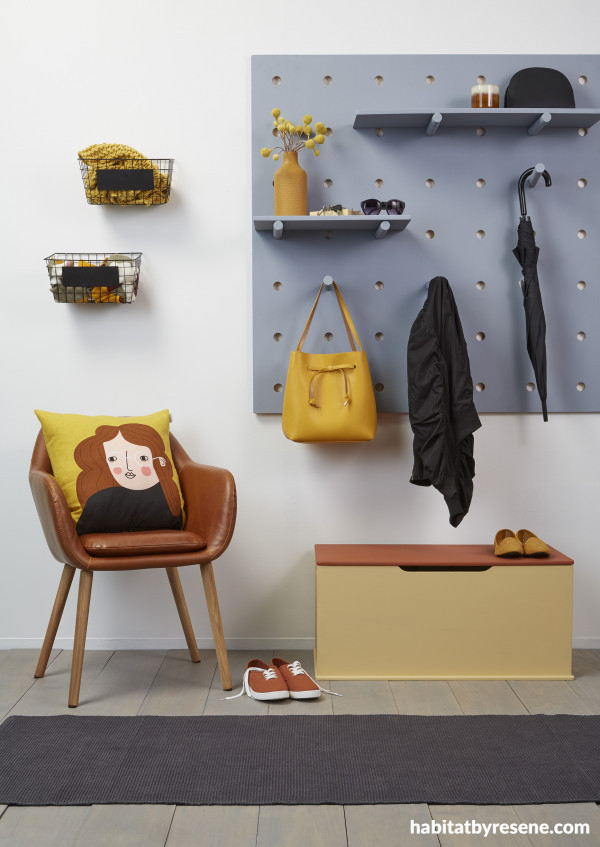 Bring colour to a neutral wall with a space saving peg board in your favourite Resene colour. This peg board has been painted in Resene Neutral Bay, it makes a fun statement against the wall in Resene Alabaster. Pops of colour are also brought in through the shoe crate, painted in Resene Putty and Resene Desperado. The floor is Resene Colorwood Mid Greywash, the baskets are painted in Resene Jaguar and the vase is Resene Influential.
Make it feel like home
You'll never want to be in the garage if you don't feel at home in your garage. Tod suggests doing small things like replacing your old fluoro tubes with energy-efficient LED battens (these will provide better light and will save you money in the long term). It's also a good idea to patch up holes in the walls and give them a fresh coat of paint. "Our painters and electricians are often working hand-in-hand with us, maximising the opportunity created by having the garage cleared out for a re-fit," says Tod.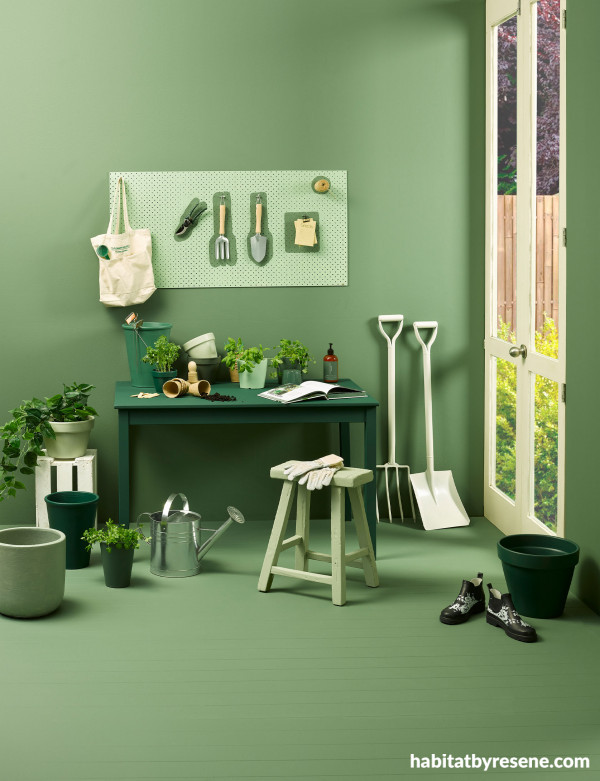 As a room that's separate from the main house, the garage is the best place to experiment with colour. If you're going to be using it to guide your green thumb, then try for a tonal verdant colour palette. This space has been painted in Resene Rivergum on the walls and floor with the table in Resene Palm Green, stool in Resene Bud and doors in Resene Black White. The pegboard is Resene Nourish and Resene Rivergum and the pots are painted in Resene Nourish, Resene Bud, Resene Palm Green, Resene Rivergum, Resene Secrets.
There are two paths to take with colour in the garage. As it's a separate room from the house, it is a great opportunity to be a bit more adventurous with colour and pattern – this is particularly advantageous if you're using the space as a kids' rumpus room or gym, where bright colours are fun and inspiring.
Alternatively, you can use this space as an extension of the house and continue the colour scheme into the garage too. If you're using the garage as a home office, softer hues and natural materials are the way to go. Above all else, a smart coat of Resene Alabaster on the walls and ceiling will make any space feel fresh and new.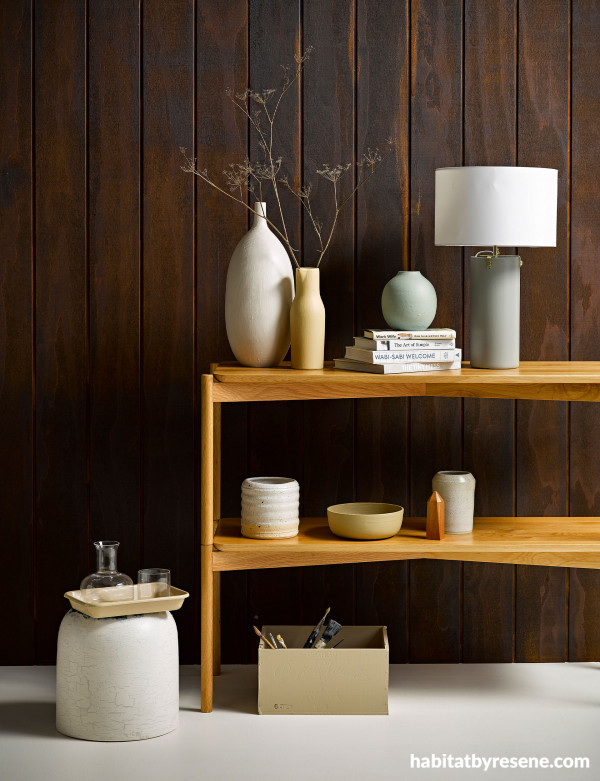 If you're using the garage as a place to create and work, stick to natural materials and softer colours to make it a more relaxing space. In this room, the Shadowclad walls have been stained in Resene Colorwood Ironbark with the floor in Resene Quarter Spanish White. The vases on the shelf are painted in (from left to right) Resene Canterbury Clay, Resene Putty and Resene Peace with the lamp base in Resene Tapa and small stool in Resene Double Pravda, Resene FX Crackle effect and Resene Quarter Fossil.
In terms of the floor, it's a good idea to consider your options carefully if you are using it as an extended living or social space. Tod says, "garage carpet has its advantages, but it has disadvantages too and there are other options available. If you do go for carpet, don't make the mistake of getting cheap garage carpet that may have to be replaced in two years' time." If polished concrete is the look you're after, consider using Resene Concrete Wax for a protected, elegant finish. You can also add a bit of colour to your floors with Resene Walk-On paving paint.
When it comes to giving a garage a personal touch, Tod and Jeremy have seen it all. "We've done an industrial five metre long bar in a subterranean bunker, a workshop that is an extension of the homeowner's classic Chevy – and a kids' breakout room complete with disco ball and write-on walls," Tod says.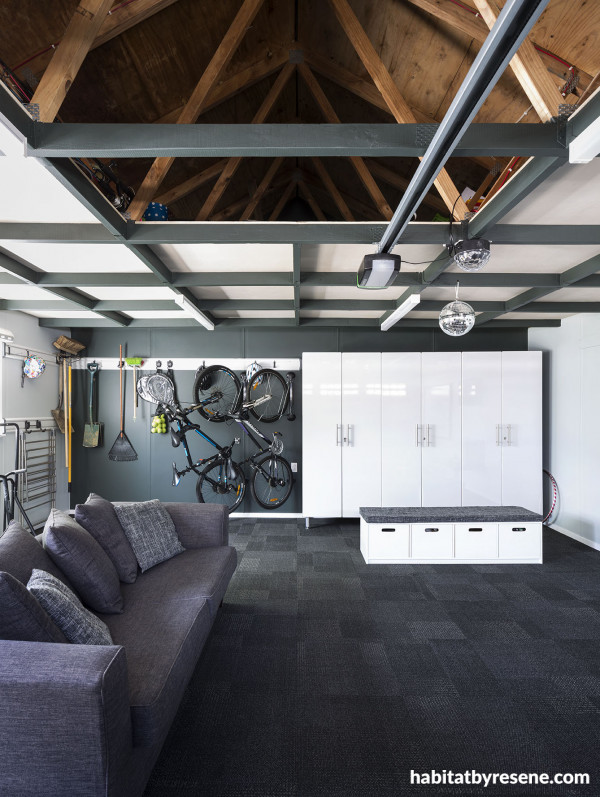 A loft-style ceiling offers heaps of extra storage space for larger items and those that get used less often. The back wall and ceiling battens in Resene Woodsmoke contrast with the timber panels finished in Resene Colorwood Whitewash. The side walls are in Resene Duck Egg Blue and the trims and hook rack are in Resene Alabaster.
styling Gem Adams, Vanessa Nouwens
images Bryce Carleton, Jessica Gernat, Melanie Jenkins
Published: 15 Jul 2020
Do you have a home full of wonderful Resene paint and colour? Send us some snaps by emailing [email protected].