►
◄
latest
habitat tv
blog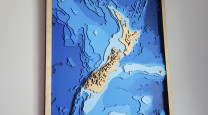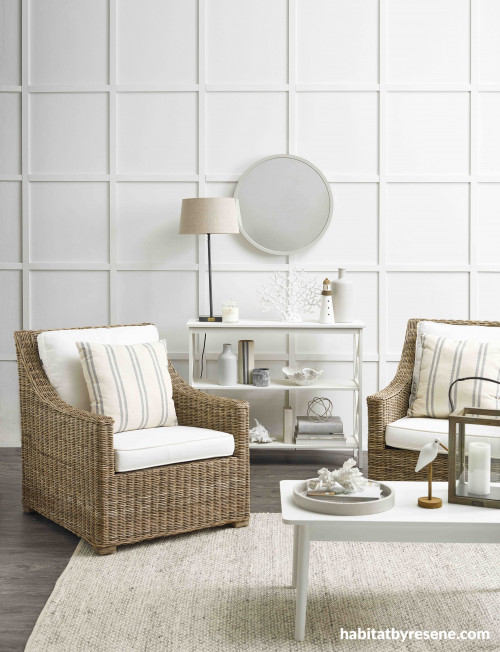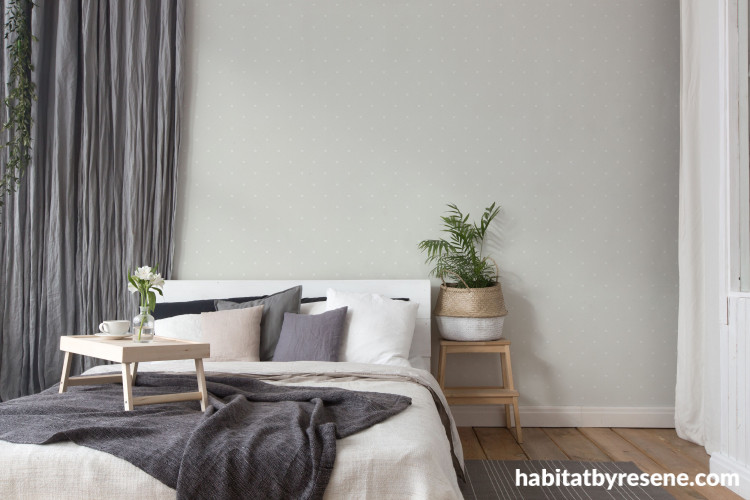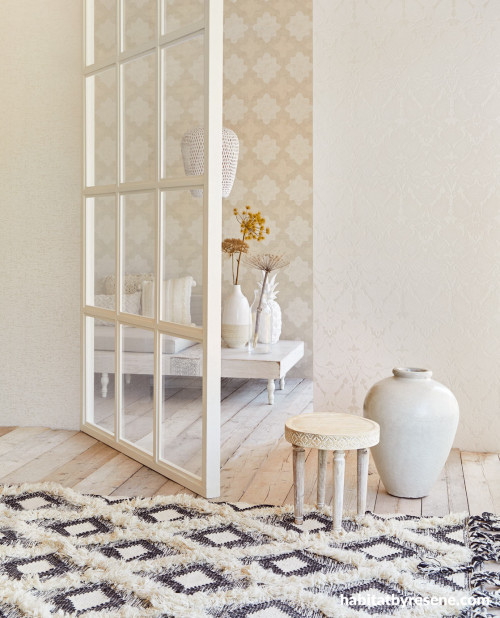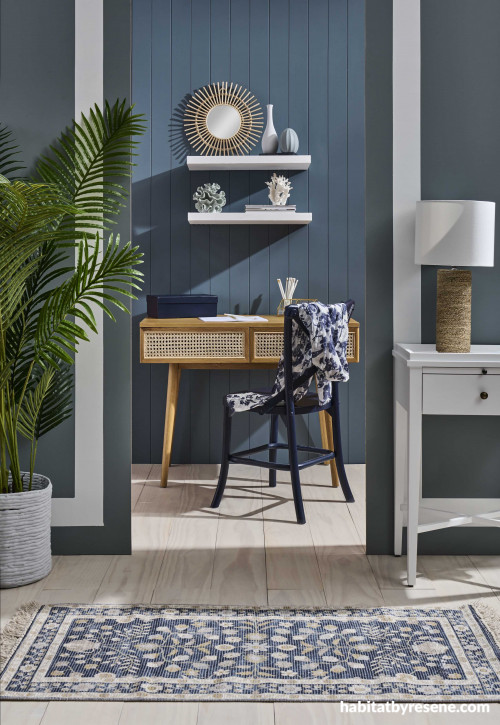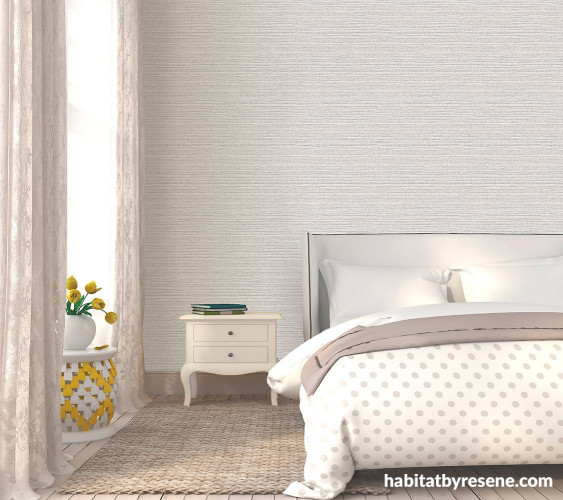 Transforming your home into a Hamptons retreat
The allure of the Hamptons style is ever enduring in home design, characterised by its breezy, coastal charm and timeless elegance. Achieving this look in your home doesn't have to be a dream though, with the right choice of Resene paints and wallpapers you can effortlessly infuse your living spaces with the quintessential Hamptons aesthetic. Let's take a look at some stunning design inspiration to get you started.
Serene bedroom retreat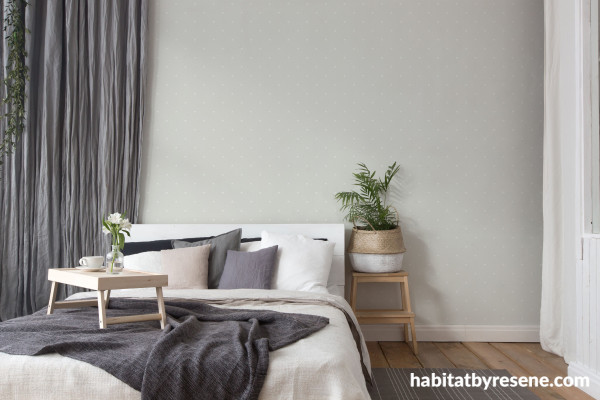 In this spacious bedroom escape, Resene Wallpaper Collection 379851_5 adds a subtle texture to the room, with décor and lush furnishings paired seamlessly to its cool shades.
In this tranquil bedroom, a gentle cool-coloured Resene wallpaper featuring a simple dot pattern sets the stage for Hamptons-style serenity. Soft neutral shades mixed with darker grey-blue tones create a soothing atmosphere that's perfect for unwinding after a long day. The understated elegance of this wallpaper harmonises beautifully with the classic Hamptons palette of blues and whites, making it a wonderful choice for achieving that relaxing coastal vibe in your personal sanctuary. Touches of wood and greenery help to ground the space, making it even more of a comforting escape. When choosing colours to complement this wallpaper, go for cool whites and subtle greys like Resene Double Black White, Resene Half White Pointer and Resene Quarter Surrender.
The grand entrance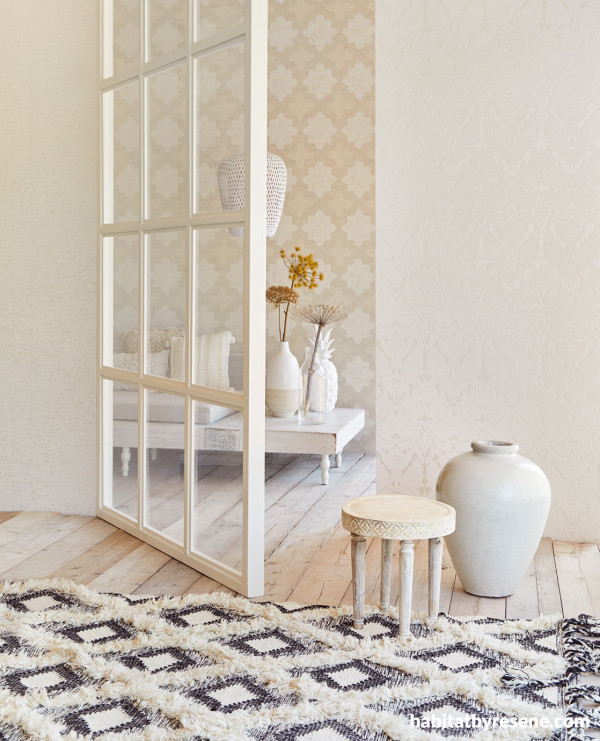 This luxurious space features two elegant wallpapers to create a cohesive look between rooms. Resene Wallpaper Collection E388740 is used on the back wall and Resene Wallpaper Collection E388770 is used in the front room.
A Hamptons-style home is all about making a statement, and nothing says 'welcome' like a grand entrance, whether it be your front door or entrance from the kitchen to the living room. This neutral space, featuring a large glass-panelled door, embodies the timeless sophistication of the Hamptons, which often features grand gestures and restrained luxury. These neutral Resene wallpapers blend with one another to create a seamless transition between two spaces. To complete the look, try a light colourwashed floor using Resene Colorwood Whitewash or Resene Colorwood Breathe Easy, as well as timeless whites and neutrals like Resene Merino and Resene Alabaster.
Coastal home office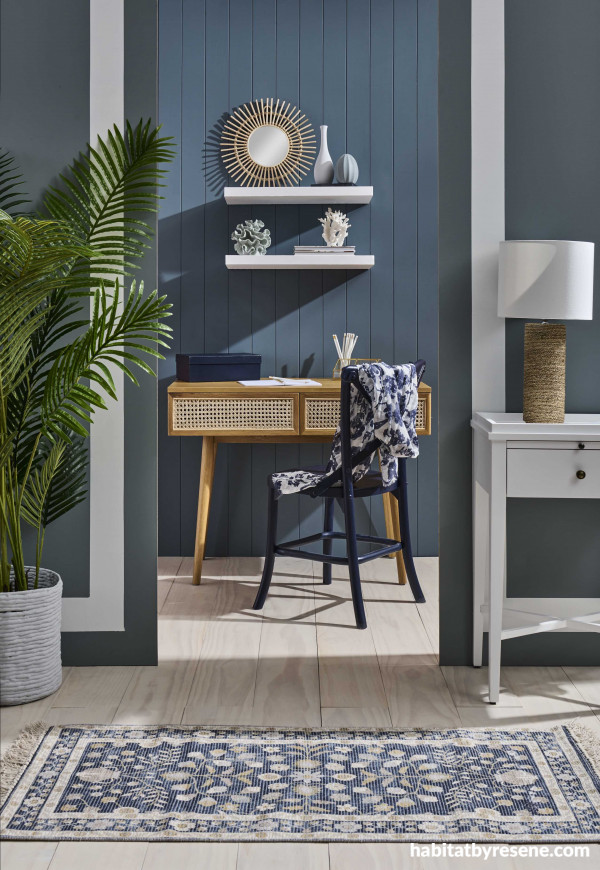 Create a bolder Hamptons look by using a darker colour. This tongue-and-groove back wall is painted Resene Watermark, front walls in Resene Baring Head, borders in Resene Alabaster and floor in Resene Colorwood Breathe Easy. Shelves painted in Resene Double Alabaster, vases in Resene Aoraki and Resene Ted. Desk and chair from Danske Møbler, side table from French Country Collections, plant and rug from Adairs, lamp from Mitre 10, mirror from H&M Home. Project by Melle van Sambeek, image by Bryce Carleton.
Incorporating the serene coastal charm of Hamptons style, this home office showcases a crisp and sophisticated atmosphere with its use of Resene Watermark, a rich mid-to-dark blue shade. This colour choice evokes the mood of a stormy sea, lending a touch of maritime allure to this workspace. While the notion of using darker hues in interior design often raises concerns about making a room appear smaller, the use of dark blue walls in this setting adds an element of refinement, tranquillity and dimension, crafting a timeless and soothing ambiance conducive to productivity.
On-trend soothing grey-blues like Resene Watermark, Resene Wayfarer and Resene Quarter New Denim Blue, work well in internal rooms such as an office or a bedroom, and when complemented with white furniture these colours will be further enhanced. Balance the depth with a lighter floor finished in Resene Colorwood Whitewash, a complementary rug and some lush foliage.
Neutral elegance
In this large open bedroom, Resene Wallpaper Collection 25716 adds subtle texture and depth bringing soothing cosiness into this elegant space.
This neutral bedroom exudes timeless elegance with a textured Resene wallpaper that adds depth and character to the space. Earthy tones and textured finishes create a sense of warmth and comfort while also giving a modern feel - key elements of the Hamptons aesthetic. The wallpaper's subtle texture complements the room's clean lines and soft furnishings. Neutral spaces are a great canvas for adding other pops of your favourite shades – try cool olive green like Resene Avocado, a chic dusky pink like Resene Vintage or a classic Hamptons blue like Resene Hammerhead.
Relaxed lounge oasis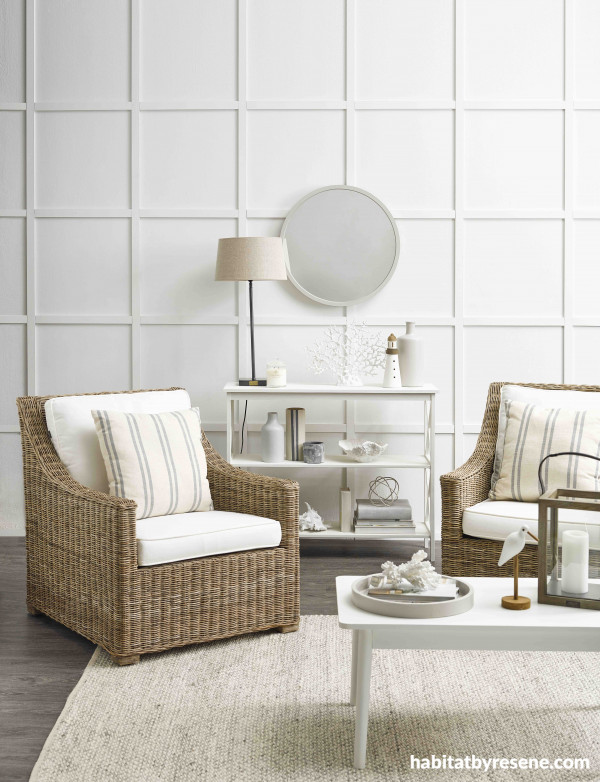 This calming room features layers of white with walls in Resene Black White, console table and coffee table in Resene Merino, mirror and tray in Resene Cloudy and vases and other accessories painted in Resene Cloudy, Resene Silver Chalice and Resene Black White. Stain wooden flooring in Resene Colorwood Bark and finish with Resene Qristal ClearFloor. Armchairs, cushions and lantern from Johnston Imports/Ji Home, rug and tray from Freedom, cushions from The French Villa, seagull and lighthouse decoration from Bed Bath & Beyond and picture frame from Kmart. Project Vanessa Nouwens, image Wendy Fenwick.
This neutral lounge exudes laid-back luxury with a battened wall and big comfy cane chairs. Soft neutrals on the walls create a soothing backdrop that allows the textures and design elements to shine. The gentle, muted palette is synonymous with Hamptons style, making it the ideal choice for creating a comfortable and inviting lounge where you can unwind and entertain with ease. If you're looking to warm things up a bit, try warmer whites and inviting taupe hues like Resene Double Rice Cake, Resene Perfect Taupe and Resene Quarter Joss.
Whether you prefer soft pastels, coastal blues or neutral tones, it's easier than you think to create a space that embodies the timeless elegance and coastal charm of the Hamptons. For more advice on this style, and which paints and wallpapers to use, head to your local Resene ColorShop or Ask a Resene Colour Expert online for some friendly advice.
Published: 20 Sep 2023
Do you have a home full of wonderful Resene paint and colour? Send us some snaps by emailing [email protected].