►
◄
latest
habitat tv
blog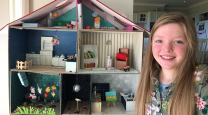 On trend: go natural
While there are plenty of trends about at the moment that focus on bold saturated colours or edgy deep shades, there's another contrasting trend toward fresher subtler shades, all grounded by pared-back woodgrain finishes.
There's never been a better time to go natural, and the good news is this fashionable range of neutral whitewashes and subtle stains will work with almost any colour palette, giving your rooms a simplified and relaxed feel or an architectural honesty.
Choose a classic combination
Weathered blues with whitewashed plywood is a timeless pairing, which immediately creates a soothing space to relax and escape the digital hubbub of modern life.
Start with Resene Colorwood Whitewash and build your layers of blue from there. And don't feel you need to stick to one end of the blue spectrum with navy or baby blue. Layer your space with colours from across the palette: deep moody Resene Coast through to the subtlety of Resene Duck Egg Blue, one of the most popular colours from the Resene collections.
This mix of natural neutrals and shades of blue remind us of the beach and sea, making them perfect for the bach, or recreating that holiday vibe, year-round at home.
Smoky or cloudy blue-greys also work with this tonal look as do the very on-trend teals such as Resene Lazy River, with a bright pop of mustard gold in Resene Influential.
Scandi grows up
The most recent use of natural finishes, with woodgrain and natural fibres has been on the long-popular Scandi trend. Bleached timbers paired with misty greys and bright whites give a decluttered, fuss-free look.
That's evolving into more of a 'warmed-up' palette, bringing in notes of khaki such as Resene Colins Wicket as well as toasted spice colours such as Resene Swiss Caramel.
These warmer shades are made fresher and more vibrant by the contrasting natural, nearly-bare timber finishes, with finishing touches in creamy neutrals such as Resene Rice Cake and leafy plant-life.
To add different elements from a nature-influenced colour palette to this look, at small bursts of deep yellow, charcoal and muddy greens.
Natural layers
To really embrace the pared-back woodgrain look think about using more than one washed shade. Try Resene Colorwood Greywash on some surfaces next to others in Resene Colorwood Whitewash, or for a warmer, earthier look work in surfaces of Resene Natural.
Did you know… that Resene Colorwood Greywash comes in two strengths: mid and light? And that it is now available in an exterior formulation as part of the Resene Woodsman stains range.
These translucent finishes are really good way to elevate furniture items such as tables, shelves, stools and cabinets made from inexpensive plywood, showcasing the grain as a feature, rather than hiding it away under layers of paint.
Like that? Try this
Other accent colours to try with whitewashed or natural finishes:

Top tip: You don't need to stick to monochromatic stain finishes. Try Resene Colorwood Emerald Green or Resene Red Pepper to add a splash of colour that will still emphasise the wood grain underneath. See the Resene Colorwood range for interiors and the Resene Woodsman range for exteriors.
Styling by Gem Adams and Claudia Kozub. Images by Wendy Fenwick
Accessories: Mirror and bath sheets from Flux Boutique; mat and waffle towels from Paper Plane; netting bag from Blackbird Goods; tap, basin and bath from Plumbline; lampshade from Indie Home Collective. Rug and cushions from Weave Home; throw and blanket from Allium Interiors; white vase from Republic Home; outdoor/indoor chair and tumbler from Indie Home Collective.
Published: 01 Nov 2018
Do you have a home full of wonderful Resene paint and colour? Send us some snaps by emailing [email protected].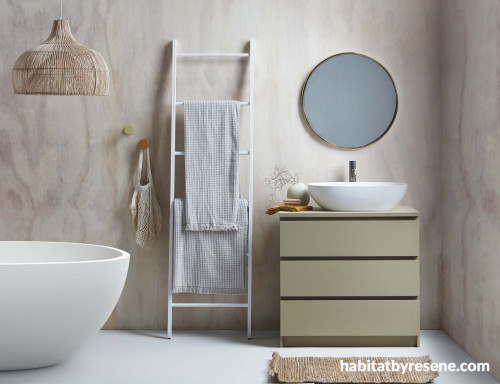 Scandi grows up: Plywood walls in Resene Colorwood Whitewash are a fresh background to the vanity in Resene Colins Wicket. The vase is in Resene Smoothie, the painted hooks in (top to bottom) Resene Rococo and Resene Swiss Caramel and the ladder in Resene Rice Cake. The floor is painted in Resene Eighth Stonewashed. The bath Sublime basin and bath are from Plumbline.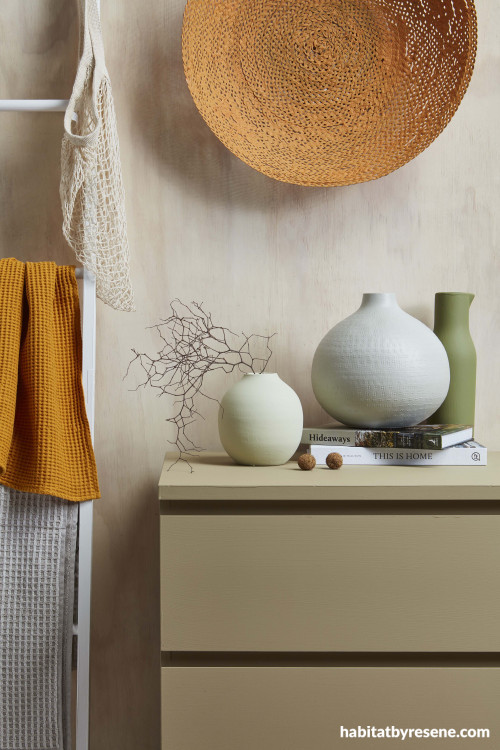 Here the wall hanging in Resene Swiss Caramel adds an extra layer of sunny warmth to the Resene Colorwood Whitewash walls and Resene Colins Wicket vanity. A jug in Resene New Leaf emphasises the natural tones, with vases in Resene Smoothie (small) and Resene Eighth Stonewashed.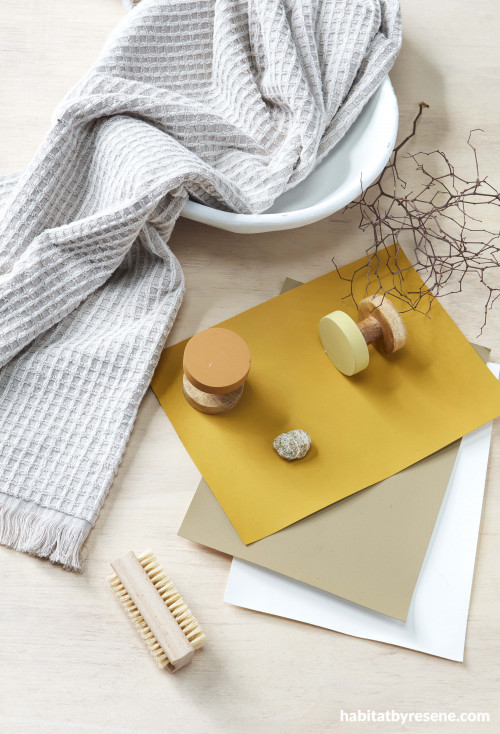 Introduce pops of mustard yellow with Resene Influential. The other A4 drawdown paint swatches are in Resene Colins Wicket and Resene Rice Cake, while the background is plywood finished in Resene Colorwood Whitewash.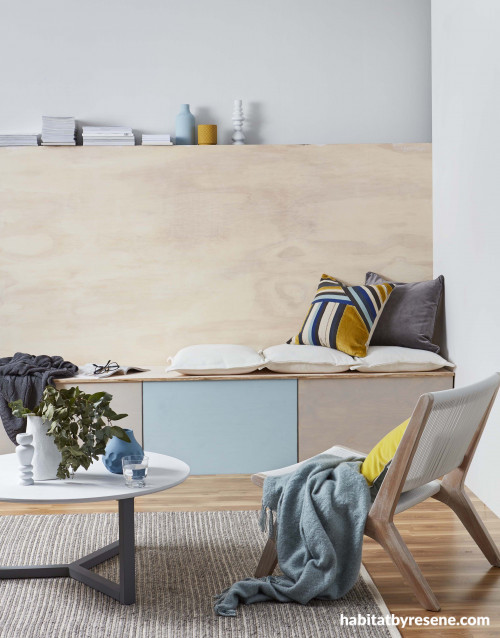 Get the relaxed holiday vibe with weathered blues and surfaces. These walls are Resene Sea Fog, the bench seat wall and seat top are in Resene Colorwood Whitewash, and the cupboard doors are Resene Colorwood Greywash and Resene Raindance. The coffee table top is Resene Poured Milk with Resene Quarter Baltic Sea legs. The honeycomb vase is Resene Lazy River, the textured vase is Resene Raindance, while the candlesticks are in Resene Poured Milk (table) and Resene Sea Fog. A pop of contrast is added with the small pot in Resene Influential.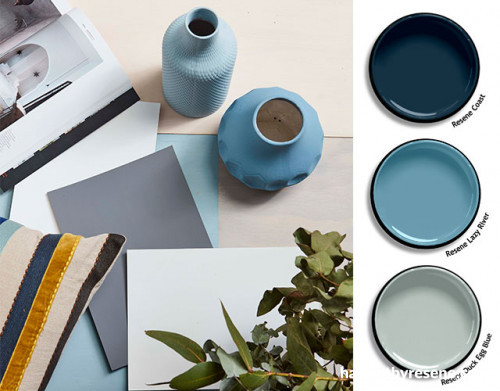 The timeless pairing of washed blues and muted white reminds us all of the beach. This background is in Resene Colorwood Whitewash (top), Resene Colorwood Greywash (bottom right) and Resene Raindance, which is also on the thin vase. The wide vase is Resene Lazy River with the A4 paint swatches in, from top, Resene Sea Fog, Resene Quarter Baltic Sea and Resene Poured Milk.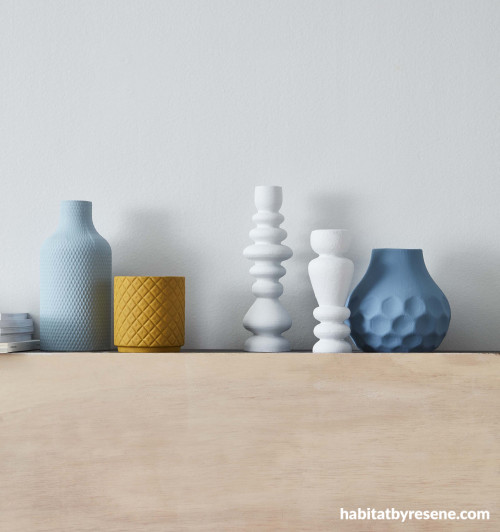 The devil is in the detail, with this line-up of accessories which bring to mind all the colours of summer. From left: Resene Raindance, Resene Influential, Resene Sea Fog, Resene Poured Milk and Resene Lazy River, against a wall of Resene Sea Fog.
the look
If you're stuck on what
colour to use or need colour
advice, try out the Resene
Ask a Colour Expert service.