►
◄
latest
habitat tv
blog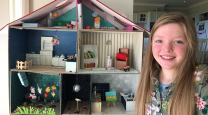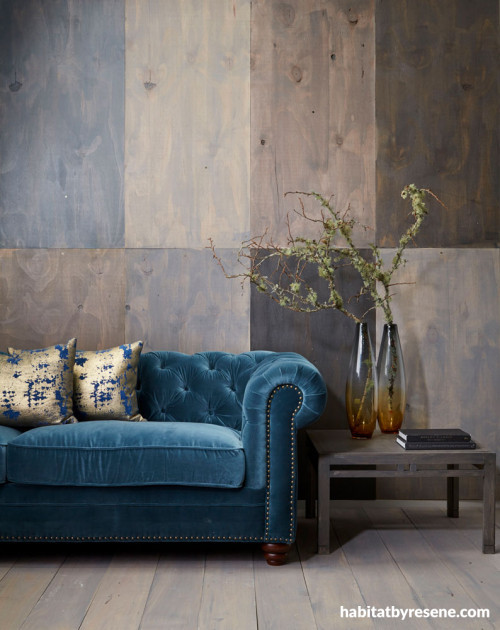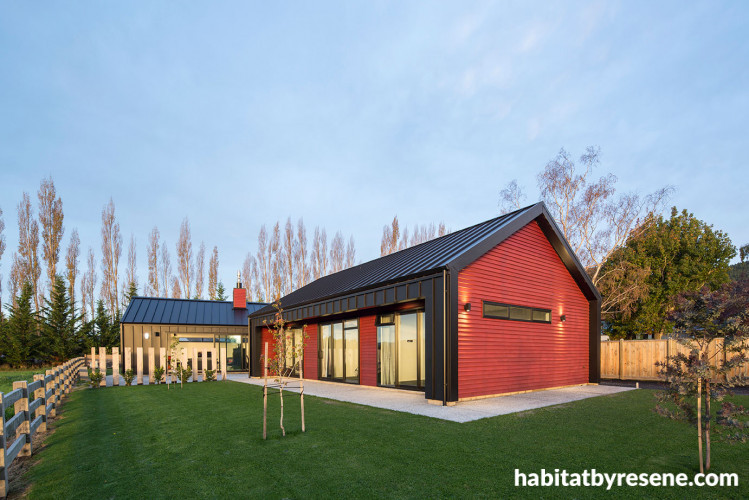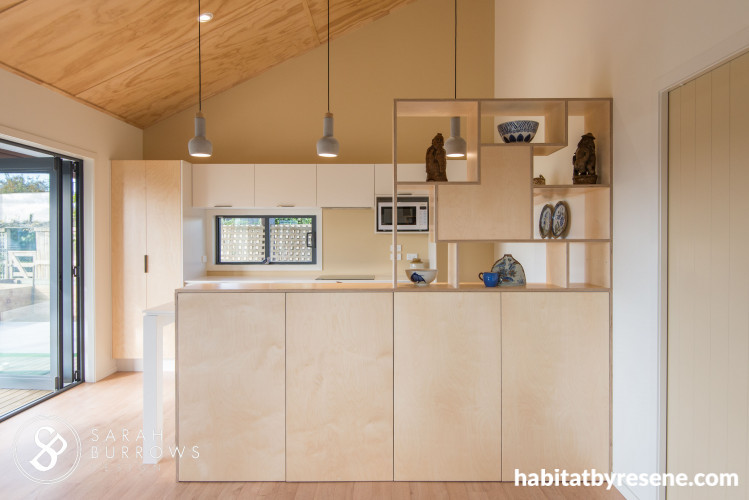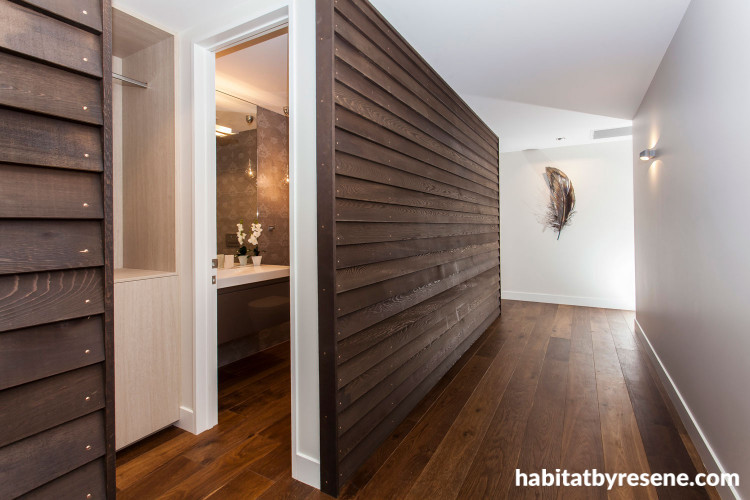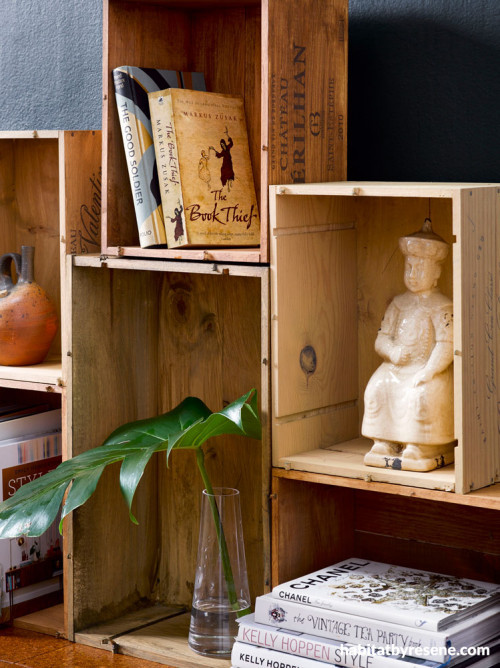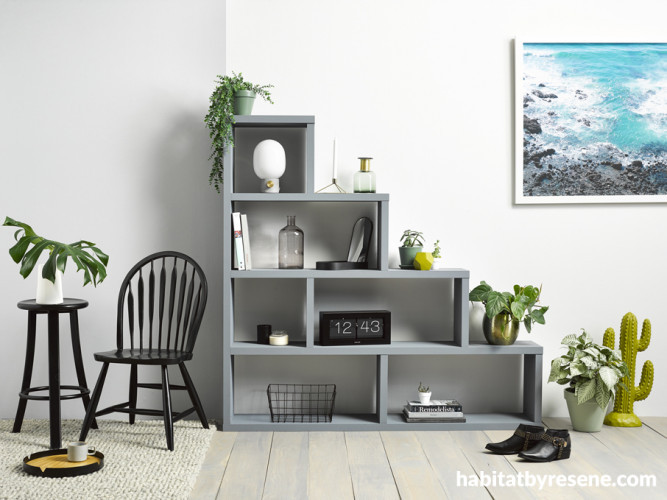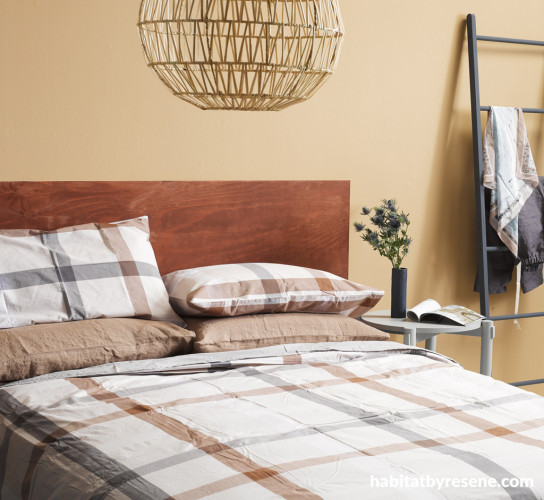 On trend – going natural
Getting close to nature in an interior sense isn't just about popping a few house plants around the room. As the trend for authenticity and honest finishes grows, we're choosing to wrap ourselves in warm browns, soothing terracotta and earthy greens, along chunky handmade knits, woven lampshades, baskets and knobbly rugs.
It's a hurly burly world filled with bright colours, glowing screens and flashing advertising messages, so it's little wonder we want a more relaxed natural feel in our own homes.
A big component of this look is a move towards using wood stains and clear timber urethanes to bring out the beauty in the grain in any wooden surfaces in our homes. It helps us to create simplified interiors with a more rustic, homely feel.
Timber finishes are all about striking a balance. Most timbers are a warm, yellowish brown and if that's the look you want, finishing it in Resene Aquaclear urethane will enhance the grain and the depth of the colour, while protecting it from wear and tear.
If, on the other hand, you're after a smokier look, a richer brown, or want to enhance the grain of the timber, then a wood stain will be the answer. Resene has a couple of ranges – one for inside use and one for outside.
The Resene Colorwood range is for interior use, and is waterborne so you don't have to wait a long time for it to dry and it is easy to use and clean up after. It comes in a wide range of colours from more natural hues to some fun brighter colours.
There is also Resene Colorwood Whitewash and Resene Colorwood Greywash for a whitewashed or greywashed look, very popular for floors and walls. If you want a blonded effect use Resene Colorwood Rock Salt.
The Resene Woodsman range is for use outside, so on cladding, outdoor furniture and fences. It comes in both waterborne and oil-based versions because oil-based stains penetrate more deeply into the timber. Resene stains also come in a Resene CoolColour formulation, which is designed to protect the stain and the timber underneath from damaging UV rays.
There's also a gel-stain called Resene Timber and Furniture Gel, which is non-drip, waterborne and easy to apply. It can be used on timber furniture without ending up with stain drips everywhere.
did you know… that for the first time last year, a stain colour made it to the Top 20 most popular Resene colours list? It was Resene Pitch Black.
Whether you're staining your timber or leaving it as a natural colour, most timber needs protecting with a urethane. Resene has a few clear-coat products for different interior uses:
Resene Aquaclear is a general use waterborne interior urethane, great for furniture and walls.
The Resene Qristal Clear range is a tough solventborne single-pack polyurethane that's perfect for timber walls, joinery and furniture. The range has products with varying gloss levels to high-gloss for a wet look, to flat which gives a wax-like finish. It also comes in Resene Qristal ClearFloor in a single pack and a more durable two pack version, ideal for wooden floors.
Avoid using clear finishes on exterior timber. They don't provide enough protection from U.V. light. If you want a natural look, choose a wood stain colour closest to your timber colour.
For more on clear finishes, click here.
did you know… that Resene stains are available in handy testpots for trying out or using on smaller projects? Many of the colours can be mixed for indoor (Resene Colorwood) or outdoor (Resene Woodsman) use.
Published: 29 Aug 2017
Do you have a home full of wonderful Resene paint and colour? Send us some snaps by emailing [email protected].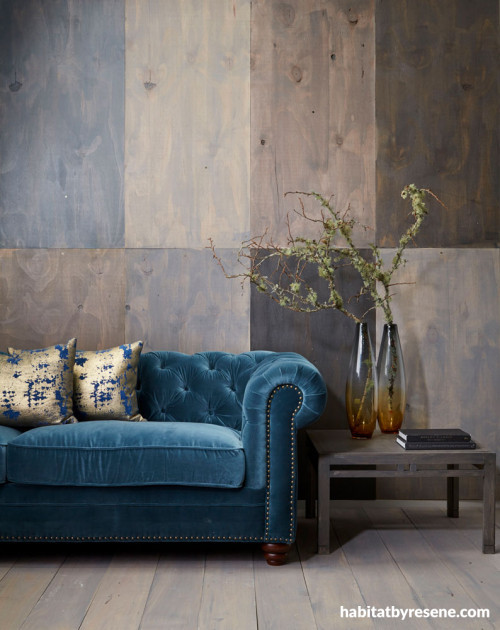 A wall panelled in stained timber features colours from the Resene Colorwood range: Resene Tiri, Resene Limed Ash, Resene Bleached Riverstone, Resene Smokey Ash and Resene Colorwood Greywash. The floorboards are also Resene Colorwood Greywash, and the side table is Resene Colorwood Tiri.
pictures
Bryce Carleton, styled by Megan Harrison-Turner.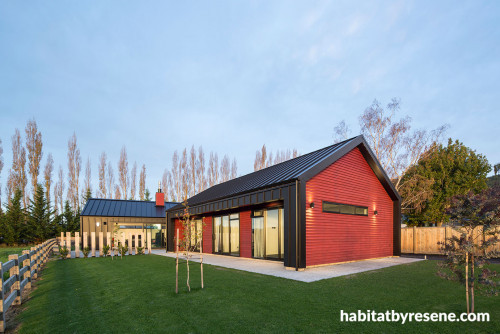 We've seen plenty of smart dark-stained exteriors but what about this stunning rich red? Perfect for its rural location, it's Resene Waterborne Woodsman Japanese Maple, used on a contemporary farmhouse designed by architectural designer Reece Warnock and recognised in the recent ADNZ awards.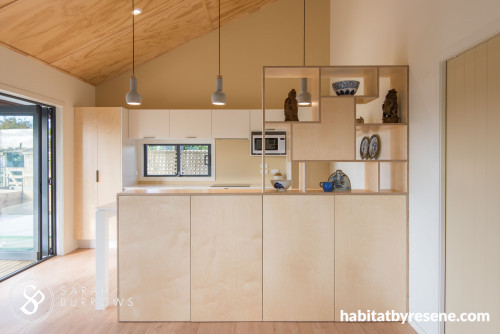 A kitchen designed by Sarah Burrows uses a wheaten Resene Haystack wall to complement rather than clash with the plywood cabinets, which are protected with Resene Aquaclear. The right-hand wall is Resene Half Villa White.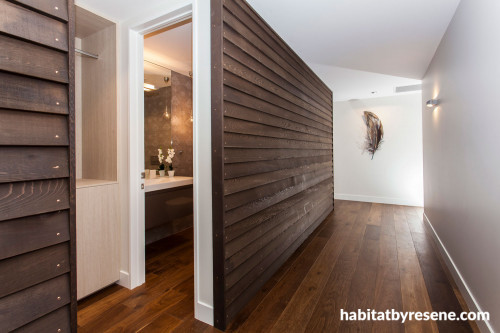 Blurring the divisions between outside and in, this striking hallway is 'clad' in timber which is then finished in Resene Colorwood Bushtrack. It's in a home by master builder Gregg Builders and decorated by Newman Decorators.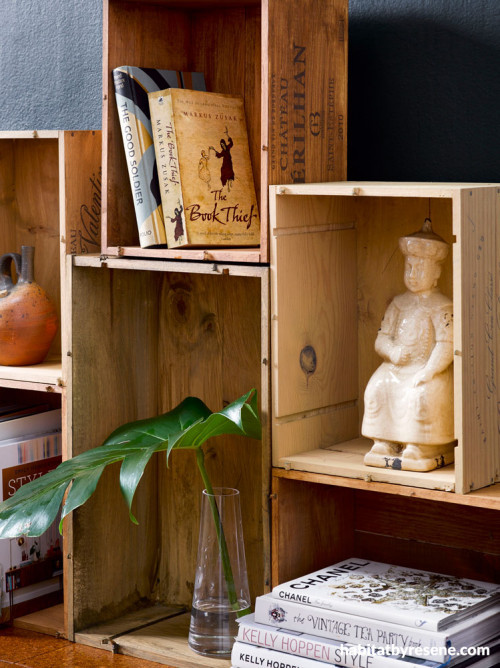 Use old wine boxes, stained with colours from the Resene Colorwood range, as a casual bookcase. The wall is Resene Ruck N Maul.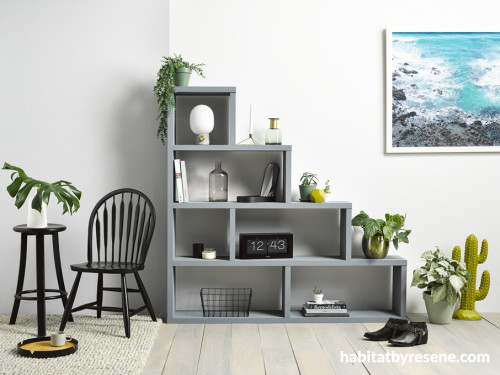 This floor finished in Resene Colorwood Greywash is an on-trend look that looks great in contemporary and traditional settings. Here, it's teamed with a wall in Resene Sea Fog and a bookcase in Resene Steam Roller.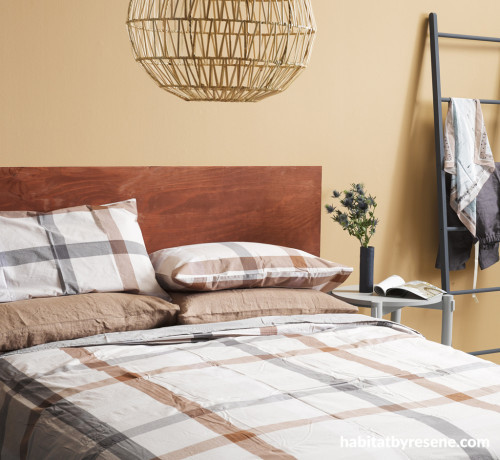 A simple and effective headboard – simply cut a piece of plywood to the right dimensions and finish it in the rich tones of Resene Colorwood Meranti. The wall is painted in Resene Calibre and the ladder is in Resene New Denim Blue.
pictures
Melanie Jenkins, styled by Gem Adams.
Resene Bleached Riverstone
the look
If you're stuck on what
colour to use or need colour
advice, try out the Resene
Ask a Colour Expert service.