►
◄
latest
habitat tv
blog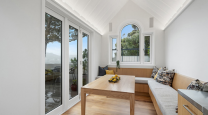 Master Builders' Chief Executive David Kelly shares his tips for building in the challenging climate.

Planning... more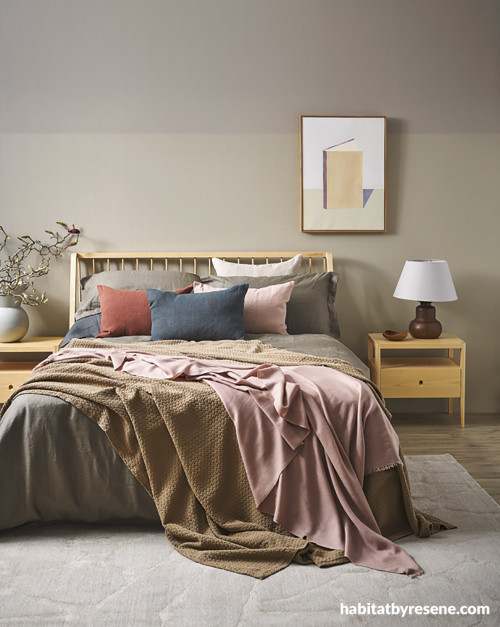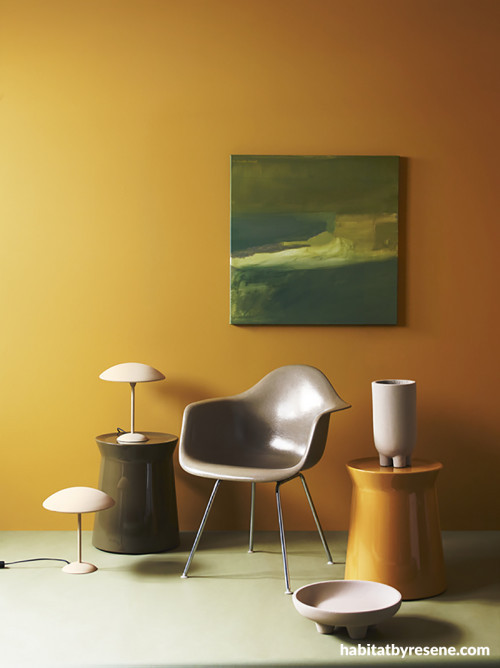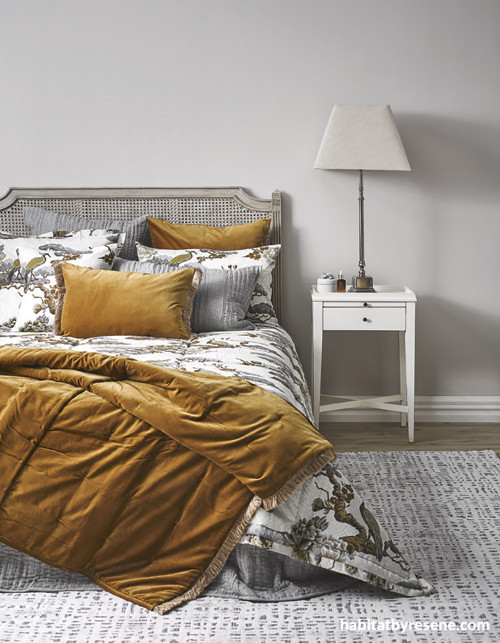 Try these room ideas for the ultimate style statement
Energise your inner stylist with interiors inspiration straight from the pages of NZ House & Garden. Backed with some serious know-how, these rooms are the perfect spaces from which to take design cues. Add instant personality to your home with these wow-worthy colour combinations you can create using Resene paints.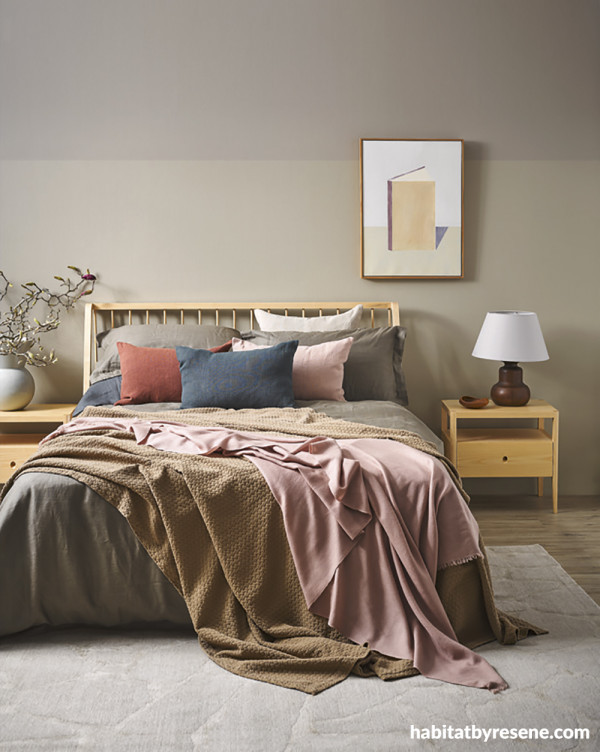 To create this tideline effect, use Resene Napa (top) and Resene Grey Olive (bottom). Furniture and bedding from Thread Design, rug from Designer Rugs and art from Sanderson Contemporary.
Your bed's final trims – its blankets, pillows and decorative finishes – are what make it truly dreamy. This room's winning formula is layer, then layer again. Combine your blankets and linens with an assortment of beautifully harmonised pillows inspired by hues like Resene Vintage, Resene Half Shark and Resene Apple Blossom for a sleeping sanctuary dressed in comfort.
If you're partial to one colourway, opt for a multi-tonal look. Pick bedding that's all within the same tonal family but different in shade. The subtle contrast will give your bedroom depth and highlight the many working – and stylish – parts of your space.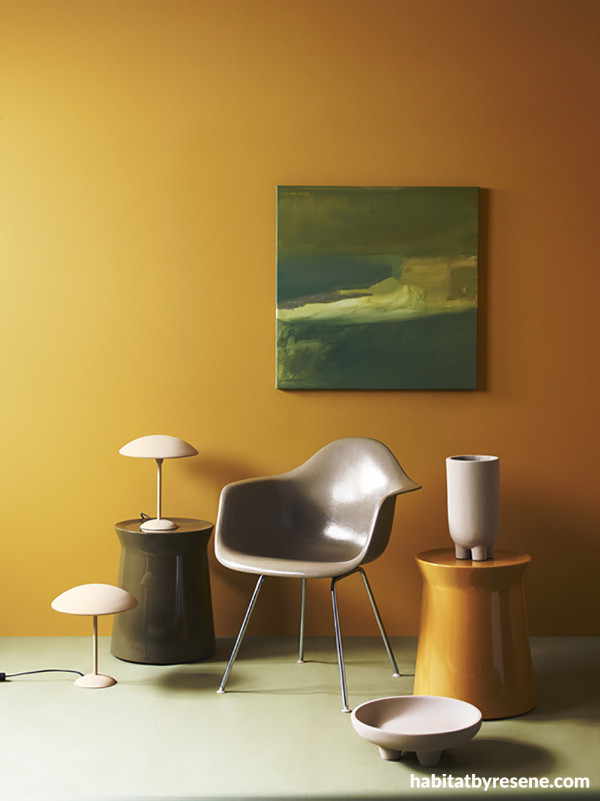 An abstract painting's forest greens reminiscent of Resene Saratoga and Resene Scrub bring depth to the rich mustard wall in Resene Influential.
The adage 'form follows function' needn't guide every décor decision. Shape is a fixture in our homes, too, and you can quickly fill any space with volumes of character. In this eye-catching room, form is wholeheartedly embraced at all levels, guiding one's eye from the softened edges of bowls and vases to the curved lines of lampshades, stools and a chair, to a forest green painting punctuated with movement.
The trick to building layers of sculptural form is adding accessories and small-ticket items, which are budget friendly and endlessly versatile. Keep them all within the same tonal family for a playful look with follow through, repaint them in your wall colours to make your palette shine or simply incorporate them as you find pieces that you love – there are no rules and no limits.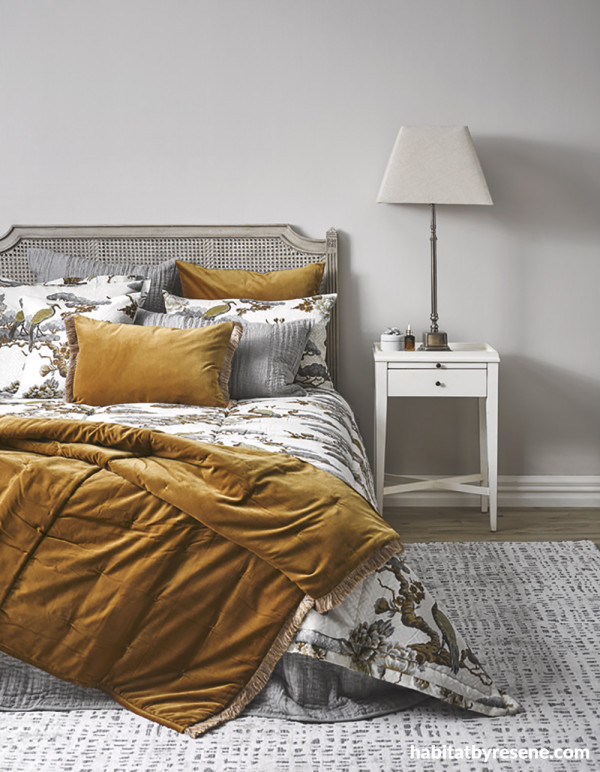 Create a core of French country colours using soft greys, creams and whites, with accents of mustard yellow for a contemporary twist. Wall in Resene Half Athens Grey. Furniture from French Country Collections and bedding from Bianca Lorenne.
Despite its rustic décor, modern French country style remains quietly sophisticated, and is a fabulous way to use heritage features alongside contemporary finishes. To evoke Provence, start with a palette of whites, creams and greys. Begin working in special vintage finds – antique side tables, shaker-style cabinetry, intricately made headboards and chaise lounges as great foundation pieces – then elevate them through a symphony of detail. Exposed beams, parquetry, gold-framed mirrors, wrought iron and industrial-style tapware all have French country allure. Offset these with a floral motif for extra points of interest that will also help soften the overall look.
For a chic finishing touch, bring in dark mustards, honey or butter yellow hues similar to Resene Bullwhip and Resene Tussock – they'll bring out those warm, natural tones at the heart of a welcoming home, without diminishing your interior's new-found European flair.
Top tip You can also try a French wash effect with Resene paints. First, apply two basecoats in a light colour, such as Resene Alabaster. Dilute a darker colour, like Resene Silver Chalice, with Resene FX Paint Effects medium and add Resene Hot Weather Additive to give you more time to work with the paint before it dries. We recommend a ratio of 40% paint colour, 55% Resene FX Paint Effects Medium and 5% Resene Hot Weather Additive. Quickly brush on the dark mixture in a criss-cross pattern. Using a cloth, wipe this pattern away in a downwards motion to create a delicate, marbled finish.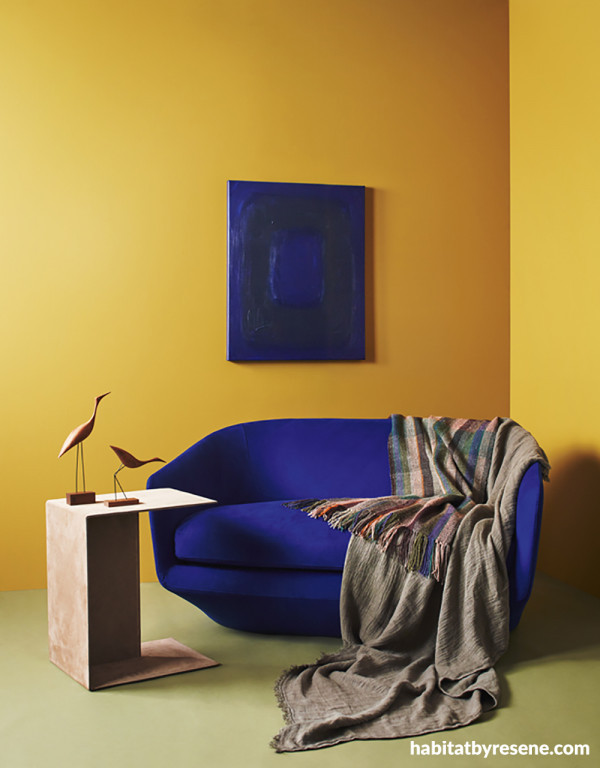 These walls are painted in Resene Influential to complement the sofa's vivacious blue.
Because of its size and positioning in a room, a sofa can be all-commanding. And while we're often inclined to temper this by opting for softer, neutral colours, there's something sensational about a sofa that's unabashedly bold. In this room, it presents as a work of art, echoed in the red-violet based blue of the painting.
A sofa is a costly purchase, so invest wisely. Take your time getting to know what you want out of this resting piece – the fabrics you would like for the upholstery, the sort of density you prefer in a cushion, what sort of back and arm height you might like and where you want the sofa to be positioned in your home. A well-placed sofa in a spirited colour is a recipe for a showstopping space.
Top tip: The colour of your sofa needn't be its winning feature. A beautiful, well-made design, be it new or vintage, will have your space brimming with personality.

styling Sarah Lods
images Wendy Fenwick, Belinda Merrie and NZ House & Garden
Published: 14 Oct 2020
Do you have a home full of wonderful Resene paint and colour? Send us some snaps by emailing [email protected].