►
◄
latest
habitat tv
blog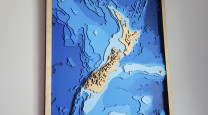 Tuck into this beautiful bedroom painted in Resene Dreamtime
This elegant yet relaxed bedroom is the master in a single-floor waterfront apartment – a quiet retreat from sun-filled, beach living in Milford, Auckland. Once the permanent home of an art-loving couple with an eye for timeless classics, stylist Kate Alexander has pared it down to enduring furniture and a few key pieces of statement artwork.
Kate's task was to choose what to keep, re-position them to the best locations, then fill the gaps to create a lived-in and loved vibe. "It's all part of telling a story and leading the eye around the room," says Kate.
"The master bedroom was empty, save for a bed and the cane chair. Our first choice was an original painting – selected for its ethereal nature, dimensions that elongate the wide wall and colours that connect to our furniture. It informed our room palette of lilac, emerald and terracotta. The space was brightened by a repaint of walls and ceiling, in Resene Black White. The three-quarter wall – dividing the sleeping area from a private dressing room – was given its own identity with a repaint in Resene Dreamtime," says Kate.
Published: 19 Feb 2019
Do you have a home full of wonderful Resene paint and colour? Send us some snaps by emailing [email protected].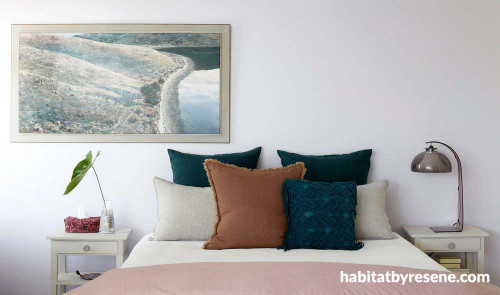 This barely-there lilac three-quarter wall in this dreamy bedroom – painted in aptly named Resene Dreamtime – separates the sleeping area from a private dressing room.
The other walls of the bedroom have been kept clean and simple in neutral Resene Black White.
For those who enter the room, the chest of drawers was positioned directly in the line-of-sight grants center stage to statement florals. The marble coffee table provides a place for a book of dreamy David Hicks interiors – in the perfect shade of lilac – and a translucent perfume bottle mirroring the coloured glass vase beyond.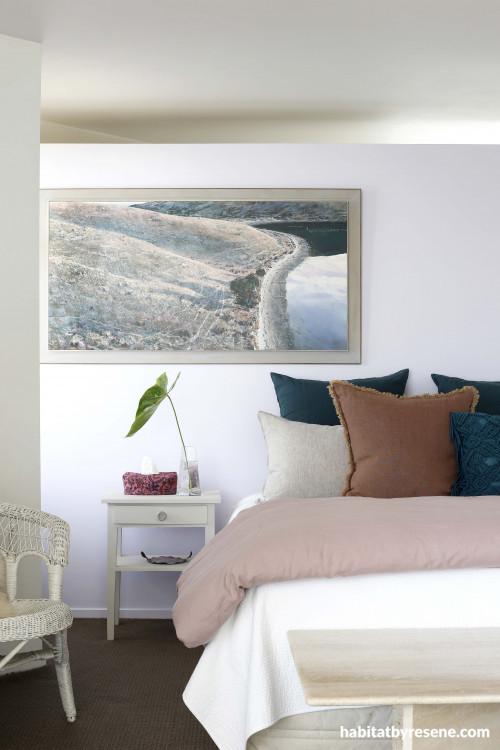 Bedding stacked in layers of pink, terracotta and emerald provide just the right amount of variety and subtle texture. The wall behind the bed is in Resene Dreamtime.
To work the same palette into your own space, mix Resene Dreamtime walls with trims in Resene Black White, add key furniture pieces in Resene Sixth Sense and Resene Ethereal, then layer on accents and accessories in Resene Atlas, Resene Sunbaked and Resene Aubergine.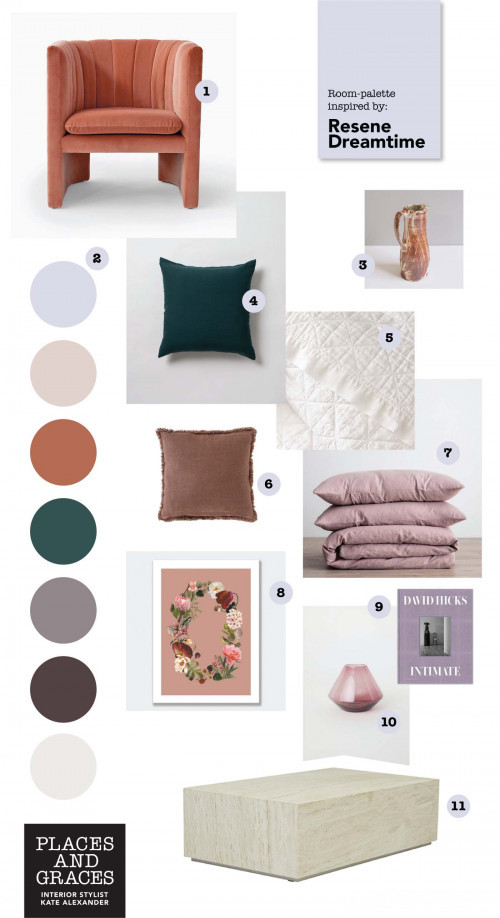 1. Loafer Chair by &Tradition from Dawson & Co
2. The colour palette for the room (from top to bottom) in Resene Dreamtime, Resene Ethereal, Resene Sunbaked, Resene Atlas, Resene Sixth Sense, Resene Aubergine and Resene Black White (buy testpots online)
3. One of a kind Objectd'art by Duncan Shearer from Kaolin
4. Emerald Velvet Cushion Cover from Citta
5. Home Republic Vintage Washed Linen White Coverlet from Adairs
6. Chelsea Cushion from Collect Living
7. Cultiver Linen Duvet Cover in Smoky Pink from Father Rabbit
8. Floral Wreath Art Print by Cloud 9 Creative from endemicworld
9. Intimate: A World of Private Interiors by David Hicks from Unity Books
10. Small Glass Pink Gem Vase from H&M
11. Elle Block Coffee Table from Soren Liv
styling and images Kate Alexander
Read the original blog post for this project on Kate Alexander's blog, Places and Graces.












the look
If you're stuck on what
colour to use or need colour
advice, try out the Resene
Ask a Colour Expert service.