►
◄
latest
habitat tv
blog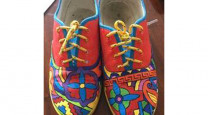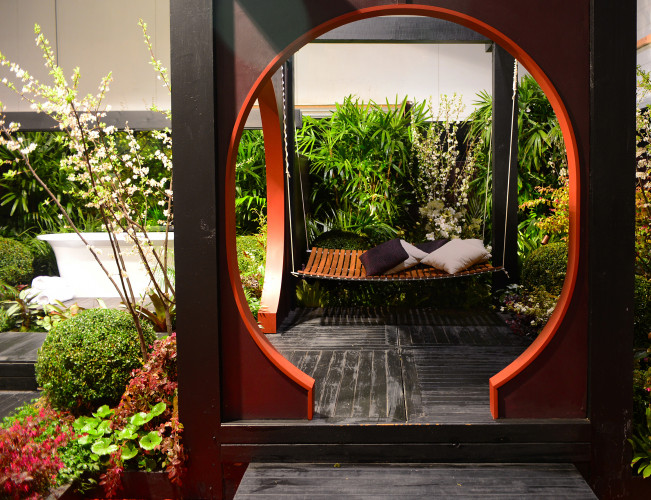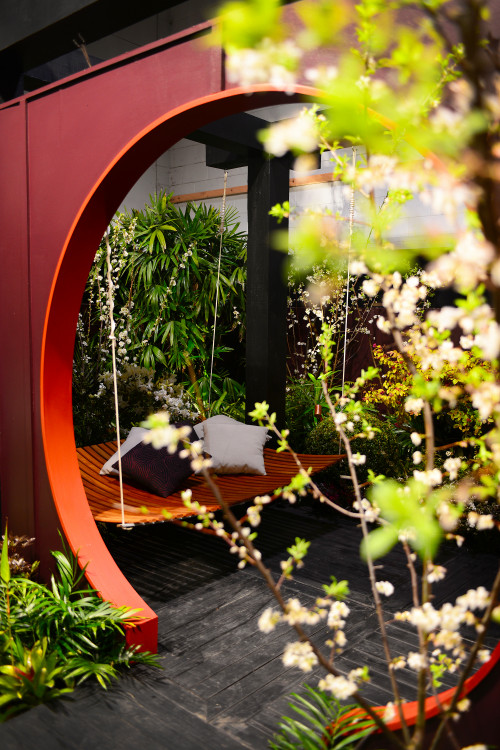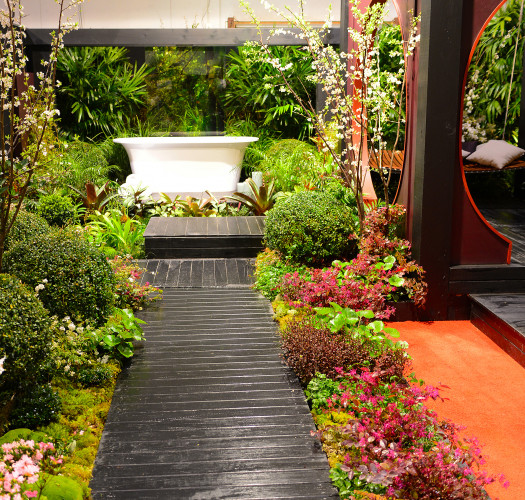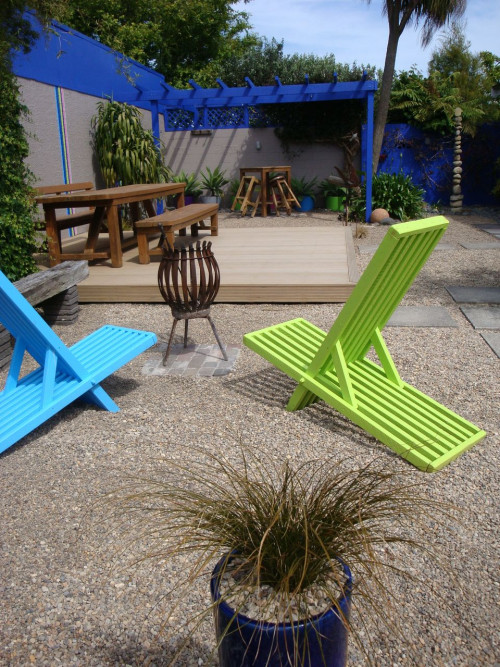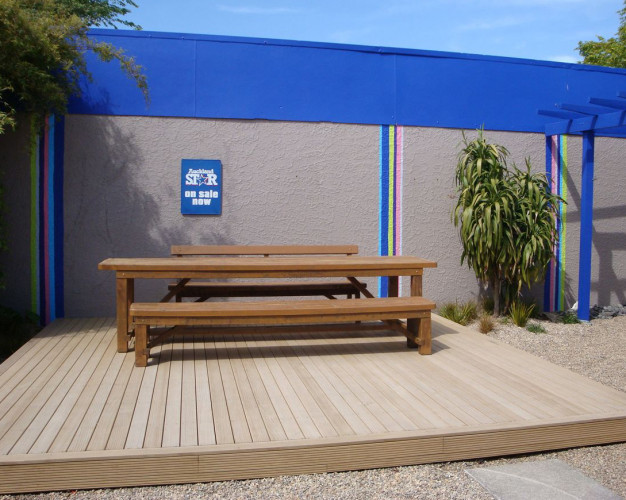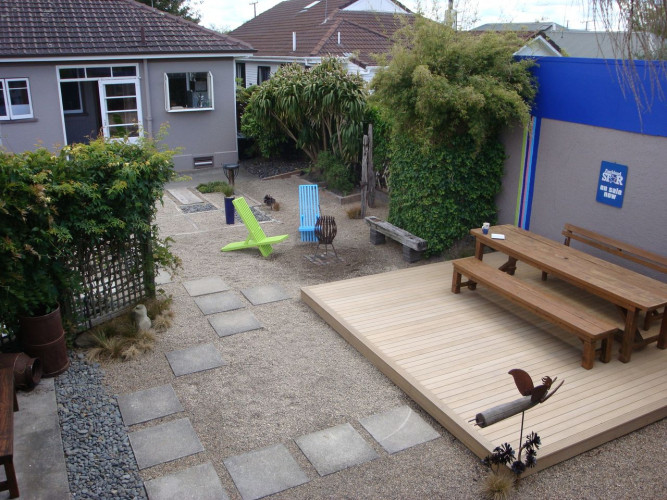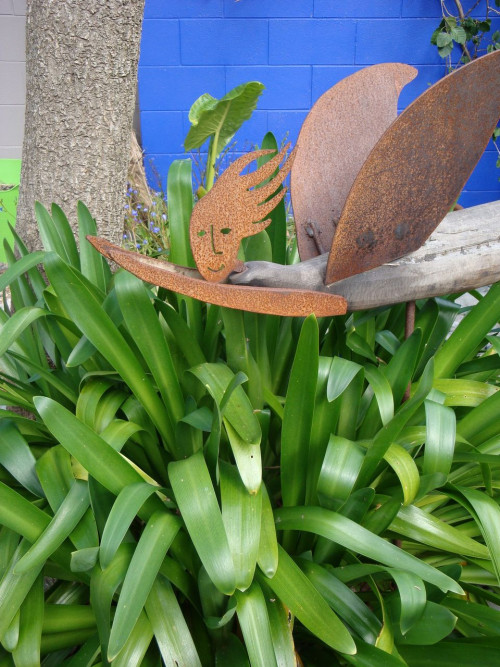 Two courtyards, two ways
28 Mar 2013
Do you have a home full of wonderful Resene paint and colour? Send us some snaps by emailing [email protected].
A romantic retreat, Zen-style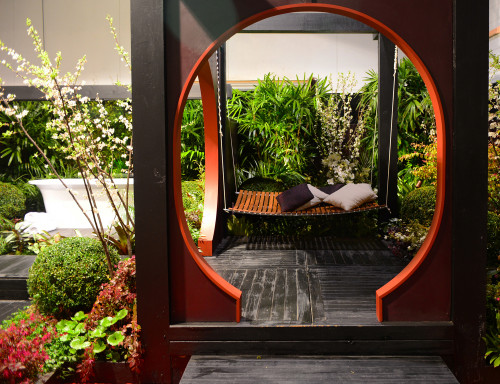 Created as a display garden for a home show by landscape designer Jules Moore, this stunning Japanese-inspired garden is tranquil and romantic, with a pampering outdoor bathroom, a come-hither slatted day bed and serene planting.
And it's all offset by rich Resene Aubergine walls, trimmed with Resene Burgundy and held up with robust posts and beams in Resene Foundry. Says Jules: "Using the key elements of a Japanese garden I incorporated an outside bathroom which could be attached to a master bedroom or bathroom or any part of the house offering an escape from a traditional bathing area.?" There's also a shower hidden within a black, chunky beam over the bath.
A generous 1.8m by 1.5m kwila slatted day bed is suspended within a grand raised pergola with key-hole shaped openings in the side. "The day bed was designed with meditation in mind. Five minutes slowly moving on this large curved platform/swing seat is a way to wipe away the day's concerns and help recharge the batteries."
Boardwalks finished in Resene Foundry float amongst the plants, which include white blossom shrubs, scented gardenia, large buxus balls, palms and bromeliads. Jules has also used the immortality herb, Gynostema, grown as a ground cover, and known in Asia as an overall tonic with anti-ageing properties.
To make this outdoor room even more intimate, Jules suggests candles and low lighting.
Tip: For this purpose, the boardwalks were painted in Resene Lumbersider but could just as well be done in a colour from the Resene Waterborne Woodsman stain range.
Sizzling with style
With the help of the Resene ColourHelper device and a few pots of brightly coloured paint, Sharon Purcell managed an easy yet striking makeover of her tired back courtyard garden.
The small back brick wall had been painted years ago. The colour name was long since forgotten, and the leftover paint was dried up in an un-named plastic container. That was no problem for the staff at Sharon's local Resene ColorShop. They put the old colour sample under a Resene ColourHelper, a hand-help device that 'reads' the target colour then tells you the closest three Resene colours to it. It can also suggest complementary colour options, and tell you the difference between two colours so you can see how similar, or different, they are.
Sharon's elusive colour turned out to be the vibrant blue Resene Decadence. A repaint of the back wall was extended to the pergola (once a dull and boring forest green) and the top edge of the large side wall, the lower section of which was already finished in Resene Americano. An old Auckland Star 'for sale' sign echoes the blue above and is a fun addition.
A quirky set of off-centre stripes was used to add interest and to break up the large side wall. Their colours were inspired by a set of multi-coloured plastic baskets – Resene Christalle (purple), Resene Wellywood (green), Resene Longitude (pale grey), Resene Deep Blush (pink) and Resene Snap (blue).
Resene Snap and Resene Wellywood were then also used to freshen up what were two sad sunchairs.
Sharon was helped by her friend Kay Goldsworthy (who decided on the stripes) and her partner Peter Jacques (pergola painter, helper and deck builder).
Tips for cool-looking courtyards
· Because they are often small, garden courtyards need a clear design theme, like the two featured here, or will end up looking scrappy and messy.
· Use walls and fences to define the boundaries rather than hedges as they take up less space.
· Whatever colour you use on the walls or fences, echo it throughout the garden in accessories or plant colour (flower or foliage).
· Courtyards often benefit from a focal point such as a water feature, beautiful specimen plant or an outdoor fireplace.
· Keep the colour scheme, plant selection and ground cover (timber, paving) limited in variety and simple so the space doesn't look too cluttered and fussy.
· That doesn't mean a courtyard can't be multi-purpose. You can often include a vegetable potager, or place edible plants amongst the more decorative varieties.
pictures
Photograph by Yulia Slon
Just curl up with a book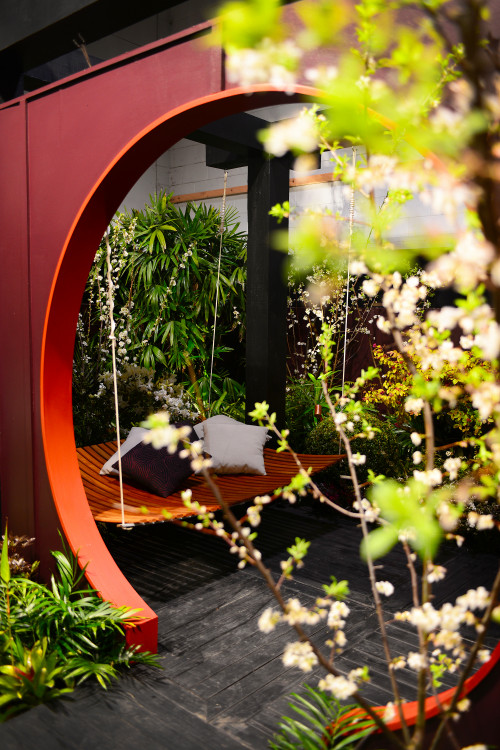 A slatted day bed is suspended within the pergola and reached via key holes. The walls are Resene Aubergine and the trims are Resene Burgundy.
pictures
Photograph by Yulia Slon
Voyuerism or relaxation?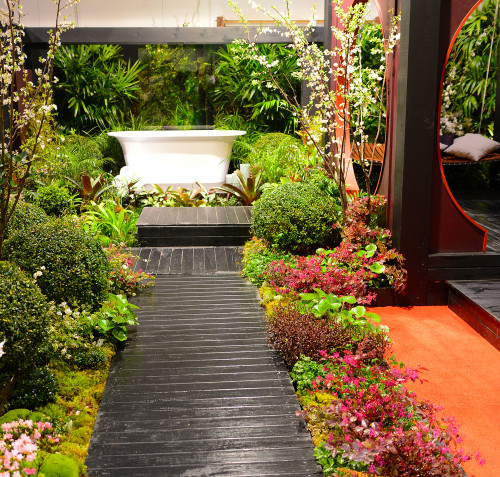 An outdoor bath sits at the end of a boardwalk painted in Resene Foundry. The show garden is designed by landscape designer Jules Moore.
pictures
Photograph by Yulia Slon
It puts a smile on your face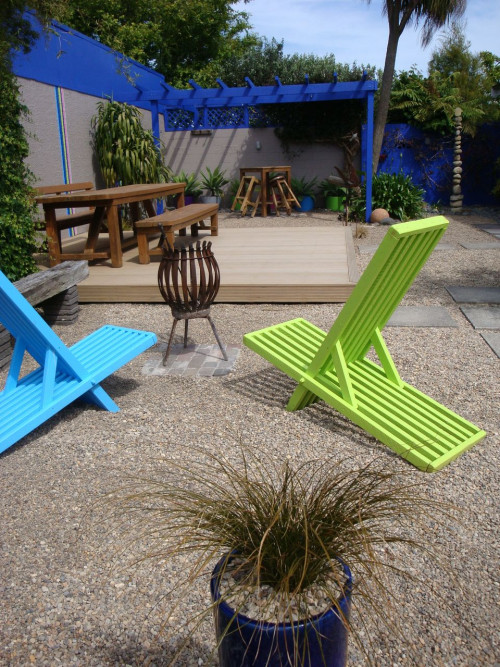 A riot of cheerful colour has transformed this courtyard. The chairs are in Resene Snap (blue) and Resene Wellywood (green), while the cobalt blue is Resene Decadence.
Then add some stripes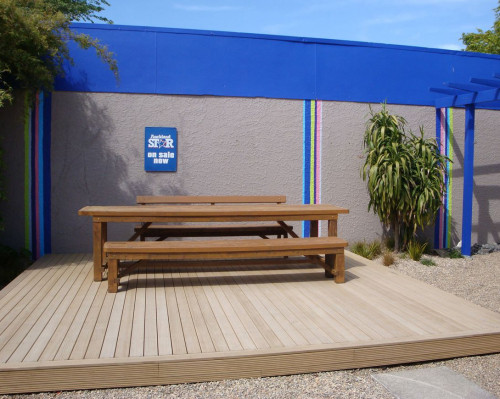 A series of stripes breaks up the wall, the colours of which were inspired by a set of plastic baskets. The colours are Resene Christalle (purple), Resene Wellywood (green), Resene Longitude (pale grey), Resene Deep Blush (pink) and Resene Snap (blue).
From above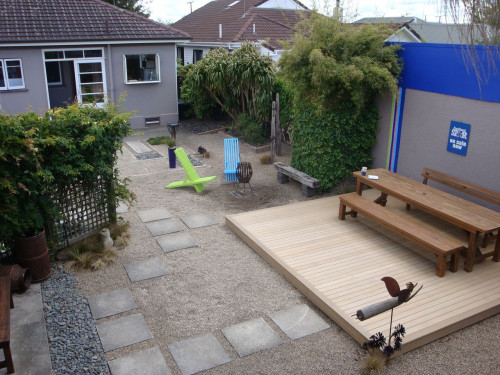 An overview of the garden courtyard, looking back towards the house.
An angel among us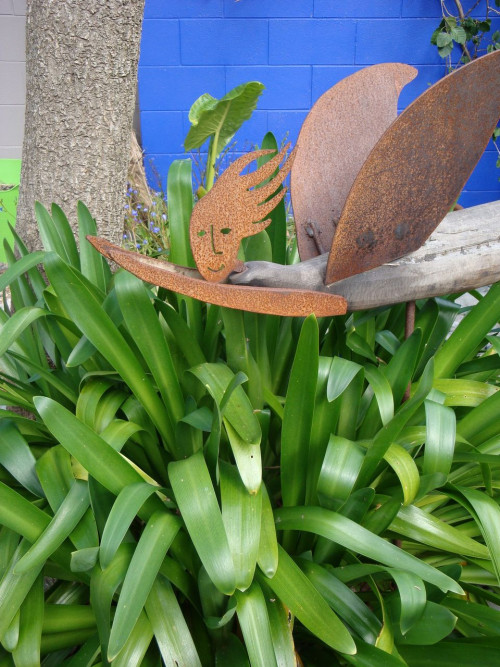 An angel sculpture flies amongst the plants