►
◄
latest
habitat tv
blog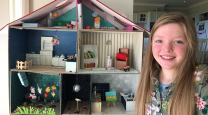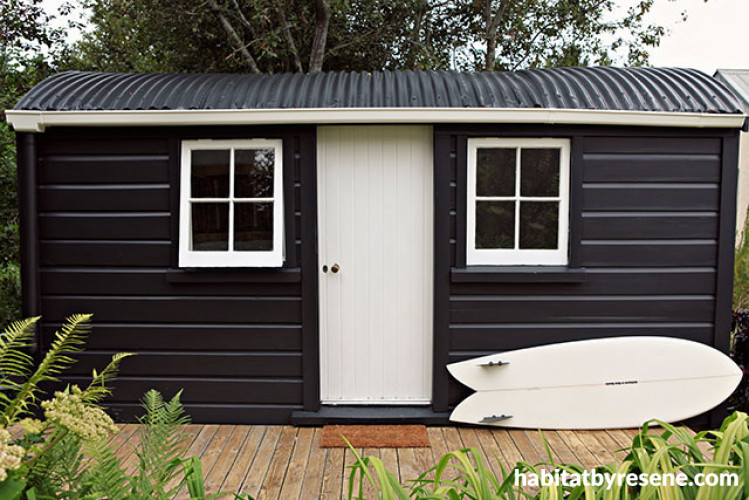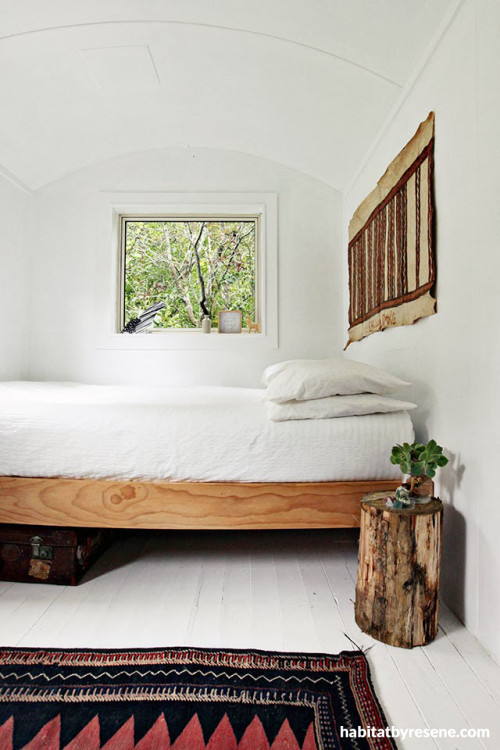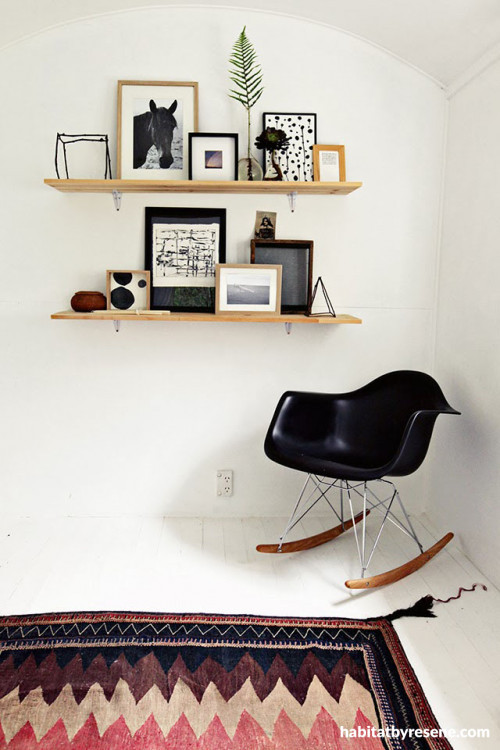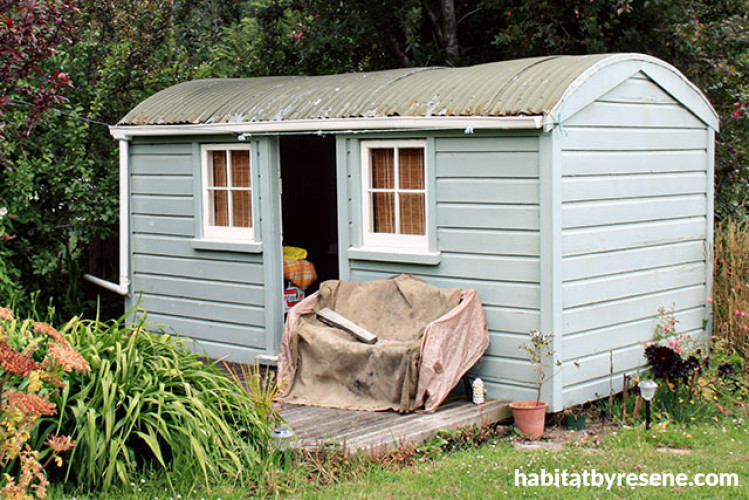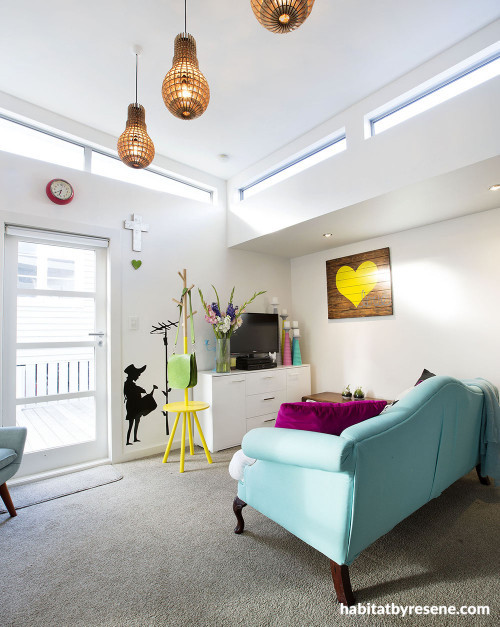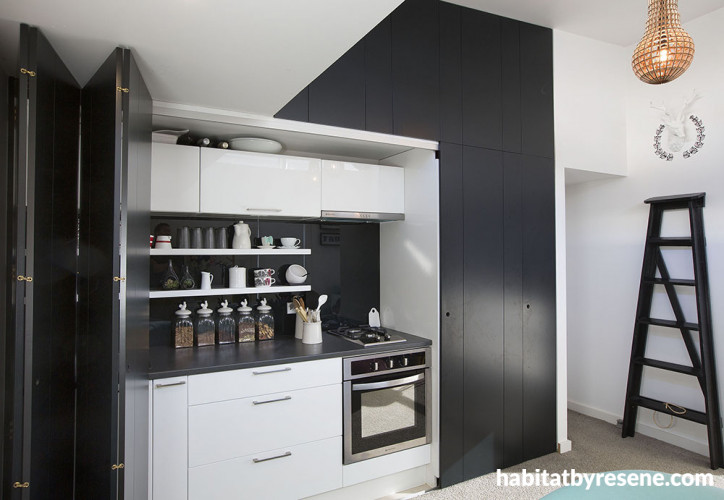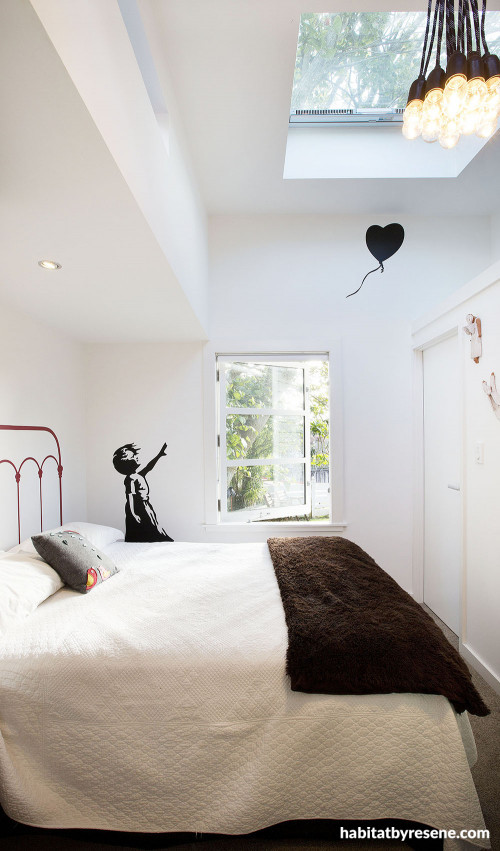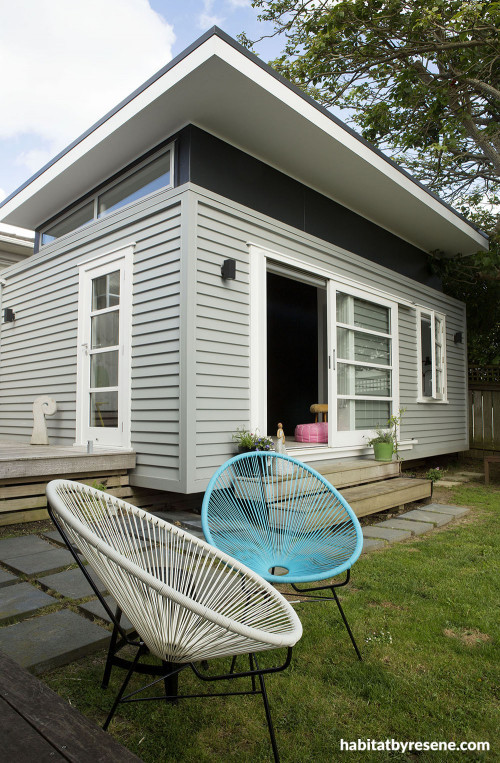 Two small living successes
As the small home movement gathers momentum, habitat by Resene looks at two projects that answer the call, and use Resene paint to great effect. Read more with our feature on colour tips and other ideas for small spaces.
Andrew and Gemma's little black cabin
Sydney-based Andrew Meehan and Gemma Cagnacci (of line x shape x colour) needed a space to stay in when visiting Andrew's family in Dunedin at Christmas. His whole family come together at Christmas to stay on his parents' property. Space was starting to get tight so they decided to update the little sleep-out that Andrew used as a teenager. The couple was also keen for a creative project on which to cut their teeth, with a view to tackling larger renovation projects in future. (See more images of the sleep-out here.)
Who was involved with the project?
It was all DIY with Andrew and myself, plus some amazing help from a few family members. Andrew's parents were a massive help too, completing a few repairs before we arrived from Sydney to do the project. It was definitely a family effort and all the help made for a very smooth process.
What Resene colours and products have you used, in which rooms, and what inspired those choices?
Having been inspired by a lot of Scandinavian cabins, we wanted a dark exterior and light, crisp interior. We used Resene Double Cod Grey for the exterior (very close to black but in the bright southern hemisphere sun, it reads as dark grey), and straight Resene White for the floors and walls inside. We are big fans of Resene's colours, so it was super easy to find the exact ones we were after.
How did you decide on the overall look of the interiors?
It was a mix of our own style – a little bit eclectic like our home in Sydney – but going in a more neutral, minimal direction. Again, we were inspired by Scandi interiors as we wanted the space to look light and airy, and feel relaxed and natural. We stuck to a neutral colour palette and brought in warmer tones and texture using items like a kilim rug, Papua New Guinean tapa artwork and a found log.
What part of the house are you most happy with?
The white floors and the exterior colour. I've always wanted to have white floors, so it was a bit of a dream come true, and Andrew loves the dark exterior.
What is your advice for someone trying to achieve a similar look?
Keep it simple. Use a neutral palette, not only through paint usage, but your choice of flooring, furnishings and textures. Also, be sure to add personal touches, whether they be treasures you find on holidays or found items from a walk. These are what make your space unique and reflect your taste.
Edwin's backyard beauty
You'd think planning a small home would be easy. After all, it's, well, small. But designing this sort of space takes a lot of thought. A bit like designing a yacht interior – it needs thorough planning, every square centimetre has to earn its keep, and spaces often have to be multi-use.
Edwin Derricutt of ESD Design considered all of those things when planning to build a small secondary home in the back garden of his Auckland property. And by adding a simple neutral palette of Resene colours, the result is a light-filled and lovely space.
The new home sits on the south side of the property with a mature tree beside it, and is up against two boundaries, so there was a risk that the house would be dark and shady.
Edwin countered that with crisp Resene Half Black White walls, a mono-pitched ceiling, a glazed entry door, clerestory window and a skylight in the bedroom. The lowered ceilings in the living area and bedroom are to adhere to boundary regulations but by adding high slim windows, Edwin brought extra light as well as a view of sky rather than suburban rooftops, inside.
Careful thought went into everything from the placement of doors (to one side rather than central in the wall), to the kitchen layout. The kitchen is a 2m-long galley set behind large bifolding doors, which have finger holes to open rather than handles to reduce clutter. The doors are painted in Resene Blackjack. With cantilevered shelves, a two-burner hob and a Resene Blackjack splashback, the kitchen includes features such as the upper cupboards set just far enough below the ceiling to allow for platter storage. Space above the kitchen is used on the bedroom side for high storage.
Outside, Edwin used timber weatherboards painted in Resene Eighth Gravel to ensure the structure fitted sympathetically into the neighbourhood but added a high negative detail and change of cladding type in Resene Blackjack to 'frame' the house. Joined to the main house by a deck, it's like a designer bach in the 'burbs.
This house was part of a feature on small space living in issue 22 of habitat magazine – click through to read the issue.
Published: 02 Apr 2015
Do you have a home full of wonderful Resene paint and colour? Send us some snaps by emailing [email protected].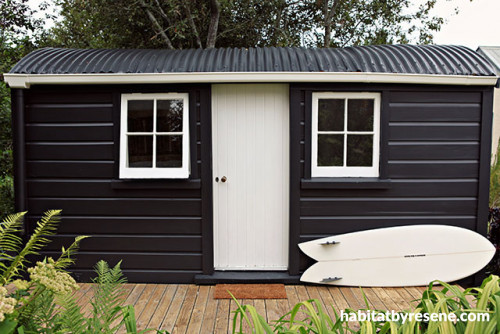 Andrew Meehan and Gemma Cagnacci were inspired by the look of Scandinavian cabins for the makeover of this Dunedin sleep-out, matching a dark exterior with light, crisp interior. They chose Resene Double Cod Grey for the exterior, and straight Resene White for the door and window sills.
pictures
Photographs by Gemma Cagnacci of line x shape x colour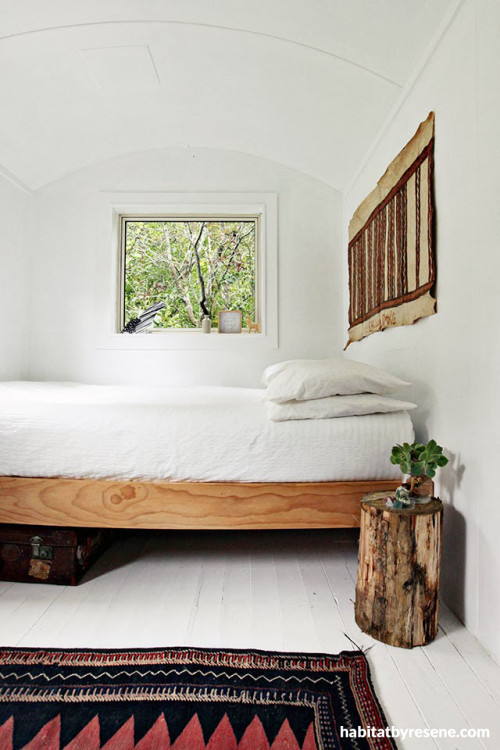 Resene White on the walls and floors transforms the sleep-out's interior into a light and airy living space.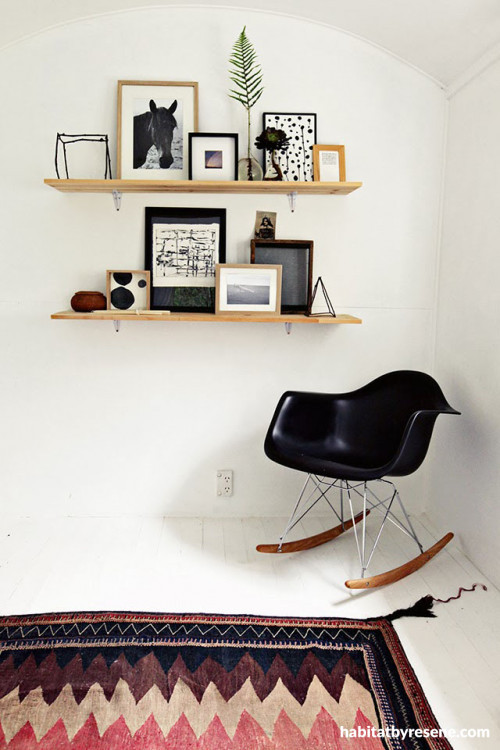 The couple filled the sleep-out with warmer tones and textures, such as the kilim rug and nature artworks.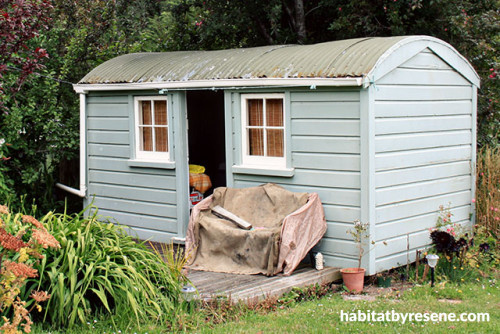 The sleep-out before it was given a loving makeover.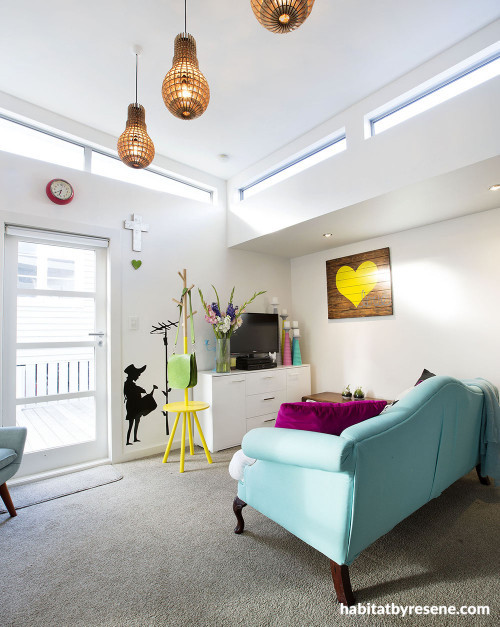 Edwin Derricutt's secondary home is another example of how white paint can visually heighten a small space. The walls of this living room are painted in crisp Resene Half Black White, brought to life with high slim windows.
pictures
Photographs by Frances Oliver.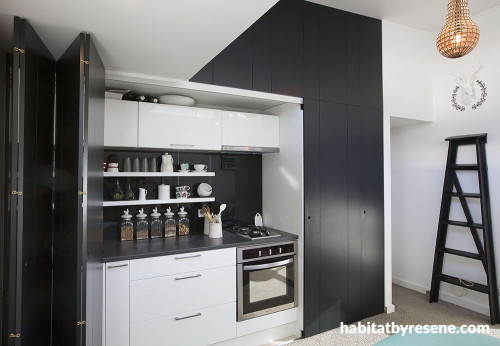 To reduce clutter in the 2m-long galley kitchen, Edwin organised for the installation of large bifolding doors using finger holes rather than handles. The doors are painted in Resene Blackjack.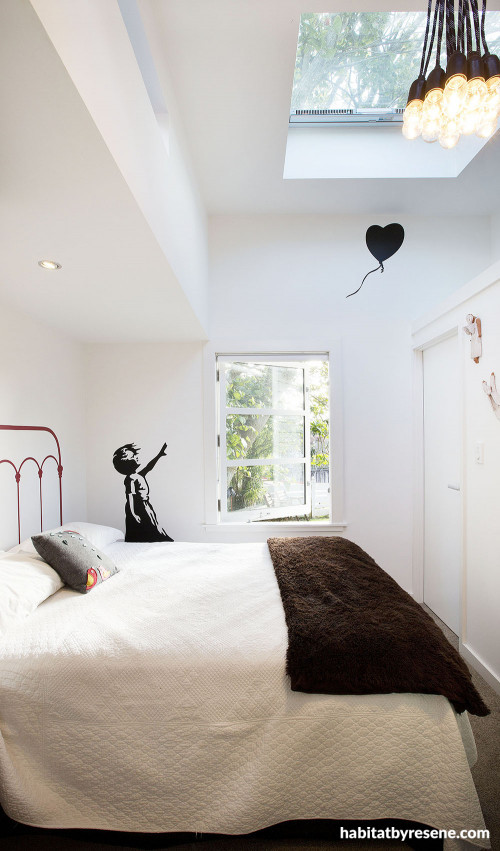 Natural light pours through the skylight into the home's bedroom, painted in Resene Half Black White.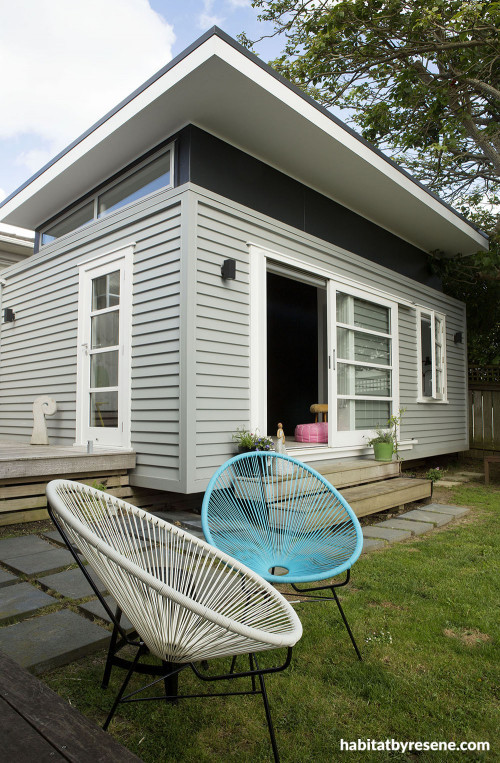 Outside, the timber weatherboards are painted in Resene Eighth Gravel, with trims in Resene Half Black White, and cladding in Resene Blackjack.
the look
If you're stuck on what
colour to use or need colour
advice, try out the Resene
Ask a Colour Expert service.